Intersolar North America 2013
to Feature Latest Innovations in High-Growth Market Segments:
PV Balance of System and Mounting and Tracking
Intersolar North America, the most attended industry exhibition and conference in North America for solar professionals to exchange information and develop business opportunities in the U.S. solar market, will feature a variety of new products that boost system efficiency and lower costs o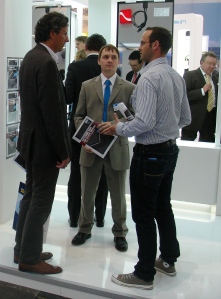 n its 2013 exhibition floor of the Moscone Center in San Francisco from July 9 to 11, 2013. This year marks Intersolar North America's sixth year in California, the United States' largest solar market.
Intersolar North America will offer six main exhibition segments: PV Cells, Modules and Systems; Balance of Systems (BOS); Energy Storage; Components, Mounting and Tracking Systems; PV Manufacturing Equipment and Materials; and Solar Heating and Cooling Technologies. The exhibition is organized in conjunction with the global association SEMI, co-organizer of Intersolar North America and organizer of the co-located SEMICON West. Since its founding in 2008, net square footage of floor space booked by exhibitors has quadrupled.

The BOS market segment has been one of Intersolar's fastest growing exhibition segments, and this year the exhibition space has already grown by more than 25 percent. As global solar markets continue to grow, balance of system costs offer the largest opportunity to continue to drive down the cost of
solar, since they represent as much as half the cost of a solar system. Recently, the U.S. Department of Energy launched the SunShot initiative, which aims to reduce the cost of solar by 75 percent by 2020, and has heavily emphasized BOS components and solar system hardware as a primary point of cost reduction. Tigo Energy, winner of two DOE SunShot incubator awards, will exhibit at this year's show, along with SolarTech, a non-profit industry consortium to working to remove non-hardware, process-related cost barriers to the acceleration of U.S. solar markets.

In 2012, more than 50 exhibitors showcased their innovations in this specific segment, and many will return this year, including ABB Inc., Advanced Energy Industries Inc., Bonfiglioli Riduttori SpA, Schneider Electric, SMA Americas LLC, SolarEdge Technologies Inc., SolarBridge Technologies, Solectria Renewables, Toshiba Mitsubishi-Electric Industrial Systems Corp. (TMEIC). Several first-time exhibitors will be on hand as well, including Sputnik Engineering/SolarMax and Power-One Inc.
"This will be AE's sixth year exhibiting at Intersolar and our 28th year participating in the co-organized SEMICON West, and each year reaffirms that it is among the most important events for connecting with the PV industry's leading decision makers in California, North America's largest regional market," said Mike Dooley, VP of marketing at Advanced Energy Solar Energy. This year, the company will exhibit two new inverters, a utility-scale and three-phase string. "These new inverters are designed to address the BoS and LCOE needs of commercial and large-scale project developers, EPC companies, owners, and financiers. If past years are any indication, we expect a lot of buzz and span crowds at Intersolar."
Additionally, novel racking and mounting systems promise to streamline the installation process and boost solar installation reliability, further decreasing the cost of solar. The "Components, Mounting & Tracking Systems" exhibition segment will also expand for this year's show, and has already seen a 12 percent increase in the square footage of floor space booked. Schletter Inc., an internationally recognized manufacturer of solar mounting systems, will display its newest products for rooftop and ground-mounted systems, along with the latest from Eaton, Mounting Systems, Inc., Multi-Contact USA, Quick Mount PV, Shoals Technology Group, SnapNRack, Solarcube LLC and Unirac Inc., among others, including first-time exhibitor QBotix, Inc.

Solar Cell and Module Manufacturers Continue to Boost Efficiency, Lower Costs
New advances in solar cell and modules, including both silicon-based and thin film technologies, have attracted the attention of industry observers. The most dramatic innovations seek to address the multi-stage, highly energy intensive process of producing silicon wafers, and a number of companies are pursuing technologies that promise less waste and material use, and often lower energy use as well. Others are focused on boosting crystalline silicon efficiency, which can translate into higher energy production at the cell level. Visitors can see the newest products from SolarWorld, Talesun, Canadian Solar, CentroSolar America, Jinko Solar, Mitsubishi Electric and Yingli Green Energy Americas at this year's exhibition.
A full list of Intersolar North America exhibitors is available online. Additionally, conference programs at the InterContinental Hotel will cover the latest technology advancements in more than 50 sessions and practical workshops from July 8 to 11. The conference program is available online.

The combination of these technologies is key to improving solar efficiencies and reducing costs, and will make solar a practical choice for mainstream power generation. For more than two decades, Intersolar has invested in industry trade groups and non-profits worldwide. In the United States, Intersolar counts the California Solar Energy Industries Association (CALSEIA), SolarTech and Northern California Solar Energy Association (NorCal Solar), a chapter of the American Solar Energy Society among its partners. Intersolar works closely with these partners, as well as other organizations at the local, state and federal levels to expand the market for solar across the country.
---
Intersolar North America 2013
Exhibition: July, from 9 to 11, 2013 | Conference: July, from 9 to 11, 2013
Moscone Center, San Francisco, US, California Republic
---
Images: R. Eberhard, messekompakt, EBERHARD print & medien agentur gmbh
Source: Solar Promotion International
News
27.5.2020
New Dates (Again) for SNEC PV Power Expo
27.5.2020
EU PVSEC 2020 Goes Virtual
26.5.2020
Trina Solar Publishes its Vertex Module Technology White Paper
26.5.2020
Economic Stabilization Fund Approves Lufthansa's Stabilization Package
26.5.2020
Covestro Wants to Accelerate Change to a Circular Economy
20.5.2020
Covestro Proposes a Dividend of EUR 1.20 per Share for Fiscal 2019
20.5.2020
Management change at spoga horse
20.5.2020
Interzoo 2021to be Held in Odd-numbered Years in the Future
19.5.2020
US Robo-advisors Industry to Hit a $1trn value This Year
15.5.2020
Lufthansa Group Significantly Expands Service with June
15.5.2020
RE-Source 2020: Adapting to Changing Circumstances
14.5.2020
Liebherr Presents new Compact Wheeled Excavators
14.5.2020
parts2clean 2020: Solutions for New and Changed Cleaning Tasks
14.5.2020
Lufthansa Group Airlines to Take off Again with 160 Aircraft from June
13.5.2020
Art Düsseldorf PostponesIts Fourth Edition Until 2021
13.5.2020
parts2clean 2020: Solutions for new and changed cleaning tasks
13.5.2020
Manage Disruption Through Collaboration at Virtual SEMICON West 2020
7.5.2020
Art Düsseldorf Postpones Its Fourth Edition Until 2021
7.5.2020
SolarEdge: Record Revenues from Solar Products of $407.6 Million
6.5.2020
SEMI Report: Power and Compound Fab Spending to Rebound in Second Half
6.5.2020
Interzoo and Zoomark Announce New Slots
6.5.2020
SCHMOLZ + BICKENBACH Results Heavily Impacted by COVID-19
5.5.2020
VOITH: Acquisition of ELIN Motoren Successfully Completed
5.5.2020
Global Silicon Wafer Area Shipments Edge Up in First Quarter 2020
5.5.2020
Covestro Promotes Innovation in Electrochemistry
4.5.2020
New Dates and Location for SNEC PV Power Expo
4.5.2020
NürnbergMesse Postpones Construction of the New "NCC Süd"
4.5.2020
BIOFACH Nuremberg kicks off the year
30.4.2020
No SENSOR+TEST 2020
30.4.2020
Enforce Tac and U.T.SEC Cancelled for 2020
28.4.2020
Exhibitions Hold Strong Position in Marketing Mix
28.4.2020
Coronavirus: Cancellations and Postponements of German Exhibitions May Cost up to Three Billion Euro
28.4.2020
AUMA: New Corona Package to Support the German Exhibition Industry Network
24.4.2020
North American Semiconductor Equipment Industry Posts March 2020 Billings
24.4.2020
Lufthansa Group Publishes Preliminary Results for the First Quarter
24.4.2020
NürnbergMesse: Petra Wolf Returns to Chillventa Team
23.4.2020
VDW: New METAV Date Set: Trade Fair to be Held Next Year
23.4.2020
SolarPower Europe: Europe can Achieve Climate Neutrality before 2050
23.4.2020
VDMA: Patchwork of Quarantine Rules Must Quickly be Eliminated!
22.4.2020
Ola Hansson to Become New CEO Lufthansa Hub Munich
22.4.2020
Easyfairs Publishes Activity Report: A Journey into the Future of Events
22.4.2020
Fraunhofer ILT: The AMable Project Promotes Flexible AM Solutions to Fight the Coronavirus
21.4.2020
SEMI-Report: Gradual Rebound or Slight Dip
21.4.2020
IWA OutdoorClassics Will Not Take Place in 2020
21.4.2020
BMBF-funded project "ProLMD"
20.4.2020
Beviale Mexico 2020 Postponed to March 2021
20.4.2020
Covestro Adjusts FY 2020 Financial Guidance Due
20.4.2020
Lufthansa Group Almost Completes Repatriation Flight Program
17.4.2020
Arburg and Ems-Chemie Provide Help!
17.4.2020
CRAFT DRINKS INDIA 2020 postponed
17.4.2020
PORTWELL and ENGICAM announce Cooperation
15.4.2020
Lufthansa Group Decides on First Restructuring Package
15.4.2020
SCHMOLZ + BICKENBACH Announces Change in the Executive Board
14.4.2020
Des Enjeux et Des Hommes joins the Ecocert Group
14.4.2020
Lufthansa Will Bring Home Thousands of Vacationers from New Zealand
14.4.2020
Russian Ministry to Start the Selection of Investment Projects
9.4.2020
my-PV's Power Managers Provide Hot Water and Heating from Solar Power
9.4.2020
Supervisory Board Decides on New Allocation of Responsibilities for Lufthansa Executive Board
8.4.2020
Santjer to Head Communications for the NürnbergMesse Group
8.4.2020
COVID-19: Economic and Microelectronics Industry Impacts
8.4.2020
SolarEdge Launching Interactive, Virtual Solar Show
7.4.2020
USMCA Entry Into Force Possible
7.4.2020
SCHMOLZ + BICKENBACH AG Nominates New Members to the Board of Directors
7.4.2020
Meyer Burger B.V.: Closing of the sale of the PiXDRO
6.4.2020
Covestro Provides Aid in Coronavirus Crisis
6.4.2020
KAESER: High-efficiency Compact Powerhouses
3.4.2020
Interzoo Postponed Beyond 2020
3.4.2020
latakoo Expands In Europe
3.4.2020
AKL 2020: Laser Technology Live Already this Year!
2.4.2020
OPC UA Companion Specification to be Developed for CIP
2.4.2020
Global Semiconductor Materials Market Revenues Slip 1.1% in 2019, SEMI Reports
2.4.2020
6K Launches 6K ENERGY Division
31.3.2020
Intersolar Europe 2020 is Canceled
31.3.2020
spoga horse 2020: Cautiously Looking Ahead
31.3.2020
FESPA 2020 Events to Return to Madrid in October 2020
30.3.2020
SMT Connect will be Postponed
30.3.2020
VDW: New METAV Date Set: Trade Fair to be Held Next Year
30.3.2020
Corona Pandemic Damages Supply Chains in Mechanical Engineering
27.3.2020
Covestro Signs EUR 225 Million Loan Facility with European Investment Bank
27.3.2020
BayWa Ends the Financial Year 2019 on a Successful Note
27.3.2020
Bosch Develops Rapid Test for COVID-19
26.3.2020
Further Expanding Energy Storage at INTERSOLAR North America
26.3.2020
Intersolar Europe 2020: PV Power Plants are Driving the International Market
26.3.2020
messekompakt.com: "We are here for you!"
25.3.2020
PCIM Europe Exhibition and Conference will be Postponed until 28 – 30 July 2020
25.3.2020
AUMA: Corona - Costs of around 3 Billion Euros
25.3.2020
ODVA Looks to the Future at its 20th Annual Meeting of Members
23.3.2020
Covestro Postpones Annual General Meeting
19.3.2020
TDK Joins the Responsible Business Alliance
19.3.2020
Weidmüller Interface: Localised Data Management in the Industrial Internet of Things
19.3.2020
Trina Solar Announces 23.39% PERC Solar Cell
18.3.2020
Lufthansa Group Airlines continue operating to the USA
18.3.2020
International Laser Technology Congress AKL'20 will not take place in Aachen!
18.3.2020
Easyfairs Makes its Exhibition Venues Available to the Authorities
17.3.2020
AUMA: Corona - Costs of Around 3 Billion Euros
17.3.2020
PaintExpo 2020: now from 12 to 15 October 2020
17.3.2020
Interzoo 2020 will be Postponed
13.3.2020
TEFAF 2020: Sales to Both Private and Institutional Collectors
13.3.2020
Beviale Moscow 2020: Postponement and New Date
13.3.2020
Supervisory Board names Frank Weber to Board of Management of BMW AG
13.3.2020
NürnbergMesse: New Date 2020 for MedtecLIVE
11.3.2020
SolarEdge to Supply Enfindus with Inverters for 1GW of European Solar Projects
11.3.2020
Solids Dortmund 2020: FX50 for Recycled Materials
11.3.2020
SCHMOLZ + BICKENBACH with Cautious Optimism for 2020
10.3.2020
Global Fab Equipment Spending Poised for 2021 Record High
10.3.2020
Messe Friedrichshafen Postpones its Aqua-Fisch and IBO Events, Along with their Affiliated Fairs
10.3.2020
New Date 2020 for FENSTERBAU FRONTALE and HOLZ-HANDWERK
6.3.2020
World Energy Issues Monitor 2020 Published by the World Energy Council
6.3.2020
PaintExpo Will Take Place at a Later Date in 2020
5.3.2020
HANNOVER MESSE 2020 is postponed
5.3.2020
SEMICON Southeast Asia 2020 Postponed to 11-13 August 2020
4.3.2020
Light + Building Will Take Place from 27 Sept to 2 Oc 2020
4.3.2020
BayWa ends 2019 With a Significant Improvement in Earnings
4.3.2020
Schuler AG: Group Posts Positive Operating Result in 2019
2.3.2020
Light + Building will take place from 27 September to 2 October 2020
2.3.2020
parts2clean 2020: The International Hub for Component Cleanliness
2.3.2020
New Date 2020 for IWA OutdoorClassics
27.2.2020
Advanced Semiconductor Manufacturing Strategies in AI Era to Highlight ASMC 2020
27.2.2020
RHY ART SALON 2020 in Basel
27.2.2020
KAESER KOMPRESSOREN at the IFAT 2020 in Munich
18.2.2020
upakovka 2020 Report Positive Results and a Good Atmosphere in the Exhibition Halls
18.2.2020
Tim Brosnihan Appointed Executive Director of SEMI MEMS & Sensors Industry Group
14.2.2020
Lackwerke Peters: Climate-friendly Conformal Coating in Electronics
14.2.2020
Organic4trade.com Information Portal goes Online
14.2.2020
IHS Markit Announces 35th World Petrochemical Conference in New Orleans
12.2.2020
SEMI President and CEO Ajit Manocha Set for Induction into Silicon Valley Engineering Hall of Fame
12.2.2020
MeKo: Help for Patients with Nickel Allergies
12.2.2020
Growing ECR Group Elects W?adys?aw Ortyl as its President
11.2.2020
INTERMOT 2020: Modern Concept Sets New Standards in the International Market for Motorcycle
11.2.2020
Perimeter Protection 2020 Breaks New Records
11.2.2020
Arburg at PIAE Europe 2020
10.2.2020
ProSweets Cologne with a Convincing Appearance and High Degree of Exhibitor Satisfaction
10.2.2020
"drupa tages" First Special Show Dedicated to Digital Textile Printing
10.2.2020
SEMI Talent Forum to Help Build Next-Generation Chip Industry Workforce
7.2.2020
Robert Bosch: 90 Years of Bosch Fuel Filters
7.2.2020
JEC WORLD 2020: SAERTEX® Presents Innovations for Diverse Areas of Application
7.2.2020
SolarEdge to Supply Enfindus with Inverters for 1GW of European Solar Projects
3.2.2020
MAPAL: With Additive Manufacturing to More Productivity
3.2.2020
Applications for Best Innovation Start-up Contest Business Priority are In
3.2.2020
Hugh Jones Named CEO at Reed Exhibitions
30.1.2020
Sheikh Mohammed bin Zayed honours the 10 winners of Zayed Sustainability Prize 2020
30.1.2020
JEC World 2020: Fraunhofer ILT - Photonics meets textile engineering
30.1.2020
High-end Lasers for Science and Industry at BiOS & Photonics West 2020
29.1.2020
E-world 2020: Launches New Online Job Market
29.1.2020
embedded world 2020: International Meeting of Embedded Systems Experts
27.1.2020
SCHMOLZ + BICKENBACH Announces Change to the Board of Directors
27.1.2020
Fraunhofer ILT: Cleaning Water with Laser-drilled Filters
27.1.2020
North American Semiconductor Equipment Industry Increases Sales by 17.8% in December 2019
24.1.2020
Stable results for German exhibitions in 2019
24.1.2020
Save the dates for the MES and Industry 4.0 2020
24.1.2020
Jörn Holtmeier New Managing Director of AUMA
23.1.2020
Lufthansa Group Now uses 100% Green Electricity in its Home Markets
23.1.2020
EUROPEAN ROTORS: New and Unique Helicopter Show in Cologne
23.1.2020
Arburg at Chinaplas 2020
22.1.2020
VIVANESS 2020: Natural and Organic Cosmetics Benefit from Megatrends
22.1.2020
Japan Cultural Expo Launches Official Social Media Accounts
22.1.2020
Turnover at Koelnmesse Exceeds 400 Million Euro for the First Time
21.1.2020
VDMA: "Trade policy with China must be reoriented"
21.1.2020
The "Gold Watch 2020" goes to Gerald Böse
21.1.2020
Perimeter Protection 2020 Breaks New Records
20.1.2020
Frank Klingemann New Managing Director at Schuler
20.1.2020
More Stability and Reliability for Lufthansa Group Customers
17.1.2020
Messe München Celebrates a Mega Year of Records
17.1.2020
Koelnmesse India: Milind Dixit is new Managing Director
17.1.2020
Gantner Supplied Solutions for More than 1 GW Solar Power in 2019
17.1.2020
BMW M GmbH: Best Result in the Almost 50-year Old Company History
16.1.2020
Munich Airport and Lufthansa shape sustainable future
16.1.2020
TDK: Powerful Ferrite Magnetic Design Tool
16.1.2020
Bosch Packaging Technology is now Syntegon
15.1.2020
Mobile India 2020 Expo is a Popular Playground for Mobile Accessories Brands
15.1.2020
Guido Frohnhaus to take over as Managing Director Technology & Engineering at Arburg
15.1.2020
SEMI ISS 2020: Data Driven Innovation and Growth
14.1.2020
New MINI Electric is Designed to be CO2 Neutral
14.1.2020
BIOFACH and VIVANESS 2020 Congress Programme Now Online
14.1.2020
Perimeter Protection 2020 Sets New Benchmarks
13.1.2020
ART INNSBRUCK is Preparing a Great Special Show by the British-Cypriot Artist John Kiki
13.1.2020
Evonik Focuses on Additives for Plastics and Rubber Recycling
13.1.2020
SolarPower Summit 2020 in Brussels
13.1.2020
The date for the Bright World of Metals 2023 has been set
8.1.2020
PaintExpo 2020: Trend-Setting Solutions for Sustainable Painting Processes
8.1.2020
The BMW Group at the Consumer Electronics Show 2020 in Las Vegas
6.1.2020
Denis Steker Named Member of the Koelnmesse Expanded Management Committee
6.1.2020
Lufthansa Group Plans More than 4,500 New Hires in its Home Markets for 2020
3.1.2020
VDMA: Take Measures Against Extra-territorial Sanctions!
3.1.2020
Covestro Closed Sale of European Polycarbonates Sheets Business to Serafin
30.12.2019
Messe Frankfurt Generates €733 Million in Sales
30.12.2019
Koelnmesse: Stefanie Mauritz named Director Anuga
30.12.2019
ART INTERNATIONAL ZURICH 2020: Art Forum for Lively Exchange
23.12.2019
Meyer Burger: Closure of the site in Zülpich (Germany)
23.12.2019
SCHMOLZ + BICKENBACH AG Successfully Concludes Share Offering
20.12.2019
Reduced Catering on Lufthansa Flights
20.12.2019
Meyer Burger divests Meyer Burger (Netherlands) B.V.
20.12.2019
CCE Group Officially Announces the Start of Construction of its Large-scale "La Huella" PV Project
17.12.2019
FLEX and MSTC 2020 to Showcase Flexible Hybrid Electronics and MEMS
17.12.2019
SEMI-Bericht mit stärkerer 2020-Prognose
17.12.2019
Arburg at Plastec West 2020: Focus on Automation and Digitalisation
16.12.2019
Lufthansa Fills Important Airline Leadership Positions
16.12.2019
Tenth Record-Breaking Year in a Row for ZEISS
16.12.2019
VIVANESS 2020: Trailblazer for the Natural and Organic Cosmetics Sector
13.12.2019
LayTec to Equip New RIBER Cluster-tool for CIGS with Multiple Metrology Systems
13.12.2019
State of Extremes Now Open at Design Museum Holon
13.12.2019
European Technology and Innovation Platform for Photovoltaics Fully Supports the European Green Deal
12.12.2019
Koelnmesse Discontinues art berlin for the Time Being
12.12.2019
PCIM Asia Conference Call for Papers and Speaker Applications Open
12.12.2019
Wolfram N. Diener becomes new President & CEO at Messe Düsseldorf GmbH
10.12.2019
glasspex INDIA 2019: Creating a New Story on the Growth Path
10.12.2019
SEMICON Japan 2019 Opens Tomorrow
10.12.2019
Lufthansa realigns Executive Board
6.12.2019
Wolfram N. Diener becomes new President & CEO at Messe Düsseldorf GmbH
6.12.2019
FENSTERBAU FRONTALE 2020: Craftsmanship Meets Technology
6.12.2019
Andina Pack 2019: Strong International Presence
4.12.2019
MEDICA and COMPAMED Hold Their Own in a Demanding Market Environment
4.12.2019
Oliver Frese named Chief Operating Officer of Koelnmesse
3.12.2019
LUFTHANSA: Supervisory Board gives go-ahead for sale of LSG Group's
29.11.2019
Lackwerke Peters: Inkjet Solder Resists for Digital Manufacturing
29.11.2019
IPB 2019 a Big hHt With Exhibitors and Visitors
28.11.2019
Arburg at Interplastica 2020: High-performance for the Packaging Industry
28.11.2019
AKL'20: Improving Productivity through Digitization in the Laser Industry
27.11.2019
Lufthansa Executive Board approves sale of the European business of the LSG Group
26.11.2019
Covestro: Waste, plants, CO2 – the resources of the future
26.11.2019
BIOFACH 2020: The "Place To Be" for the International Organic
25.11.2019
Evonik expands production capacity for ROHACELL® foams in the US
21.11.2019
Arburg at the Swiss Plastics Expo 2020
21.11.2019
Hannover Messe 2020: Keen Interest in Artificial Intelligence
21.11.2019
New Signing and a Focus on Production for XJet at Formnext
20.11.2019
BASF invests US$ 4 Million in AgVentures II Fund Managed by SP Ventures
20.11.2019
Software AG Joins the Open Data Initiative
20.11.2019
Schuler Captures Indian Market with Yadon
19.11.2019
Alibaba Group Generated US$12 Billion of GMV in the First Hour of the 2019
19.11.2019
Closing of the sale of the Meyer Burger software business to S&T AG
18.11.2019
Formnext 2019: 285 new exhibitors from 29 nations
18.11.2019
opti 2020: Focus on Contact Lenses
18.11.2019
BMW at the Los Angeles Auto Show 2019
14.11.2019
Roscongress Foundation Takes Part in UNIDO General Conference
14.11.2019
SCHMOLZ + BICKENBACH Suffers from Poor Market Situation
14.11.2019
Coherent Improves Metal 3D Printing Capabilities for the Dental Industry
13.11.2019
Silicon Wafer Area Shipments Fall for Fourth Consecutive Quarter
13.11.2019
SEMICON Europa Opens with SMART Mobility, MedTech, Design and Talent in Spotlight
11.11.2019
Signing Ceremony im Rahmen Messe CIIE in Shanghai, China
11.11.2019
Art Düsseldorf 2019: International Performance with Strong Cooperation in the Region
Mobile Website
Our website also works on IPhone, IPad and Co.