Winners of the Intersolar AWARD 2014

and the electrical energy storage AWARD 2014
Intersolar Europe, the world's largest exhibition for the solar industry and its partners, pays tribute to the solar industry's innovative strength for the seventh time. The ten most innovative companies were honored during an official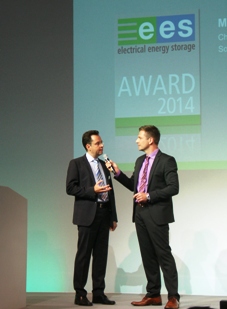 ceremony that took place today at Intersolar Europe's Innovation Exchange. The Intersolar AWARD was presented to groundbreaking solutions in the categories of Photovoltaics (PV) and Solar Projects in Europe. For the first time, the electrical energy storage (ees) AWARD recognizes innovations in battery and energy storage technology.
This year, around 3,500 companies from all international Intersolar exhibitions and the electrical energy storage (ees) exhibition were invited to impress the jury with their innovations. Applicants could only put forward products, projects, services and solutions which were undergoing testing, which were already in use or which showed significant developments to existing technologies at the time of submission.

Kilian Reichert in conversation with

MarkusElsässer, CEO ofSolar PromotionGmbH(right to left)
Image: R. Eberhard, messekompakt

All solar projects had to have been completed within the last two years. The assessment criteria reflected the challenges posed by the market. Experts examined the degree of technological innovation, the benefit for industry, the environment and society, the economic viability of the solution and proof of its innovative quality.
Keeping up with the times - the new electrical energy storage (ees) AWARD
Energy storage is now one of the greatest challenges faced by the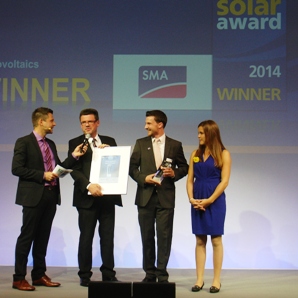 energy transition. Hosted by Intersolar Europe, the international electrical energy storage (ees) exhibition provides a platform for the entire value-added chain of battery and energy storage technologies. The exhibition is supplemented by the electrical energy storage (ees) AWARD, taking place this year for the first time, which honors outstanding products and solutions in the fields of materials, production, systems technology, applications, second-use concepts and recycling.
Winners in the Photovoltaics category
SMA Solar Technology AG (SMA) from Niestetal in the district of Kassel, Germany, presented the SMA Fuel Save Controller, which combines diesel generators and photovoltaic installations to considerably reduce diesel consumption. This enables up to 60% of a generator's output to be supplemented by photovoltaics.

This potential can be boosted further with modular expansion and using batteries. The jury was won over by this product: "The SMA Fuel Save Controller bridges the gap between the two worlds of fossil and renewable energy and opens up new business areas to solar companies," said the jury of experts.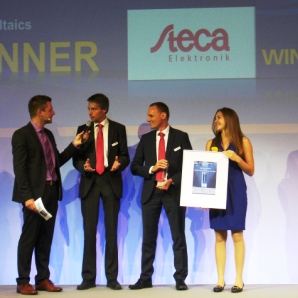 Steca Elektronik GmbH from Memmingen, Germany, was honored for its Solar MPPT charge controller Steca Tarom MPPT 6000-M. The versatile, compact charge controller supports different types of storage systems, including lithium-ion, lead, nickel-cadmium and nickel-metal hydride batteries.

The use of intelligent charge algorithms, battery diagnostics and safety functions, which increase battery life, was praised in particular. What's more, the controller stands out thanks to its outstanding equipment and high efficiency level. In principle, the input voltage of 200 V enables solar modules to be directly connected. The jury also praised the integrated microSD data logger as well as the two separate entry points with two independent MPP trackers providing more flexibility.
The innovative cooling system of the SOLAR WARE® S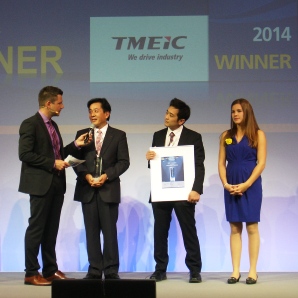 AMURAI central inverter makes the product reliable, fail-safe and easy to maintain. Manufacturer TMEIC Corporation from Tokyo, Japan, uses water cooling with heat pipes, which eliminates the need for pumps and only requires a low amount of air.

Even if the ventilators fail, the inverter is guaranteed to work at an efficiency rate of up to 50%. The inverters' high resistance makes them suitable for regions with high solar irradiation and extreme weather, which increases profitability.

Last but not least, the jury praised the device for being environmentally friendly, which it achieves thanks to its high efficiency level and by not using coolants - all in all, good reasons for winning the Intersolar AWARD.
Winners in the

Solar Projects in Europe category
The forward-thinking combined heat and power supply system is setting a precedent: GOLDBECK Solar GmbH, based in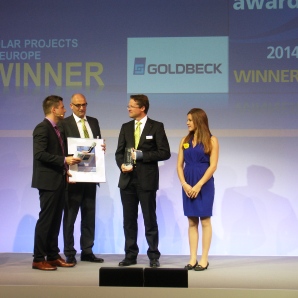 Hirschberg an der Bergstraße, Baden-Württemberg, Germany, was honored for its exemplary heat and supply system in the School & Sports Center Marienheide in North Rhine-Westphalia, Germany.

The company has implemented a forward-thinking combined power and heat supply system, which combines the technologies of photovoltaic installations and decentralized heat/power-generation units.

The system is ideally suited to covering electricity and heat requirements on demand, enabling fluctuating solar energy to be partially balanced out and providing more self-sufficiency with regards to electricity and heat.
IBC Solar AG, located in Bad Staffelstein, Bavaria, Germany, presented its exemplary City solar power plant in Hölzengraben, Kaiserslautern project. Its pioneering approach shows that it is possible to finance ground-mounted installations despite reductions in feed-in tariffs.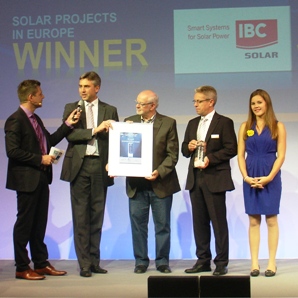 The ground-mounted PV installation boasts a rated output of 6.4 megawatts (MWp) and is located on the outskirts of Kaiserslautern, Germany, on a former municipal waste landfill right next to an industrial area.

Two locally based companies became investors and now use the generated solar power at the low cost of less than 10 euro cents per kilowatt hour. Installing the PV installation has helped to partially finance redevelopment works to the former municipal waste landfill, has considerably eased the burden on the government budget and has increased the attractiveness of the industrial area.
LTi REEnergy GmbH from Unna, North Rhine-Westphalia, Germany, erected a 15 MWp ground-mounted installation on a former gypsum site in Zelzate, Belgium, highlighting the numerous benefits of solar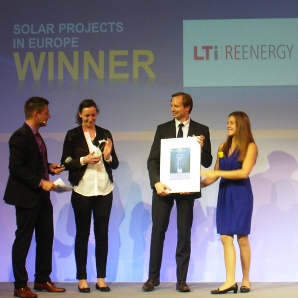 energy.
The Terranova - new earth project made the previously polluted area usable and exemplarily got small investors and residents to take part.

The installation offers self-sufficiency as well as additional returns on investment, meaning that the investors benefit many times over.

In addition, the project is outstanding in terms of technology and design. Residents also appreciate the fact that the installation reduces the level of dust from the landfill - LTi REEnergy's liquid-cooled inverters are ideally suited to use in conditions with high levels of dust.
Images: R. Eberhard, messekompakt

Winners of the

"electrical energy storage AWARD 2014"

Ideal Power Inc, based in Texas, USA, put forward its 30 kW hybrid PV storage converter IHC-30kW-480, which combines PV and battery at a high DC voltage level and stands out with an efficiency level of up to 97%.

A further operating voltage of 450 to 1,000 V DC provides an extremely high level of flexibility.

Other advantages are the modular set-up as well as the mobile fields of application, particularly in off-grid systems.
Inte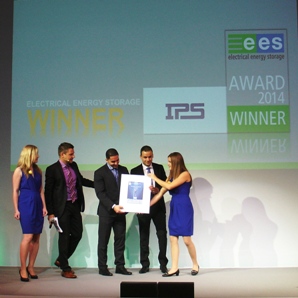 rnational Power Supply from Sofia, Bulgaria, showcased an optimal system for off-grid use in the form of the Exeron MX, which fulfils all requirements surrounding energy management, communication and modularity.

Optimized controller designs enable different energy sources to be combined.

The jury was won over by the stringent modular design, easy-to-maintain hot plug technology, advanced lead battery management as well as the increased availability thanks to excellent system redundancy.
The ViZn Z20 Energy Storage System by ViZn Energy Systems, Montana, USA, uses a new redox-flow battery technology for commercial applications from 160 kWh.
The jury was impressed by the well-designed, ecologic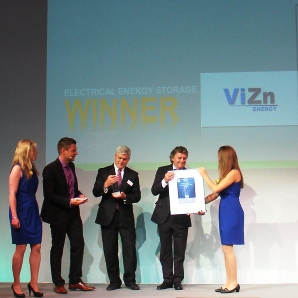 al prototypes, which mostly avoid the use of dangerous substances in storage systems.

New patent applications underpin the system's innovative strength.
The use of cost-efficient raw materials translates to the potential for considerable cost reductions, particularly in comparison with today's vanadium redox-flow technology - another reason why the product was honored with the ees AWARD.
Image: R. Eberhard, messekompakt
---
Images: R. Eberhard, messekompakt.com, EBERHARD print & medien agentur gmbh
Source: Solar Promotion

News
21.11.2019
Arburg at the Swiss Plastics Expo 2020
21.11.2019
Hannover Messe 2020: Keen Interest in Artificial Intelligence
21.11.2019
New Signing and a Focus on Production for XJet at Formnext
20.11.2019
BASF invests US$ 4 Million in AgVentures II Fund Managed by SP Ventures
20.11.2019
Software AG Joins the Open Data Initiative
20.11.2019
Schuler Captures Indian Market with Yadon
19.11.2019
Alibaba Group Generated US$12 Billion of GMV in the First Hour of the 2019
19.11.2019
Closing of the sale of the Meyer Burger software business to S&T AG
18.11.2019
Formnext 2019: 285 new exhibitors from 29 nations
18.11.2019
opti 2020: Focus on Contact Lenses
18.11.2019
BMW at the Los Angeles Auto Show 2019
14.11.2019
Roscongress Foundation Takes Part in UNIDO General Conference
14.11.2019
SCHMOLZ + BICKENBACH Suffers from Poor Market Situation
14.11.2019
Coherent Improves Metal 3D Printing Capabilities for the Dental Industry
13.11.2019
Silicon Wafer Area Shipments Fall for Fourth Consecutive Quarter
13.11.2019
SEMICON Europa Opens with SMART Mobility, MedTech, Design and Talent in Spotlight
11.11.2019
Signing Ceremony im Rahmen Messe CIIE in Shanghai, China
11.11.2019
Art Düsseldorf 2019: International Performance with Strong Cooperation in the Region
8.11.2019
BDI: The EU is the Solution – Not the Problem
8.11.2019
VDMA: Euro Zone Orders are a Small Ray of Hope
8.11.2019
Meyer Burger Signed an Important Framework Contract
7.11.2019
Baltic Sea Region Aims to Tap Potential of Tech Events
7.11.2019
Lufthansa Group achieves an Adjusted EBIT of EUR 1.3 billion in the third quarter
7.11.2019
SolarEdge Announces Third Quarter 2019 Financial Results
6.11.2019
BIOFACH AMERICA: Satisfied Exhibitors and a Unique Range of Products
6.11.2019
Smart Energy Week 2020: Help shape the education for the largest energy event in North America
5.11.2019
VDMA: "Fender bender in the market economy."
5.11.2019
Covestro Closed Sale of European Systems Houses Business to H.I.G. Capital
5.11.2019
Closing of the Sale of the Meyer Burger Company Building
31.10.2019
COLOGNE FINE ART 2019: Podium Discussion on the Development of the Art Market for Ancient Art
31.10.2019
Covestro Supports Chem Startup Award
30.10.2019
Second Quarter of 2019: Solid Core Volume Growth in a Difficult Environment
30.10.2019
Kögel Exhibits at Solutrans 2019
29.10.2019
Global MEMS and Sensors Fab Capacity to Grow 25 Percent Through 2023, SEMI Reports
28.10.2019
Barbara Leithner Promoted to Management Team at Reed Exhibitions Austria
28.10.2019
Covestro Generates Strong Volume Growth
25.10.2019
Meyer Burger is Selling its Software Business to S&T AG for CHF 14 Million in Cash
25.10.2019
K 2019: Arburg Sets Trends
24.10.2019
SCHMOLZ + BICKENBACH Lowers Guidance for Fiscal Year 2019
24.10.2019
Meyer Burger Receives a Further Partial Order from Oxford PV for about CHF 18 Million
24.10.2019
225,000 Visitors at the K 2019 in Dusseldorf (Germany)
23.10.2019
SCHMOLZ + BICKENBACH Plans Capital Increase
23.10.2019
North American Semiconductor Equipment Industry Posts September 2019 Billings
23.10.2019
Meyer Burger sells company building to Helvetica Swiss Commercial Fund
22.10.2019
BIOFACH and VIVANESS: Jane Goodall to Give Keynote Address at Opening of Combined Trade Fair
22.10.2019
K 2019: Covestro- Employees become Founders
18.10.2019
Discovery Art Fair Frankfurt 2019 presented Contemporary Art
18.10.2019
Germany & Silicon Valley: Shaping a Shared Digital Future
18.10.2019
Meyer Burger: REC Group Starts Mass Production of New Alpha Panels
17.10.2019
Research Project Investigates Energy System Transformation in Industry
17.10.2019
German Mobility Start-up Enters US Market
17.10.2019
Zeitgeist Event "Tradition meets Future"
16.10.2019
Suntrace and BayWa r.e. Support B2Gold in Implementing the Fekola Solar Project
16.10.2019
EIT Turns up the Volume on Creative & Cultural Industries
16.10.2019
Extraordinary Shareholders' Meeting of Meyer Burger Technology Ltd
15.10.2019
Preparations in full swing for GaLaBau 2020
15.10.2019
Cloos Schweisstechnik: Efficient Welding of Small Batch Sizes Without Programming Effort
15.10.2019
Messe Düsseldorf Moscow Celebrates Anniversary
14.10.2019
Satys Announces its Takeover of ATE's Paint Site in Châteauroux (France)
14.10.2019
Covestro Plans to Promote Circular Economy
11.10.2019
ZEISS and Senorics Establish Partnership
11.10.2019
HRSflow at K 2019 in Dusseldorf (Germany)
11.10.2019
K 2019: When Antimicrobial Silicone and 3D Printing Become One!
10.10.2019
Hamburg Boat Show Sails Out Into the Colorful World of Water Sports
10.10.2019
Leading the Way with INTERNORGA 2020
10.10.2019
it-sa 2019: Experts make Nuremberg the "Home of IT Security"
9.10.2019
Carsten Spohr and Armin Laschet Promote Sustainable Technology in Aviation
9.10.2019
Broadband World Forum 2019: DECT Forum Showcases Smart Home IoT at the Fair
9.10.2019
SEMICON Taiwan 2019 Opens with Smart Tech, Innovation, Digital Future in Spotlight
8.10.2019
Outcomes of the Russian Energy Week International Forum 2019
8.10.2019
SolarEdge Files Three Patent Infringement Lawsuits Against Huawei in China
8.10.2019
EU: EIB Lends Fazua EUR 12 Million
7.10.2019
SEMI, SUNY Poly Awarded $6 Million National Science Foundation Grant for Pilot Program
7.10.2019
MOTEK & BondExpo 2019: Arena of the Future!
7.10.2019
Alexander Novak and Mikhail Kotyukov Hold 'Dialogue as Equals' as Part of REW 2019 Youth Day
4.10.2019
Agenda and Proposals for Extraordinary Shareholders' Meeting 2019
4.10.2019
BlechExpo 2019: Upgrading servo presses for Industry 4.0 with Schuler
4.10.2019
Coperion: Digital Solutions for Networked Plastics Production
3.10.2019
Natural Gas Fuel Development Strategy to Accelerate
3.10.2019
Futurebuild Events and Easyfairs Management Teams Collaborate
3.10.2019
Fine Art Asia is the leading fine art fair in Asia
2.10.2019
BIOFACH INDIA: India's Must-do Event for the Organic Industry goes Into its 11th Round
2.10.2019
Upgrading Servo Presses for Industry 4.0 with Schuler
2.10.2019
Arburg at the Moldplas 2019 in Portugal
30.9.2019
IPB 2019: A grand Powder Event with 230 Exhibitors
30.9.2019
ZEISS Opts for Continuity with New CEO
30.9.2019
Covestro Expands Open Innovation in China
27.9.2019
ART INTERNATIONAL ZURICH 2019: An Art Forum for Lively Exchange
27.9.2019
Digital Solar & Storage 2019: Innovating the New Energy World
27.9.2019
Co-operation: Dieffenbacher and Arburg Combine their Expertise
26.9.2019
Business Value of Internet of Things in Smart Cities
26.9.2019
Toy Exhibition Spielwarenmesse and NürnbergMesse Arrange Early Contract Extension
26.9.2019
FoodTec India & PackEx India 2019 with 48 % International participation
25.9.2019
VIVANESS 2020: Trailblazer for the Natural and Organic Cosmetics Sector
25.9.2019
BIOFACH 2020: Even More Space for Organic Products and Even More Variety!
25.9.2019
Messe Essen Celebrates the Conclusion of the First Construction Phase
24.9.2019
International Real Estate Investment Forum PROESTATE Begins
24.9.2019
Meusburger at the K 2019 with Market Innovations
24.9.2019
Meyer Burger: Confirmation of Company's Strategic Realignment
20.9.2019
Technology Days for Laser Blanking Line from Schuler
20.9.2019
Dr. Constantin Häfner Named New Fraunhofer ILT Director
20.9.2019
Covestro in new Circular Plastics Alliance
18.9.2019
Fraunhofer ENAS: Individualization of Products in Mass Production
18.9.2019
BIOFACH and VIVANESS: Combined Trade Fair goes Into 2020 with Two New Halls
18.9.2019
VIVANESS to Move into Sustainability Award-winning Hall 3C in 2020
16.9.2019
EU PVSEC: Photovoltaic Solar Energy will Open a New World for Mobility Fuelling Zero Emissions Cars
16.9.2019
EEF 2019 Discussed Ways to Increase Life Expectancy in the Far East
16.9.2019
Covestro to Sell European Polycarbonate Sheets Business to Serafin Group
13.9.2019
AUMA: German Exhibitions Post Further Positive Results
13.9.2019
Lufthansa Group Airlines Raise Number of Passengers to more than 14.1 Million in August 2019
13.9.2019
Arburg makes K 2019 digital!
12.9.2019
Call for Speakers: 5G and Beyond Leadership Summit
12.9.2019
EU PVSEC 2019 opened its doors in Marseille
12.9.2019
Coperion K-Tron Announces a Completely New K3 Line of Vibratory Feeders
11.9.2019
SCHMOLZ + BICKENBACH adjusts guidance for fiscal year 2019
11.9.2019
SEMICON Europa: SMART MedTech Forum Focuses on Innovation, Future of Medical Technology
10.9.2019
Priority Plastics Expands Capacity for UN-Rated Tight Head Containers
10.9.2019
parts2clean 2019: Trends, Ideas and Know-how for Consistently Clean Parts
10.9.2019
CLOOS at SCHWEISSTEC 2019
9.9.2019
Tendence 2020: New Dates and Extended to Four Days
9.9.2019
New International Trade Fair for Lightweight Construction Solutions
9.9.2019
parts2clean 2019: Trends, ideas and know-how for consistently clean parts
6.9.2019
MOMENTIVE to Showcase new Silicone Technologies at K 2019
6.9.2019
SAERTEX® INCREASES Range of Carbon Materials Through Acquisition of TK-Industries
6.9.2019
Dr. Timo Berger is Weidmüller's new Chief Sales Officer
5.9.2019
Trina Solar Releases Corporate Social Responsibility Report 2018
5.9.2019
SAERTEX® Increases Range of Carbon Materials Through Acquisition of TK Industries
4.9.2019
BUSS at K2019: New Models Extend Applications for COMPEO Compounders
4.9.2019
Dr. Timo Berger is Weidmüller's new Chief Sales Officer
4.9.2019
Fraunhofer FEP: Porous Silicon lLyers for More Efficient Lithium-ion Batteries
3.9.2019
Innovations and Know-how for Optimised Processes for Deburring and Surface Finishes
3.9.2019
Hatch and Samsung Extend 5G Cloud Gaming Partnership to Europe
3.9.2019
New Fraunhofer Coating Process Provides Effective Protection for Brake Discs
30.8.2019
Save the Date! AKL'20 from May 6–8, 2020
30.8.2019
Fraunhofer ILT: Optimizing the use of Lasers With Artificial Intelligence
30.8.2019
FAULHABER: Successful in France for 10 years
29.8.2019
MeKo Presents Numerous Innovations at COMPAMED / MEDICA 2019
29.8.2019
Register now for the "AI for Laser Technology Conference"
28.8.2019
Visitors Numbers up Once Again at BIOFACH AMERICA LATINA 2019
28.8.2019
DeburringEXPO: Innovations and Know-how for Optimised Processes for Deburring and Surface Finishes
26.8.2019
50th Anniversary of Exhibition Centre in Düsseldorf
26.8.2019
Solar Impulse: Bertrand Piccard at G7 to Push Ambitious Climate Action
26.8.2019
Thomas Kamphausen to become new CFO of Schuler
23.8.2019
SolarEdge: Board of Directors Has Appointed Zvi Lando as Acting CEO
23.8.2019
PORTWELL Launches Compact and Robust IOT Gateway PC
23.8.2019
Semiconductor Equipment Industry: Billings Higher than June 2019
22.8.2019
BIOFACH 2020: New Special Show on "Water"
22.8.2019
Schuler Develops Forging Press With Hirschvogel
22.8.2019
Brabender Technologie: New Equipment and Software Applications at "K 2019"
20.8.2019
TDK Corporation to Establish a Corporate Venture, TDK Ventures, Inc.
20.8.2019
embedded world 2020: "Safe for the Future" With top-class Speakers
20.8.2019
Winner of the Red Dot Award: The KOSTAL Solar App
19.8.2019
Milacron Launching Wide Range of New and Upgraded Mold-Masters Solutions at K 2019
19.8.2019
SEMI Unveils Technology Showcase Finalists for MEMS & Imaging Sensors Summit
19.8.2019
Perimeter Protection Still on Track for Growth
16.8.2019
Meyer Burger Plans to Adapt Business Model and Enter Strategic Collaboration with REC
16.8.2019
BIOFACH SOUTH EAST ASIA 2019: Successful second round
16.8.2019
SolarEdge Appoints New Director to Serve as Co-Chairman
15.8.2019
Meyer Burger Impacted by Weak Demand in Photovoltaic Sector in H1 2019
15.8.2019
SCHMOLZ + BICKENBACH Slowed Down by Weak Market Development
14.8.2019
Bosch is Shaping Present and Future Mobility
14.8.2019
Main Congress Theme for BIOFACH 2020: "Organic Delivers!"
13.8.2019
SPI, ESI, and NASEW 2019 Presents: The Grid of Grids
13.8.2019
BIOFACH AMERICA: Best Prospects for Trade Fair and Market
12.8.2019
The Indonesians Fighting the Scourge of Plastic Pollution
12.8.2019
Bosch is Paving the Way for 3D Displays in Vehicles
8.8.2019
KUKA Stabilizes Results
8.8.2019
Bayer on Track in Operational Business
8.8.2019
AstroNova to unveil new products at the FachPack 2019
7.8.2019
Bayer and LANXESS to Sell Their Stakes in Currenta to Macquarie Infrastructure and Real Assets
7.8.2019
LANXESS Remains on Track After a Stable Second Quarter
7.8.2019
SolarEdge: Record Revenues of $325.0 Million
2.8.2019
opti to Get a New Home in 2021
2.8.2019
IFAT Africa 2019: Approaching Southern Africa's Environmental Challenges with Enthusiasm
2.8.2019
SMTConnect 2019 Statistics: Event Facilitates High-quality Exchange
29.7.2019
Successful Premiere for analytica Lab Africa 2019
29.7.2019
MARINE INTERIORS 2019: Culinary Delights at High Sea
29.7.2019
ESOF2020 Trieste: A Record of Applications
26.7.2019
AddSteel Project: New steel materials for 3D Printing
26.7.2019
"Superbrand" Award for Arburg Hungary
25.7.2019
parts2clean Supporting Program: Information, Innovation and Expertise
25.7.2019
Bosch: Driverless Parking Without Human Supervision
24.7.2019
Meyer Burger Technology: Shareholder Requests Agenda Item for Future Annual General Meeting
24.7.2019
SEMICON Europa Drives Smart: Transportation, MedTech, Design and Workforce
23.7.2019
KOSTAL Continues to Deliver the Most Efficient PV Storage System
23.7.2019
Arburg Receives "Bosch Global Supplier Award 2019"
22.7.2019
Meyer Burger Publishes Preliminary Results for the First Half of 2019
22.7.2019
Arburg Awards for Outstanding TUM Graduates
22.7.2019
Meyer Burger Signs Major Contract for its Heterojunction Core Equipment
19.7.2019
New, modern, future-oriented – please welcome Lufthansa's 15th A350-900 to Munich
19.7.2019
PCIM Europe Conference 2020: Call for Papers launched Vineeta Manglani
19.7.2019
Oliver Zipse appointed new Chairman of the Board of Management of BMW AG
18.7.2019
All in CARAVANING 2019 Successfully Concluded
18.7.2019
Arburg at K 2019: Two Views of One World
18.7.2019
Messe Friedrichshafen Decides to Postpone the New Outdoor Event
17.7.2019
Bosch is Expanding its Involvement in Cyber Valley
17.7.2019
WITTENSTEIN at EMO 2019
17.7.2019
Dream Tours at CARAVAN SALON DÜSSELDORF 2019
16.7.2019
SCHMOLZ + BICKENBACH Lowers Guidance for Fiscal Year 2019
16.7.2019
SEMI Teams with FIRST Global to Inspire Young Students Worldwide
15.7.2019
Robert Bosch GmbH Salls Bosch Packaging Technology
12.7.2019
SEMI – 2019 Market Reset With 2020 Recovery
12.7.2019
Bosch Continues to Expand its Digital Supply Chains
11.7.2019
CyberOptics MRS Sensor Wins 2019 Best of West Award
11.7.2019
DeburringEXPO 2019: Component Quality Masters the Balancing Act
10.7.2019
Bosch Packaging Technology Demonstrates Out-of-the-box-solutions at FachPack
10.7.2019
Waymo Wins SEMI Award at SEMICON West
10.7.2019
1,000th SEMI Industry Standard Marks 40+ Years of Microelectronics Innovation
9.7.2019
DUO PLAST AG Strengthens its Position for Further Growth with New Shareholder
9.7.2019
Schuler Presents Fully Networked Stamping Press
8.7.2019
Arburg Packaging Summit: "Solutions, innovations, visions"
8.7.2019
Uniloy Announces Completion of Transaction with Milacron
4.7.2019
25 years of Arburg in Switzerland
4.7.2019
Bühler Technologies Celebrating "40 years of ATEX Pumps"
4.7.2019
14th Asia Outdoor a Great Success
3.7.2019
Arburg Packaging Summit: "Solutions, innovations, visions"
27.6.2019
BlockState Launches Digital Equity Offering
27.6.2019
100 years of Kaeser Kompressoren
26.6.2019
CIBUS TEC 2019: More Halls, More Buyers and More Sectors
26.6.2019
Photovoltaics – Game Changer in the Global Energy System
26.6.2019
Covestro Start-up Challenge Enters a New Round
20.6.2019
SOLAREDGE to Offer Storedge with Power Backup for European Markets
20.6.2019
2019 drupa Prize awarded to Sonia Ben Hedia
19.6.2019
SolarPower Europe and ARE of Kazakhstan Signs Cooperation Agreement
19.6.2019
ACTITO acquires SmartFocus
19.6.2019
Lufthansa Group Airlines Win Four Airline Oscars
17.6.2019
drupa 2020: It is time to embrace the future!
17.6.2019
Covestro to sell European Systems Houses Business to H.I.G. Capital
14.6.2019
ZELLCHEMING-Expo 2019 on the Road to Success
14.6.2019
Fraunhofer IPMS: Top Marks for Plastic Bottle Recycling System
14.6.2019
CLOOS at BEIJING ESSEN WELDING & CUTTING 2019
13.6.2019
EUSEW 2019: Solar Skin - Unveiling the Next Building Generation!
13.6.2019
Global Fab Equipment Spending to Rebound in 2020 with 20% Growth
13.6.2019
Smart connectivity – with KOSTAL's Intelligence and Trusted Partners
12.6.2019
glasstec 2020: Exhibitor Registration Now Open
12.6.2019
Fraunhofer IPMS:Top Marks for Plastic Bottle Recycling System
12.6.2019
Fraunhofer IGB: Chemicals from Carbon Dioxide
7.6.2019
BDI: The EU is the Solution – Not the Problem
7.6.2019
New Bitkom-ifo Digital Index Shows Excellent Business Climate for the ICT Industry
7.6.2019
VDMA: Investors Remain Insecure
Mobile Website
Our website also works on IPhone, IPad and Co.