Wolfgang Marzin:

We see Ourselves as Partners of the Sanitary and HVAC Sector
Messe Frankfurt has been working closely together with the sanitary and HVAC sector

for many years. Every two years, the whole industry meets to hold discussions and do business at ISH, the world's leading trade fair for HVAC + Water. This year, it will be

held as scheduled from 22 to 26 March but as a digital event. In this interview, Wolfgang Marzin, President and CEO of Messe Frankfurt, emphasises the importance of ISH digital for the sector and offers insights into the programme of events.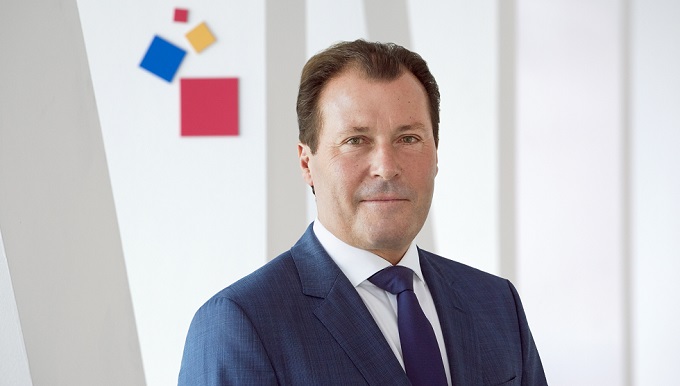 Wolfgang Marzin, President and CEO of Messe Frankfurt GmbH

Source: Messe Frankfurt GmbH / Sutera)
Mr Marzin, can you please tell us briefly what form ISH digital 2021 will take.
Wolfgang Marzin: As the name of this year's event implies, ISH 2021 will be a purely digital occasion. We planned this last autumn after holding detailed talks with the sector. We decided against a hybrid event in favour of a purely digital format focusing on a business platform, which is urgently needed, and knowledge transfer. This format thrives primarily on the exhibitors and their product presentations. But also on an extremely interesting programme of events. During the five days of the fair, visitors can take part in a stimulating blend of expert lectures, panel discussions and product shows, several of which will be streamed around the world live from the Messe Frankfurt recording studios. Additionally, we are providing a variety of functions at ISH digital platform. For example, an AI-aided matchmaking process will offer contact recommendations on the basis of individual interests and thus connect the right exhibitors with the right visitors. Through a chat function, video calls and digital conference rooms, participants will be able to communicate and interact personally. With this format, we are offering the sector the chance not only to meet and exchange ideas and information but also to reach international customers. This was an important aspect for exhibitors and visitors and, therefore, an assignment we were pleased to carry out.
Which highlights are you particularly looking forward to?
Wolfgang Marzin: With its core themes of water, heating and air-conditioning, ISH has always been a trade fair with social relevance and the corona pandemic has underscored this. This is also shown by the top themes of this year's fair - the green deal, ventilation technology for clean and healthy air indoors and the hygiene trend in the sanitation segment - all of which are highly topical issues. Accordingly, the political world will also be represented at ISH digital 2021 and I am delighted that Hesse's Minister President, Volker Bouffier, will take part in the opening ceremony on 22 March. Other highlights include the ISH Technology and Energy Forum with discussions on, for example, biomethane and hydrogen as green alternatives to oil in the heating market and the Air-Conditioning Forum, which will present, inter alia, ventilation technology that reduces the risk of infection indoors. Under the title 'Inside ' Outside', the 'Pop up my Bathroom' trend show will present not only the latest design trends but also spotlight important topics, such as modernisation and hygiene in public sanitation facilities and private households, as well as show which technologies will make bathrooms smarter in the future.
ISH has always reflected the spirit of the age and, this year, will once again be a driving force for innovation in the sanitary and HVAC sector. I am looking forward very much to discovering which new products our exhibitors are showing next month. Moreover, I am pleased that we have been able to demonstrate with ISH digital that we at Messe Frankfurt can also hold major international trade fairs as online events. Smaller fairs, such as Cleanzone, Formnext, SPS and Hypermotion, have already passed the acid test. Despite the circumstances under which they were held, the echo from both exhibitors and visitors was positive.
Why did Messe Frankfurt decide to make ISH 2021 a purely digital event?

After all, you could have cancelled the event altogether and focused on holding
it in 2023.
Wolfgang Marzin: Cancelling ISH 2021 was not an option. We see ourselves as partners of the sanitary and HVAC sector and want to do everything possible to support it during these challenging times. The sector's representatives indicated that they urgently need a trade fair because business is good at present. Therefore, we did everything possible to find a suitable solution taking account of the current pandemic. The decision to make ISH 2021 a purely digital event was fully correct - despite the fact that it will be different and take place in a smaller setting. We have no illusions about this. Nevertheless, thanks to the AI-aided matchmaking, the live streams and various communication functions, the digital platform can offer much of what the sector requires. This year, everything is simply rather different. From my point of view, however, the situation also gives rise to a host of new opportunities. Our business model is, of course, based on personal encounters and we are working on making them possible again, especially for our exhibitors. However, we will certainly be able to take much from that we have learnt and will learn and incorporate it into ISH 2023 - but back at Frankfurt Fair and Exhibition Centre again.
Mr Marzin, will you also be 'on site' for ISH digital?
Wolfgang Marzin: Of course. If we want to be the partner of the sanitary and HVAC sector, we must also know what the driving forces are. In the past, I have always toured the exhibition halls and spoken with customers. And I will do so this year at ISH digital too. In other words, I will log in and use the platform to make new connections. To be honest, I am simply looking forward to interacting with people on a personal plane again. Everybody is missing this at the moment. And that includes me.
A glance into the future: what role will digital formats

play in tomorrow's trade fairs and events?
Wolfgang Marzin: Purely digital events will certainly be held into spring 2021. However, we are once again planning physical events at the Exhibition Centre for the second half of the year. For example, Indoor Air, a trade fair for ventilation and air quality, which is being held at the request of the sector as a one-off event in Hall 12 of the Exhibition Centre. Despite the ban on events over recent months, digitalisation has made it possible for us to bring people together online and to offer them a business platform. We are very pleased and grateful for this opportunity. As I mentioned before, I see digital elements as being an important addition to physical events in the future. They open up new perspectives: exhibitors and visitors can make their trade-fair experience even more individual; brands are present online the whole time between fairs; visitors from outside Germany can depart earlier in the case of appointment clashes but still participate digitally from their home country. Nevertheless, I am a trade-fair man through and through. Digital encounters cannot fully replace personal meetings. And should not do so. Accordingly, I am already looking forward to welcoming people from all over the world back to real events in Frankfurt am Main.
---
Source: Messe Frankfurt

News
1.12.2021
BSA Releases Digital Policy Recommendations for France in 2022
1.12.2021
Arburg: Technology Days 2022 Will Take Place in June!
30.11.2021
ALS User Meeting 2021: Host computer experts exchange ideas in Lossburg
30.11.2021
Get a Sneak Peek of SEMICON West 2021 Hybrid
30.11.2021
interpack 2023: Markus Rustler from Theegarten-Pactec is the new President
29.11.2021
Horticultural Trade Fair Shows Diversity of Latin American Products
29.11.2021
ALS User Meeting 2021: Host computer experts exchange ideas in Lossburg
24.11.2021
Keen Venture Partners gets boost from EIF to support European technology SMEs
24.11.2021
Amazon is the World's 5th Most Visited Website with 3 Billion Visits a Month
23.11.2021
North American Semiconductor Equipment Industry Posts October 2021 Billings
23.11.2021
CLOOS Expands Management
23.11.2021
formnext 2021: Arburg Products and Experts in High Demand
22.11.2021
SPS 2021 is Canceled
19.11.2021
SMTconnect Meet & Treat Event Greeted with Enthusiasm
19.11.2021
Demand for Sustainable Aviation Fuel on the Rise
19.11.2021
Fraunhofer ILT: 25 Years of Metallic 3D Laser Printing
18.11.2021
SEMICON West 2021 Hybrid to Highlight Solutions to Global Challenges
18.11.2021
BIOFACH 2022: Leading International Fair Continues to Evolve
17.11.2021
Lufthansa Group Repays Ffinancial Aid from the German Government
17.11.2021
SEMICON Europa 2021 Opens with Executive Forum
12.11.2021
Excellent Number of Registrations for POWTECH 2022
12.11.2021
ASCA and Nano-C Intensify Partnership
12.11.2021
XJet Expands its Foothold with new Distribution Agreements in Europe
10.11.2021
US, China, and Japan Cumulative National Debt Surpasses $50 Trillion
10.11.2021
Swiss Steel Group Continues to Increase Profitability in Q3 2021
3.11.2021
RIMAC and BUGATTI beginn Operating Under new Company
3.11.2021
Husky Strengthens its Commitment to Protecting the Return on its Customers' Investments
3.11.2021
arburgXvision 9: "Mould Strategy 2.0 – new ideas for reducing costs!"
2.11.2021
ASCA Increases Performance of Organic Solar Cells by Integrating New Semiconductors
2.11.2021
Finbold: Tech Giants Thriving Aamid Health Crisis
1.11.2021
Beviale Moscow 2022: The Stage is Set
1.11.2021
BICO and Eurobike Agree Long-term Trade Fair Partnership
1.11.2021
VIVANESS 2022: Natural and Organic Cosmetics a Fundamental Part of a Sustainable Lifestyle
29.10.2021
Solar Quality 2021: Registrations are Now Open!
29.10.2021
ASCA Increases Performance of Organic Solar Cells by Integrating New Semiconductors
29.10.2021
Bosch to Invest more than 400 Mio. Euros in its Semiconductor Fabs in 2022
28.10.2021
Lympo Partners with Polygon Studios
28.10.2021
6K Appoints Gary Hall as Chief Financial Officer6K,
27.10.2021
Call for Concepts for SPI, ESI, and Smart Energy Week 2022
27.10.2021
TrinaTracker Presents Innovative Solutions
27.10.2021
BMW Group Plant Munich goes Fully Electric
25.10.2021
Trina Solar 112MW Power Plant with 670W Vertex Modules Connected to the Grid
25.10.2021
ZEISS Women Award 2021 – A Plea for More Women in the Digital Sector
25.10.2021
FENSTERBAU FRONTALE 2022: "The preparations are intense, the early signs are encouraging"
22.10.2021
Visa and Mastercard Entering NFT Market
22.10.2021
gamescom asia 2021's Hybrid Edition Marks a Key Milestone for the MICE
21.10.2021
XJet end-to-end Solutions at Formnext 2021
21.10.2021
inter airport Europe 2021 unlocks new level of business networking
20.10.2021
The Industry is Looking Forward to bauma 2022
20.10.2021
SEMICON Japan 2021 Returns at Tokyo
20.10.2021
my-PV Opens Austria's First Solar-electric Commercial Building
20.10.2021
Arburg "live" and On a Grand Scale at Fakuma 2021
19.10.2021
Nathalie Benedikt becomes new CFO at Meyer Burger
19.10.2021
SEMICON Europa 2021 to Spotlight Smart Technologies Growth
19.10.2021
CHIRON Group Presented Innovative Solutions at EMO 2021
14.10.2021
Winners of the Formnext Start-up Challenge Impress Judges with Atomic Precision
14.10.2021
PRINT & DIGITAL CONVENTION 2021 starts in Düsseldorf on 20 October
14.10.2021
EXPO REAL 2021: New Start Successful
12.10.2021
Contract of Covestro CCO Sucheta Govil Extended Ahead of Schedule
12.10.2021
Solar Tree from ASCA Supplies e-Bike Stations with Environmentally Friendly Energy
12.10.2021
Deutsche Lufthansa AG repays Silent Participation I to the Economic Stabilization Fund
11.10.2021
Meyer Burger Presents Itself at Intersolar 2021 for the First Time as a Producer of Solar Cells and Modules
11.10.2021
Special Keynote by Chris Boos at it-sa 2021
11.10.2021
Swiss Steel Group Shareholders Approve Appointment of New Board Members
6.10.2021
SunBrush® Mobil Delivers Solar Cleaning System TrackFlex to Uzbekistan
6.10.2021
The Netherlands Pavilion at Expo 2020 Dubai Opens for Visitors
6.10.2021
Special Keynote by Chris Boos at it-sa 2021
5.10.2021
The Netherlands Pavilion at Expo 2020 Dubai Opens for Visitors
5.10.2021
Lithoz at Formnext 2021 –
5.10.2021
The Netherlands Pavilion at Expo 2020 Dubai opens for visitors
1.10.2021
Changes to Executive Board of Carl Zeiss AG
1.10.2021
EXPO REAL 2021: Acknowledged Experts and Valuable Insights
1.10.2021
JEFF KOONS X BMW. The artist creates a special edition of the BMW 8 Series Gran Coupe
29.9.2021
IDS 2021: Winning Back Professional Normality
29.9.2021
Time to Celebrate: 25 Years of ATC Rednitzhembach
29.9.2021
DENSO Robotics Exhibits at MOTEK 2021
27.9.2021
Large-scale solar projects in Africa with First Solar modules
27.9.2021
Smart Energy Week 2021: Don't Miss the Digital Expo
24.9.2021
SENSOR+TEST 2022: Numerous Exhibitors Will be there Again
22.9.2021
IDS 2021: Around 830 Exhibiting Companies from 56 Countries
22.9.2021
glasstec 2022 – Let´s go live
22.9.2021
CLOOS at SCHWEISSTEC 2021
21.9.2021
SunBrush® Mobil and AVANT SA Establish Sales Office in South Africa
21.9.2021
Deutsche Lufthansa AG Decides on EUR 2.1 Billion Capital Increase
21.9.2021
Arburg at formnext 2021
20.9.2021
MSEC 2021 to Highlight Leading-Edge MEMS and Sensors Innovations
20.9.2021
SEMI Report: Global Fab Equipment Spending Projected to Reach New High of Nearly $100 Billion
20.9.2021
EU PVSEC 2021 Comes to a Successful End
17.9.2021
Arburg at MSV 2021
17.9.2021
Solar Powered clothes: Art by Physicist Teamed up with ARMOR ASCA
17.9.2021
ELMET at Fakuma 2021
14.9.2021
Trustmary Announces $2.2 Million Funding to Further Drive Growth
14.9.2021
Swiss Steel Group nominates new members of the Board of Directors
14.9.2021
AEROCOMPACT launches patented support system for PV installations
9.9.2021
Deutsche Messe AG: Trade Fair Re-start in Hannover
9.9.2021
TrinaTracker Releases White Paper on Patented Long-lasting Spherical Bearing
8.9.2021
Lufthansa Improves Travel Experience with Innovative Cabin
8.9.2021
Arburg at Moldplas 2021: Turnkey Solution for Digitalised Moulded Part Production
8.9.2021
MeKo is Now Called MeKo Manufacturing
7.9.2021
Jörg Eberhart appointed Chief Strategy Officer of Lufthansa Group
7.9.2021
TAE Technologies Expands Executive Team
7.9.2021
IAA Mobility: Climate-friendly Solutions for all Kinds of Mobility
6.9.2021
Cub Creek Energy signs Purchase and Sale Agreement for Wyoming assets
6.9.2021
Eurobike Impresses with Internationality, Atmosphere and Vision
6.9.2021
Caravan Salon: 185,000 Visitors Make for a Wonderful Atmosphere at the Exhibition Centre
3.9.2021
Lufthansa AG: Mobile Check-in Possible Again on Many Flights
3.9.2021
NürnbergMesse: Starting a Career Just in Time for a Restart of Events
2.9.2021
MedtecLIVE with T4M: Leading Springtime Event for Medical Technology Sector
2.9.2021
Arburg at Interplas 2021
1.9.2021
Leadout for Eurobike 2022 in Frankfurt
1.9.2021
MINI Announces Roar-some New Partnership with Longleat
31.8.2021
IDS 2021: Around 830 Exhibiting Companies from 56 Countries
31.8.2021
CARAVAN SALON for the First Time With Hybrid Offer
24.8.2021
North American Semiconductor Equipment Industry Posts July 2021 Billings
24.8.2021
ELECTRONIC ASSEMBLY: Ultra-thin OLED displays with flex cable
23.8.2021
Europe Supports Swedish Micro-entrepreneurs Through Ponture AB
23.8.2021
A New Date and New Organiser for the Stone+tec Trade Fair
20.8.2021
Saatchi Art: The Other Art Fair Virtual Editions
20.8.2021
Launch of DNV's Energy Transition Outlook 2021
20.8.2021
Americans Set to Spend More than $60 Billion for 5G Smartphones in 2021
19.8.2021
Upgrade of ANUFOOD China will cover South China's entire F&B Industry Chain
19.8.2021
Meyer Burger Completes Strategic Transformation in the First Half of 2021
18.8.2021
SEMICON Taiwan 2021 Rescheduled to Dec. 28-30
18.8.2021
SEMI Teams with the Manufacturing Institute
18.8.2021
Lufthansa Supports German Federal Government with Airlift
17.8.2021
Frieze Sculpture: Explore Major Outdoor Works from Leading Artists and Galleries
17.8.2021
SEMICON Southeast Asia 2021 Goes Virtual Next Week with 5G in Focus
16.8.2021
BIOFACH Congress Theme 2022: Organic.Climate.Resilience.
16.8.2021
Brabender Technologie: Smart controls, for present and future feeding solutions
13.8.2021
BIOFACH Congress Theme 2022: Organic.Climate.Resilience.
13.8.2021
TrinaTracker's High Efficiency in Harsh Environment is Verified in its 600MW
12.8.2021
Healthcare Firms Help European Unicorns Set Record Pace in 2021
12.8.2021
Swiss Steel Group Significantly Increases Profitability in Q2 2021
12.8.2021
ARMOR ASCA's Organic Solar Cells can even be Integrated Into Safety Glass
11.8.2021
Bosch at the IAA Mobility
11.8.2021
DREYPLAS: UHMWPE for Injection Moulding, Extrusion and 3D Printing
11.8.2021
Meyer Burger Rejects Allegations and Sets the Record Straight
10.8.2021
Tosaf at Fakuma 2021
10.8.2021
SEMI Unveils Diversity, Equity and Inclusion Roadmap, Toolkit and Event Guidelines
6.8.2021
CARAVAN SALON for the First Time with Hybrid Offer for Trade and End Customers
6.8.2021
New Managing Directors for AEROCOMPACT
6.8.2021
Covestro: Strong Second Quarter with Momentum for High Earnings
5.8.2021
Lufthansa Group Generates Positive Cash Inflows Again in the Second Quarter
5.8.2021
Schuler AG: Discovering the "Digital Suite" in Action
5.8.2021
Meyer Burger Plans to Expand its Product Portfolio with Innovative Solar Roof Tiles
2.8.2021
IDS Connect 2021: Driving Force of the Global Dental Industry
2.8.2021
FAKUMA 2021: Enthralling and Characterised by Transformation
30.7.2021
SEMI: Surging Chip Demand, Digital Transformation and COVID-19
30.7.2021
TrinaTracker Ratifies Tracker Stability with Comprehensive Wind Tunnel Tests
30.7.2021
ORLEN Group Posts Best Results Ever
30.7.2021
Arburg at Fakuma 2021: "The best of both worlds"
28.7.2021
New Partnership Between Messe Frankfurt and Messe Friedrichshafen
28.7.2021
Covestro Coses Sale of Joint Venture Shares in Dubai Systems House
28.7.2021
North American Semiconductor Equipment Industry Posts June 2021 Billings
27.7.2021
SEMICON Southeast Asia 2021 Goes Virtual as COVID-19 Cases Rise in the Region
27.7.2021
art KARLSRUHE in Future With Proven and New Management Functions
27.7.2021
Arburg at Equiplast 2021: A Pioneer in the Field of Digitalisation
22.7.2021
Finbold: A Record 136 New Billion-dollar Companies Born in Q2, 2021
22.7.2021
Arburg FDC webinar: lightweight construction – innovative, pioneering and sustainable
20.7.2021
Solar Impulse's Legacy Taken One Step Further
20.7.2021
R-Cycle wins the German Sustainability Award 2021
20.7.2021
BIOFACH CHINA Completes Successful Round
14.7.2021
Cibus Tec Forum 2021: First Edition of Which will be Staged in Parma (Italy)
14.7.2021
SEMI Reports: Semiconductor Equipment Forecast to Post Industry High of $100 Billion in 2022
14.7.2021
Arburg at Rapid + TCT 2021
13.7.2021
Solar Power: AEROCOMPACT Adds Sliding Seam Clamps to its Product Range
13.7.2021
Customs Compliance Conference 2021 in Houston
13.7.2021
Interest in Virgin Galactic (SPCE) stock rockets by 525%, led by Canada, US, and Singapore
8.7.2021
Ready for take-off: Eurowings Discover has been granted Air Operator Certificate
8.7.2021
New Executive Chairman and Management Hires for XJet
7.7.2021
Surging Chip Demand, Digital Transformation and COVID-19 – Insights from Wells Fargo
7.7.2021
Marketiger Confirms Appointment of New Partner
7.7.2021
SunBrush Sweeps the Middle East off its Feet
6.7.2021
DeburringEXPO – Hands-On Presentation of Solutions for Burr-Free, Clean, High-Precision Surfaces
6.7.2021
Spain's Solar Market Strengthens its Long-term Position
6.7.2021
GREEN FOR GROWTH FUND Mobilizes EUR 135 Mio. in 2020
5.7.2021
Trina Solar Launches Vertex 510W Module
5.7.2021
SolarPower Europe Calls for 45% Renewables
5.7.2021
CHIRON Celebrates a Special Anniversary
2.7.2021
SEMICON Taiwan Postponed to December 2021 or January 2022
2.7.2021
Stone+tec: New Organizer in Nuremberg
2.7.2021
Airwayz Returns to Operate Multiple Drone Fleets in an Urban Airspace
1.7.2021
Fraunhofer ILT: Power Electronics with Hybrid Circuit Boards Instead of Ceramics
1.7.2021
Maria Kofidou Confirmed as Managing Director until 2026
1.7.2021
automatica sprint Successfully Offers Digital Stage to Automation Sector
30.6.2021
EIB Supports ALTANA's Green Research Projects
30.6.2021
Over US$500 Billion across Food and Drink Industries at Risk from Marketing Restrictions
30.6.2021
Lympo Collaborates with Binance NFT Marketplace
28.6.2021
arburgXworld: More than 2,000 Customers Already use Digital Arburg World
28.6.2021
SEMI Report: New Semiconductor Fabs to Spur Surge in Equipment Spending
25.6.2021
IAA Commercial Vehicles in 2022 with Expanded Concept
25.6.2021
REED Expositions France and REED MIDEM join Forces as RX FRANCE
25.6.2021
Nigeria and South Korea Tops in Mobile Online Shopping Accounting for 65% of all Purchases
24.6.2021
6K: New Appointment Adds Skilled Leader to the 6K Organization
24.6.2021
DeburringEXPO – Hands-On Presentation of Solutions for Burr-Free, Clean, High-Precision Surfaces
24.6.2021
Tesla Outperformed Rivals Stocks with 224% ROI in Last 12 Months
23.6.2021
Covestro: Joining Forces for the Circular Economy
23.6.2021
SEMI Reports: New Semiconductor Fabs to Spur Surge in Equipment Spending
23.6.2021
Fraunhofer ITL: Controlling 100 Lasers Automatically via the Cloud
17.6.2021
EXPO REAL: the network to meet again in Munich
17.6.2021
automatica 2021: The Munich_i high-tech Platform's Attractions
17.6.2021
Meyer Burger Secures EUR 185 Million Debt Financing
15.6.2021
automatica SPRINT 2021 With Around 80 Companies
15.6.2021
More than 950 Exhibitors Present Themselves at ACHEMA Pulse 2021
15.6.2021
Lufthansa Group Announces Medium-term Targets
11.6.2021
Meyer Burger Technology Ltd.: Katja Tavernaro Becomes Member of the Executive Board
11.6.2021
Fraunhofer IGB: Nose2Brain – Active substances without detour through the nose into the brain
10.6.2021
PCIM Europe 2021: All Conference and Forum Presentations Available on Demand
10.6.2021
ZEISS Innovation Hub in Dresden Opens Its Doors
9.6.2021
BIOFACH / VIVANESS 2022: Organic Food and Cosmetics Community Set to Reunite in Nuremberg
9.6.2021
BNPL Consumer Spending to Surpass $680 Billion by 2025
9.6.2021
purmundus challenge 2021 – Innovation in progress
8.6.2021
Covestro Receives JEC Innovation Award
8.6.2021
BSA: New Report Provides Detailed Steps to Mitigate the Risk of AI Bias
8.6.2021
OPTIMAL SYSTEMS Releases New Version of enaio®
7.6.2021
Covestro Meets Guidance for First Quarter Despite Coronavirus Impact
7.6.2021
Bosch Opens Chip Factory of the Future in Dresden
7.6.2021
Arburg Prototyping Center Opens in China
4.6.2021
Covestro: Cooperation with Recycling Specialist carboNXT®
4.6.2021
Triodos Bank to Extend Support for Cultural and Creative Sectors with EU Backing
3.6.2021
CDP Welcomes the European Investment Bank Group as an Investor Signatory
3.6.2021
Bitcoin miners generate $1.4 billion in May's revenue despite 36% BTC slump
3.6.2021
DNV Confirms TrinaTracker Agile-1P and Vanguard-2P Compatibility with Large-Format Modules
2.6.2021
Meyer Burger Strengthens Management Team for Production and Supply Chain
2.6.2021
Stage set for HUBANA 2021 in September
2.6.2021
Peters: Eco-Angel for World Environment Day
1.6.2021
arburgXvision: "Savings Through Hidden Benefits! Savings - There's Still Some to be Had"
1.6.2021
World Population to hit 10 Billion People by 2057
1.6.2021
Trina Solar Wins its Seventh Consecutive "Top Performer" Certified by PVEL
31.5.2021
Cathleen Kabashi Hands Over the Baton to Susann Seidemann
31.5.2021
ISM 2022 Boasts High Number of Registrations After the Early Bird Phase
31.5.2021
Good prospects for ProSweets Cologne 2022 after the early bird phase
28.5.2021
SEIA: New Event Format Facilitates Solar, Renewable Business
28.5.2021
UST Recognized as One of UK's 'Best Workplaces 2021'
27.5.2021
Pharma US Digital Ad Spend Up by 242% YoY in the First Two Months of 2021
27.5.2021
Trina Solar to Deliver 210 mm High-Power Vertex Modules to North America from its new Vietnam Factory
27.5.2021
NürnbergMesse Team Gets Coronavirus Vaccinations
26.5.2021
Meyer Burger Opens High Tech Module Factory in Freiberg (Germany)
26.5.2021
ZEISS Reports Successful Start to Fiscal Year
26.5.2021
Lufthansa Group Airlines Extend Option to Change Reservations Without a Rebooking Fee
Mobile Website
Our website also works on IPhone, IPad and Co.