Tube 2014 German steel tubing
industry suffers minor production losses in 2012
The steel tubing industry continues its worldwide growth trajectory. After a sharp drop in 2009, overall industry output grew significantly for the third year in a row in 2012. The record for total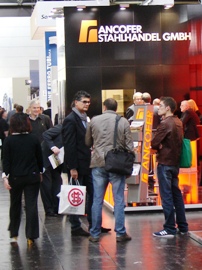 production was broken once again in 2012, with output climbing by 6% to 150 million tons, according to the German Steel Tube Association in Düsseldorf (www.wv-stahlrohre.de). However, this growth was limited to areas outside the EU. For example, production in China far outstripped the average and increased by 11% to 74 million tons. As a result, China now accounts for nearly half of total global steel tube production.
On the flipside, a production increase of just 2.3% to nearly 76 million tons remains for steel tube producers outside China. However, European steel tube manufacturers were not able to partake at all in this growth due to a depressed economic climate and weak demand, especially in Southern Europe. Production in the EU actually decreased from 14.1 to 13.8 million tons. The German steel tubing industry was also affected by this negative trend. Its 2012 output, according to the association, came in at 3.14 million tons, a decline of 3% compared to the prior year.
A year ago, the world seemed to be a much brighter place for the German steel tubing industry; after all, it had been able to post good results overall for 2011. Despite an increase in economic uncertainty over the course of the year, German steel tube manufacturers were able to augment production numbers of both seamless and welded tubes and pipes. According to the trade association, order intake figures even broke records occasionally during the first half of the year. Therefore, capacity utilisation was actually satisfactory in the industry as a whole, even though German manufacturers had to deal with once again decreasing order volumes in the second half of the year.
Energy sector still growth engine
The energy sector has long provided critical momentum for both the international and the German steel tubing industry. A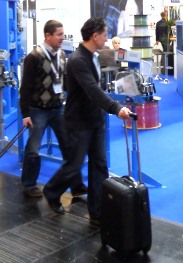 nd this area continues to be the largest market for steel tubes and pipes: Just over half of all tubes and pipes produced are destined for the transport of oil or gas. While seamless and welded steel tubes are used for the extraction and processing of oil and gas, the transport of liquids and gases relies mostly on welded pipes. The economic upswing, especially during the first half of 2011, led to an increase in the demand for oil and thus to record numbers of oil and gas drilling projects. The demand for OCTG (Oil Country Tubular Goods) mirrored this positive trend.
Other important key market sectors include automotive manufacturing, mechanical engineering, power plant construction, as well as the chemical, petrochemical and construction sectors. Accordingly, essential growth impulses for the German steel tubing industry in 2011 came from mechanical engineering, the automotive and chemical industry and the construction sector. The association reports that the wind energy sector is gaining in importance, specifically due to the demand for steel tubes used in the offshore foundations of wind power stations. In the area of energy tubes for power plant construction, stable demand abroad stood in contrast to weaker domestic business.
Even though there had been a number of production losses in the seamless and large-diameter tube segments, German steel tube production increased by 1.4% to 3.2 million tons in 2011. Germany lost the title as the largest steel tube producer in the EU to Italy because Italy was able to increase its output by 8% to 3.3 million tons in the same period. Nearly the entire German production - 3.0 million tons, 2.1% more than the year before - had been exported. Exports to countries outside the EU compensated at least partially for weakening demand, particularly from the southern European countries.
Imports to Germany increased by a significant 11.8%, to 2.2 million tons. Italy, which was able to increase its exports to Germany - as were France and Spain - was by far the largest supplier of steel tubes and pipes. Japan - supplier of large-diameter tubes for the Nord Stream project - and Switzerland, the Ukraine and Turkey also delivered more steel tubes to Germany than they had done in the year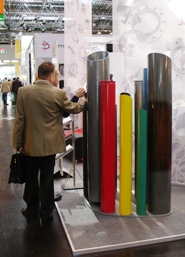 prior. By contrast, deliveries from the Czech Republic declined.
Investments in growth markets
In times when growth happens mostly outside of Germany and Europe, a global presence is becoming more and more critical for German tube manufacturers, too. For instance, the tubes division of Salzgitter AG with its Europipe holdings has long been represented in the U.S. growth market through company-owned manufacturing sites there. In late October 2012, Benteler Steel/Tube GmbH from Paderborn announced the construction of its first U.S. manufacturing site in Shreveport in northwest Louisiana. The company hopes the building of a seamless, hot-rolling steel tube mill will strengthen its position beyond current sales activities in one of the most important growth markets for global oil and gas exploration. Says Matthias Jäger, CEO of Benteler Steel/Tube GmbH: "This is the perfect place to step up our OCTG market activities and to expand our presence in North America in order to allow for flexible and individual customer deliveries in the future." Production at the tube mill is scheduled to start in the second half of 2015. Plans for a second phase exist, the construction of a steel mill. The investment for both plants adds up to approximately 900 million dollars.
European debt crisis shapes economic environment
The economic environment, itself shaped by the sovereign debt crisis in several euro-zone states, determined the fate of German steel tube makers in 2012. While the year started in a promising way, the economic climate became increasingly challenging as the year went on. The economy cooled down - not just in Europe, but also in most regions outside of Europe. Besides the United States and Japan, this development also hit the larger emerging countries.
Salzgitter AG (www.salzgitter-de.com) reports that these trends led to declining turnover figures in the European steel market accompanied by high input material and energy costs and temporary capacity underutilisation in the tubes segment. A temporary gap in capacity utilization in the large-diameter pipes business and the desolate market environment of the French precision tubes company hampered the performance of the company's tubes division. At the same time, however, the sector benefited from the positive performance of the HFI-welded pipes and stainless steel tubes segments in the reporting period.
During the first nine months of 2012, Salzgitter AG was able to maintain total tube shipments at the prior-year level. In the tubes division, increased sales of medium-diameter line pipes compensated for the lower volume of large-diameter pipes. Sales expectations, particularly in the precision tubes business serving the automotive industry, deteriorated significantly during this period. By contrast, other product segments operated mostly at capacity until the end of the year.
As the company further reports, order intake and orders on hand in the large-diameter tubes section fell short of prior-year figures. However, order activity in the HFI-welded tubes segment was above average, especially in the first quarter of 2012, thanks to good international project and core business results. In the precision tubing sector, high demand from the German automotive sector was overshadowed by a much worse situation in western and southern Europe. Similarly, demand from industry and energy-sector customers remained rather subdued. The development in other sectors was equally inconsistent. While the upswing in the market for seamless stainless steel tubes continued, the project business fell short of expectations, especially in the power-plant development sector.
Salzgitter AG anticipates for its tubes division the possibility of temporary periods of capacity underutilisation over the course of 2013 due to the economic environment and the late-cyclical nature of the tubes business. This development might affect the large-diameter pipes segment, in particular.
Cautious optimism for 2013
The Steel Tube Association anticipates that global demand for oil and natural gas will continue to increase in coming years, which should lead to a corresponding rise in the demand for steel tubes and pipes. The extraction of so-called unconventional oil and gas reserves - meaning the highly controversial fracking procedure - is seen as particularly stimulating for steel tube demand. Infrastructure improvements in emerging countries, particularly in China, should also lead to further increases in steel tube demand.
According to the association, European manufacturers approach 2013 cautiously due to continued economic uncertainty. There is hope that government intervention will mitigate the burdens imposed by the financial and sovereign debt crisis in Europe and the U.S. in the medium term. Beyond that, inventory-cycle effects along with an increase in market confidence could favour an increase in steel tube demand in Europa as the year progresses.

---
wire + Tube 2014
from 7 to 11 April 2014, Fair ground Dusseldorf (Germany)
---
Images: R. Eberhard, messekompakt.com, EBERHARD print & medien agentur gmbh
Source: Messe Düsseldorf

News
18.9.2019
Fraunhofer ENAS: Individualization of Products in Mass Production
18.9.2019
BIOFACH and VIVANESS: Combined Trade Fair goes Into 2020 with Two New Halls
18.9.2019
VIVANESS to Move into Sustainability Award-winning Hall 3C in 2020
16.9.2019
EU PVSEC: Photovoltaic Solar Energy will Open a New World for Mobility Fuelling Zero Emissions Cars
16.9.2019
EEF 2019 Discussed Ways to Increase Life Expectancy in the Far East
16.9.2019
Covestro to Sell European Polycarbonate Sheets Business to Serafin Group
13.9.2019
AUMA: German Exhibitions Post Further Positive Results
13.9.2019
Lufthansa Group Airlines Raise Number of Passengers to more than 14.1 Million in August 2019
13.9.2019
Arburg makes K 2019 digital!
12.9.2019
Call for Speakers: 5G and Beyond Leadership Summit
12.9.2019
EU PVSEC 2019 opened its doors in Marseille
12.9.2019
Coperion K-Tron Announces a Completely New K3 Line of Vibratory Feeders
11.9.2019
SCHMOLZ + BICKENBACH adjusts guidance for fiscal year 2019
11.9.2019
SEMICON Europa: SMART MedTech Forum Focuses on Innovation, Future of Medical Technology
11.9.2019

10.9.2019
Priority Plastics Expands Capacity for UN-Rated Tight Head Containers
10.9.2019
parts2clean 2019: Trends, Ideas and Know-how for Consistently Clean Parts
10.9.2019
CLOOS at SCHWEISSTEC 2019
9.9.2019
Tendence 2020: New Dates and Extended to Four Days
9.9.2019
New International Trade Fair for Lightweight Construction Solutions
9.9.2019
parts2clean 2019: Trends, ideas and know-how for consistently clean parts
6.9.2019
MOMENTIVE to Showcase new Silicone Technologies at K 2019
6.9.2019
SAERTEX® INCREASES Range of Carbon Materials Through Acquisition of TK-Industries
6.9.2019
Dr. Timo Berger is Weidmüller's new Chief Sales Officer
5.9.2019
Trina Solar Releases Corporate Social Responsibility Report 2018
5.9.2019
SAERTEX® Increases Range of Carbon Materials Through Acquisition of TK Industries
4.9.2019
BUSS at K2019: New Models Extend Applications for COMPEO Compounders
4.9.2019
Dr. Timo Berger is Weidmüller's new Chief Sales Officer
4.9.2019
Fraunhofer FEP: Porous Silicon lLyers for More Efficient Lithium-ion Batteries
3.9.2019
Innovations and Know-how for Optimised Processes for Deburring and Surface Finishes
3.9.2019
Hatch and Samsung Extend 5G Cloud Gaming Partnership to Europe
3.9.2019
New Fraunhofer Coating Process Provides Effective Protection for Brake Discs
30.8.2019
Save the Date! AKL'20 from May 6–8, 2020
30.8.2019
Fraunhofer ILT: Optimizing the use of Lasers With Artificial Intelligence
30.8.2019
FAULHABER: Successful in France for 10 years
29.8.2019
MeKo Presents Numerous Innovations at COMPAMED / MEDICA 2019
29.8.2019
Register now for the "AI for Laser Technology Conference"
28.8.2019
Visitors Numbers up Once Again at BIOFACH AMERICA LATINA 2019
28.8.2019
DeburringEXPO: Innovations and Know-how for Optimised Processes for Deburring and Surface Finishes
26.8.2019
50th Anniversary of Exhibition Centre in Düsseldorf
26.8.2019
Solar Impulse: Bertrand Piccard at G7 to Push Ambitious Climate Action
26.8.2019
Thomas Kamphausen to become new CFO of Schuler
23.8.2019
SolarEdge: Board of Directors Has Appointed Zvi Lando as Acting CEO
23.8.2019
PORTWELL Launches Compact and Robust IOT Gateway PC
23.8.2019
Semiconductor Equipment Industry: Billings Higher than June 2019
22.8.2019
BIOFACH 2020: New Special Show on "Water"
22.8.2019
Schuler Develops Forging Press With Hirschvogel
22.8.2019
Brabender Technologie: New Equipment and Software Applications at "K 2019"
20.8.2019
TDK Corporation to Establish a Corporate Venture, TDK Ventures, Inc.
20.8.2019
embedded world 2020: "Safe for the Future" With top-class Speakers
20.8.2019
Winner of the Red Dot Award: The KOSTAL Solar App
19.8.2019
Milacron Launching Wide Range of New and Upgraded Mold-Masters Solutions at K 2019
19.8.2019
SEMI Unveils Technology Showcase Finalists for MEMS & Imaging Sensors Summit
19.8.2019
Perimeter Protection Still on Track for Growth
16.8.2019
Meyer Burger Plans to Adapt Business Model and Enter Strategic Collaboration with REC
16.8.2019
BIOFACH SOUTH EAST ASIA 2019: Successful second round
16.8.2019
SolarEdge Appoints New Director to Serve as Co-Chairman
15.8.2019
Meyer Burger Impacted by Weak Demand in Photovoltaic Sector in H1 2019
15.8.2019
SCHMOLZ + BICKENBACH Slowed Down by Weak Market Development
14.8.2019
Bosch is Shaping Present and Future Mobility
14.8.2019
Main Congress Theme for BIOFACH 2020: "Organic Delivers!"
13.8.2019
SPI, ESI, and NASEW 2019 Presents: The Grid of Grids
13.8.2019
BIOFACH AMERICA: Best Prospects for Trade Fair and Market
12.8.2019
The Indonesians Fighting the Scourge of Plastic Pollution
12.8.2019
Bosch is Paving the Way for 3D Displays in Vehicles
8.8.2019
KUKA Stabilizes Results
8.8.2019
Bayer on Track in Operational Business
8.8.2019
AstroNova to unveil new products at the FachPack 2019
7.8.2019
Bayer and LANXESS to Sell Their Stakes in Currenta to Macquarie Infrastructure and Real Assets
7.8.2019
LANXESS Remains on Track After a Stable Second Quarter
7.8.2019
SolarEdge: Record Revenues of $325.0 Million
2.8.2019
opti to Get a New Home in 2021
2.8.2019
IFAT Africa 2019: Approaching Southern Africa's Environmental Challenges with Enthusiasm
2.8.2019
SMTConnect 2019 Statistics: Event Facilitates High-quality Exchange
29.7.2019
Successful Premiere for analytica Lab Africa 2019
29.7.2019
MARINE INTERIORS 2019: Culinary Delights at High Sea
29.7.2019
ESOF2020 Trieste: A Record of Applications
26.7.2019
AddSteel Project: New steel materials for 3D Printing
26.7.2019
"Superbrand" Award for Arburg Hungary
25.7.2019
parts2clean Supporting Program: Information, Innovation and Expertise
25.7.2019
Bosch: Driverless Parking Without Human Supervision
24.7.2019
Meyer Burger Technology: Shareholder Requests Agenda Item for Future Annual General Meeting
24.7.2019
SEMICON Europa Drives Smart: Transportation, MedTech, Design and Workforce
23.7.2019
KOSTAL Continues to Deliver the Most Efficient PV Storage System
23.7.2019
Arburg Receives "Bosch Global Supplier Award 2019"
22.7.2019
Meyer Burger Publishes Preliminary Results for the First Half of 2019
22.7.2019
Arburg Awards for Outstanding TUM Graduates
22.7.2019
Meyer Burger Signs Major Contract for its Heterojunction Core Equipment
19.7.2019
New, modern, future-oriented – please welcome Lufthansa's 15th A350-900 to Munich
19.7.2019
PCIM Europe Conference 2020: Call for Papers launched Vineeta Manglani
19.7.2019
Oliver Zipse appointed new Chairman of the Board of Management of BMW AG
18.7.2019
All in CARAVANING 2019 Successfully Concluded
18.7.2019
Arburg at K 2019: Two Views of One World
18.7.2019
Messe Friedrichshafen Decides to Postpone the New Outdoor Event
17.7.2019
Bosch is Expanding its Involvement in Cyber Valley
17.7.2019
WITTENSTEIN at EMO 2019
17.7.2019
Dream Tours at CARAVAN SALON DÜSSELDORF 2019
16.7.2019
SCHMOLZ + BICKENBACH Lowers Guidance for Fiscal Year 2019
16.7.2019
SEMI Teams with FIRST Global to Inspire Young Students Worldwide
15.7.2019
Robert Bosch GmbH Salls Bosch Packaging Technology
12.7.2019
SEMI – 2019 Market Reset With 2020 Recovery
12.7.2019
Bosch Continues to Expand its Digital Supply Chains
11.7.2019
CyberOptics MRS Sensor Wins 2019 Best of West Award
11.7.2019
DeburringEXPO 2019: Component Quality Masters the Balancing Act
10.7.2019
Bosch Packaging Technology Demonstrates Out-of-the-box-solutions at FachPack
10.7.2019
Waymo Wins SEMI Award at SEMICON West
10.7.2019
1,000th SEMI Industry Standard Marks 40+ Years of Microelectronics Innovation
9.7.2019
DUO PLAST AG Strengthens its Position for Further Growth with New Shareholder
9.7.2019
Schuler Presents Fully Networked Stamping Press
8.7.2019
Arburg Packaging Summit: "Solutions, innovations, visions"
8.7.2019
Uniloy Announces Completion of Transaction with Milacron
4.7.2019
25 years of Arburg in Switzerland
4.7.2019
Bühler Technologies Celebrating "40 years of ATEX Pumps"
4.7.2019
14th Asia Outdoor a Great Success
3.7.2019
Arburg Packaging Summit: "Solutions, innovations, visions"
27.6.2019
BlockState Launches Digital Equity Offering
27.6.2019
100 years of Kaeser Kompressoren
26.6.2019
CIBUS TEC 2019: More Halls, More Buyers and More Sectors
26.6.2019
Photovoltaics – Game Changer in the Global Energy System
26.6.2019
Covestro Start-up Challenge Enters a New Round
20.6.2019
SOLAREDGE to Offer Storedge with Power Backup for European Markets
20.6.2019
2019 drupa Prize awarded to Sonia Ben Hedia
19.6.2019
SolarPower Europe and ARE of Kazakhstan Signs Cooperation Agreement
19.6.2019
ACTITO acquires SmartFocus
19.6.2019
Lufthansa Group Airlines Win Four Airline Oscars
17.6.2019
drupa 2020: It is time to embrace the future!
17.6.2019
Covestro to sell European Systems Houses Business to H.I.G. Capital
14.6.2019
ZELLCHEMING-Expo 2019 on the Road to Success
14.6.2019
Fraunhofer IPMS: Top Marks for Plastic Bottle Recycling System
14.6.2019
CLOOS at BEIJING ESSEN WELDING & CUTTING 2019
13.6.2019
EUSEW 2019: Solar Skin - Unveiling the Next Building Generation!
13.6.2019
Global Fab Equipment Spending to Rebound in 2020 with 20% Growth
13.6.2019
Smart connectivity – with KOSTAL's Intelligence and Trusted Partners
12.6.2019
glasstec 2020: Exhibitor Registration Now Open
12.6.2019
Fraunhofer IPMS:Top Marks for Plastic Bottle Recycling System
12.6.2019
Fraunhofer IGB: Chemicals from Carbon Dioxide
7.6.2019
BDI: The EU is the Solution – Not the Problem
7.6.2019
New Bitkom-ifo Digital Index Shows Excellent Business Climate for the ICT Industry
7.6.2019
VDMA: Investors Remain Insecure
6.6.2019
SCHULER AG: Economic Production of Composite Parts
6.6.2019
KOSTAL is Setting Standards – with Efficient Hybrid and Storage Solutions
6.6.2019
Boosting Additive Know-how for drupa 2020
5.6.2019
Beviale Mexico 2020: Latin America's First Comprehensive Beverage Exhibition
5.6.2019
Fraunhofer ILT: Multi-functional Laser Tools for Lightweight Construction and e-Mobility
4.6.2019
First Quarter 2019 Worldwide Semiconductor Equipment Billings Drop 19%
4.6.2019
New Buehler Metallographic Laboratory on the Campus of the University of Warwick
4.6.2019
BIOFACH SOUTH EAST ASIA Moves Into its Second Round
3.6.2019
Silicon Wafer Shipments Drop to Lowest Level Since Fourth Quarter of 2017
3.6.2019
SCHMOLZ + BICKENBACH with a Challenging First Quarter
3.6.2019
TDK: High Efficiency Thin-film Power Inductors for Mobile Devices
28.5.2019
BayWa Intends to Divest Group Subsidiary TESSOL
28.5.2019
FENSTERBAU - FRONTALE 2020: From Window to Facade
28.5.2019
SEMI Monitors Escalating U.S.-China Trade Tensions
27.5.2019
IE expo China 2019: Demand for environmental technology in Asia scales new heights
27.5.2019
ZELLCHEMING-Expo 2019 on the Road to Success
27.5.2019
OUTDOOR: Getting Fit for the 2020 Retail Season
24.5.2019
New: Arburg Technology Center in Portugal
24.5.2019
Final Call for EUBCE 2019 in Lisbon, Portugal
24.5.2019
Arburg Thailand has Expanded
23.5.2019
New: Arburg Technology Center in Portugal
23.5.2019
Bosch to be Carbon Neutral Worldwide by 2020
23.5.2019
Robert Bosch Venture Capital invests in Veego Software
17.5.2019
euvend & coffeena 2020 parallel to ORGATEC
17.5.2019
Trina Solar Receives IEC Certification for Next Generation PV Modules
16.5.2019
ifo Institute: Economic Experts Fear Tariff War Will Shrink World Trade
16.5.2019
NürnbergMesse's Indian Portfolio Grows to 16 Trade Fairs
16.5.2019
GTAI: New Record: Foreign Direct Investment in Germany
15.5.2019
COMPAMED 2019: Top Bookings at the Top Event for Medical Technology Suppliers
15.5.2019
SPIEF 2019 to Host the International Youth Economic Forum
15.5.2019
E world energy & water 2020 Focuses on Recruiting
13.5.2019
IFFA 2019 – Where Tradition Meets High Tech
13.5.2019
IE expo China 2019: Demand for environmental technology in Asia scales new heights
13.5.2019
SCHMOLZ + BICKENBACH with Lower EBITDA in a Challenging First Quarter
7.5.2019
LIGNA 2019: Future Showcase for the Woodworking and Timber Processing Industries
7.5.2019
parts2clean 2019: Future-proofing the Cleaning of Industrial Parts
7.5.2019
ASMC 2019 Highlights Latest Advanced Manufacturing Strategies
6.5.2019
New Dates: IPM DUBAI and WOP DUBAI from November 12 to 14, 2019
6.5.2019
SCHMOLZ + BICKENBACH AG: Jens Alder elected as new Chairman
6.5.2019
Save the date - Intersolar Summit Spain
3.5.2019
SEMI and TechWorks Sign Multi-year Agreement
3.5.2019
Deutsche Messe Becomes International Partner of Energy Tradeshow SETA
3.5.2019
Buehler at CONTROL 2019
2.5.2019
Beviale Moscow to be Held in New Location in March 2020
2.5.2019
SCHMOLZ + BICKENBACH AG: Jens Alder Elected as New Chairman
2.5.2019
Meyer Burger Concludes Divestment of Wafer Business to Precision Surfacing Solutions
30.4.2019
PaintExpo 2020 – Trends und Impetus for Coating Technology
30.4.2019
Covestro Confirms Full Year Guidance After First Quarter
30.4.2019
Wibu-Systems joins the debut exhibitors at the medical technology expo T4M
29.4.2019
Covestro Confirms Full Year Guidance After First Quarter
26.4.2019
SEMI ISS Europe 2019: Enabling Digital Innovation Opportunities
26.4.2019
SEMI Partners with Powerhouses imec, CEA-Leti and Fraunhofer to Energize Global Innovation
26.4.2019
Meyer Burger Completes Transformation of Executive Board
25.4.2019
Lufthansa Promotes the European Elections
25.4.2019
drupa: The 6th report has been published
24.4.2019
North American Semiconductor Equipment Industry Posts March 2019 Billings
24.4.2019
Must-attend Event for the Tool, Pattern and Mould Making Industry
24.4.2019
TDK Teams With Immersion on Haptics
23.4.2019
POWTECH and PARTEC 2019: Powerful Process Engineering Duo in Nuremberg
23.4.2019
FLEX Taiwan 2019 to Showcase Flexible Electronics Innovations and Opportunities
23.4.2019
Covestro: Dividend Raised for the Fourth Consecutive Year
17.4.2019
XJet Showcases Expanded Range of AM Application Possibilities at RAPID + TCT 2019
17.4.2019
Exhibitors will be presenting world novelties at the PCIM Europe 2019
17.4.2019
New Location for the German House in Tokyo 2020
16.4.2019
SMC Korea 2019 to Highlight Key Semiconductor Materials Trends, Opportunities
16.4.2019
Coperion and Coperion K-Tron at Chinaplas 2019
15.4.2019
PaintExpo 2020 – Trends und Impetus for Coating Technology
15.4.2019
Trade Fair for Deburring Technology and Precision Surface Finishing in Karlsruhe
11.4.2019
Intersolar AWARD 2019: Finalists Announced
11.4.2019
2018 Global Semiconductor Equipment Sales Jump to Record $64.5 Billion
10.4.2019
EIT Community Opens its First Hub in Silicon Valley
10.4.2019
Coperion at Chinaplas 2019
9.4.2019
Digital Solar & Storage 2019: Save the Date and Call for Presentations
9.4.2019
Upbeat Industry Coming Together Once Again at DELHIWOOD 2019
9.4.2019
POWTECH and PARTEC Host Expert Knowledge-sharing Platform
5.4.2019
Deutsche Messe: To be the World's First 5G-powered Tradeshow Venue
5.4.2019
Covestro takes Gold Again in International Rating
5.4.2019
my-PV GmbH: First Solar Electric Water Heater Installed in Namibia
4.4.2019
Control 2019 – QA Innovations in a New Format
3.4.2019
Rapid.Tech + FabCon 3.D 2019: 3D printing, Spotify style
3.4.2019
Weidmüller and IDEC Announce Strategic Partnership
3.4.2019
Young innovative companies to present themselves at FIBO 2019
2.4.2019
SolarEdge: PV Monitoring Reaching New Heights
2.4.2019
TDK wins the Austrian VERENA award for CeraCharge™
2.4.2019
Arburg at Rapid + TCT 2019
1.4.2019
Weidmüller at the PCIM 2019
1.4.2019
Future Energy: Renewable Energy has Become Cheaper than Conventional Energy in the GCC
29.3.2019
Lufthansa Group Honored for its Good Corporate Citizenship
29.3.2019
Meyer Burger acquires 18.4% of Oxford PV
28.3.2019
EIT Community opens its first Hub in Silicon Valley
28.3.2019
Covestro Fosters Open Innovation in China
27.3.2019
SolarPower: Spain - Europe´s Re-Awakened Solar Giant
27.3.2019
Lufthansa is ATW Airline of the Year 2019
26.3.2019
ETIP Bioenergy: Delegated Regulation for High ILUC Risk Feedstock is a Step Forward
26.3.2019
Trail Enters Into an Exclusivity Agreement for the Acquisition of Electropoli
25.3.2019
European coating show 2019 Larger and More International than Ever
25.3.2019
NürnbergMesse's Indian Portfolio Grows to 16 Trade Fairs
22.3.2019
POWTECH Launches New "Networking Campus" Think Tank in 2019
22.3.2019
Meyer Burger – Strategic Partnership with Oxford PV
21.3.2019
LOPEC 2019: Organic and Printed Electronics Look Positively Into 2019
21.3.2019
Meyer Burger Awarded Contract for About CHF 15 Million
Mobile Website
Our website also works on IPhone, IPad and Co.