Trade fairs highlight industrial
integration in crucible of fourth industrial revolution
The eleven trade fairs staged under the umbrella of HANNOVER MESSE 2013 from 8 to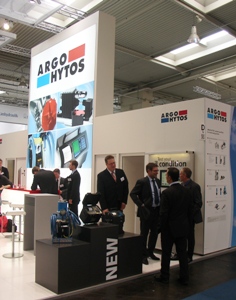 12 April featured the keynote theme of "Integrated Industry." 6,550 exhibitors, highlighting a multitude of innovative products and technology solutions, provided a vivid showcase for this theme. The show's five core topics - Industrial Automation and IT, Energy and Environmental Technology, Fluid Power and Power Transmission, Industrial Subcontracting, Manufacturing Technology and Services and R&D - opened up new prospects for expert dialogue across all aspects of Industry 4.0.
Industrial Automation
Industrial Automation featured process and production automation and system solutions for production and buildings. The "Integrated Industry" keynote theme was the dominant topic at exhibitor stands, and the debate on the "Factory of the Future" continued at the "Industrial IT Forum". Leading robot manufacturers and system providers organized a "Parade of Robots", while showcasing their latest production automation technology and solutions. Within the exhibition halls, trade visitors were able to view live displays of robots in operation. The process technology exhibition area provided comprehensive coverage of topics like pressure, filling level and temperature measurement as well as transmission and control engineering, along with a rich program of presentation and discussion forums.
The Efficiency Arena moreover offered visitors a program of lectures and debates on all aspects of energy efficiency in industrial processes during the five-day event.
Motion, Drive & Automation (MDA)
MDA introduced Bosch Rexroth as this year's HERMES AWARD winner, successfully highlighting the immense potential stemming from innovations in the area of electric and mechanical drive engineering, pneumatics and hydraulics. Bosch Rexroth received the award for a software solution perfectly tailored to the "Integrated Industry" keynote theme at HANNOVER MESSE. Generally speaking, the exhibitors at this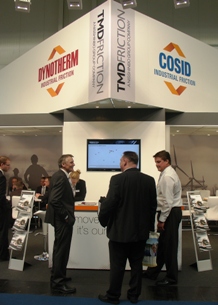 year's MDA focused on efficient and sustainable intelligent integrated system solutions. All the market leaders in the sector were at MDA, with displays including roller bearings, gears, clutches, hydraulic cylinders and subassemblies, filters, valves, sealing systems, oil supply systems and power electronics. The MDA show again included an accompanying forum for debate on current trends and technologies. Key topics this year were drive technology for wind energy plants, sealing systems, condition monitoring systems, along with sustainability, energy efficiency and lightweight construction.

Energy
The leading-edge technologies displayed by Energy exhibitors illustrated their ability to make a real contribution to the global transition in energy systems. Exhibits covered the entire energy industry supply chain, from generation, grid supply, transmission, distribution and storage through to the latest IT and market mechanisms for smart grids. The focus was on potential savings and efficiency gains from decentralized energy supply solutions. This involved energy efficiency service providers and the entire cogeneration and trigeneration market segment, plus the decentralized grid supply stationary fuel cells featured at the Hydrogen + Fuel Cells pavilion. Smart grids were another major theme, with a dedicated theme park and an accompanying forum. The most popular HANNOVER MESSE forum was again "Life Needs Power", where experts from policy, research and industry debated all the key trends and issues confronting the energy industry. Another major drawing card was the Renewable Energy forum, located within the same named exhibition sector. The forum featured informative presentations on wind and bio energy, photovoltaic systems, and solar and geothermal energy.
Wind

Wind power is seen as the driving force among the various renewable energy options. Worldwide installed power has already reached more than 200 gigawatts, and the participants in the Wind flagship tradeshow were clearly there to talk business. The leading manufacturers, subcontractors, logistics specialists and service providers were on hand to present their new concept designs and technologies for on- and off-shore solutions, and they used the international industrial platform provided by HANNOVER MESSE to highlight their skills for the energy transition. Higher towers, larger nacelles,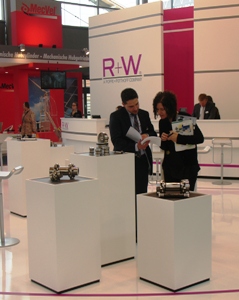 longer rotor vanes and more powerful transmission systems are making wind energy plants more powerful. Optimized plants for low-wind locations also have a part to play in making efficient use of wind energy. The Wind event again highlighted the enormous innovation momentum in this sector.
MobiliTec
The raft of new products and innovative solutions on display in MobiliTec made an impressive contribution to HANNOVER MESSE in terms of economic policy issues. As the flagship tradeshow for electric drive technologies, mobile energy storage and alternative mobility technologies, the event provided a comprehensive overview of electric mobility solutions. Among the exhibitors were regions whose projects have been selected by the German federal government for funding under the "Electric Mobility Showcase" program. Another highlight was the eMotive pavilion with cutting-edge electric mobility displays. The MobiliTec user forum drew span visitor numbers, with discussion and debate on the latest research findings and trends in energy storage technologies and powertrain electrification. Visitors were also able to test drive the latest electric vehicles on the extended circuit on the open-air site at the Hannover Exhibition Center.

Digital Factory
Digital Factory in Hall 7 was again the ICT hub at HANNOVER MESSE. The huge importance of IT as a driver of industrial innovations was reflected in the broad range of solutions on display, including PLM, ERP, MES and CAx. The key themes of the event were fully canvassed both in trade meetings and in the debates on strategy issues on all aspects of Industry 4.0. The industry associations VDMA (German Engineering Federation), ZVEI (German Electrical and Electronic Manufacturers' Association) and BITKOM (German Federal Association for Information Technology, Telecommunications and New Media) have created an agency specifically for this purpose, which they launched at the fair. Exhibitor firms provided impressive examples of the integration of real and digital business environments across every facet of the "Integrated Industry" keynote theme and debated the specific challenges involved in maintaining the data flow from product design, production scheduling and production through to the service phase. A special highlight of Digital Factory was the first CAE forum dedicated to the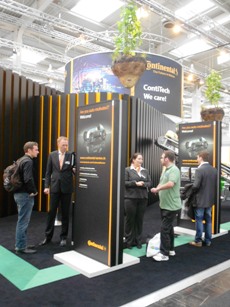 topic of numerical simulation. Presentations by representatives of industry and academia addressed topics like "IT Services" and "Quality Assurance in Virtual Product Design".
ComVac
Exhibitors at ComVac provided a complete market overview of their sector. All the market leaders were back this year for the "odd-numbered cycle" at HANNOVER MESSE to display their compressed air and vacuum technology products and solutions - from generation and treatment to distribution and practical applications in systems and machines. The focus was on state-of-the-art solutions which consume significantly less electric power and are more maintenance-friendly, with lower noise emissions, adding up to clear efficiency gains in production operations. Other sector themes in high demand included the classic after-sales segments like maintenance, repair and service contracts and consulting and analysis. This included the simulation of compressed air requirements, leakage checks, and audits and evaluation of compressed air systems and finance options. The businesses exhibiting at ComVac all see compressed air technologies as an essential part of industry and skilled trades operations.
Industrial Supply
The optimized hall configuration and comprehensive supporting program for the Industrial Supply event, particularly the Suppliers Convention and Materials Forum, were well received by exhibitors and visitors alike. As a worldwide global sourcing event, the Industrial Supply show staged in halls 4 to 6 clearly showed how closely the subcontracting industry is involved in its customers' planning and production processes. They appreciated the synergies from the physical location near the venues for surface technologies, environmental technologies and R&D. The companies presented components and processes meticulously tailored to customer requirements, for intelligent integration into their production processes. This made a clear and very tangible contribution to the HANNOVER MESSE keynote theme of "Integrated Industry". The Industrial Supply exhibitors impressed visitors with their wide range of applications and solutions-oriented products and technologies for functions like solid and sheet metal forming, machined components, systems and subassemblies, casting products and latches and locking systems, operating controls, fastening techniques and joining and adhesive bonding technology. Lightweight construction topics were again a special highlight. This techn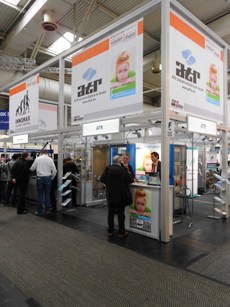 ology is seen as providing intelligent solutions for sustainable efficiency improvements. Meanwhile, the first Wind Energy Suppliers forum focused on eco-friendly, resource-conserving production processes, competitive logistics, new materials and process engineering solutions and intelligent production technology.
SurfaceTechnology
SurfaceTechnology 2013 showcased the entire value chain of application-oriented surface technologies. As a key technology segment with applications across all industry sectors, the surface technology industry derives full benefit from the HANNOVER MESSE concept, since it has customers and users in all the sectors represented at the event.
The new SurfaceTechnology venue in Hall 3 was a success, providing more effective synergies with the adjacent Research & Technology and Industrial Supply shows. Visitors were particularly impressed with the pavilions and special presentations on topics such as painting technology or nano-based applications and processes for high-tech surfaces. The Surface Technology forum focused on the importance of surfaces in interaction with the respective base materials.
IndustrialGreenTec
The displays of IndustrialGreenTec exhibitors at events covering all aspects of environmental technologies focused primarily on the needs and issues facing SMEs from Germany and abroad. At a range of workshops and conferences, international trade visitors were able to learn from the pioneers of sustainable production processes. Special attention was given to best-practice examples in terms of resource efficiency and the conservation of natural resources. One of the event highlights was the IndustrialGreenTec Conference, centered around the practical implementation of sustainable production processes and how businesses can benefit from them.
Research & Technology
Technology transfer and partnerships between research and industry were in the spotlight at the Research & Technology show. The exhibiting institutes, universities and companies were in Hall 2 to dialogue with industry and political representatives on the new technologies and improvements that will be needed to successfully address the challenges facing industry. The main focus was on the HANNOVER MESSE keynote theme of "Integrated Industry" and Industry 4.0. The "tech transfer - Gateway2Innovation" showcase put creative innovators in touch with business decision-makers and others looking for new ideas. The Research & Technology thematic clusters, such as Adaptronics, World of Nano, Bionics, Organic Electronics, Textile Solutions and in the R&T Arena clearly illustrated the potential benefits for industry stemming from the research and science domain.
---
Hannover Messe 2014
from 7 to 11 April 2014, Fair ground Hanover (Germany)
---
Images: R. Eberhard, messekompakt, EBERHARD print & medien agentur gmbh
Source: Deutsche Messe AG

News
21.10.2020
Brabender Technologie: Innovations for Additional Flexibility and Safety
21.10.2020
AUMA: Trade Fairs in Germany can Still Take Place
21.10.2020
Jade Kurian Receives Women in Technology Futurist Award
20.10.2020
Messe München by Offering New Hybrid Platforms
20.10.2020
DOMOTEX Postpones Trade Show from January to May 2021
20.10.2020
glasstec VIRTUAL: Ready to Kick off Tomorrow!
19.10.2020
SolarPower Summit can Look Back on an Excellent Event
19.10.2020
RE-Source 2020 is Going Virtual!
15.10.2020
Trina Solar's Vertex Series Modules gets Worldwide Recognized IEC Certifications
13.10.2020
HYDROGEN DIALOGUE: A "Who's Who" of the Hydrogen Industry will meet in Nuremberg
13.10.2020
GHM: Cancellation of opti 2021
13.10.2020
Next Fakuma in October 2021!
13.10.2020
The Race For Water Odyssey in the Land of the Rising Sun
9.10.2020
embedded world 2021: Call for Papers for Leading Expert Forums
9.10.2020
The ETIP PV Elected new Board Chairmen
9.10.2020
purmundus challenge Looks at Harmony Between Geometry and Materials
7.10.2020
Newly Elected EUROTRANS President from Turkish Association MIB
7.10.2020
Faber Infrastructure Launches Container-based Power Supply
7.10.2020
Lufthansa: Ticket Refunds Over Three Billion Euros Paid
5.10.2020
#EISEN Innovation Award 2020 Powered by ZHH in Digital Format this Year
5.10.2020
China, Japan and US controls 60% of Global Installations of Industrial Robots
2.10.2020
FIBO is on Again: The Fitness Sector Meets on the Web
2.10.2020
FENSTERBAU FRONTALE 2022: Early Bookings for Exhibition Areas Recommended
1.10.2020
Meyer Burger Technology Closing of the Sale of the Muegge GmbH
1.10.2020
Earnings Situation in German Industry Still Poor
1.10.2020
ifo Institute: Very Slow Recovery in the Automotive Industry
30.9.2020
automatica 2020 Not to be Held as In-person Event
30.9.2020
Reference Value for Hospital Costs Amounts to 2.60% in 2020
30.9.2020
Zayed Sustainability Prizes Announces Postponement of 2021 Awards Ceremony
29.9.2020
ProSweets Cologne 2021 at the Previous Year Level
29.9.2020
U.S. new home sales jump 108% over the last 10 years
28.9.2020
Healthcare Startups Raised $111.4bn in Total Funding, a 34% Jump Year-on-Year
28.9.2020
Frieze Viewing Room Brings Today's Most Significant Galleries Together on One Platform
28.9.2020
New CFO for Meyer Burger Technology Ltd.
24.9.2020
Plastics & Rubber Vietnam, ArabPlast and PLASTINDIA With New Dates for 2021
24.9.2020
SEMI-NBMC Invites White Paper Proposals for Funding of Human Monitoring Innovations
24.9.2020
Most Expensive Property Market - Hong Kong $1.23 Million Per Property
23.9.2020
Klaus Schäfer appointed to the German National Hydrogen Council
23.9.2020
LABVOLUTION in May 2021: The Ideal Time for a New Start
23.9.2020
Arburg Opens ATC Pinghu in China
22.9.2020
AIRBUS Reveals New Zero-emission Concept Aircraft
22.9.2020
Technology Days 2021: "ARBURG we are there"
22.9.2020
SEMICON Taiwan 2020 Hybrid Opens With Green Manufacturing
22.9.2020
Lufthansa Supervisory Boardextends Contract of Harry Hohmeister Ahead of Schedule
18.9.2020
BASF Venture Capital Iinvests in Leading Industrial Artificial Intelligence Company IntelliSense.io
18.9.2020
Setting the Course for GaLaBau 2022 and Beyond
18.9.2020
North American Semiconductor Equipment Industry Posts August 2020 Billings
17.9.2020
Trina Solar Completes Acquisition of Spanish Solar Tracker System Manufacturer Nclave
17.9.2020
The First Online Edition of EU PVSEC Reports a Huge Positive Outcome
16.9.2020
CARAVAN SALON 2020: Passionate Event Charted for Success
16.9.2020
Lufthansa is Consistently Pursuing its Tourism Strategy
11.9.2020
Positive Trend in Exhibitor Numbers at the PARKEN 2021
11.9.2020
BASF and 2M Group Donate Sanitizer in the North East of England
11.9.2020
Solar Quality 2020 is going digital!
10.9.2020
Kaeser Kompressoren Introduces "i.Comp " Compressor
10.9.2020
DeburringEXPO Takes Place in Karlsruhe
10.9.2020
Meyer Burger Divests Muegge GmbH
9.9.2020
ESOF 2020 Hybrid Format was Huge Hit
9.9.2020
Fraunhofer ILT: More Flexible Battery Design with Ultrafast Laser Ablation
9.9.2020
SEMI: COVID-19 Drives Rise in Global Fab Equipment Spending
8.9.2020
Roland Bleinroth elected to AUMA Executive Board
8.9.2020
ASIA FRUIT LOGISTICA is ON this November
8.9.2020
drupa: New Digital Platform for Knowledge Transfer and Networking
7.9.2020
Successful re-start for Koelnmesse in China
7.9.2020
CARAVAN SALON 2020 Attracts some 350 Exhibitors
7.9.2020
Trina Solar Reports 245.81% Year-on-Year Growth in Net Profits in 2020 Half-Year Results
4.9.2020
SMM 2021: "Together we Will Overcome this Crisis"
4.9.2020
IFA 2020 Special Edition: A Sign that 'Tech is Back'
4.9.2020
The First Online Edition of EU PVSEC will Start on Monday
3.9.2020
Messe Düsseldorf Departs Into a Hybrid Trade Fair Autumn
3.9.2020
CARAVAN SALON 2020 Attracts some 350 Exhibitors
3.9.2020
Art Basel Announces the Cancellation of its Miami Beach Fair
1.9.2020
New Dates Announced for Stone+tec 2021
1.9.2020
International Green Week 2021 will be an Exclusive B2B Event
1.9.2020
SPS 2020 Goes All-Virtual
28.8.2020
gamescom 2020 Launches with Several Political Guests of Honour
28.8.2020
Change in the Supervisory Board of Deutsche Lufthansa AG
28.8.2020
Covestro: Design Variety in the Car Interior of the Future
25.8.2020
Lufthansa Group Restricts Exceptions from Compulsory Masks
25.8.2020
BIOFACH CHINA: Successful restart of trade fairs in China
25.8.2020
SEMI Statement on New U.S. Export Control Regulations
24.8.2020
Lufthansa AG: Over 2.3 Billion Euros in Ticket Costs Reimbursed so Far
24.8.2020
CARAVAN SALON 2020: Exhibitors Announce Over 200 New Products in the Run-up to the trade fair
21.8.2020
International Green Week 2021 to Take Place as a B2B Event
21.8.2020
Jan Brockmann to Become New Chairman of the Bosch Thermotechnology Division
21.8.2020
Spexor from Bosch Provides Security to go
20.8.2020
Extreme Objects' by Design Museum Holon
20.8.2020
Lufthansa Group: Safe Travel During the Corona Pandemic
19.8.2020
ISM 2021: Organic Product Segment Continues to Expand
19.8.2020
Trina Solar to Add 10GW in Production Capacity of Ultra-high-efficient 210 mm Solar Cells
18.8.2020
SEMI Launches World's First Flexible Hybrid Electronics Standards Technical Committee
18.8.2020
EXPO REAL Hybrid Summit: Hybrid Format Generates Great Interest
17.8.2020
Powerful Worldwide Trade Fair Programme of German Organisers in 2021
17.8.2020
U.S. Real GDP Registers Biggest Quarterly Slump in Last 70 years at 32.9%
14.8.2020
EU Lifts Travel Restrictions at the External Borders
14.8.2020
AUMA: More Foreign Exhibitors in Germany Again in 2019
12.8.2020
STRATASYS Wins one of its Largest Ever Aerospace Orders
12.8.2020
SEMI Partners with GLOBALFOUNDRIES to Offer Apprenticeship Program
12.8.2020
SCHMOLZ + BICKENBACH Q2 2020 strongly affected by COVID-19
11.8.2020
gamescom 2020: On the Pulse of the Community
11.8.2020
New KOSTAL Solar Portal for PV System Monitoring
10.8.2020
TDK Announces Ultra-high AOP Analog MEMS Microphone
10.8.2020
Meyer Burger Divests Manufacturer for Microwave and Plasma Systems Muegge GmbH
6.8.2020
Positive Outlook for SPS 2020
3.8.2020
POWTECH 2020 Special Edition Cancelled
3.8.2020
Arburg Despite Corona: "Wir sind da."
30.7.2020
vienna contemporary 2020 will take place as planned from 24–27 September 2020
30.7.2020
Covestro: "We are pursuing a clear, far-sighted strategy"
29.7.2020
EU PVSEC Restructures its Plenary Sessions
29.7.2020
World`s Five Largest Airlines Lost Over $40bn in Market Cap Since January
27.7.2020
Positive Outlook for SPS 2020
27.7.2020
Bright Rock Siccessfully Completes Acquisition in Wyoming
24.7.2020
Suspension of INTERMOT 2020
24.7.2020
ProFood Tech Chicago Cancelled
24.7.2020
MOTEK 2020 and BondExpo 2020 Postponed Until Next Year
23.7.2020
Results Significantly Impacted by the Coronavirus Pandemic as Expected
23.7.2020
SEMI Applauds Senate Support of Financial Incentives to Grow U.S. Semiconductor Manufacturing
23.7.2020
LaP 2020": The Final Touches for Surfaces
22.7.2020
Lufthansa Group Airlines Significantly Expands Flight Schedule Until September
22.7.2020
Barbara Leithner promoted to management team at Reed Exhibitions Austria
21.7.2020
SEMI Announces Election and Re-Election of Board Members
21.7.2020
Digital launch of Chillventa eSpecial in October
21.7.2020
PaintExpo 2020 Cancelled After All
17.7.2020
Federal Minister Andreas Scheuer to Take Part in Political Opening of gamescom 2020
17.7.2020
drupa Starts in 2021 With Shortened Runtime
15.7.2020
Katy Crist of TEL Appointed to SEMI Foundation Board of Trustees
15.7.2020
REED Exhibitions Announces Ron Walden as Executive Sponsor for Race
15.7.2020
Fintech Leaders Raise Almost $4 Billion in Q2 Amid Pandemic
14.7.2020
Virtual SEMICON West 2020 to Gather Industry Leaders
14.7.2020
ESD Alliance Reports Growth for Q1 2020
14.7.2020
EU PVSEC goes online
9.7.2020
Messe Düsseldorf Draws up Hygiene and Infection Protection Concept
9.7.2020
SurfaceTechnology GERMANY and parts2clean cancelled for 2020
9.7.2020
SMB Solar Multiboard Launches New Product Range
8.7.2020
electronica 2020: ZVEI Expects Important Impact from Electronics Trade Fair
8.7.2020
VDMA: Campaign "Thank you, Free Trade" Struck a Chord
7.7.2020
EuroBLECH 2020 Postponed
7.7.2020
AUMA: Strong Trade Fair Programme Planned for 2021
6.7.2020
ProSweets Cologne 2021: Exhibitor Interest Exceeds Expectations
6.7.2020
ISM 2021: Good Booking Status after the Early Bird Campaign
3.7.2020
Virtual MedtecLIVE with MedTech Summit 2020
1.7.2020
Lufthansa Reorganizes Responsibilities on the Executive Board
1.7.2020
SEMI FlexTech Launches Three New Projects to Advance Flexible Hybrid Electronics
1.7.2020
New General Manager at Coherent Mainz
30.6.2020
ASMC 2020 to Go Virtual
30.6.2020
XJet Announces Global Partnership with Straumann
30.6.2020
FINTECH India 2020: Future of FINTECH in a Post Pandemic World
29.6.2020
REED EXHIBITIONS Announces New General Counsel
29.6.2020
Lufthansa Group: 50% of the Fleet Back in the Air
29.6.2020
Cancellation of Beviale Moscow 2020
26.6.2020
Thorsten Dirks to leave Lufthansa
25.6.2020
Werner M. Dornscheidt Retires Leaving Messe Düsseldorf After Almost 34 Years
25.6.2020
Markus Steilemann elected to head PlasticsEurope
24.6.2020
Formnext 2020: Sustainable Harmony of Material and Design
24.6.2020
Messe Essen: European Bridal Week as Starting Signal
24.6.2020
VDMA: "Contracts for work must not be prohibited!"
23.6.2020
Reed Exhibitions announces Vice President of Product Development
23.6.2020
Fraunhofer ILT: Bilsing Automation relies on extreme high-speed laser material deposition
22.6.2020
Eastern Economic Forum 2020 Cancelled
22.6.2020
Reed Exhibitions Announces Vice President of Product Development
22.6.2020
FENSTERBAU FRONTALE 2022: Reserve Your Exhibition Space Now!
19.6.2020
CARAVAN SALON Düsseldorf can Take Place
19.6.2020
Smart Enercy Week 2020: We're moving to Las Vegas
19.6.2020
InvenSense and Arrow Electronics Sign Global Distribution Agreement
17.6.2020
Implementation of Lufthansa Stabilization Package not Secured
17.6.2020
POWTECH Launches as Special Edition in Nuremberg in 2020
17.6.2020
TDK Announces World's Lowest-power PDM Microphone "T3902"
15.6.2020
Trina Solar Issues First A-Shares on Shanghai Sci-Tech Innovation Board
15.6.2020
PaintExpo 2020 will Take Place
12.6.2020
Tech Visionaries to Explore the Future of Innovation at Virtual SEMICON West 2020
12.6.2020
PaintExpo 2020 will Take Place
11.6.2020
Peter Ottmann new Deputy Chairman of AUMA
11.6.2020
SEMI FlexTech Invites Proposals for Funding Flexible Hybrid Electronics Advancements
10.6.2020
Covestro-Tongji Innovation Academy with Concrete Results
10.6.2020
purmundus challenge: International Design Competition for 3D and 4D Printing
10.6.2020
SEMI Report: Semiconductor Fabs to Log Record Spending of Nearly $68 Billion in 2021
8.6.2020
Lufthansa Supervisory Board Approves Stabilization Measures
8.6.2020
EU SUSTAINABLE ENERGY WEEK (EUSEW)
8.6.2020
Covestro Successfully Issues EUR 1.0 Nillion Eurobond
3.6.2020
First-Quarter 2020 Global Semiconductor Equipment Billings Up 13% Year-Over-Year
3.6.2020
China IC Industry on the Rebound with SEMICON China Leading the Way
3.6.2020
Drastic Decline in Air Travel Significantly Affects Lufthansa Group's Quarterly Result
2.6.2020
Lufthansa Supervisory Board Approves Stabilization Measures
2.6.2020
Global Market Outlook Launch Conference
2.6.2020
Bright Rock acquires land package in Wyoming
29.5.2020
VDW: Medical Engineering Requires Long-term Approach
29.5.2020
VDMA: Supply Changes in Mechanical Engineering become More Stable
28.5.2020
Schuler AG: Laser Blanking Improves Forming Process
28.5.2020
Lufthansa Group significantly expands service with June
27.5.2020
New Dates (Again) for SNEC PV Power Expo
27.5.2020
EU PVSEC 2020 Goes Virtual
26.5.2020
Trina Solar Publishes its Vertex Module Technology White Paper
26.5.2020
Economic Stabilization Fund Approves Lufthansa's Stabilization Package
26.5.2020
Covestro Wants to Accelerate Change to a Circular Economy
20.5.2020
Covestro Proposes a Dividend of EUR 1.20 per Share for Fiscal 2019
20.5.2020
Management change at spoga horse
20.5.2020
Interzoo 2021to be Held in Odd-numbered Years in the Future
19.5.2020
US Robo-advisors Industry to Hit a $1trn value This Year
15.5.2020
Lufthansa Group Significantly Expands Service with June
15.5.2020
RE-Source 2020: Adapting to Changing Circumstances
14.5.2020
Liebherr Presents new Compact Wheeled Excavators
14.5.2020
parts2clean 2020: Solutions for New and Changed Cleaning Tasks
14.5.2020
Lufthansa Group Airlines to Take off Again with 160 Aircraft from June
13.5.2020
Art Düsseldorf PostponesIts Fourth Edition Until 2021
13.5.2020
parts2clean 2020: Solutions for new and changed cleaning tasks
13.5.2020
Manage Disruption Through Collaboration at Virtual SEMICON West 2020
7.5.2020
Art Düsseldorf Postpones Its Fourth Edition Until 2021
7.5.2020
SolarEdge: Record Revenues from Solar Products of $407.6 Million
6.5.2020
SEMI Report: Power and Compound Fab Spending to Rebound in Second Half
6.5.2020
Interzoo and Zoomark Announce New Slots
6.5.2020
SCHMOLZ + BICKENBACH Results Heavily Impacted by COVID-19
5.5.2020
VOITH: Acquisition of ELIN Motoren Successfully Completed
5.5.2020
Global Silicon Wafer Area Shipments Edge Up in First Quarter 2020
5.5.2020
Covestro Promotes Innovation in Electrochemistry
4.5.2020
New Dates and Location for SNEC PV Power Expo
4.5.2020
NürnbergMesse Postpones Construction of the New "NCC Süd"
4.5.2020
BIOFACH Nuremberg kicks off the year
30.4.2020
No SENSOR+TEST 2020
30.4.2020
Enforce Tac and U.T.SEC Cancelled for 2020
28.4.2020
Exhibitions Hold Strong Position in Marketing Mix
28.4.2020
Coronavirus: Cancellations and Postponements of German Exhibitions May Cost up to Three Billion Euro
28.4.2020
AUMA: New Corona Package to Support the German Exhibition Industry Network
24.4.2020
North American Semiconductor Equipment Industry Posts March 2020 Billings
24.4.2020
Lufthansa Group Publishes Preliminary Results for the First Quarter
24.4.2020
NürnbergMesse: Petra Wolf Returns to Chillventa Team
23.4.2020
VDW: New METAV Date Set: Trade Fair to be Held Next Year
23.4.2020
SolarPower Europe: Europe can Achieve Climate Neutrality before 2050
23.4.2020
VDMA: Patchwork of Quarantine Rules Must Quickly be Eliminated!
22.4.2020
Ola Hansson to Become New CEO Lufthansa Hub Munich
22.4.2020
Easyfairs Publishes Activity Report: A Journey into the Future of Events
22.4.2020
Fraunhofer ILT: The AMable Project Promotes Flexible AM Solutions to Fight the Coronavirus
21.4.2020
SEMI-Report: Gradual Rebound or Slight Dip
21.4.2020
IWA OutdoorClassics Will Not Take Place in 2020
21.4.2020
BMBF-funded project "ProLMD"
20.4.2020
Beviale Mexico 2020 Postponed to March 2021
20.4.2020
Covestro Adjusts FY 2020 Financial Guidance Due
20.4.2020
Lufthansa Group Almost Completes Repatriation Flight Program
17.4.2020
Arburg and Ems-Chemie Provide Help!
17.4.2020
CRAFT DRINKS INDIA 2020 postponed
17.4.2020
PORTWELL and ENGICAM announce Cooperation
Mobile Website
Our website also works on IPhone, IPad and Co.