TEFAF Maastrich 2019:

Dealers Debut New Discoveries
Rarity and quality are the distinguishing features of TEFAF Maastricht that put the Fair and its 279 exhibiting dealers in an unrivalled position within the international art market. The scarcity and variety of objects for sale within the Fair will provide private and institutional collectors with an unparalleled opportunity to view and buy some of the finest objects available on the market.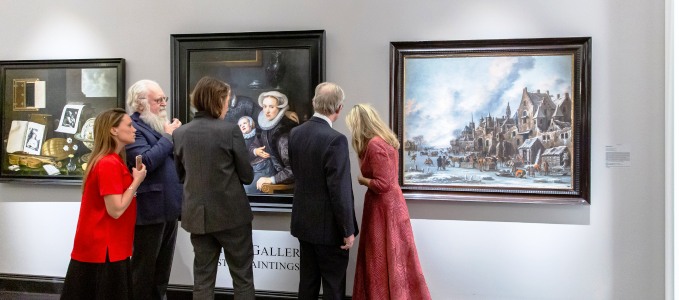 Koester Gallery

Images. TEFAF / The European Fine Art Foundation

Photography: Natascha Libbert

The 32nd edition of the Fair opens to the public on Saturday 16th March, following two preview days for collectors on the 14th and 15th March. TEFAF Maastricht, which celebrates over 7,000 years of art history, takes place at the MECC Maastricht until 24th March.
Heavy hitting modern and contemporary artists are represented throughout TEFAF Modern, the third largest section within TEFAF Maastricht which has seen the largest influx of new exhibitors. Themed and single artist stands take the lead within the section; central to the stand of Henze & Ketterer (Stand 444) are the works by Ernst Ludwig Kirchner (1880 - 1938), Erich Heckel (1883 - 1970), a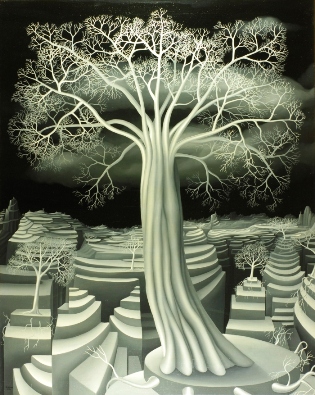 nd Emil Nolde (1867 - 1956) produced during the First World War, commenting on the inferno of this conflict. A highlight on the stand is Porträt Hugo (1914), oil on canvas, by Ernst Ludwig Kirchner. The work comes from the Kirchner estate, where it has been since his death in 1938. The asking price is 3.5 million Swiss Francs.
New exhibitor, the US based Fergus McCaffrey (Stand 440), presents a solo show of works by Barry X Ball (b.1955). There are seven works on view that survey the last ten years of the artist's production in stone; of note is Purity, (2008 -2018) which is crafted from translucent white Iranian onyx and stainless Steel. Connecting the old with the new, the work is after La Purita (1720 - 1725) by Antoni Corradini.
"Grey Landscape"

1971 | 100 x 80 cm | Oil on Canvas

from Siegbert Hahn
(The painting will not be exhibited at the fair.)

Pace Gallery (Stand 441) also has a single artist as the centrepiece of their stand; the gallery will present a selection of paintings and drawings by Piet Mondrian (1872 - 1944), from the personal collection of fabled dealer and Mondrian's close friend Sidney Janis that illustrate the emergence and significance of abstraction in modern art. Reclining Nude (Dunes and Sea) (1910), charcoal on paper, was created at a crucial time in the artists career and demonstrates Mondrian's deconstruction of imagery to its geometric form.
A never-before-exhibited work takes centre stage at Saloman Lilian (Stand 309); Still Life of an Illuminated Manuscript (c.1550), oil on panel, has been in a French private collection since the nineteenth century and is unusal depiction of a manuscript, a subject matter not often seen in Old Master still life paintings.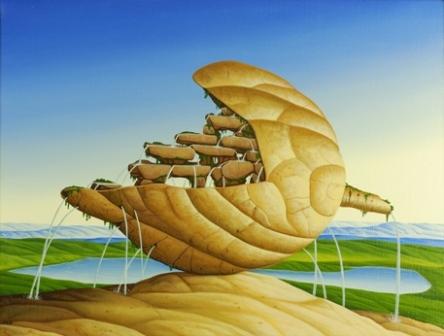 Haboldt & Co (Stand 351) continue the never before exhibited theme with an unpublished and newly discovered work by Paolo Veneziano (1290 - 1362) which depicts The Virgin and Child (with Saints Dominic and Peter Martyr on the Engaged outer frame) in tempera and gold ground on panel.
"Fruit Fountain"
1991 | 60 x 70 cm | Oil on Canvas
from Siegbert Hahn
(The painting will not be exhibited

at the fair.)

TEFAF Antiques, the largest section of the Fair with 92 exhibitors, presents an unrivalled and diverse range of decorative arts, for every posible collecting taste. Childhood memories manifest themselves in the exquisite Anna Maria Trip Dolls' House, which comes to market for the first time. This charming piece is completely original, a rarity for objects of this sort, crafted from mahogany, silver, porcelain, textiles, ivory, brass and glass, c.1750 - 60, and is on offer at John Endlich Antiquairs (Stand 235).
Vanderven Oriental Art (Stand 104) will present an exhibition entitled Provenance, which highlights exceptional works with unrivalled provenance, reflecting the importance placed by collectors on this concept. Of note, on the stand, is a sensational Fishermen Plate, from Yongzheng, crafted c.1730. The semi egg-shell 'famille rose' porcelain plate is delicately painted with a scene of four fishermen holding nets and creel. The piece was originally in the James Garland Collection, USA; James Garland was one of the earliest well-known and documented American collectors of such works.
Three monumenal "dragoon" vases in white and blue Chinese porcelain take a central position at Alessandra di Castro (Stand 108). These rare and special monumental vases are in perfect condition. The highly stylised white on white floral decoration
and the elegant simplicity of their white and blue color scheme perfectly matches European tastes of the time.

They are unquestionably among the most important Chinese porcelain products manufactured for export in the 18th century. The vases are from the Kangxi period, c.1700 - 1722 and come from the Palazzo Ala Ponzone.
"The Janus-Law"
1991 | 60 x 70 cm
Oil on Canvas
from Siegbert Hahn
(The painting will not be exhibited at the fair.)

Within the Antiques section is the jewellery box collection of six exhibitors in TEFAF La Haute Joaillerie. Returning for a second outing to the Fair, G (Stand 142) presents the jewelled creations of Glenn Spiro. Described as a true couture jeweller, Spiro puts rare and breathtaking gemstones at the heart of his designs. Visitors to the Fair will not be disappointed; of note are his Fan ear clips, created in 2018. The ear clips are mounted in titanium and set with 62 cts of natural old mine baroque shaped purple sapphires, and 25 cts of natural blue spinels, incorporating two half-moon white diamonds.
Van Cleef & Arpels (Stand 144), one of the power jewellery houses of Europe, will present an exceptional 1965 necklace, crafted using yellow, pink and white gold, yellow sapphires, amethysts and diamonds, signed Van Cleef & Arpels. The necklace reflects the artistic inspirations that rose in the 1960s, when a style imbued with exoticism and a passion for coloured stones made for a new aesthetic.
Paris based antiquities specialist, Galerie Chenel (Stand 426), is presenting Torso of Herakles, (1st - 2nd century AD), carved from marble. Works of this quality, size and subject matter are a scarce on the market. Next to TEFAF Ancient Art is TEFAF Showcase. One participant, ArtAncient (Stand SC2), brings an exceptional silver dekdrachm, which comes from Syracuse, Sicily, c.405-400 BC, which will be sure to draw attention from collectors at the Fair.
This year, TEFAF Design and TEFAF Tribal have been intermixed and some enticing and captivating combinations have emerged at the Fair. Jackson Design AB (Stand 617) offers the exceptional Marcel Breuer Lounge Chair, by Marcel Breuer (1902 - 1981), crafted from moulded and cut maple plywood and wool upholstery, 1936. Breuer was a former Bauhaus Professor and the chair was created for the 1936 Heal's exhibition 'Contemporary Furniture by Seven Architects'.
New York based exhibitor Demisch Danant (Stand 610) show a remarkable elm wood, Formica and nickel-plated Steel desk by Geneviève Dangles and Christian Defrance that was a unique commission for M. and Mme. Burov's private apartment in Paris. In 1958, Dangles and Defrance designed the entirety of the Burov's new home in parís, including all the furniture and seating.
Intermingled with TEFAF Design are the six TEFAF Tribal exhibitors, where visitors can find a vast array of ethnographic and oceanic works. Of note, are an evocative pair of naturalistic human forearms, each carved from a single piece of wood in monumental scale. This work can be found at Galerie Meyer - Oceanic & Eskimo Art (Stand 605) and comes fresh to market from a US museum. These are the only known pair of arms like this.
In addition, Galerie Bernard Dulon (Stand 615) brings an exceptional work from Kenzo Takada's collection, who founded the eponymous fashion brand. The work is a funeral post Hempatong, of the Dayak people, from Borneo, Indonesia. This monumental work stands 250cm tall, and was created in the 18th - 19th century from eroded ironwood.
TEFAF Works on Paper contains a very broad range of works in a capsule space next to TEFAF Antiques. The calibre of works on offer is extraordinary, with Emanuel von Baeyer (Stand 706) bringing a complete set of Los desastres de la guerra (The disasters of war), first published in 1860, by Francisco José de Goya y Lucientes (1746 - 1828), alongside six working proofs from the Los Proverbios series, the largest assemble of working proofs from this series in private hands. Alongside this Stephen Ongpin Fine Art (Stand 724) brings an exceptional chalk work Wooded Landscape with Cattle and Goats, by Thomas Gainsborough R.A. (1727 - 1788), a delicate and rare work by this master artist.
TEFAF Showcase hosts Lowet de Wotrenge (SC1), ArtAncient (SC2), Mathieu Néouze (SC3), Martin Doustar (SC4), Santa Tecla (SC5) and Samantha Sellem (SC6), a dynamic and exciting group of young and recently established dealers. The range of items on offer in TEFAF Showcase is diverse, and of note is Samantha Sellem's stand which focuses exclusivley on women artists, from 1920 - 1980.

---
Images: R. Eberhard, messekompakt.com, EBERHARD print & medien agentur gmbh
Source: The European Fine Art Foundation

News
24.5.2019
New: Arburg Technology Center in Portugal
24.5.2019
Final Call for EUBCE 2019 in Lisbon, Portugal
24.5.2019
Arburg Thailand has Expanded
23.5.2019
New: Arburg Technology Center in Portugal
23.5.2019
Bosch to be Carbon Neutral Worldwide by 2020
23.5.2019
Robert Bosch Venture Capital invests in Veego Software
17.5.2019
euvend & coffeena 2020 parallel to ORGATEC
17.5.2019
Trina Solar Receives IEC Certification for Next Generation PV Modules
16.5.2019
ifo Institute: Economic Experts Fear Tariff War Will Shrink World Trade
16.5.2019
NürnbergMesse's Indian Portfolio Grows to 16 Trade Fairs
16.5.2019
GTAI: New Record: Foreign Direct Investment in Germany
15.5.2019
COMPAMED 2019: Top Bookings at the Top Event for Medical Technology Suppliers
15.5.2019
SPIEF 2019 to Host the International Youth Economic Forum
15.5.2019
E world energy & water 2020 Focuses on Recruiting
13.5.2019
IFFA 2019 – Where Tradition Meets High Tech
13.5.2019
IE expo China 2019: Demand for environmental technology in Asia scales new heights
13.5.2019
SCHMOLZ + BICKENBACH with Lower EBITDA in a Challenging First Quarter
7.5.2019
LIGNA 2019: Future Showcase for the Woodworking and Timber Processing Industries
7.5.2019
parts2clean 2019: Future-proofing the Cleaning of Industrial Parts
7.5.2019
ASMC 2019 Highlights Latest Advanced Manufacturing Strategies
6.5.2019
New Dates: IPM DUBAI and WOP DUBAI from November 12 to 14, 2019
6.5.2019
SCHMOLZ + BICKENBACH AG: Jens Alder elected as new Chairman
6.5.2019
Save the date - Intersolar Summit Spain
3.5.2019
SEMI and TechWorks Sign Multi-year Agreement
3.5.2019
Deutsche Messe Becomes International Partner of Energy Tradeshow SETA
3.5.2019
Buehler at CONTROL 2019
2.5.2019
Beviale Moscow to be Held in New Location in March 2020
2.5.2019
SCHMOLZ + BICKENBACH AG: Jens Alder Elected as New Chairman
2.5.2019
Meyer Burger Concludes Divestment of Wafer Business to Precision Surfacing Solutions
30.4.2019
PaintExpo 2020 – Trends und Impetus for Coating Technology
30.4.2019
Covestro Confirms Full Year Guidance After First Quarter
30.4.2019
Wibu-Systems joins the debut exhibitors at the medical technology expo T4M
29.4.2019
Covestro Confirms Full Year Guidance After First Quarter
26.4.2019
SEMI ISS Europe 2019: Enabling Digital Innovation Opportunities
26.4.2019
SEMI Partners with Powerhouses imec, CEA-Leti and Fraunhofer to Energize Global Innovation
26.4.2019
Meyer Burger Completes Transformation of Executive Board
25.4.2019
Lufthansa Promotes the European Elections
25.4.2019
drupa: The 6th report has been published
24.4.2019
North American Semiconductor Equipment Industry Posts March 2019 Billings
24.4.2019
Must-attend Event for the Tool, Pattern and Mould Making Industry
24.4.2019
TDK Teams With Immersion on Haptics
23.4.2019
POWTECH and PARTEC 2019: Powerful Process Engineering Duo in Nuremberg
23.4.2019
FLEX Taiwan 2019 to Showcase Flexible Electronics Innovations and Opportunities
23.4.2019
Covestro: Dividend Raised for the Fourth Consecutive Year
17.4.2019
XJet Showcases Expanded Range of AM Application Possibilities at RAPID + TCT 2019
17.4.2019
Exhibitors will be presenting world novelties at the PCIM Europe 2019
17.4.2019
New Location for the German House in Tokyo 2020
16.4.2019
SMC Korea 2019 to Highlight Key Semiconductor Materials Trends, Opportunities
16.4.2019
Coperion and Coperion K-Tron at Chinaplas 2019
15.4.2019
PaintExpo 2020 – Trends und Impetus for Coating Technology
15.4.2019
Trade Fair for Deburring Technology and Precision Surface Finishing in Karlsruhe
11.4.2019
Intersolar AWARD 2019: Finalists Announced
11.4.2019
2018 Global Semiconductor Equipment Sales Jump to Record $64.5 Billion
10.4.2019
EIT Community Opens its First Hub in Silicon Valley
10.4.2019
Coperion at Chinaplas 2019
9.4.2019
Digital Solar & Storage 2019: Save the Date and Call for Presentations
9.4.2019
Upbeat Industry Coming Together Once Again at DELHIWOOD 2019
9.4.2019
POWTECH and PARTEC Host Expert Knowledge-sharing Platform
5.4.2019
Deutsche Messe: To be the World's First 5G-powered Tradeshow Venue
5.4.2019
Covestro takes Gold Again in International Rating
5.4.2019
my-PV GmbH: First Solar Electric Water Heater Installed in Namibia
4.4.2019
Control 2019 – QA Innovations in a New Format
3.4.2019
Rapid.Tech + FabCon 3.D 2019: 3D printing, Spotify style
3.4.2019
Weidmüller and IDEC Announce Strategic Partnership
3.4.2019
Young innovative companies to present themselves at FIBO 2019
2.4.2019
SolarEdge: PV Monitoring Reaching New Heights
2.4.2019
TDK wins the Austrian VERENA award for CeraCharge™
2.4.2019
Arburg at Rapid + TCT 2019
1.4.2019
Weidmüller at the PCIM 2019
1.4.2019
Future Energy: Renewable Energy has Become Cheaper than Conventional Energy in the GCC
29.3.2019
Lufthansa Group Honored for its Good Corporate Citizenship
29.3.2019
Meyer Burger acquires 18.4% of Oxford PV
28.3.2019
EIT Community opens its first Hub in Silicon Valley
28.3.2019
Covestro Fosters Open Innovation in China
27.3.2019
SolarPower: Spain - Europe´s Re-Awakened Solar Giant
27.3.2019
Lufthansa is ATW Airline of the Year 2019
26.3.2019
ETIP Bioenergy: Delegated Regulation for High ILUC Risk Feedstock is a Step Forward
26.3.2019
Trail Enters Into an Exclusivity Agreement for the Acquisition of Electropoli
25.3.2019
European coating show 2019 Larger and More International than Ever
25.3.2019
NürnbergMesse's Indian Portfolio Grows to 16 Trade Fairs
22.3.2019
POWTECH Launches New "Networking Campus" Think Tank in 2019
22.3.2019
Meyer Burger – Strategic Partnership with Oxford PV
21.3.2019
LOPEC 2019: Organic and Printed Electronics Look Positively Into 2019
21.3.2019
Meyer Burger Awarded Contract for About CHF 15 Million
21.3.2019
Ettlinger at the Plastics Recycling Show Europe 2019
20.3.2019
Meyer Burger – Sentis Capital PCC Requests Agenda Items for the Annual General Meeting
20.3.2019
European Coatings Show 2019: More Exhibitors and more Display Area
19.3.2019
SCHMOLZ + BICKENBACH AG Announces Changes to the Board of Directors
19.3.2019
Largest SEMICON China Opens
19.3.2019
TEFAF Maastrich 2019: Dealers Debut New Discoveries
18.3.2019
FLEX Japan and MEMS & Sensors Forum to Spotlight IoT, Smart Transportation and MedTech
18.3.2019
New Covestro Direct Store is Online
18.3.2019
Pioneering "Modern-day Edison" Joins Tech Elites for SEMICON West
13.3.2019
SEMI ISS Europe 2019 to Highlight Digital Innovation Ecosystems
13.3.2019
SCHMOLZ + BICKENBACH Achieves Annual Targets Despite Slowdown in the Fourth Quarter
13.3.2019
Smart2Go - Smart and Flexible Energy Supply Platform for Wearable Electronics
12.3.2019
Intersolar Middle East Conference 2019: Data is the Differentiator
12.3.2019
Meyer Burger Announces Record HJT Cells With Efficiencies Over 24% at PV CellTech
12.3.2019
Global Fab Spending to See 2019 Decline, New Highs in 2020
11.3.2019
Hannover Messe 2019: Integrated IT Solutions in Production and Logistics
11.3.2019
The Success Story of IDS Continues
8.3.2019
SEMI FlexTech Funds New Cutting-Edge Projects for Flexible Electronics
8.3.2019
Enforce Tac and U.T.SEC 2019: Nuremberg Exhibition Pairing More Successful Than Ever
7.3.2019
Brabender Technologie: new feeder line at Powtech
7.3.2019
EU Court of Auditors' Superbug Preview Welcomed by COPMA
6.3.2019
ETIP PV 2019 will take Place in Brussels (Belgium)
6.3.2019
SMARTER E EUROPE: Jouns Forces with Eurogas and Hydrogen Europe
6.3.2019
Solar Impulse Foundation: 20th Anniversary of the First Round-the-World in Balloon
5.3.2019
Women in Semiconductors To Highlight Workplace Diversity at ASMC 2019
5.3.2019
SEMICON China Keynotes Unveiled as Event Record 100,000 Visitors Expected
5.3.2019
Covestro Raises Dividend After Strong Business Performance in 2018
4.3.2019
AB Stelacon to Become Part of Analysys Mason
4.3.2019
Digital Water Works, Inc. Receives Strategic Investment from Bentley Systems
1.3.2019
WFES 2020: Investment Partnerships Will Accelerate Clean and 'Green' Tech
1.3.2019
Solar India Conference 2019: Countdown is running in New Delhi (India)
28.2.2019
Arburg at the Industry Fair 2019
28.2.2019
Orange joins the ULE Alliance
27.2.2019
SEMI: Nominations Open for ESD Alliance Governing Council
27.2.2019
Bosch Increases Investment in Startups
27.2.2019
EIF and Fraunhofer Join Forces to Establish Joint Technology Transfer Fund
25.2.2019
Coperion and Coperion K-Tron at the European Coatings Show 2019
25.2.2019
Schüco International: New Office Opened in Tokyo
25.2.2019
Siemens is Launching a New Battery Storage for Private Homes
22.2.2019
SEMI-FlexTech Announces 2019 FLEXI Awards Winners in Flexible Hybrid Electronics
22.2.2019
Wibu-Systems Opens the Vault at "embedded world 2019"
21.2.2019
CODESYS Group: Excellent Prospects for 2019
21.2.2019
SolarPower Summit 2019: Help us shape the future of solar in Europe!
20.2.2019
Date and venue confirmed for RE-Source 2019
20.2.2019
parts2clean 2019 – Prime Industry Get-together
20.2.2019
FeuerTRUTZ 2019 - Where Fire Protection Comes to Life
19.2.2019
parts2clean 2019 – Prime Industry Get-together
19.2.2019
Fraunhofer ILT: Laser Processes for Multi-Functional Composites
19.2.2019
Arburg at Plástico Brasil 2019
18.2.2019
JEC World 2019: Stratasys to Showcase Latest 3D Printing Advancements
15.2.2019
Fraunhofer ILT: Producing Polymer Structures Faster – Two processes in One Machine
15.2.2019
embedded world 2019: Experts Talk about Embedded Intelligence
15.2.2019
JEC World 2019: Stratasys to Showcase Latest 3D Printing Advancements for Composite Production
14.2.2019
SEMI Reports: 200 mm Fabs to Add 700,000 Wafers Through 2022
14.2.2019
Top in Function, Freedom of Design - Materials at the IDS 2019
14.2.2019
Food Trends at POWTECH 2019
13.2.2019
Intersolar Middle East Conference 2019: It´s Still About Megas and Gigas
13.2.2019
Chinaplas 2019: Arburg Setting the Course for the Digital Future of Plastics Processing
12.2.2019
The Art & Antiques Fair Returns to Olympia, 19 – 28 June 2019!
12.2.2019
Arburg at Plastimagen 2019: Focus on packaging industry
12.2.2019
LeisureWorlds 2019 Concept Impressed Exhibitors and Visitors
8.2.2019
SolarPower Summit 2019: New solar boom in Europe? How, where, why?
8.2.2019
Friedrich Gerecht Completing Peters' Field Force
8.2.2019
Milacron Holdings Corp. To Announce Fourth Quarter 2018 Results
7.2.2019
John Chong of Kionix Named Chair of MEMS & Sensors Industry Group Governing Council
7.2.2019
Meyer Burger Divests its Wafering Business to Precision Surfacing Solutions
5.2.2019
Launch of Key Project to Increase the Efficiency of European Funding for Clean Energy
5.2.2019
embedded award 2019 – and the nominees are …
5.2.2019
SEMI-FlexTech Issues 2019 Request for Proposals to Advance Flexible Electronics Ecosystem
4.2.2019
EU PVSEC 2019 at the Marseille Chanot Convention and Exhibition Centre
4.2.2019
North American Semiconductor Equipment Industry Posts December 2018 Billings
1.2.2019
spoga horse spring 2019 Presents the Industry's Highlights
1.2.2019
LIGNA.Conference goes China
1.2.2019
Solytic Takes Over Solar Monitoring Portal Suntrol from Solarworld
31.1.2019
embedded world 2019: RISC-V – High-Calibre Panel Discussion
31.1.2019
Solytic Takes over Solar Monitoring Portal Suntrol from Solarworld
31.1.2019
European industry fosters CO2 reutilization
30.1.2019
AbsInt and Infineon Offer a New Timing Tool Chain for AURIX
30.1.2019
EU PVSEC 2019 Continues its Focus on R&D
30.1.2019
Arburg at MECSPE 2019 in Parma (Italy)
28.1.2019
DeburringEXPO 2019: Perfect Surfaces – Burr-Free, Clean and Precise
28.1.2019
ISS Europe 2019 Highlights Opportunities in Digital Innovation
28.1.2019
CLOOS Starts the Anniversary Year
24.1.2019
Get set for 2019 at ASIA FRUIT LOGISTICA
24.1.2019
ISPO Beijing Celebrates Successful Anniversary
24.1.2019
Pharma Trends at POWTECH 2019: Faster Development Time from Laboratory to Process
23.1.2019
VCI: The German Chemical Industry in Figures Online
23.1.2019
VDMA: "Treaty of Aachen Must be More than Symbolic Politics"
23.1.2019
Meyer Burger Technology: New Independent Members of the Board of Directors
22.1.2019
SEMICON Korea Highlights Smart Tech, Industry Growth and Workforce Development
21.1.2019
Messe München Expects a Remarkable Year of Fairs in 2019
21.1.2019
photokina Will Take Place in May 2020
21.1.2019
LogiMAT 2019: ADS-TEC will be Presenting its Current Vehicle Terminal
18.1.2019
Successful CIPS 2018 Focused on Innovation
18.1.2019
VIVANESS 2019: More and More Customers for Natural and Organic Cosmetics
17.1.2019
Continental AG: World Premiere - Safety Jacket With LED Lights for Enhanced Safety at Work
17.1.2019
Fruit Logistica: BayWa and Partners with First Joint Trade Fair Presentation
16.1.2019
Reed Exhibitions Announces Definitive Agreement to Acquire Mack Brooks Exhibitions
16.1.2019
Covestro Supports Measures Against Plastic Waste
15.1.2019
embedded world 2019: Premiere - Start-up Area at embedded world
15.1.2019
BAU 2019: Schüco Acoustic - The City of the Future is Quiet
15.1.2019
Instrument Systems at the Photonics West 2019
11.1.2019
Embedded Tech India 2019 Expo in Pragati Maidan (New Delhi/India)
11.1.2019
Lufthansa Group is Number One in Europe
10.1.2019
Messe München Further Enhances Integration of its Russian Business Into the Group
10.1.2019
Intersolar 2019: Renowned Awards Honor Groundbreaking Innovations for the New Energy World
9.1.2019
SolarEdge to Enter E-Mobility Market with Acquisition of S.M.R.E. Spa
9.1.2019
SEMI ISS 2019: Enabling the Next Industrial Revolution
9.1.2019
BayWa Starts World-wide Launch of its Satellite-assisted "Rainmaker"
8.1.2019
SolarEdge to Enter E-Mobility Market with Acquisition of S.M.R.E. Spa
8.1.2019
China Wafer Production Capacity Growth Fastest in the World
8.1.2019
SEMI Taiwan President Terry Tsao Named SEMI Chief Marketing Officer
4.1.2019
ISM 2019: More Space, More Themes, More Inspiration
4.1.2019
Arburg at TCT Asia 2019
3.1.2019
bauma CONEXPO INDIA 2018 Scales New Heights, Resonating the North Indian Market Mood
3.1.2019
BASF Expands its Production Network for Certified Palm Products
3.1.2019
Continental Showcases Innovations for Smarter and Safer Cities at CES 2019
2.1.2019
Lufthansa Group is Looking to Hire More than 5000 New Employees in 2019
2.1.2019
Embedded Tech India 2019: Fair for Products and Solutions for Embedded Systems
31.12.2018
Lufthansa Hub Munich Honoured for Sustainable Environmental Management
31.12.2018
Covestro Taps Into China's Growing Start-up Scene
31.12.2018
SolarPower International 2019: New Deadline for Presentation and Speaker Applications
28.12.2018
BIOFACH 2019: Time to Check in for a Trip Into the Heart of the Organic Community
28.12.2018
Formnext 2018: Groundbreaking world premieres and records at Formnext 2018
28.12.2018
ZELLCHEMING-Expo premier a "Road of Maintenance"
27.12.2018
Continental Pioneers Tire Tests With Self-Driving Test Vehicles
27.12.2018
Messe Essen Celebrates the Conclusion of the First Construction Phase
27.12.2018
Another Record Year for ZEISS
21.12.2018
E.ON Makes a Strategic Investment to a Finnish e-mobility Software Company Virta
21.12.2018
"Together. Now & Tomorrow.": Liebherr at Bauma 2019
20.12.2018
Covestro Taps Into China's Growing Start-up Scene
20.12.2018
Arburg at Plastec West 2019: Vertical and Electric Allrounders in Use
20.12.2018
Expo Wine + Beer in Chile new partner in the global network
19.12.2018
North American Semiconductor Equipment Industry: Billings goes Down
19.12.2018
BIOFACH INDIA 2018: Successful Tenth Anniversary
19.12.2018
CeraCharge™ and PowerHap™ products of the year
18.12.2018
Central Data Management with CLOOS C-Gate
18.12.2018
SEMI: Total Fab Equipment Spending Reverses Course
18.12.2018
Fraunhofer ILT: Formed to Meet Customers' Needs – New Laser Beams for Glass Processing
17.12.2018
Smarter E AWARD 2019: Entries Open for 2019 RENOWNED AWARDS HONOR
17.12.2018
Successful Conclusion of Intersolar India's 10th Anniversary
14.12.2018
Meyer Burger Technology Ltd Signed a Major Strategic Contract
14.12.2018
Arburg at Plastec West 2019
13.12.2018
SEMI Supports U.S.-Japan Trade Agreement Negotiations in U.S. Government Testimony
12.12.2018
Deutsche Lufthansa: First Airbus A380 in new Lufthansa Design
12.12.2018
IPB China Ends on a High Note
10.12.2018
Premiere: Start-up Area at embedded world 2019
10.12.2018
FENSTERBAU FRONTALE 2020: Vacuum Glass Makes New Windows Possible
6.12.2018
Koelnmesse: Settlement Reached in DMEXCO dispute
6.12.2018
Covestro Concludes Share Buyback of EUR 1.5 Billion
5.12.2018
iLOQ Cements Collaboration with Avain Yhtiöt Group
5.12.2018
Lufthansa Supervisory Board decides to expand Executive Board
4.12.2018
BOAT & FUN BERLIN Reports Successful Business
4.12.2018
The next photokina will take place in May 2020
4.12.2018
ProSweets Cologne: The sweet side of Industry 4.0
3.12.2018
Software AG, Amazon Web Services Expand Relationship at AWS re:Invent 2018
Mobile Website
Our website also works on IPhone, IPad and Co.