New ifo Figures Signal Significant

Improvement for the Next Six Months
The world's leading trade fair for grinding technology, the GrindTec, will start in autumn as one of the first important trade fairs. From 10th to 13th November it will offer an important and necessary platform for the metalworking
industry. The latest figures of the ifo Institute for Economic Research send positive impulses for this.
During the Corona crisis, the business climate index fell to a historic low of 74.3 points in spring. Current figures of the ifo business climate index and evaluations by Statista are already showing positive trends again: The 9,000 surveyed companies from the manufacturing, service, trade and construction sectors are confident about the coming months. Currently, a slight improvement is already evident after the low (86.2 points in June). Looking ahead to the next six months, the positive trend is continuing and the business climate index is expected to rise to 91.4 points. The interviewees from the manufacturing industry are looking to the future and are expecting a clear improvement - which has a decisive effect on the current business climate and sets the course for GrindTec.
Grinding technology sector relies

on the strength of its leading trade fair
Of the approximately 650 exhibitors who had registered for the March date, almost all were able to confirm the new date in November. It has already been possible to fill some of the cancellations with new exhibitors. At present around 640 exhibitors are taking part in the GrindTec in November.
Visitors with specialist and decision-making

competence are the strength of the GrindTec
Participating companies appreciate the professional quality and decision-making competence of the visitors. According to Gelszus Messe-Marktforschung, 64% of them were "sole or codecision-makers" at the last event, 20% "involved in an advisory capacity in decision-making". For every third trade visitor the GrindTec is the most important information platform in the calendar of events:
GrindTec 2020:

Finally experience grinding technology trends live
Prof. Dr.-Ing. Wilfried Saxler, General Magager of FDPW: As the leading trade fair for new technologies in grinding, honing, lapping and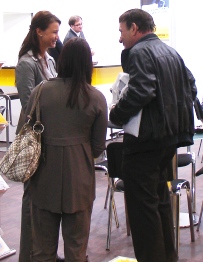 polishing, the coming GrindTec will bring the sector together again after a long time. In the direct dialogue between visitors and manufacturers, new perspectives for tool grinding will open up, which can lead the companies out of the crisis.
Impulses are provided by highly functional solutions and further developments such as
- hybrid grinding machine concepts that also integrate

other manufacturing technologies
- additive manufactured flow-optimized cooling lubricant nozzles
- direct drives in the grinding machine axes to improve dynamic

stiffness and accuracy as well as to increase performance
- new 5-axis machine concepts for tool grinding
- laser processing possibilities of diamond tools or diamond-coated tools.
The Corona crisis has clearly shown not only to the tool grinding industry that digitalisation, networking and automation are indispensable. Many new business models are currently being created which have enormous economic potential. Creating added value in production technology at the same time in different places in the world is only possible with a modern network economy. The manufacturers of machines and peripheral systems, of process and tool technology have developed answers to these questions, which they will present live on site.
GrindTec-Campus -

State of the art research & development
Numerous research institutes will be represented at the GrindTec 2020 in the foyer of Hall 1 (Schwabenhalle):
- the Competence Center for Machining Production at Furtwangen University
- Ruhr West University
- the Institute of Machining Technology (ISF) of the Technical University Dortmund
- the Institute for Machine Tools and Factory Operation (IWF) at the TU Berlin
- the Leibniz Institute for Materials-oriented Technologies (IWT) of the University of Bremen
- the Institute for Tool and Manufacturing Technology (iWFT) of the

Rheinische Fachhochschule Köln GmbH
- the Machine Tool Laboratory (WZL) of RWTH Aachen University.
FDPW Competence

Centre Grinding Technology
Together with its international partner associations, the Precision Toolmakers' Association (FDPW) will be presenting itself in the conference centre of the Augsburg Trade Fair Centre. In addition, the association's service partners will also introduce themselves personally and provide information about their offers, which could be of great interest to grinding technology companies. The GrindTec Forum with its lectures on current topics of the sector and the Jakob-Preh-Schule from Bad Neustadt, which is the only vocational school that trains precision tool mechanics, will also be there. Together with the GrindTec Campus, the FDPW Competence Centre provides insights into the latest state of application-oriented research and development.
Competition

"Tool grinder of the year 2020
Together with Schneeberger GmbH and the FDPW Academy, the trade magazine fertigung is looking for the "Tool grinder of the year" at the GrindTec 2020 trade fair. In addition to high technical competence and great craftsmanship, an eye for economic efficiency is also required. On 11th November at the GrindTec 2020 in Hall 1, the five finalists will each program one workpiece on one of two Schneeberger-Aries-NGP grinding machines and machine it live in front of an audience. The overall winner will be determined at the GrindTec.
---
Images: R. Eberhard, messekompakt.com, EBERHARD print & medien agentur gmbh
Source: FDPW

News
19.1.2021
Arburg's Entrepreneurial Families Hehl and Keinath Acquire AMK's Drives & Automation Division
19.1.2021
SEMI: Annual Outlooks at Virtual ISS 2021 Point to Global Economic and Chip Industry Growth
19.1.2021
Trina Solar first PV Manufacturer to Obtain a Dual Environmental Protection Certification
18.1.2021
REED Exhibtions Announces $ $1 Million 5 Year Commitment To Black and Ethnic Minority Charities
18.1.2021
Over 60 Galleries Will Participate in the 10th Edition of Frieze New York
18.1.2021
Registration opens for virtual.drupa 2021
14.1.2021
Cancellation of the International Handicrafts Fair 2021
14.1.2021
SOI Industry Consortium Joins SEMI as Strategic Association Partner
13.1.2021
CES 2021: Bosch Puts its Faith in AI and Connectivity
13.1.2021
New Arburg Trade Partner in Vietnam
12.1.2021
Supervisory Board of Bayer AG Appoints Sarena Lin to Board of Management
12.1.2021
LANXESS aims to acquire disinfection and hygiene solutions provider Theseo
12.1.2021
SEMICON Korea 2021: Goes Virtual With Focus on AI, Sensors, Smart Manufacturing and Talent
11.1.2021
US Online Food Delivery Market to Grow at 7.4% in 2021 to $28.5 Billion
11.1.2021
TDK Introduces World's Lowest Power PDM Microphone with Acoustic Activity Detect
11.1.2021
ESD Alliance Reports Strong Electronic Design Automation Industry Revenue Growth
7.1.2021
Supervisory Board Approves Deutsche Messe 2027 Concept for the Future
7.1.2021
LIGNA.21 goes into Autumn - New Date from 27 September to 1 October
7.1.2021
Lufthansa Raised 500 Million Euros in Aircraft Financing in the Second Half of 2020
6.1.2021
REIME NORIS Opened its Own Branch in China
6.1.2021
REED Exhibitions Announces Anna Dycheva-Smirnova as CEO of REED Exhibitions UK
4.1.2021
GGF and Bank Lviv form new Partnership
4.1.2021
Meyer Burger Receives up to 22.5 Million Euros in Public Funding
31.12.2020
US Homeowners with Mortgage Gain a Collective $1 Trillion in Equity in 2020
31.12.2020
Global Digital Payments Market to Grow by 23.7% in 2020 to $4.9 Trillion
30.12.2020
NVIDIA Posts 37% Spike in Gaming Revenue at $2.3 Billion in Q3 2020
30.12.2020
Global Banking Industry to Lose At Least $3.7 Trillion Over Five Years
30.12.2020
Global Digital Payments Market to Grow by 23.7% in 2020 to $4.9 Trillion
28.12.2020
Liwet Holding AG has Obtained a Block on the Registration of the Capital Increase
28.12.2020
Trina Solar Vertex Super Factory: The Power Inside
28.12.2020
Lufthansa and Vereinigung Cockpit Agree on Pilots' Contributions Until 31 March 2022
23.12.2020
Swiss Steel Holding AG shareholders approve capital increase
22.12.2020
Frank Koch new CEO of Swiss Steel Group
22.12.2020
Global Data Alliance Comments on New EDPB Guidance on Data Transfers
21.12.2020
SEMI: Helpful Steps to Support Microelectronics Innovation and Manufacturing
21.12.2020
SunBrush® mobil launches its Winter Kit
21.12.2020
HyTest Group Welcomes Juhana Rauramo as its New CEO
16.12.2020
POWTECH 2022 Starts in Late Summer
16.12.2020
Leipziger Messe Takes Over PaintExpo
15.12.2020
VDDI and Koelnmesse Postpone the IDS from March Until Autumn 2021
15.12.2020
Anuga FoodTec Postponed to April 2022 due to Pandemic
15.12.2020
Husky to Launch Interactive, Digital Platform
11.12.2020
BIOFACH / VIVANESS 2021 eSPECIAL: Trends and Developments in the Market for Organic Food
11.12.2020
Lufthansa Group Expands Position as Market Leader
9.12.2020
ISM and ProSweets Cologne Cancelled Due to Pandemic
9.12.2020
spoga horse 2021 Cannot Take Place Due to the Pandemic
9.12.2020
BIOFACH / VIVANESS 2021 eSPECIAL: Shaping Transformation. Stronger. Together.
8.12.2020
Lufthansa: Sale of LSG Europe completed
8.12.2020
ZEISS Invests by Acquiring Majority Stake in arivis AG
2.12.2020
Digital Health Startups Receive Over $4.6 Billion in Q3 2020
2.12.2020
Swiss Steel Holding AG Plans Capital Increase to Strengthen its Equity
1.12.2020
TDK Announces New Chip NTC Thermistors for Conductive Adhesion Mounting
1.12.2020
No Enforce Tac in 2021
1.12.2020
Complete: Filter for Arburg Mask Rounds off Coronavirus Project
26.11.2020
INTERNORGA 2021 Cancels Physical Event
26.11.2020
WindEnergy Hamburg 2020 Goes Digital
26.11.2020
Grid Edge Study: Grid Edge Opens up New Opportunities
25.11.2020
Double Honor for the SAERTEX® Group at the AVK Inovation Award 2020
25.11.2020
Hydrogen Summit HYDROGEN DIALOGUE Illustrates Unique Prospects for the Global Energy Transition
25.11.2020
Arburg Summit: Medical 2020 – Summit Meeting With More than 400 Industry Experts
24.11.2020
SPS Connect 2020: A Stage for Professional Exchange
23.11.2020
ETIP PV has Successfully Finished its First Virtual Annual Conference
23.11.2020
Trina Solar Renews the Global Brand for Its Tracker Business
23.11.2020
virtual.COMPAMED also Convinces in the Digital Form
19.11.2020
analytica 2020 With Very Good Results in the Digital Format
19.11.2020
purmundus challenge 2020: Moorehuhn Bike wins first prize at Formnext Connect
19.11.2020
Special Edition of imm cologne Cancelled due to Pandemic
18.11.2020
Stone+tec will not take place in 2021
18.11.2020
4th glasspro INDIA & 7th glasspex INDIA to be Held on Sep 23-25, 2021 in Mumbai
18.11.2020
Trina Solar Will Purchase 85 Million Square Meters of Photovoltaic Glass from Almaden
17.11.2020
Mobile Phone Industry to Lose $51B in Revenue Amid COVID-19 Pandemic
17.11.2020
virtual.COMPAMED + virtual.MEDICA Hit the Starting Line With a Full Programme
16.11.2020
REIME NORIS Opened its Own Branch in China
16.11.2020
Frieze New York 2021 at The Shed
16.11.2020
arburgXworld – Arburg's digital platform
13.11.2020
BayWa on Track for a New Record Operating Result
13.11.2020
SunBrush® Mobil Delivers its New Cleaning Device for PV Tracking Systems to Chile
13.11.2020
First Lufthansa Flight With Tested Passengers Takes Off
11.11.2020
Lufthansa AG: Remco Steenbergen Appointed as New Chief Financial
11.11.2020
Swiss Steel Group: Improved Resilience Through Cost Flexibility and Transformation
11.11.2020
Mimaki Illuminates 3D Printing Market with New Full-Colour 3D Printer
10.11.2020
Lufthansa Issues Convertible Bond in the Amount of 600 Million Euros
10.11.2020
Skeleton Technologies Raises €41.3 Million to Support its Fast Growth
4.11.2020
EuroBLECH Digital Innovation Summit 2020 ended last week
4.11.2020
New date: art KARLSRUHE postponed to 21st –24th May 2021
29.10.2020
Successful Launch of drupa preview will Reinforce the Digital Network
29.10.2020
Messe Düsseldorf: Course Charted for K 2022
27.10.2020
Covestro with Significant Growth in Volume and Earnings in 3th Quarter
27.10.2020
Bayer Acquires Asklepios BioPharmaceutical
26.10.2020
SCHWEISSEN & SCHNEIDEN 2021 with new Topics
26.10.2020
COLOGNE FINE ART & DESIGN 2020 with a Fine Selection of Dealers and Galleries
26.10.2020
US Consumer Tech Sales to Grow by 18% in Q4 2020
22.10.2020
Five Largest US Oil and Gas Companies Lost $307bn in Market Cap YoY
22.10.2020
MSEC 2020 Recognizes Products
22.10.2020
MTC invests in XJet Carmel 1400C
21.10.2020
Brabender Technologie: Innovations for Additional Flexibility and Safety
21.10.2020
AUMA: Trade Fairs in Germany can Still Take Place
21.10.2020
Jade Kurian Receives Women in Technology Futurist Award
20.10.2020
Messe München by Offering New Hybrid Platforms
20.10.2020
DOMOTEX Postpones Trade Show from January to May 2021
20.10.2020
glasstec VIRTUAL: Ready to Kick off Tomorrow!
19.10.2020
SolarPower Summit can Look Back on an Excellent Event
19.10.2020
RE-Source 2020 is Going Virtual!
15.10.2020
Trina Solar's Vertex Series Modules gets Worldwide Recognized IEC Certifications
13.10.2020
HYDROGEN DIALOGUE: A "Who's Who" of the Hydrogen Industry will meet in Nuremberg
13.10.2020
GHM: Cancellation of opti 2021
13.10.2020
Next Fakuma in October 2021!
13.10.2020
The Race For Water Odyssey in the Land of the Rising Sun
9.10.2020
embedded world 2021: Call for Papers for Leading Expert Forums
9.10.2020
The ETIP PV Elected new Board Chairmen
9.10.2020
purmundus challenge Looks at Harmony Between Geometry and Materials
7.10.2020
Newly Elected EUROTRANS President from Turkish Association MIB
7.10.2020
Faber Infrastructure Launches Container-based Power Supply
7.10.2020
Lufthansa: Ticket Refunds Over Three Billion Euros Paid
5.10.2020
#EISEN Innovation Award 2020 Powered by ZHH in Digital Format this Year
5.10.2020
China, Japan and US controls 60% of Global Installations of Industrial Robots
2.10.2020
FIBO is on Again: The Fitness Sector Meets on the Web
2.10.2020
FENSTERBAU FRONTALE 2022: Early Bookings for Exhibition Areas Recommended
1.10.2020
Meyer Burger Technology Closing of the Sale of the Muegge GmbH
1.10.2020
Earnings Situation in German Industry Still Poor
1.10.2020
ifo Institute: Very Slow Recovery in the Automotive Industry
30.9.2020
automatica 2020 Not to be Held as In-person Event
30.9.2020
Reference Value for Hospital Costs Amounts to 2.60% in 2020
30.9.2020
Zayed Sustainability Prizes Announces Postponement of 2021 Awards Ceremony
29.9.2020
ProSweets Cologne 2021 at the Previous Year Level
29.9.2020
U.S. new home sales jump 108% over the last 10 years
28.9.2020
Healthcare Startups Raised $111.4bn in Total Funding, a 34% Jump Year-on-Year
28.9.2020
Frieze Viewing Room Brings Today's Most Significant Galleries Together on One Platform
28.9.2020
New CFO for Meyer Burger Technology Ltd.
24.9.2020
Plastics & Rubber Vietnam, ArabPlast and PLASTINDIA With New Dates for 2021
24.9.2020
SEMI-NBMC Invites White Paper Proposals for Funding of Human Monitoring Innovations
24.9.2020
Most Expensive Property Market - Hong Kong $1.23 Million Per Property
23.9.2020
Klaus Schäfer appointed to the German National Hydrogen Council
23.9.2020
LABVOLUTION in May 2021: The Ideal Time for a New Start
23.9.2020
Arburg Opens ATC Pinghu in China
22.9.2020
AIRBUS Reveals New Zero-emission Concept Aircraft
22.9.2020
Technology Days 2021: "ARBURG we are there"
22.9.2020
SEMICON Taiwan 2020 Hybrid Opens With Green Manufacturing
22.9.2020
Lufthansa Supervisory Boardextends Contract of Harry Hohmeister Ahead of Schedule
18.9.2020
BASF Venture Capital Iinvests in Leading Industrial Artificial Intelligence Company IntelliSense.io
18.9.2020
Setting the Course for GaLaBau 2022 and Beyond
18.9.2020
North American Semiconductor Equipment Industry Posts August 2020 Billings
17.9.2020
Trina Solar Completes Acquisition of Spanish Solar Tracker System Manufacturer Nclave
17.9.2020
The First Online Edition of EU PVSEC Reports a Huge Positive Outcome
16.9.2020
CARAVAN SALON 2020: Passionate Event Charted for Success
16.9.2020
Lufthansa is Consistently Pursuing its Tourism Strategy
11.9.2020
Positive Trend in Exhibitor Numbers at the PARKEN 2021
11.9.2020
BASF and 2M Group Donate Sanitizer in the North East of England
11.9.2020
Solar Quality 2020 is going digital!
10.9.2020
Kaeser Kompressoren Introduces "i.Comp " Compressor
10.9.2020
DeburringEXPO Takes Place in Karlsruhe
10.9.2020
Meyer Burger Divests Muegge GmbH
9.9.2020
ESOF 2020 Hybrid Format was Huge Hit
9.9.2020
Fraunhofer ILT: More Flexible Battery Design with Ultrafast Laser Ablation
9.9.2020
SEMI: COVID-19 Drives Rise in Global Fab Equipment Spending
8.9.2020
Roland Bleinroth elected to AUMA Executive Board
8.9.2020
ASIA FRUIT LOGISTICA is ON this November
8.9.2020
drupa: New Digital Platform for Knowledge Transfer and Networking
7.9.2020
Successful re-start for Koelnmesse in China
7.9.2020
CARAVAN SALON 2020 Attracts some 350 Exhibitors
7.9.2020
Trina Solar Reports 245.81% Year-on-Year Growth in Net Profits in 2020 Half-Year Results
4.9.2020
SMM 2021: "Together we Will Overcome this Crisis"
4.9.2020
IFA 2020 Special Edition: A Sign that 'Tech is Back'
4.9.2020
The First Online Edition of EU PVSEC will Start on Monday
3.9.2020
Messe Düsseldorf Departs Into a Hybrid Trade Fair Autumn
3.9.2020
CARAVAN SALON 2020 Attracts some 350 Exhibitors
3.9.2020
Art Basel Announces the Cancellation of its Miami Beach Fair
1.9.2020
New Dates Announced for Stone+tec 2021
1.9.2020
International Green Week 2021 will be an Exclusive B2B Event
1.9.2020
SPS 2020 Goes All-Virtual
28.8.2020
gamescom 2020 Launches with Several Political Guests of Honour
28.8.2020
Change in the Supervisory Board of Deutsche Lufthansa AG
28.8.2020
Covestro: Design Variety in the Car Interior of the Future
25.8.2020
Lufthansa Group Restricts Exceptions from Compulsory Masks
25.8.2020
BIOFACH CHINA: Successful restart of trade fairs in China
25.8.2020
SEMI Statement on New U.S. Export Control Regulations
24.8.2020
Lufthansa AG: Over 2.3 Billion Euros in Ticket Costs Reimbursed so Far
24.8.2020
CARAVAN SALON 2020: Exhibitors Announce Over 200 New Products in the Run-up to the trade fair
21.8.2020
International Green Week 2021 to Take Place as a B2B Event
21.8.2020
Jan Brockmann to Become New Chairman of the Bosch Thermotechnology Division
21.8.2020
Spexor from Bosch Provides Security to go
20.8.2020
Extreme Objects' by Design Museum Holon
20.8.2020
Lufthansa Group: Safe Travel During the Corona Pandemic
19.8.2020
ISM 2021: Organic Product Segment Continues to Expand
19.8.2020
Trina Solar to Add 10GW in Production Capacity of Ultra-high-efficient 210 mm Solar Cells
18.8.2020
SEMI Launches World's First Flexible Hybrid Electronics Standards Technical Committee
18.8.2020
EXPO REAL Hybrid Summit: Hybrid Format Generates Great Interest
17.8.2020
Powerful Worldwide Trade Fair Programme of German Organisers in 2021
17.8.2020
U.S. Real GDP Registers Biggest Quarterly Slump in Last 70 years at 32.9%
14.8.2020
EU Lifts Travel Restrictions at the External Borders
14.8.2020
AUMA: More Foreign Exhibitors in Germany Again in 2019
12.8.2020
STRATASYS Wins one of its Largest Ever Aerospace Orders
12.8.2020
SEMI Partners with GLOBALFOUNDRIES to Offer Apprenticeship Program
12.8.2020
SCHMOLZ + BICKENBACH Q2 2020 strongly affected by COVID-19
11.8.2020
gamescom 2020: On the Pulse of the Community
11.8.2020
New KOSTAL Solar Portal for PV System Monitoring
10.8.2020
TDK Announces Ultra-high AOP Analog MEMS Microphone
10.8.2020
Meyer Burger Divests Manufacturer for Microwave and Plasma Systems Muegge GmbH
6.8.2020
Positive Outlook for SPS 2020
3.8.2020
POWTECH 2020 Special Edition Cancelled
3.8.2020
Arburg Despite Corona: "Wir sind da."
30.7.2020
vienna contemporary 2020 will take place as planned from 24–27 September 2020
30.7.2020
Covestro: "We are pursuing a clear, far-sighted strategy"
29.7.2020
EU PVSEC Restructures its Plenary Sessions
29.7.2020
World`s Five Largest Airlines Lost Over $40bn in Market Cap Since January
27.7.2020
Positive Outlook for SPS 2020
27.7.2020
Bright Rock Siccessfully Completes Acquisition in Wyoming
24.7.2020
Suspension of INTERMOT 2020
24.7.2020
ProFood Tech Chicago Cancelled
24.7.2020
MOTEK 2020 and BondExpo 2020 Postponed Until Next Year
23.7.2020
Results Significantly Impacted by the Coronavirus Pandemic as Expected
23.7.2020
SEMI Applauds Senate Support of Financial Incentives to Grow U.S. Semiconductor Manufacturing
23.7.2020
LaP 2020": The Final Touches for Surfaces
22.7.2020
Lufthansa Group Airlines Significantly Expands Flight Schedule Until September
22.7.2020
Barbara Leithner promoted to management team at Reed Exhibitions Austria
21.7.2020
SEMI Announces Election and Re-Election of Board Members
21.7.2020
Digital launch of Chillventa eSpecial in October
21.7.2020
PaintExpo 2020 Cancelled After All
17.7.2020
Federal Minister Andreas Scheuer to Take Part in Political Opening of gamescom 2020
17.7.2020
drupa Starts in 2021 With Shortened Runtime
15.7.2020
Katy Crist of TEL Appointed to SEMI Foundation Board of Trustees
15.7.2020
REED Exhibitions Announces Ron Walden as Executive Sponsor for Race
15.7.2020
Fintech Leaders Raise Almost $4 Billion in Q2 Amid Pandemic
14.7.2020
Virtual SEMICON West 2020 to Gather Industry Leaders
14.7.2020
ESD Alliance Reports Growth for Q1 2020
14.7.2020
EU PVSEC goes online
9.7.2020
Messe Düsseldorf Draws up Hygiene and Infection Protection Concept
9.7.2020
SurfaceTechnology GERMANY and parts2clean cancelled for 2020
9.7.2020
SMB Solar Multiboard Launches New Product Range
8.7.2020
electronica 2020: ZVEI Expects Important Impact from Electronics Trade Fair
8.7.2020
VDMA: Campaign "Thank you, Free Trade" Struck a Chord
7.7.2020
EuroBLECH 2020 Postponed
7.7.2020
AUMA: Strong Trade Fair Programme Planned for 2021
6.7.2020
ProSweets Cologne 2021: Exhibitor Interest Exceeds Expectations
6.7.2020
ISM 2021: Good Booking Status after the Early Bird Campaign
3.7.2020
Virtual MedtecLIVE with MedTech Summit 2020
1.7.2020
Lufthansa Reorganizes Responsibilities on the Executive Board
1.7.2020
SEMI FlexTech Launches Three New Projects to Advance Flexible Hybrid Electronics
1.7.2020
New General Manager at Coherent Mainz
30.6.2020
ASMC 2020 to Go Virtual
Mobile Website
Our website also works on IPhone, IPad and Co.