COMPAMED 2017:

Medical Technology is the

Most Important Market for Micro Systems
The trend towards personalised medical care, demographic developments and digitalisation constitutes an important driver towards technological advances in the fields of medical tec
hnology and healthcare. Health policies and cost pressures are also pushing progress forward. The field of medical technology has in particular given the micro-technology industry a huge boost with its demand for corresponding solutions. Nearly two-thirds of micro-technology companies in Europe supply products, technologies and services to the medical technology and healthcare sectors ... they represent the most important sales market for almost 20% of these firms. The share of companies that supply primarily to the market for medical technology will increase by another 5% in the next three years. This is what the IVAM Fachverband für Mikrotechnik (IVAM Association for Microtechnology) has found in its annual survey of economic data from companies and research institutions operating in the field of microtechnology in Europe.
Microtechnology will therefore also be playing a major role at the COMPAMED 2017, which is the leading international trade fair for supplies to the medical-manufacturing sector. It will be taking place in Düsseldorf alongside the MEDICA 2017 - the world's leading medical trade fair - from 13 to 16 November. "Besides digital transformation that has affected all sectors, the miniaturisation of components for creating increasingly handier and lighter product applications also constitutes an overarching technology trend," says Joachim Schäfer, Managing Director at the Messe Düsseldorf. Since its launch 25 years ago, COMPAMED has developed into the No. 1 platform for suppliers to the medical technology industry and will this year again be counting almost 800 exhibitors in Halls 8a and 8b (MEDICA: approximately 5,000 exhibitors) at Düsseldorf's exhibition centre.
The 'High-tech for Medical Devices' product market with around 700 square metres and more than 50 companies and institutions (Hall 8a) is again fully booked and is being organised as in every year by the IVAM Fachverband für Mikrotechnik as a special showcase for microsystems destined for medical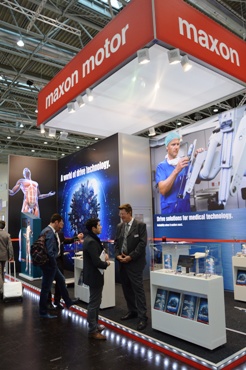 technology applications.
Measuring Blood Pressure Without Cuffs
One important application is the field of so-called 'wearables', mobile, almost entirely concealed and very comfortable systems for recording and analysing vital parameters in everyday situations and transferring them to medical experts. The continuous recording of so-called peripheral photoplethysmograms will in future provide valuable information about a person's health. The information recorded includes the pulse and arterial oxygen saturation, heart-rate variability, respiratory rates and data about vascular stiffness and signs of rising or falling blood pressures. Elevated blood pressure is currently one of the most serious risk factors for cardiovascular disease which - according to the Deutsche Hochdruckliga (German Hypertension League) - affects around 35 million people in Germany alone. The disease is often detected too late because its symptoms are not always apparent. The consequences are in particular stroke, heart disease, kidney failure and dementia.
Against this backdrop, the possibility of tracking blood pressure continuously without the need for cuffs is one of the most important innovations at this year's COMPAMED. A team of scientists around project manager Dr Hans-Georg Ortlepp at the CiS Forschungsinstitut für Mikrosensorik (CiS Research Institute for Microsensors) developed the sensor for this application along with the sophisticated method of analysis. "The necessary raw data is taken from the shape of the pulse wave and its behaviour over time. It is essential in medically relevant applications that the sensor signals are of a high quality and that suitable mathematical algorithms are employed for data analysis," explains Ortlepp. CiS has already been working for a good decade on miniaturised multispectral photoplethysmography sensors that are integrated into silicon. The tiny sensors are placed in the outer ear canal and are individually adapted to patients. It is very important that the h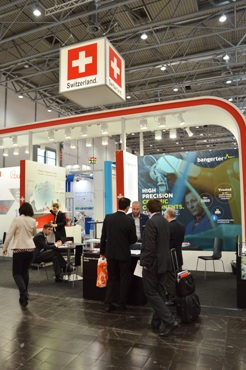 igh-tech components are comfortable to wear as it is this aspect that decides acceptance by users. It is possible to equip the sensors with up to four LEDs that utilise different wave lengths to enable additional vital parameters and data from different depths of tissue to be measured besides blood pressure thus making it possible to eliminate movement artefacts from the signals.
Administering Active Ingredients into Instead of Under the Skin
The Hahn-Schickard-Gesellschaft für angewandte Forschung (Hahn-Schickard Association for Applied Research) has also dedicated itself intensively to researching, developing and manufacturing in the field of technology for microsystems. It cooperates with the Verapido Medical GmbH spin-off in the development and production of equipment, systems and technologies that allow active ingredients to be administered into instead of under the skin. Studies have shown that active ingredients introduced intradermally are available at considerably faster speeds than those administered subcutaneously and are consequently able to develop a more efficient effect. It has also been proved that such biotech molecules as insulin, antibodies, proteins and hormones are absorbed into the body much more quickly when they have been administered intradermally.
Active ingredients that are injected into the skin are also able to influence the immune system more efficiently and specifically. "Clinical studies have shown that up to 90% of the injected dose can be saved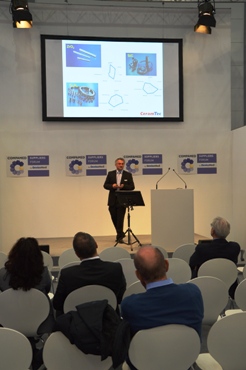 with intradermal administration while achieving the same or even better effect than injecting into muscle," emphasised Dr Markus Clemenz, Managing Director at Verapido Medical. The company is working on micro-needle technology and micro cannula that are injected precisely into the dermis - a layer of skin that is located just under its surface. Only the top layer of skin is penetrated which makes it a minimal invasive procedure. "Our scope of developments range from patch-based micro-needle arrays through intradermal administration equipment with fixed or variable depth settings for injections and infusions to drug-metering systems for (time-delayed) chronotherapy without the need for any electronics," says Clemens. Verapido is anticipating that intradermal injections will become clinical state-of-the-art in the future.
CorTec is going to be exhibiting at the COMPAMED for the second time. This young company that specialises in medical technology is working on the next generation of active implants. It is developing and producing implanted electrodes for drain-outs and stimulation in the central and peripheral nervous systems. CorTec is also manufacturing encapsulated casings to support high-channel applications. Electrodes and encapsulated casings will possess between 32 and more than 200 channels and thus more drain-outs than comparable products. "CorTec's technology combines innovative solutions for design, layout and working with materials that are already tried-and-tested in the field of medical technology - particularly with high numbers of channels. We are thus making applications and therapies possible that were previously impossible to address in this way," explains Dr Martin Schüttler, CTO and CEO at CorTec.
Its patented 'AirRay' electrode technology has enabled CorTec to overcome the current limitations when working with electrodes through innovative and highly precise manufacturing conditions. This makes smaller dimensions for contact diameters from up to 25 µm possible which in turns means
that it is possible to significantly increase packing densities in electrode arrays. This will allow the quality of data acquisition to be improved many times over. The electrodes also possess excellent electrochemical properties. Platinum-iridium or MP35N (nickel-cobalt alloy) may be used to make the electrodes, optionally with high-performance coatings, to further improve the delivery of stimulation impulses to the biological tissue. It is also possible to adapt the electrode's mechanical properties to individual needs.
Communicating with Implants via

High-frequency or Infrared Technologies
In addition to its 'AirRay' electrode technology, CorTec's portfolio also includes such other products for manufacturing active implants as a ceramics-based hermetic encapsulated casing. The use of thick-film technology here allows hundreds of electrical throughputs to be realised - entirely in contrast to conventional encapsulated casings. The ceramics-based encapsulated casings by CorTec are also permeable to electromagnetic waves which in turn means that it is possible to communicate with implants using high-frequency and infrared technologies and to transmit energy wirelessly. The ceramic encapsulated casings have been optimised to the extent that they are able to withstand the mechanical loads that have, for instance, been specified for cochlear implants. CorTec Brain Interchange has combined all these components into a single system that is able to measure and analyse neuronal activity and so is able to stimulate the nervous system as required. This so-called closed-loop functionality opens up a wide range of possible applications for individual and needs-based neural treatments. The system's scope of applications range from controlling assistance systems for paralysed patients through needs-based deep-brain stimulation to rehabilitation for stroke patients and epilepsy intervention. The first system prototypes are currently undergoing preclinical trials. Initial clinical pilot studies are in preparation.
Additive Procedures for Personalised Implants
Another topic that has been becoming more and more important at the COMPAMED are additive procedures. The IKTS Fraunhofer Institut has developed 'bone from the printer'. It has been designed to be used to repair defects in facial areas or bones damaged by tumours that have metastasised. In such conditions, the patients'
quality of life is considerably restricted because the bones can suddenly break without the application of any external forces. Ceramic bone implants that have been adapted to the precise millimetre to the patient's anatomy would be able to potentially alleviate patients' suffering. The ceramic implant by IKTS is being manufactured in two stages: The ceramic casing is printed in 3D which is then filled with a ceramic foam. The additive manufacturing of the shell allows the piece to be adapted to the patient's specific skeletal structure and the porous foam filling enables porosity to be adapted specifically to the patient. The foam facilitates cell growth while it is also biologically active and resistant to pressure. It is this combination of procedures and materials that create the great benefits that the new solution delivers. "We work with such commercially available materials as hydroxylapatite and tricalcium phosphate and are now initiating the biological testing phases for our substances," explains Dr Matthias Ahlhelm, Project Manager at IKTS.
Microstructures from 3D Printers
Multiphoton Optics is also active in the field of 3D printing. This company is producing a high-precision 3D printing platform ('LithoProf3D') and software ('LithoSoft3D') for the additive and subtractive manufacturing of randomly shaped structures that are realised either in the full or on surfaces of materials. The technology supports the high-precision manufacturing of optical 3D interconnects, aspherical or free-form microopitics as well as biomedical products such as scaffolds for tissue engineering, microfluidic cells and drug-delivery structures. Multiphoton Optics only recently demonstrated the opportunities presented by 3D printing platforms by manufacturing this stack of microstructures. The stacks resemble the optical component of an endoscope and they consist of five different individual freely shaped lenses and other structures thus creating a total of 10 differently shaped surfaces. "Microoptical structures are increasingly becoming the core components for highly integrated technical medical systems. We shall be presenting exhibits at the COMPAMED that will also demonstrate how well our process performs in this area," says Felix Kiesel, Director of Sales at Multiphon Optics.
The 'Cobra' line of products by Silicon Microstructures (SMI) Inc. - the first commercially available pressure sensor with a connected cable that fits into instruments with a French-scale diameter - will be another highlight at the COMPAMED 2017. The French scale is used in the field of medicine to indicate the outer diameter of cannula and catheters where three on the scale is equal to one millimetre. The sensors are small (220 micrometers wide), stable and smart as well as temperature-compensated; digital and amplified analogue versions are available. SMI will be presenting how this sensor array is able to reduce risks with urodynamics, endourology, cardiology, emergency surgery, brain-pressure monitoring and other processes.
The world of small and smallest solutions for medical technology therefore remains a subject that will remain important to the COMPAMED in Düsseldorf and, as previously, it is also going to be presented and explored within the scope of the IVAM's COMPAMED HIGHTEC FORUM in Hall 8a. Besides microsystems technology, the focus this year will be on nanotechnologies, production technologies and process control. Specialists will also be presenting parallel talks about current developments along the entire process chain of medical technology at the COMPAMED SUPPLIERS FORUM, which is being organised by the DeviceMed magazine in Hall 8b. This year, the event will be focusing on digitalisation, wearables, 3D printing and regulations.
---
Images: R. Eberhard, messekompakt.com, EBERHARD print & medien agentur gmbh
Source: Messe Düsseldorf

News
24.5.2019
New: Arburg Technology Center in Portugal
24.5.2019
Final Call for EUBCE 2019 in Lisbon, Portugal
24.5.2019
Arburg Thailand has Expanded
23.5.2019
New: Arburg Technology Center in Portugal
23.5.2019
Bosch to be Carbon Neutral Worldwide by 2020
23.5.2019
Robert Bosch Venture Capital invests in Veego Software
17.5.2019
euvend & coffeena 2020 parallel to ORGATEC
17.5.2019
Trina Solar Receives IEC Certification for Next Generation PV Modules
16.5.2019
ifo Institute: Economic Experts Fear Tariff War Will Shrink World Trade
16.5.2019
NürnbergMesse's Indian Portfolio Grows to 16 Trade Fairs
16.5.2019
GTAI: New Record: Foreign Direct Investment in Germany
15.5.2019
COMPAMED 2019: Top Bookings at the Top Event for Medical Technology Suppliers
15.5.2019
SPIEF 2019 to Host the International Youth Economic Forum
15.5.2019
E world energy & water 2020 Focuses on Recruiting
13.5.2019
IFFA 2019 – Where Tradition Meets High Tech
13.5.2019
IE expo China 2019: Demand for environmental technology in Asia scales new heights
13.5.2019
SCHMOLZ + BICKENBACH with Lower EBITDA in a Challenging First Quarter
7.5.2019
LIGNA 2019: Future Showcase for the Woodworking and Timber Processing Industries
7.5.2019
parts2clean 2019: Future-proofing the Cleaning of Industrial Parts
7.5.2019
ASMC 2019 Highlights Latest Advanced Manufacturing Strategies
6.5.2019
New Dates: IPM DUBAI and WOP DUBAI from November 12 to 14, 2019
6.5.2019
SCHMOLZ + BICKENBACH AG: Jens Alder elected as new Chairman
6.5.2019
Save the date - Intersolar Summit Spain
3.5.2019
SEMI and TechWorks Sign Multi-year Agreement
3.5.2019
Deutsche Messe Becomes International Partner of Energy Tradeshow SETA
3.5.2019
Buehler at CONTROL 2019
2.5.2019
Beviale Moscow to be Held in New Location in March 2020
2.5.2019
SCHMOLZ + BICKENBACH AG: Jens Alder Elected as New Chairman
2.5.2019
Meyer Burger Concludes Divestment of Wafer Business to Precision Surfacing Solutions
30.4.2019
PaintExpo 2020 – Trends und Impetus for Coating Technology
30.4.2019
Covestro Confirms Full Year Guidance After First Quarter
30.4.2019
Wibu-Systems joins the debut exhibitors at the medical technology expo T4M
29.4.2019
Covestro Confirms Full Year Guidance After First Quarter
26.4.2019
SEMI ISS Europe 2019: Enabling Digital Innovation Opportunities
26.4.2019
SEMI Partners with Powerhouses imec, CEA-Leti and Fraunhofer to Energize Global Innovation
26.4.2019
Meyer Burger Completes Transformation of Executive Board
25.4.2019
Lufthansa Promotes the European Elections
25.4.2019
drupa: The 6th report has been published
24.4.2019
North American Semiconductor Equipment Industry Posts March 2019 Billings
24.4.2019
Must-attend Event for the Tool, Pattern and Mould Making Industry
24.4.2019
TDK Teams With Immersion on Haptics
23.4.2019
POWTECH and PARTEC 2019: Powerful Process Engineering Duo in Nuremberg
23.4.2019
FLEX Taiwan 2019 to Showcase Flexible Electronics Innovations and Opportunities
23.4.2019
Covestro: Dividend Raised for the Fourth Consecutive Year
17.4.2019
XJet Showcases Expanded Range of AM Application Possibilities at RAPID + TCT 2019
17.4.2019
Exhibitors will be presenting world novelties at the PCIM Europe 2019
17.4.2019
New Location for the German House in Tokyo 2020
16.4.2019
SMC Korea 2019 to Highlight Key Semiconductor Materials Trends, Opportunities
16.4.2019
Coperion and Coperion K-Tron at Chinaplas 2019
15.4.2019
PaintExpo 2020 – Trends und Impetus for Coating Technology
15.4.2019
Trade Fair for Deburring Technology and Precision Surface Finishing in Karlsruhe
11.4.2019
Intersolar AWARD 2019: Finalists Announced
11.4.2019
2018 Global Semiconductor Equipment Sales Jump to Record $64.5 Billion
10.4.2019
EIT Community Opens its First Hub in Silicon Valley
10.4.2019
Coperion at Chinaplas 2019
9.4.2019
Digital Solar & Storage 2019: Save the Date and Call for Presentations
9.4.2019
Upbeat Industry Coming Together Once Again at DELHIWOOD 2019
9.4.2019
POWTECH and PARTEC Host Expert Knowledge-sharing Platform
5.4.2019
Deutsche Messe: To be the World's First 5G-powered Tradeshow Venue
5.4.2019
Covestro takes Gold Again in International Rating
5.4.2019
my-PV GmbH: First Solar Electric Water Heater Installed in Namibia
4.4.2019
Control 2019 – QA Innovations in a New Format
3.4.2019
Rapid.Tech + FabCon 3.D 2019: 3D printing, Spotify style
3.4.2019
Weidmüller and IDEC Announce Strategic Partnership
3.4.2019
Young innovative companies to present themselves at FIBO 2019
2.4.2019
SolarEdge: PV Monitoring Reaching New Heights
2.4.2019
TDK wins the Austrian VERENA award for CeraCharge™
2.4.2019
Arburg at Rapid + TCT 2019
1.4.2019
Weidmüller at the PCIM 2019
1.4.2019
Future Energy: Renewable Energy has Become Cheaper than Conventional Energy in the GCC
29.3.2019
Lufthansa Group Honored for its Good Corporate Citizenship
29.3.2019
Meyer Burger acquires 18.4% of Oxford PV
28.3.2019
EIT Community opens its first Hub in Silicon Valley
28.3.2019
Covestro Fosters Open Innovation in China
27.3.2019
SolarPower: Spain - Europe´s Re-Awakened Solar Giant
27.3.2019
Lufthansa is ATW Airline of the Year 2019
26.3.2019
ETIP Bioenergy: Delegated Regulation for High ILUC Risk Feedstock is a Step Forward
26.3.2019
Trail Enters Into an Exclusivity Agreement for the Acquisition of Electropoli
25.3.2019
European coating show 2019 Larger and More International than Ever
25.3.2019
NürnbergMesse's Indian Portfolio Grows to 16 Trade Fairs
22.3.2019
POWTECH Launches New "Networking Campus" Think Tank in 2019
22.3.2019
Meyer Burger – Strategic Partnership with Oxford PV
21.3.2019
LOPEC 2019: Organic and Printed Electronics Look Positively Into 2019
21.3.2019
Meyer Burger Awarded Contract for About CHF 15 Million
21.3.2019
Ettlinger at the Plastics Recycling Show Europe 2019
20.3.2019
Meyer Burger – Sentis Capital PCC Requests Agenda Items for the Annual General Meeting
20.3.2019
European Coatings Show 2019: More Exhibitors and more Display Area
19.3.2019
SCHMOLZ + BICKENBACH AG Announces Changes to the Board of Directors
19.3.2019
Largest SEMICON China Opens
19.3.2019
TEFAF Maastrich 2019: Dealers Debut New Discoveries
18.3.2019
FLEX Japan and MEMS & Sensors Forum to Spotlight IoT, Smart Transportation and MedTech
18.3.2019
New Covestro Direct Store is Online
18.3.2019
Pioneering "Modern-day Edison" Joins Tech Elites for SEMICON West
13.3.2019
SEMI ISS Europe 2019 to Highlight Digital Innovation Ecosystems
13.3.2019
SCHMOLZ + BICKENBACH Achieves Annual Targets Despite Slowdown in the Fourth Quarter
13.3.2019
Smart2Go - Smart and Flexible Energy Supply Platform for Wearable Electronics
12.3.2019
Intersolar Middle East Conference 2019: Data is the Differentiator
12.3.2019
Meyer Burger Announces Record HJT Cells With Efficiencies Over 24% at PV CellTech
12.3.2019
Global Fab Spending to See 2019 Decline, New Highs in 2020
11.3.2019
Hannover Messe 2019: Integrated IT Solutions in Production and Logistics
11.3.2019
The Success Story of IDS Continues
8.3.2019
SEMI FlexTech Funds New Cutting-Edge Projects for Flexible Electronics
8.3.2019
Enforce Tac and U.T.SEC 2019: Nuremberg Exhibition Pairing More Successful Than Ever
7.3.2019
Brabender Technologie: new feeder line at Powtech
7.3.2019
EU Court of Auditors' Superbug Preview Welcomed by COPMA
6.3.2019
ETIP PV 2019 will take Place in Brussels (Belgium)
6.3.2019
SMARTER E EUROPE: Jouns Forces with Eurogas and Hydrogen Europe
6.3.2019
Solar Impulse Foundation: 20th Anniversary of the First Round-the-World in Balloon
5.3.2019
Women in Semiconductors To Highlight Workplace Diversity at ASMC 2019
5.3.2019
SEMICON China Keynotes Unveiled as Event Record 100,000 Visitors Expected
5.3.2019
Covestro Raises Dividend After Strong Business Performance in 2018
4.3.2019
AB Stelacon to Become Part of Analysys Mason
4.3.2019
Digital Water Works, Inc. Receives Strategic Investment from Bentley Systems
1.3.2019
WFES 2020: Investment Partnerships Will Accelerate Clean and 'Green' Tech
1.3.2019
Solar India Conference 2019: Countdown is running in New Delhi (India)
28.2.2019
Arburg at the Industry Fair 2019
28.2.2019
Orange joins the ULE Alliance
27.2.2019
SEMI: Nominations Open for ESD Alliance Governing Council
27.2.2019
Bosch Increases Investment in Startups
27.2.2019
EIF and Fraunhofer Join Forces to Establish Joint Technology Transfer Fund
25.2.2019
Coperion and Coperion K-Tron at the European Coatings Show 2019
25.2.2019
Schüco International: New Office Opened in Tokyo
25.2.2019
Siemens is Launching a New Battery Storage for Private Homes
22.2.2019
SEMI-FlexTech Announces 2019 FLEXI Awards Winners in Flexible Hybrid Electronics
22.2.2019
Wibu-Systems Opens the Vault at "embedded world 2019"
21.2.2019
CODESYS Group: Excellent Prospects for 2019
21.2.2019
SolarPower Summit 2019: Help us shape the future of solar in Europe!
20.2.2019
Date and venue confirmed for RE-Source 2019
20.2.2019
parts2clean 2019 – Prime Industry Get-together
20.2.2019
FeuerTRUTZ 2019 - Where Fire Protection Comes to Life
19.2.2019
parts2clean 2019 – Prime Industry Get-together
19.2.2019
Fraunhofer ILT: Laser Processes for Multi-Functional Composites
19.2.2019
Arburg at Plástico Brasil 2019
18.2.2019
JEC World 2019: Stratasys to Showcase Latest 3D Printing Advancements
15.2.2019
Fraunhofer ILT: Producing Polymer Structures Faster – Two processes in One Machine
15.2.2019
embedded world 2019: Experts Talk about Embedded Intelligence
15.2.2019
JEC World 2019: Stratasys to Showcase Latest 3D Printing Advancements for Composite Production
14.2.2019
SEMI Reports: 200 mm Fabs to Add 700,000 Wafers Through 2022
14.2.2019
Top in Function, Freedom of Design - Materials at the IDS 2019
14.2.2019
Food Trends at POWTECH 2019
13.2.2019
Intersolar Middle East Conference 2019: It´s Still About Megas and Gigas
13.2.2019
Chinaplas 2019: Arburg Setting the Course for the Digital Future of Plastics Processing
12.2.2019
The Art & Antiques Fair Returns to Olympia, 19 – 28 June 2019!
12.2.2019
Arburg at Plastimagen 2019: Focus on packaging industry
12.2.2019
LeisureWorlds 2019 Concept Impressed Exhibitors and Visitors
8.2.2019
SolarPower Summit 2019: New solar boom in Europe? How, where, why?
8.2.2019
Friedrich Gerecht Completing Peters' Field Force
8.2.2019
Milacron Holdings Corp. To Announce Fourth Quarter 2018 Results
7.2.2019
John Chong of Kionix Named Chair of MEMS & Sensors Industry Group Governing Council
7.2.2019
Meyer Burger Divests its Wafering Business to Precision Surfacing Solutions
5.2.2019
Launch of Key Project to Increase the Efficiency of European Funding for Clean Energy
5.2.2019
embedded award 2019 – and the nominees are …
5.2.2019
SEMI-FlexTech Issues 2019 Request for Proposals to Advance Flexible Electronics Ecosystem
4.2.2019
EU PVSEC 2019 at the Marseille Chanot Convention and Exhibition Centre
4.2.2019
North American Semiconductor Equipment Industry Posts December 2018 Billings
1.2.2019
spoga horse spring 2019 Presents the Industry's Highlights
1.2.2019
LIGNA.Conference goes China
1.2.2019
Solytic Takes Over Solar Monitoring Portal Suntrol from Solarworld
31.1.2019
embedded world 2019: RISC-V – High-Calibre Panel Discussion
31.1.2019
Solytic Takes over Solar Monitoring Portal Suntrol from Solarworld
31.1.2019
European industry fosters CO2 reutilization
30.1.2019
AbsInt and Infineon Offer a New Timing Tool Chain for AURIX
30.1.2019
EU PVSEC 2019 Continues its Focus on R&D
30.1.2019
Arburg at MECSPE 2019 in Parma (Italy)
28.1.2019
DeburringEXPO 2019: Perfect Surfaces – Burr-Free, Clean and Precise
28.1.2019
ISS Europe 2019 Highlights Opportunities in Digital Innovation
28.1.2019
CLOOS Starts the Anniversary Year
24.1.2019
Get set for 2019 at ASIA FRUIT LOGISTICA
24.1.2019
ISPO Beijing Celebrates Successful Anniversary
24.1.2019
Pharma Trends at POWTECH 2019: Faster Development Time from Laboratory to Process
23.1.2019
VCI: The German Chemical Industry in Figures Online
23.1.2019
VDMA: "Treaty of Aachen Must be More than Symbolic Politics"
23.1.2019
Meyer Burger Technology: New Independent Members of the Board of Directors
22.1.2019
SEMICON Korea Highlights Smart Tech, Industry Growth and Workforce Development
21.1.2019
Messe München Expects a Remarkable Year of Fairs in 2019
21.1.2019
photokina Will Take Place in May 2020
21.1.2019
LogiMAT 2019: ADS-TEC will be Presenting its Current Vehicle Terminal
18.1.2019
Successful CIPS 2018 Focused on Innovation
18.1.2019
VIVANESS 2019: More and More Customers for Natural and Organic Cosmetics
17.1.2019
Continental AG: World Premiere - Safety Jacket With LED Lights for Enhanced Safety at Work
17.1.2019
Fruit Logistica: BayWa and Partners with First Joint Trade Fair Presentation
16.1.2019
Reed Exhibitions Announces Definitive Agreement to Acquire Mack Brooks Exhibitions
16.1.2019
Covestro Supports Measures Against Plastic Waste
15.1.2019
embedded world 2019: Premiere - Start-up Area at embedded world
15.1.2019
BAU 2019: Schüco Acoustic - The City of the Future is Quiet
15.1.2019
Instrument Systems at the Photonics West 2019
11.1.2019
Embedded Tech India 2019 Expo in Pragati Maidan (New Delhi/India)
11.1.2019
Lufthansa Group is Number One in Europe
10.1.2019
Messe München Further Enhances Integration of its Russian Business Into the Group
10.1.2019
Intersolar 2019: Renowned Awards Honor Groundbreaking Innovations for the New Energy World
9.1.2019
SolarEdge to Enter E-Mobility Market with Acquisition of S.M.R.E. Spa
9.1.2019
SEMI ISS 2019: Enabling the Next Industrial Revolution
9.1.2019
BayWa Starts World-wide Launch of its Satellite-assisted "Rainmaker"
8.1.2019
SolarEdge to Enter E-Mobility Market with Acquisition of S.M.R.E. Spa
8.1.2019
China Wafer Production Capacity Growth Fastest in the World
8.1.2019
SEMI Taiwan President Terry Tsao Named SEMI Chief Marketing Officer
4.1.2019
ISM 2019: More Space, More Themes, More Inspiration
4.1.2019
Arburg at TCT Asia 2019
3.1.2019
bauma CONEXPO INDIA 2018 Scales New Heights, Resonating the North Indian Market Mood
3.1.2019
BASF Expands its Production Network for Certified Palm Products
3.1.2019
Continental Showcases Innovations for Smarter and Safer Cities at CES 2019
2.1.2019
Lufthansa Group is Looking to Hire More than 5000 New Employees in 2019
2.1.2019
Embedded Tech India 2019: Fair for Products and Solutions for Embedded Systems
31.12.2018
Lufthansa Hub Munich Honoured for Sustainable Environmental Management
31.12.2018
Covestro Taps Into China's Growing Start-up Scene
31.12.2018
SolarPower International 2019: New Deadline for Presentation and Speaker Applications
28.12.2018
BIOFACH 2019: Time to Check in for a Trip Into the Heart of the Organic Community
28.12.2018
Formnext 2018: Groundbreaking world premieres and records at Formnext 2018
28.12.2018
ZELLCHEMING-Expo premier a "Road of Maintenance"
27.12.2018
Continental Pioneers Tire Tests With Self-Driving Test Vehicles
27.12.2018
Messe Essen Celebrates the Conclusion of the First Construction Phase
27.12.2018
Another Record Year for ZEISS
21.12.2018
E.ON Makes a Strategic Investment to a Finnish e-mobility Software Company Virta
21.12.2018
"Together. Now & Tomorrow.": Liebherr at Bauma 2019
20.12.2018
Covestro Taps Into China's Growing Start-up Scene
20.12.2018
Arburg at Plastec West 2019: Vertical and Electric Allrounders in Use
20.12.2018
Expo Wine + Beer in Chile new partner in the global network
19.12.2018
North American Semiconductor Equipment Industry: Billings goes Down
19.12.2018
BIOFACH INDIA 2018: Successful Tenth Anniversary
19.12.2018
CeraCharge™ and PowerHap™ products of the year
18.12.2018
Central Data Management with CLOOS C-Gate
18.12.2018
SEMI: Total Fab Equipment Spending Reverses Course
18.12.2018
Fraunhofer ILT: Formed to Meet Customers' Needs – New Laser Beams for Glass Processing
17.12.2018
Smarter E AWARD 2019: Entries Open for 2019 RENOWNED AWARDS HONOR
17.12.2018
Successful Conclusion of Intersolar India's 10th Anniversary
14.12.2018
Meyer Burger Technology Ltd Signed a Major Strategic Contract
14.12.2018
Arburg at Plastec West 2019
13.12.2018
SEMI Supports U.S.-Japan Trade Agreement Negotiations in U.S. Government Testimony
12.12.2018
Deutsche Lufthansa: First Airbus A380 in new Lufthansa Design
12.12.2018
IPB China Ends on a High Note
10.12.2018
Premiere: Start-up Area at embedded world 2019
10.12.2018
FENSTERBAU FRONTALE 2020: Vacuum Glass Makes New Windows Possible
6.12.2018
Koelnmesse: Settlement Reached in DMEXCO dispute
6.12.2018
Covestro Concludes Share Buyback of EUR 1.5 Billion
5.12.2018
iLOQ Cements Collaboration with Avain Yhtiöt Group
5.12.2018
Lufthansa Supervisory Board decides to expand Executive Board
4.12.2018
BOAT & FUN BERLIN Reports Successful Business
4.12.2018
The next photokina will take place in May 2020
4.12.2018
ProSweets Cologne: The sweet side of Industry 4.0
3.12.2018
Software AG, Amazon Web Services Expand Relationship at AWS re:Invent 2018
Mobile Website
Our website also works on IPhone, IPad and Co.