Intersolar Europe 2013:

The world's largest exhibition for the solar industry
and its partners gets underway
Today, the doors to the world's largest exhibition for the solar industry reopened at Messe München. The event launched at 9:00am with the official ribbon cutting ceremony, attended by Jürgen Trittin, Chairman of the German Parliamentary Group Alliance 90/The Greens, Greg Barker, British Minister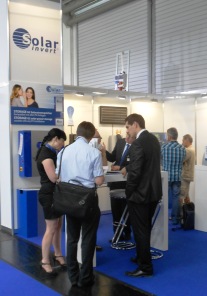 of State at the Department of Energy & Climate Change, and Jürgen Becker, State Secretary of the German Federal Ministry for the Environment, Nature Conservation and Nuclear Safety (BMU). More than 1,300 exhibitors from 47 countries are presenting their products, solutions and services in the fields of photovoltaics (PV), PV production technologies, energy storage systems and solar thermal technologies until June 21 at Intersolar Europe, where for the first time, energy storage systems have their own dedicated exhibition segment in hall B5. A total of more than 200 exhibitors have registered for this category, making Intersolar Europe the largest platform for the combination of photovoltaics and energy storage systems worldwide. This year, more than 50,000 visitors are expected to make the journey to the exhibition, which covers 121,000 square meters of exhibition space across 12 halls and an outdoor exhibition area. The Intersolar Europe Conference takes place in parallel from June 17-20, 2013, and boasts approximately 400 speakers. The organizers are expecting around 2,000 attendees to take part in the conference and its side events. The areas of focus of this year's conference and exhibition are topics affecting the future of the sector, such as energy storage systems and the on-site consumption of solar power for private households and industry. However, this year also sees the spotlight being shone on new business models for photovoltaics, as well as the efficient grid integration of solar power.

This year, 53 per cent of exhibitors at Intersolar Europe are from abroad - from a total of 47 countries.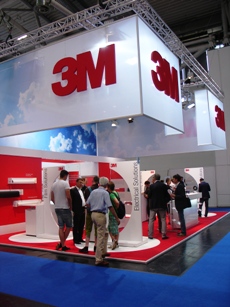 Germany is home to 608 of the exhibitors, followed by China with 242, Italy with 59, Austria with 40 and Spain with 29 companies.

The exhibition was opened at 9:00am today with a traditional ribbon cutting ceremony, attended by Jürgen Trittin, Chairman of the German Parliamentary Group Alliance 90/The Greens, Greg Barker, British Minister of State at the Department of Energy & Climate Change, and Jürgen Becker, State Secretary of the German Federal Ministry for the Environment, Nature Conservation and Nuclear Safety (BMU), in addition to the organizers of Intersolar Europe. This was followed by an exhibition tour, in which the politicians also participated, and Intersolar Europe's inaugural event (General Session), which took place at 10:15am and was dedicated to the topic of "nergy Transition today. Jürgen Trittin and experts from the Fraunhofer Institute for Solar Energy Systems (ISE), Freiburg, and the German Solar Industry Association (BSW-Solar), Berlin, examined the current status and future of the energy transition, and discussed the role of solar energy from the perspective of politics, research and industry associations. Another part of the inaugural event open to all visitors was the panel discussion entitled Introduction of Protective Tariffs on Chinese Solar Modules in Europe, which saw a controversial topic being tackled at an early stage of the exhibition.
Energy storage systems, on-site consumption
and new business models at Intersolar Europe
To date, feed-in tariffs were the greatest incentive for investing in solar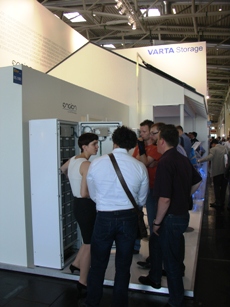 power. However, increasing electricity prices, tumbling feed-in tariffs and falling module prices are resulting in the on-site consumption of self-generated solar power for industry and households becoming increasingly attractive.
The on-site consumption market requires installers, planners and developers to acquire specialist knowledge, something which Intersolar Europe is aiming to provide on a significant level this year.
In light of this, the presentations taking place this year as part of the PV ENERGY WORLD special exhibit in hall B5 focus on the topics of on-site consumption and energy storage systems. In addition, 2013 sees a separate exhibition segment in hall B5 being dedicated to energy storage systems for the first time.

A total of more than 200 exhibitors have registered for this category, making Intersolar Europe the largest platform for the combination of photovoltaics and energy storage systems worldwide.
Community energy cooperatives and
municipal utilities as a driving force behind the energy transition

Community energy cooperatives are gaining increasing popularity by financing solar installations. In Germany, there are currently around 700 community energy cooperatives, in which more than 100,000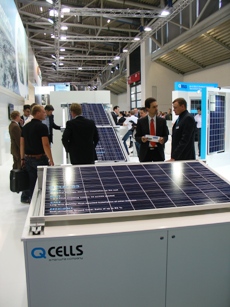 citizens help to finance the energy transition from the grassroots level with around €800 million. Many municipal utilities are also already using the energy transition as an opportunity to gain a leading role in the market as regional suppliers of renewable energy.

Visitors can also discover all current developments in these areas by attending the PV ENERGY WORLD presentation program or taking part in exhibition workshops and tours. Against this backdrop, on June 18, the Intersolar Europe Conference dedicated a double session to this topic entitled New Business Models for the PV Industry.
This year's accompanying
program to Intersolar Europe
For the sixth year running, the Intersolar AWARD is paying tribute to the industry's innovative strength. The prize is being awarded in the categories of Photovoltaics, Solar Thermal Technologies and, for the first time, Solar Projects in Europe. In total, this year saw more than 100 companies apply for the renowned solar industry innovation prize. The winners are being announced during an official ceremony at Intersolar Europe's Innovation Exchange in hall B2, booth B2.450 at 4:30pm on June 19, 2013.
The special exhibit PV and E-Mobility in the outdoor exhibition area of Messe München looks at mobile energy storage with electric vehicles and shines the spotlight on the latest carport solutions, charging stations and electric vehicles themselves. To complete the program, participants are able to experience the future of mobility by test driving an electric vehicle.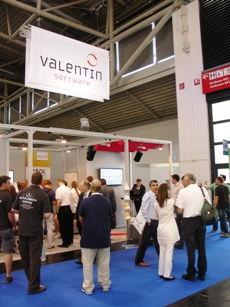 In addition, workshops, exhibition tours and further special exhibits extend what is on offer at Intersolar Europe 2013. This includes the special exhibit entitled Rural Electrification, which is run by the German Solar Industry Association (BSW-Solar), Berlin, and is devoted to power supply in the world's remote regions. During 15-minute presentations over the course of the three days, exhibitors showcase mobile charging devices or solar lamps, as well as PV hybrid systems and telecommunication systems or report on experiences gained from projects in Africa, Asia and Latin America.
The Intersolar Europe Conference
in the International Congress Center in Munich

The Intersolar Europe Conference takes place in parallel to Intersolar Europe from June 17-20, 2013 in the ICM - Internationales Congress Center München. The conference picks up and consolidates the topics of the exhibition and is the platform for some 400 speakers and 2,000 attendees to discuss the latest trends, state-of-the-art applications and the future of international markets.
In addition to the important topics of energy storage systems and global growth strategies, the conference focuses on assessing new markets, technologies and business models in the industry, as well as the current political framework conditions in Europe and the role of national and international industrial policies. On June 19, attention is turned to market developments in the MENA region. The challenges created by the rising share of solar power in the power grids are discussed on June 20 at the German forum covering the EU project, PV GRID.
In addition, a total of seven conference sessions address the topic of solar thermal technologies. On the morning of June 20, international developments brought about by electricity from solar thermal power stations (CSP) come to the fore. Other sessions expand on the key topics of large-scale solar thermal plants, heat storage, industrial process heat and heating and air conditioning in buildings using solar thermal technologies.
---
Intersolar Europe 2013
from 19 to 21 June 2013, Fair ground Munich (Germany)
---
Images: R. Eberhard, messekompakt.de, EBERHARD print & medien agentur gmbh
Source: Solar Promotion
News
11.11.2019
Signing Ceremony im Rahmen Messe CIIE in Shanghai, China
11.11.2019
Art Düsseldorf 2019: International Performance with Strong Cooperation in the Region
8.11.2019
BDI: The EU is the Solution – Not the Problem
8.11.2019
VDMA: Euro Zone Orders are a Small Ray of Hope
8.11.2019
Meyer Burger Signed an Important Framework Contract
7.11.2019
Baltic Sea Region Aims to Tap Potential of Tech Events
7.11.2019
Lufthansa Group achieves an Adjusted EBIT of EUR 1.3 billion in the third quarter
7.11.2019
SolarEdge Announces Third Quarter 2019 Financial Results
6.11.2019
BIOFACH AMERICA: Satisfied Exhibitors and a Unique Range of Products
6.11.2019
Smart Energy Week 2020: Help shape the education for the largest energy event in North America
5.11.2019
VDMA: "Fender bender in the market economy."
5.11.2019
Covestro Closed Sale of European Systems Houses Business to H.I.G. Capital
5.11.2019
Closing of the Sale of the Meyer Burger Company Building
31.10.2019
COLOGNE FINE ART 2019: Podium Discussion on the Development of the Art Market for Ancient Art
31.10.2019
Covestro Supports Chem Startup Award
30.10.2019
Second Quarter of 2019: Solid Core Volume Growth in a Difficult Environment
30.10.2019
Kögel Exhibits at Solutrans 2019
29.10.2019
Global MEMS and Sensors Fab Capacity to Grow 25 Percent Through 2023, SEMI Reports
28.10.2019
Barbara Leithner Promoted to Management Team at Reed Exhibitions Austria
28.10.2019
Covestro Generates Strong Volume Growth
25.10.2019
Meyer Burger is Selling its Software Business to S&T AG for CHF 14 Million in Cash
25.10.2019
K 2019: Arburg Sets Trends
24.10.2019
SCHMOLZ + BICKENBACH Lowers Guidance for Fiscal Year 2019
24.10.2019
Meyer Burger Receives a Further Partial Order from Oxford PV for about CHF 18 Million
24.10.2019
225,000 Visitors at the K 2019 in Dusseldorf (Germany)
23.10.2019
SCHMOLZ + BICKENBACH Plans Capital Increase
23.10.2019
North American Semiconductor Equipment Industry Posts September 2019 Billings
23.10.2019
Meyer Burger sells company building to Helvetica Swiss Commercial Fund
22.10.2019
BIOFACH and VIVANESS: Jane Goodall to Give Keynote Address at Opening of Combined Trade Fair
22.10.2019
K 2019: Covestro- Employees become Founders
18.10.2019
Discovery Art Fair Frankfurt 2019 presented Contemporary Art
18.10.2019
Germany & Silicon Valley: Shaping a Shared Digital Future
18.10.2019
Meyer Burger: REC Group Starts Mass Production of New Alpha Panels
17.10.2019
Research Project Investigates Energy System Transformation in Industry
17.10.2019
German Mobility Start-up Enters US Market
17.10.2019
Zeitgeist Event "Tradition meets Future"
16.10.2019
Suntrace and BayWa r.e. Support B2Gold in Implementing the Fekola Solar Project
16.10.2019
EIT Turns up the Volume on Creative & Cultural Industries
16.10.2019
Extraordinary Shareholders' Meeting of Meyer Burger Technology Ltd
15.10.2019
Preparations in full swing for GaLaBau 2020
15.10.2019
Cloos Schweisstechnik: Efficient Welding of Small Batch Sizes Without Programming Effort
15.10.2019
Messe Düsseldorf Moscow Celebrates Anniversary
14.10.2019
Satys Announces its Takeover of ATE's Paint Site in Châteauroux (France)
14.10.2019
Covestro Plans to Promote Circular Economy
11.10.2019
ZEISS and Senorics Establish Partnership
11.10.2019
HRSflow at K 2019 in Dusseldorf (Germany)
11.10.2019
K 2019: When Antimicrobial Silicone and 3D Printing Become One!
10.10.2019
Hamburg Boat Show Sails Out Into the Colorful World of Water Sports
10.10.2019
Leading the Way with INTERNORGA 2020
10.10.2019
it-sa 2019: Experts make Nuremberg the "Home of IT Security"
9.10.2019
Carsten Spohr and Armin Laschet Promote Sustainable Technology in Aviation
9.10.2019
Broadband World Forum 2019: DECT Forum Showcases Smart Home IoT at the Fair
9.10.2019
SEMICON Taiwan 2019 Opens with Smart Tech, Innovation, Digital Future in Spotlight
8.10.2019
Outcomes of the Russian Energy Week International Forum 2019
8.10.2019
SolarEdge Files Three Patent Infringement Lawsuits Against Huawei in China
8.10.2019
EU: EIB Lends Fazua EUR 12 Million
7.10.2019
SEMI, SUNY Poly Awarded $6 Million National Science Foundation Grant for Pilot Program
7.10.2019
MOTEK & BondExpo 2019: Arena of the Future!
7.10.2019
Alexander Novak and Mikhail Kotyukov Hold 'Dialogue as Equals' as Part of REW 2019 Youth Day
4.10.2019
Agenda and Proposals for Extraordinary Shareholders' Meeting 2019
4.10.2019
BlechExpo 2019: Upgrading servo presses for Industry 4.0 with Schuler
4.10.2019
Coperion: Digital Solutions for Networked Plastics Production
3.10.2019
Natural Gas Fuel Development Strategy to Accelerate
3.10.2019
Futurebuild Events and Easyfairs Management Teams Collaborate
3.10.2019
Fine Art Asia is the leading fine art fair in Asia
2.10.2019
BIOFACH INDIA: India's Must-do Event for the Organic Industry goes Into its 11th Round
2.10.2019
Upgrading Servo Presses for Industry 4.0 with Schuler
2.10.2019
Arburg at the Moldplas 2019 in Portugal
30.9.2019
IPB 2019: A grand Powder Event with 230 Exhibitors
30.9.2019
ZEISS Opts for Continuity with New CEO
30.9.2019
Covestro Expands Open Innovation in China
27.9.2019
ART INTERNATIONAL ZURICH 2019: An Art Forum for Lively Exchange
27.9.2019
Digital Solar & Storage 2019: Innovating the New Energy World
27.9.2019
Co-operation: Dieffenbacher and Arburg Combine their Expertise
26.9.2019
Business Value of Internet of Things in Smart Cities
26.9.2019
Toy Exhibition Spielwarenmesse and NürnbergMesse Arrange Early Contract Extension
26.9.2019
FoodTec India & PackEx India 2019 with 48 % International participation
25.9.2019
VIVANESS 2020: Trailblazer for the Natural and Organic Cosmetics Sector
25.9.2019
BIOFACH 2020: Even More Space for Organic Products and Even More Variety!
25.9.2019
Messe Essen Celebrates the Conclusion of the First Construction Phase
24.9.2019
International Real Estate Investment Forum PROESTATE Begins
24.9.2019
Meusburger at the K 2019 with Market Innovations
24.9.2019
Meyer Burger: Confirmation of Company's Strategic Realignment
20.9.2019
Technology Days for Laser Blanking Line from Schuler
20.9.2019
Dr. Constantin Häfner Named New Fraunhofer ILT Director
20.9.2019
Covestro in new Circular Plastics Alliance
18.9.2019
Fraunhofer ENAS: Individualization of Products in Mass Production
18.9.2019
BIOFACH and VIVANESS: Combined Trade Fair goes Into 2020 with Two New Halls
18.9.2019
VIVANESS to Move into Sustainability Award-winning Hall 3C in 2020
16.9.2019
EU PVSEC: Photovoltaic Solar Energy will Open a New World for Mobility Fuelling Zero Emissions Cars
16.9.2019
EEF 2019 Discussed Ways to Increase Life Expectancy in the Far East
16.9.2019
Covestro to Sell European Polycarbonate Sheets Business to Serafin Group
13.9.2019
AUMA: German Exhibitions Post Further Positive Results
13.9.2019
Lufthansa Group Airlines Raise Number of Passengers to more than 14.1 Million in August 2019
13.9.2019
Arburg makes K 2019 digital!
12.9.2019
Call for Speakers: 5G and Beyond Leadership Summit
12.9.2019
EU PVSEC 2019 opened its doors in Marseille
12.9.2019
Coperion K-Tron Announces a Completely New K3 Line of Vibratory Feeders
11.9.2019
SCHMOLZ + BICKENBACH adjusts guidance for fiscal year 2019
11.9.2019
SEMICON Europa: SMART MedTech Forum Focuses on Innovation, Future of Medical Technology
10.9.2019
Priority Plastics Expands Capacity for UN-Rated Tight Head Containers
10.9.2019
parts2clean 2019: Trends, Ideas and Know-how for Consistently Clean Parts
10.9.2019
CLOOS at SCHWEISSTEC 2019
9.9.2019
Tendence 2020: New Dates and Extended to Four Days
9.9.2019
New International Trade Fair for Lightweight Construction Solutions
9.9.2019
parts2clean 2019: Trends, ideas and know-how for consistently clean parts
6.9.2019
MOMENTIVE to Showcase new Silicone Technologies at K 2019
6.9.2019
SAERTEX® INCREASES Range of Carbon Materials Through Acquisition of TK-Industries
6.9.2019
Dr. Timo Berger is Weidmüller's new Chief Sales Officer
5.9.2019
Trina Solar Releases Corporate Social Responsibility Report 2018
5.9.2019
SAERTEX® Increases Range of Carbon Materials Through Acquisition of TK Industries
4.9.2019
BUSS at K2019: New Models Extend Applications for COMPEO Compounders
4.9.2019
Dr. Timo Berger is Weidmüller's new Chief Sales Officer
4.9.2019
Fraunhofer FEP: Porous Silicon lLyers for More Efficient Lithium-ion Batteries
3.9.2019
Innovations and Know-how for Optimised Processes for Deburring and Surface Finishes
3.9.2019
Hatch and Samsung Extend 5G Cloud Gaming Partnership to Europe
3.9.2019
New Fraunhofer Coating Process Provides Effective Protection for Brake Discs
30.8.2019
Save the Date! AKL'20 from May 6–8, 2020
30.8.2019
Fraunhofer ILT: Optimizing the use of Lasers With Artificial Intelligence
30.8.2019
FAULHABER: Successful in France for 10 years
29.8.2019
MeKo Presents Numerous Innovations at COMPAMED / MEDICA 2019
29.8.2019
Register now for the "AI for Laser Technology Conference"
28.8.2019
Visitors Numbers up Once Again at BIOFACH AMERICA LATINA 2019
28.8.2019
DeburringEXPO: Innovations and Know-how for Optimised Processes for Deburring and Surface Finishes
26.8.2019
50th Anniversary of Exhibition Centre in Düsseldorf
26.8.2019
Solar Impulse: Bertrand Piccard at G7 to Push Ambitious Climate Action
26.8.2019
Thomas Kamphausen to become new CFO of Schuler
23.8.2019
SolarEdge: Board of Directors Has Appointed Zvi Lando as Acting CEO
23.8.2019
PORTWELL Launches Compact and Robust IOT Gateway PC
23.8.2019
Semiconductor Equipment Industry: Billings Higher than June 2019
22.8.2019
BIOFACH 2020: New Special Show on "Water"
22.8.2019
Schuler Develops Forging Press With Hirschvogel
22.8.2019
Brabender Technologie: New Equipment and Software Applications at "K 2019"
20.8.2019
TDK Corporation to Establish a Corporate Venture, TDK Ventures, Inc.
20.8.2019
embedded world 2020: "Safe for the Future" With top-class Speakers
20.8.2019
Winner of the Red Dot Award: The KOSTAL Solar App
19.8.2019
Milacron Launching Wide Range of New and Upgraded Mold-Masters Solutions at K 2019
19.8.2019
SEMI Unveils Technology Showcase Finalists for MEMS & Imaging Sensors Summit
19.8.2019
Perimeter Protection Still on Track for Growth
16.8.2019
Meyer Burger Plans to Adapt Business Model and Enter Strategic Collaboration with REC
16.8.2019
BIOFACH SOUTH EAST ASIA 2019: Successful second round
16.8.2019
SolarEdge Appoints New Director to Serve as Co-Chairman
15.8.2019
Meyer Burger Impacted by Weak Demand in Photovoltaic Sector in H1 2019
15.8.2019
SCHMOLZ + BICKENBACH Slowed Down by Weak Market Development
14.8.2019
Bosch is Shaping Present and Future Mobility
14.8.2019
Main Congress Theme for BIOFACH 2020: "Organic Delivers!"
13.8.2019
SPI, ESI, and NASEW 2019 Presents: The Grid of Grids
13.8.2019
BIOFACH AMERICA: Best Prospects for Trade Fair and Market
12.8.2019
The Indonesians Fighting the Scourge of Plastic Pollution
12.8.2019
Bosch is Paving the Way for 3D Displays in Vehicles
8.8.2019
KUKA Stabilizes Results
8.8.2019
Bayer on Track in Operational Business
8.8.2019
AstroNova to unveil new products at the FachPack 2019
7.8.2019
Bayer and LANXESS to Sell Their Stakes in Currenta to Macquarie Infrastructure and Real Assets
7.8.2019
LANXESS Remains on Track After a Stable Second Quarter
7.8.2019
SolarEdge: Record Revenues of $325.0 Million
2.8.2019
opti to Get a New Home in 2021
2.8.2019
IFAT Africa 2019: Approaching Southern Africa's Environmental Challenges with Enthusiasm
2.8.2019
SMTConnect 2019 Statistics: Event Facilitates High-quality Exchange
29.7.2019
Successful Premiere for analytica Lab Africa 2019
29.7.2019
MARINE INTERIORS 2019: Culinary Delights at High Sea
29.7.2019
ESOF2020 Trieste: A Record of Applications
26.7.2019
AddSteel Project: New steel materials for 3D Printing
26.7.2019
"Superbrand" Award for Arburg Hungary
25.7.2019
parts2clean Supporting Program: Information, Innovation and Expertise
25.7.2019
Bosch: Driverless Parking Without Human Supervision
24.7.2019
Meyer Burger Technology: Shareholder Requests Agenda Item for Future Annual General Meeting
24.7.2019
SEMICON Europa Drives Smart: Transportation, MedTech, Design and Workforce
23.7.2019
KOSTAL Continues to Deliver the Most Efficient PV Storage System
23.7.2019
Arburg Receives "Bosch Global Supplier Award 2019"
22.7.2019
Meyer Burger Publishes Preliminary Results for the First Half of 2019
22.7.2019
Arburg Awards for Outstanding TUM Graduates
22.7.2019
Meyer Burger Signs Major Contract for its Heterojunction Core Equipment
19.7.2019
New, modern, future-oriented – please welcome Lufthansa's 15th A350-900 to Munich
19.7.2019
PCIM Europe Conference 2020: Call for Papers launched Vineeta Manglani
19.7.2019
Oliver Zipse appointed new Chairman of the Board of Management of BMW AG
18.7.2019
All in CARAVANING 2019 Successfully Concluded
18.7.2019
Arburg at K 2019: Two Views of One World
18.7.2019
Messe Friedrichshafen Decides to Postpone the New Outdoor Event
17.7.2019
Bosch is Expanding its Involvement in Cyber Valley
17.7.2019
WITTENSTEIN at EMO 2019
17.7.2019
Dream Tours at CARAVAN SALON DÜSSELDORF 2019
16.7.2019
SCHMOLZ + BICKENBACH Lowers Guidance for Fiscal Year 2019
16.7.2019
SEMI Teams with FIRST Global to Inspire Young Students Worldwide
15.7.2019
Robert Bosch GmbH Salls Bosch Packaging Technology
12.7.2019
SEMI – 2019 Market Reset With 2020 Recovery
12.7.2019
Bosch Continues to Expand its Digital Supply Chains
11.7.2019
CyberOptics MRS Sensor Wins 2019 Best of West Award
11.7.2019
DeburringEXPO 2019: Component Quality Masters the Balancing Act
10.7.2019
Bosch Packaging Technology Demonstrates Out-of-the-box-solutions at FachPack
10.7.2019
Waymo Wins SEMI Award at SEMICON West
10.7.2019
1,000th SEMI Industry Standard Marks 40+ Years of Microelectronics Innovation
9.7.2019
DUO PLAST AG Strengthens its Position for Further Growth with New Shareholder
9.7.2019
Schuler Presents Fully Networked Stamping Press
8.7.2019
Arburg Packaging Summit: "Solutions, innovations, visions"
8.7.2019
Uniloy Announces Completion of Transaction with Milacron
4.7.2019
25 years of Arburg in Switzerland
4.7.2019
Bühler Technologies Celebrating "40 years of ATEX Pumps"
4.7.2019
14th Asia Outdoor a Great Success
3.7.2019
Arburg Packaging Summit: "Solutions, innovations, visions"
27.6.2019
BlockState Launches Digital Equity Offering
27.6.2019
100 years of Kaeser Kompressoren
26.6.2019
CIBUS TEC 2019: More Halls, More Buyers and More Sectors
26.6.2019
Photovoltaics – Game Changer in the Global Energy System
26.6.2019
Covestro Start-up Challenge Enters a New Round
20.6.2019
SOLAREDGE to Offer Storedge with Power Backup for European Markets
20.6.2019
2019 drupa Prize awarded to Sonia Ben Hedia
19.6.2019
SolarPower Europe and ARE of Kazakhstan Signs Cooperation Agreement
19.6.2019
ACTITO acquires SmartFocus
19.6.2019
Lufthansa Group Airlines Win Four Airline Oscars
17.6.2019
drupa 2020: It is time to embrace the future!
17.6.2019
Covestro to sell European Systems Houses Business to H.I.G. Capital
14.6.2019
ZELLCHEMING-Expo 2019 on the Road to Success
14.6.2019
Fraunhofer IPMS: Top Marks for Plastic Bottle Recycling System
14.6.2019
CLOOS at BEIJING ESSEN WELDING & CUTTING 2019
13.6.2019
EUSEW 2019: Solar Skin - Unveiling the Next Building Generation!
13.6.2019
Global Fab Equipment Spending to Rebound in 2020 with 20% Growth
13.6.2019
Smart connectivity – with KOSTAL's Intelligence and Trusted Partners
12.6.2019
glasstec 2020: Exhibitor Registration Now Open
12.6.2019
Fraunhofer IPMS:Top Marks for Plastic Bottle Recycling System
12.6.2019
Fraunhofer IGB: Chemicals from Carbon Dioxide
7.6.2019
BDI: The EU is the Solution – Not the Problem
7.6.2019
New Bitkom-ifo Digital Index Shows Excellent Business Climate for the ICT Industry
7.6.2019
VDMA: Investors Remain Insecure
6.6.2019
SCHULER AG: Economic Production of Composite Parts
6.6.2019
KOSTAL is Setting Standards – with Efficient Hybrid and Storage Solutions
6.6.2019
Boosting Additive Know-how for drupa 2020
5.6.2019
Beviale Mexico 2020: Latin America's First Comprehensive Beverage Exhibition
5.6.2019
Fraunhofer ILT: Multi-functional Laser Tools for Lightweight Construction and e-Mobility
4.6.2019
First Quarter 2019 Worldwide Semiconductor Equipment Billings Drop 19%
4.6.2019
New Buehler Metallographic Laboratory on the Campus of the University of Warwick
4.6.2019
BIOFACH SOUTH EAST ASIA Moves Into its Second Round
3.6.2019
Silicon Wafer Shipments Drop to Lowest Level Since Fourth Quarter of 2017
3.6.2019
SCHMOLZ + BICKENBACH with a Challenging First Quarter
3.6.2019
TDK: High Efficiency Thin-film Power Inductors for Mobile Devices
28.5.2019
BayWa Intends to Divest Group Subsidiary TESSOL
28.5.2019
FENSTERBAU - FRONTALE 2020: From Window to Facade
28.5.2019
SEMI Monitors Escalating U.S.-China Trade Tensions
27.5.2019
IE expo China 2019: Demand for environmental technology in Asia scales new heights
27.5.2019
ZELLCHEMING-Expo 2019 on the Road to Success
Mobile Website
Our website also works on IPhone, IPad and Co.