German machine tool
industry optimistic for 2013
Following two years of substantial growth, the German machine tool industry expects a modest increase in production output of 1 per cent during 2013. "This means the sector will be back to its previous high from 2008", reports Martin Kapp, Chairman of the VDW (German Machine Tool Builders' Association), speaking at the organisation's annual press conference in Frankfurt am Main.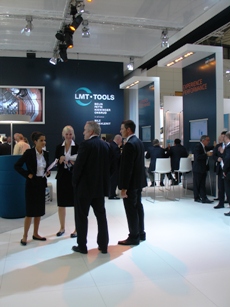 Last year went better than expected: the good starting position with the order books full and capacity utilisation at a high level sustained production throughout 2012, said Kapp. With growth totalling 9 per cent, the sector achieved a production volume worth 14.1 billion euros.
German exports
reach a new high
Exports performed even better: 9.5 billion euros, representing a rise of 20 per cent, is the highest figure ever measured.

The single spangest market continues to be China: with a volume of around 2.4 billion euros and growth of 14 per cent, the Chinese market bought more than twice as many German machines as the second-largest market, the USA. The USA's industrial sector, too, opts for German machine tools when it comes to modernising its production lines. Up to November 2012, exports were a good third above those in the record year of 2008. Even in crisis-hit Spain, sales were higher than in the preceding year, though starting from a low baseline.

The domestic market, characterised by risk-averse mid-tier customers, stagnated at 6.8 billion euros, which was still a good bit below the pre-crisis level.

Capacity utilisation, at 92.4 per cent in January of this year, was only slightly below the preceding year's average. By October 2012, the order backlog had been downsized to 8.3 months, almost a month less than last year's equivalent figure.

Order bookings were, as anticipated, down by a tenth compared to the previous year's record level. Demand was sustained by orders from Europe and the USA, and by forming technology. The spangest category in this segment of the market is press technology for the German and international automotive industry. Thanks to the high proportion of project business, which is less susceptible to variations in the business cycle, the fluctuations here are smaller.

Total payrolls, finally, grew by an average of 5 per cent from in 2012, with almost 71,000 employees in December as the most recent figure.

The winner in
international competition
With its production output result, the German machine tool industry was definitely the winner in 2012, out in front of its major competitors. Excluding exchange-rate effects, production output in China was down; the Japanese marked time. Production output of machine tools in the USA was indeed up, thanks to a dynamic domestic market but at 7 per cent was still behind Germany's figure. Total growth in the pan-European machine tool industry came to only half the German sector's level. In terms of exports, the German vendors were once again catching up with Japan.

Optimism for 2013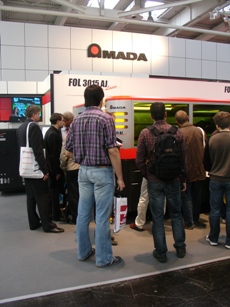 For 2013, the VDW's forecasting partner, Oxford Economics, is confident that industrial production output and fixed-asset investments will once again be showing a somewhat steeper increase worldwide. This applies primarily to Asia and America, less to Europe.

For the machine tool industry in Germany, this signifies stable order levels. Once again, the primary impetus will be coming from Asia. Currently, early indicators in China, which most recently had been ordering 30 per cent less, are on the up again. The Purchasing Manager Index rose to more than 52 points in January 2013 compared to its nadir in August 2012. Industrial production output, too, is again showing double-figure growth.

"All in all, the macro-economic environment offers plenty of momentum in 2013. Early indicators like the worldwide Purchasing Manager Index and the ifo Business Climate Index for the German machine tool industry have been pointing upwards for some months now", says a confident Martin Kapp.

On the domestic market, by contrast, he continues, demand remains subdued. Discussions about tax hikes, the faltering energy turn-around, and high energy prices, the still-smouldering uncertainty in Europe's financial sector, with continuing imponderabilities in quite a few markets, and not least the announcement of high wage demands, are unsettling German investors, says the VDW's Chairman.



More manufacturing abroad
for Germany's machine tool vendors

Almost two-fifths of the world's machine tool production output, totalling around 66 billion euros, was manufactured last year in Chinese factories alone. Despite the slow pace of market growth at the moment, the demand for machine tools in Asia will remain immense in the future as well, while the traditional markets of Western Europe can no longer keep pace with this dynamism. The challenge for German machine tool vendors is to gear up their sales and production structures in response.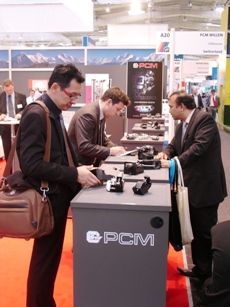 According to a recent VDW survey, production by German vendors in manufacturing facilities abroad grew by almost 60 per cent during 2011, to reach 1.7 billion euros. Thus a good 15 per cent or another 7,750 employees can now be added to the domestic payrolls. Involvement abroad has traditionally focused on Switzerland, the USA and Brazil. The comparatively recent, but fast-expanding operations in China were up by 55 per cent in 2011. This process is predicted to gain in dynamism, with further payroll upsizing.


Joining forces
for enhanced efficacy
"I don't think everyone needs to do everything", is Martin Kapp's firm conviction. What he advocates is that the German machine tool vendors should work together more closely. This, he contends, will make the sector more effective. Alliances, he continues, need not necessarily go hand in hand with financial interweavement; rather, service support and spare parts stocks, for example, could be organised jointly in geographically distant markets.



"Intelligence in Production"
at the EMO Hannover 2013
International users of machine tools are facing major challenges all over the world. They are compelled to organise their production operations for maximised efficiency under tremendous pressure of costs while meeting ultra-stringent requirements for cost-effectiveness and minimised environmental impact. Intelligent production is the key factor here. Vendors able to sustainedly offer intelligent production solutions all over the world will possess a major competitive advantage here. These will be showcased at the EMO Hannover 2013, under the keynote motto "Intelligence in Production" from 16 to 21 September.


The world's premier trade fair for the metalworking sector will not only feature machine tool manufacturers showcasing their corporate capabilities; the accompanying programme, for example, will present some top-flight speakers at the VDMA Congress on "Producing more intelligently". The focus here, under the motto of "Inspired by Technology", is on the issues of manufacturing excellence featuring lean production and flexible value creation chains, efficient production based on sustainability and resource-economy, plus intelligent production based on networking and Industry 4.0.

In addition, an abundance of further supporting events will enrich a visit to the EMO. These will include a two-day conference on "New aerospace manufacturing technologies" with an accompanying special show, the EMO Focus India Seminar, and the presentation of solutions geared to energy-efficiency under the Blue Competence brand.
---
EMO Hannover 2013
from 16 to 21 September 2013, Fair ground Hanover

---
Images: R. Eberhard, messekompakt.de, EBERHARD print & medien agentur gmbh

Source: VDW
News
24.5.2019
New: Arburg Technology Center in Portugal
24.5.2019
Final Call for EUBCE 2019 in Lisbon, Portugal
24.5.2019
Arburg Thailand has Expanded
23.5.2019
New: Arburg Technology Center in Portugal
23.5.2019
Bosch to be Carbon Neutral Worldwide by 2020
23.5.2019
Robert Bosch Venture Capital invests in Veego Software
17.5.2019
euvend & coffeena 2020 parallel to ORGATEC
17.5.2019
Trina Solar Receives IEC Certification for Next Generation PV Modules
16.5.2019
ifo Institute: Economic Experts Fear Tariff War Will Shrink World Trade
16.5.2019
NürnbergMesse's Indian Portfolio Grows to 16 Trade Fairs
16.5.2019
GTAI: New Record: Foreign Direct Investment in Germany
15.5.2019
COMPAMED 2019: Top Bookings at the Top Event for Medical Technology Suppliers
15.5.2019
SPIEF 2019 to Host the International Youth Economic Forum
15.5.2019
E world energy & water 2020 Focuses on Recruiting
13.5.2019
IFFA 2019 – Where Tradition Meets High Tech
13.5.2019
IE expo China 2019: Demand for environmental technology in Asia scales new heights
13.5.2019
SCHMOLZ + BICKENBACH with Lower EBITDA in a Challenging First Quarter
7.5.2019
LIGNA 2019: Future Showcase for the Woodworking and Timber Processing Industries
7.5.2019
parts2clean 2019: Future-proofing the Cleaning of Industrial Parts
7.5.2019
ASMC 2019 Highlights Latest Advanced Manufacturing Strategies
6.5.2019
New Dates: IPM DUBAI and WOP DUBAI from November 12 to 14, 2019
6.5.2019
SCHMOLZ + BICKENBACH AG: Jens Alder elected as new Chairman
6.5.2019
Save the date - Intersolar Summit Spain
3.5.2019
SEMI and TechWorks Sign Multi-year Agreement
3.5.2019
Deutsche Messe Becomes International Partner of Energy Tradeshow SETA
3.5.2019
Buehler at CONTROL 2019
2.5.2019
Beviale Moscow to be Held in New Location in March 2020
2.5.2019
SCHMOLZ + BICKENBACH AG: Jens Alder Elected as New Chairman
2.5.2019
Meyer Burger Concludes Divestment of Wafer Business to Precision Surfacing Solutions
30.4.2019
PaintExpo 2020 – Trends und Impetus for Coating Technology
30.4.2019
Covestro Confirms Full Year Guidance After First Quarter
30.4.2019
Wibu-Systems joins the debut exhibitors at the medical technology expo T4M
29.4.2019
Covestro Confirms Full Year Guidance After First Quarter
26.4.2019
SEMI ISS Europe 2019: Enabling Digital Innovation Opportunities
26.4.2019
SEMI Partners with Powerhouses imec, CEA-Leti and Fraunhofer to Energize Global Innovation
26.4.2019
Meyer Burger Completes Transformation of Executive Board
25.4.2019
Lufthansa Promotes the European Elections
25.4.2019
drupa: The 6th report has been published
24.4.2019
North American Semiconductor Equipment Industry Posts March 2019 Billings
24.4.2019
Must-attend Event for the Tool, Pattern and Mould Making Industry
24.4.2019
TDK Teams With Immersion on Haptics
23.4.2019
POWTECH and PARTEC 2019: Powerful Process Engineering Duo in Nuremberg
23.4.2019
FLEX Taiwan 2019 to Showcase Flexible Electronics Innovations and Opportunities
23.4.2019
Covestro: Dividend Raised for the Fourth Consecutive Year
17.4.2019
XJet Showcases Expanded Range of AM Application Possibilities at RAPID + TCT 2019
17.4.2019
Exhibitors will be presenting world novelties at the PCIM Europe 2019
17.4.2019
New Location for the German House in Tokyo 2020
16.4.2019
SMC Korea 2019 to Highlight Key Semiconductor Materials Trends, Opportunities
16.4.2019
Coperion and Coperion K-Tron at Chinaplas 2019
15.4.2019
PaintExpo 2020 – Trends und Impetus for Coating Technology
15.4.2019
Trade Fair for Deburring Technology and Precision Surface Finishing in Karlsruhe
11.4.2019
Intersolar AWARD 2019: Finalists Announced
11.4.2019
2018 Global Semiconductor Equipment Sales Jump to Record $64.5 Billion
10.4.2019
EIT Community Opens its First Hub in Silicon Valley
10.4.2019
Coperion at Chinaplas 2019
9.4.2019
Digital Solar & Storage 2019: Save the Date and Call for Presentations
9.4.2019
Upbeat Industry Coming Together Once Again at DELHIWOOD 2019
9.4.2019
POWTECH and PARTEC Host Expert Knowledge-sharing Platform
5.4.2019
Deutsche Messe: To be the World's First 5G-powered Tradeshow Venue
5.4.2019
Covestro takes Gold Again in International Rating
5.4.2019
my-PV GmbH: First Solar Electric Water Heater Installed in Namibia
4.4.2019
Control 2019 – QA Innovations in a New Format
3.4.2019
Rapid.Tech + FabCon 3.D 2019: 3D printing, Spotify style
3.4.2019
Weidmüller and IDEC Announce Strategic Partnership
3.4.2019
Young innovative companies to present themselves at FIBO 2019
2.4.2019
SolarEdge: PV Monitoring Reaching New Heights
2.4.2019
TDK wins the Austrian VERENA award for CeraCharge™
2.4.2019
Arburg at Rapid + TCT 2019
1.4.2019
Weidmüller at the PCIM 2019
1.4.2019
Future Energy: Renewable Energy has Become Cheaper than Conventional Energy in the GCC
29.3.2019
Lufthansa Group Honored for its Good Corporate Citizenship
29.3.2019
Meyer Burger acquires 18.4% of Oxford PV
28.3.2019
EIT Community opens its first Hub in Silicon Valley
28.3.2019
Covestro Fosters Open Innovation in China
27.3.2019
SolarPower: Spain - Europe´s Re-Awakened Solar Giant
27.3.2019
Lufthansa is ATW Airline of the Year 2019
26.3.2019
ETIP Bioenergy: Delegated Regulation for High ILUC Risk Feedstock is a Step Forward
26.3.2019
Trail Enters Into an Exclusivity Agreement for the Acquisition of Electropoli
25.3.2019
European coating show 2019 Larger and More International than Ever
25.3.2019
NürnbergMesse's Indian Portfolio Grows to 16 Trade Fairs
22.3.2019
POWTECH Launches New "Networking Campus" Think Tank in 2019
22.3.2019
Meyer Burger – Strategic Partnership with Oxford PV
21.3.2019
LOPEC 2019: Organic and Printed Electronics Look Positively Into 2019
21.3.2019
Meyer Burger Awarded Contract for About CHF 15 Million
21.3.2019
Ettlinger at the Plastics Recycling Show Europe 2019
20.3.2019
Meyer Burger – Sentis Capital PCC Requests Agenda Items for the Annual General Meeting
20.3.2019
European Coatings Show 2019: More Exhibitors and more Display Area
19.3.2019
SCHMOLZ + BICKENBACH AG Announces Changes to the Board of Directors
19.3.2019
Largest SEMICON China Opens
19.3.2019
TEFAF Maastrich 2019: Dealers Debut New Discoveries
18.3.2019
FLEX Japan and MEMS & Sensors Forum to Spotlight IoT, Smart Transportation and MedTech
18.3.2019
New Covestro Direct Store is Online
18.3.2019
Pioneering "Modern-day Edison" Joins Tech Elites for SEMICON West
13.3.2019
SEMI ISS Europe 2019 to Highlight Digital Innovation Ecosystems
13.3.2019
SCHMOLZ + BICKENBACH Achieves Annual Targets Despite Slowdown in the Fourth Quarter
13.3.2019
Smart2Go - Smart and Flexible Energy Supply Platform for Wearable Electronics
12.3.2019
Intersolar Middle East Conference 2019: Data is the Differentiator
12.3.2019
Meyer Burger Announces Record HJT Cells With Efficiencies Over 24% at PV CellTech
12.3.2019
Global Fab Spending to See 2019 Decline, New Highs in 2020
11.3.2019
Hannover Messe 2019: Integrated IT Solutions in Production and Logistics
11.3.2019
The Success Story of IDS Continues
8.3.2019
SEMI FlexTech Funds New Cutting-Edge Projects for Flexible Electronics
8.3.2019
Enforce Tac and U.T.SEC 2019: Nuremberg Exhibition Pairing More Successful Than Ever
7.3.2019
Brabender Technologie: new feeder line at Powtech
7.3.2019
EU Court of Auditors' Superbug Preview Welcomed by COPMA
6.3.2019
ETIP PV 2019 will take Place in Brussels (Belgium)
6.3.2019
SMARTER E EUROPE: Jouns Forces with Eurogas and Hydrogen Europe
6.3.2019
Solar Impulse Foundation: 20th Anniversary of the First Round-the-World in Balloon
5.3.2019
Women in Semiconductors To Highlight Workplace Diversity at ASMC 2019
5.3.2019
SEMICON China Keynotes Unveiled as Event Record 100,000 Visitors Expected
5.3.2019
Covestro Raises Dividend After Strong Business Performance in 2018
4.3.2019
AB Stelacon to Become Part of Analysys Mason
4.3.2019
Digital Water Works, Inc. Receives Strategic Investment from Bentley Systems
1.3.2019
WFES 2020: Investment Partnerships Will Accelerate Clean and 'Green' Tech
1.3.2019
Solar India Conference 2019: Countdown is running in New Delhi (India)
28.2.2019
Arburg at the Industry Fair 2019
28.2.2019
Orange joins the ULE Alliance
27.2.2019
SEMI: Nominations Open for ESD Alliance Governing Council
27.2.2019
Bosch Increases Investment in Startups
27.2.2019
EIF and Fraunhofer Join Forces to Establish Joint Technology Transfer Fund
25.2.2019
Coperion and Coperion K-Tron at the European Coatings Show 2019
25.2.2019
Schüco International: New Office Opened in Tokyo
25.2.2019
Siemens is Launching a New Battery Storage for Private Homes
22.2.2019
SEMI-FlexTech Announces 2019 FLEXI Awards Winners in Flexible Hybrid Electronics
22.2.2019
Wibu-Systems Opens the Vault at "embedded world 2019"
21.2.2019
CODESYS Group: Excellent Prospects for 2019
21.2.2019
SolarPower Summit 2019: Help us shape the future of solar in Europe!
20.2.2019
Date and venue confirmed for RE-Source 2019
20.2.2019
parts2clean 2019 – Prime Industry Get-together
20.2.2019
FeuerTRUTZ 2019 - Where Fire Protection Comes to Life
19.2.2019
parts2clean 2019 – Prime Industry Get-together
19.2.2019
Fraunhofer ILT: Laser Processes for Multi-Functional Composites
19.2.2019
Arburg at Plástico Brasil 2019
18.2.2019
JEC World 2019: Stratasys to Showcase Latest 3D Printing Advancements
15.2.2019
Fraunhofer ILT: Producing Polymer Structures Faster – Two processes in One Machine
15.2.2019
embedded world 2019: Experts Talk about Embedded Intelligence
15.2.2019
JEC World 2019: Stratasys to Showcase Latest 3D Printing Advancements for Composite Production
14.2.2019
SEMI Reports: 200 mm Fabs to Add 700,000 Wafers Through 2022
14.2.2019
Top in Function, Freedom of Design - Materials at the IDS 2019
14.2.2019
Food Trends at POWTECH 2019
13.2.2019
Intersolar Middle East Conference 2019: It´s Still About Megas and Gigas
13.2.2019
Chinaplas 2019: Arburg Setting the Course for the Digital Future of Plastics Processing
12.2.2019
The Art & Antiques Fair Returns to Olympia, 19 – 28 June 2019!
12.2.2019
Arburg at Plastimagen 2019: Focus on packaging industry
12.2.2019
LeisureWorlds 2019 Concept Impressed Exhibitors and Visitors
8.2.2019
SolarPower Summit 2019: New solar boom in Europe? How, where, why?
8.2.2019
Friedrich Gerecht Completing Peters' Field Force
8.2.2019
Milacron Holdings Corp. To Announce Fourth Quarter 2018 Results
7.2.2019
John Chong of Kionix Named Chair of MEMS & Sensors Industry Group Governing Council
7.2.2019
Meyer Burger Divests its Wafering Business to Precision Surfacing Solutions
5.2.2019
Launch of Key Project to Increase the Efficiency of European Funding for Clean Energy
5.2.2019
embedded award 2019 – and the nominees are …
5.2.2019
SEMI-FlexTech Issues 2019 Request for Proposals to Advance Flexible Electronics Ecosystem
4.2.2019
EU PVSEC 2019 at the Marseille Chanot Convention and Exhibition Centre
4.2.2019
North American Semiconductor Equipment Industry Posts December 2018 Billings
1.2.2019
spoga horse spring 2019 Presents the Industry's Highlights
1.2.2019
LIGNA.Conference goes China
1.2.2019
Solytic Takes Over Solar Monitoring Portal Suntrol from Solarworld
31.1.2019
embedded world 2019: RISC-V – High-Calibre Panel Discussion
31.1.2019
Solytic Takes over Solar Monitoring Portal Suntrol from Solarworld
31.1.2019
European industry fosters CO2 reutilization
30.1.2019
AbsInt and Infineon Offer a New Timing Tool Chain for AURIX
30.1.2019
EU PVSEC 2019 Continues its Focus on R&D
30.1.2019
Arburg at MECSPE 2019 in Parma (Italy)
28.1.2019
DeburringEXPO 2019: Perfect Surfaces – Burr-Free, Clean and Precise
28.1.2019
ISS Europe 2019 Highlights Opportunities in Digital Innovation
28.1.2019
CLOOS Starts the Anniversary Year
24.1.2019
Get set for 2019 at ASIA FRUIT LOGISTICA
24.1.2019
ISPO Beijing Celebrates Successful Anniversary
24.1.2019
Pharma Trends at POWTECH 2019: Faster Development Time from Laboratory to Process
23.1.2019
VCI: The German Chemical Industry in Figures Online
23.1.2019
VDMA: "Treaty of Aachen Must be More than Symbolic Politics"
23.1.2019
Meyer Burger Technology: New Independent Members of the Board of Directors
22.1.2019
SEMICON Korea Highlights Smart Tech, Industry Growth and Workforce Development
21.1.2019
Messe München Expects a Remarkable Year of Fairs in 2019
21.1.2019
photokina Will Take Place in May 2020
21.1.2019
LogiMAT 2019: ADS-TEC will be Presenting its Current Vehicle Terminal
18.1.2019
Successful CIPS 2018 Focused on Innovation
18.1.2019
VIVANESS 2019: More and More Customers for Natural and Organic Cosmetics
17.1.2019
Continental AG: World Premiere - Safety Jacket With LED Lights for Enhanced Safety at Work
17.1.2019
Fruit Logistica: BayWa and Partners with First Joint Trade Fair Presentation
16.1.2019
Reed Exhibitions Announces Definitive Agreement to Acquire Mack Brooks Exhibitions
16.1.2019
Covestro Supports Measures Against Plastic Waste
15.1.2019
embedded world 2019: Premiere - Start-up Area at embedded world
15.1.2019
BAU 2019: Schüco Acoustic - The City of the Future is Quiet
15.1.2019
Instrument Systems at the Photonics West 2019
11.1.2019
Embedded Tech India 2019 Expo in Pragati Maidan (New Delhi/India)
11.1.2019
Lufthansa Group is Number One in Europe
10.1.2019
Messe München Further Enhances Integration of its Russian Business Into the Group
10.1.2019
Intersolar 2019: Renowned Awards Honor Groundbreaking Innovations for the New Energy World
9.1.2019
SolarEdge to Enter E-Mobility Market with Acquisition of S.M.R.E. Spa
9.1.2019
SEMI ISS 2019: Enabling the Next Industrial Revolution
9.1.2019
BayWa Starts World-wide Launch of its Satellite-assisted "Rainmaker"
8.1.2019
SolarEdge to Enter E-Mobility Market with Acquisition of S.M.R.E. Spa
8.1.2019
China Wafer Production Capacity Growth Fastest in the World
8.1.2019
SEMI Taiwan President Terry Tsao Named SEMI Chief Marketing Officer
4.1.2019
ISM 2019: More Space, More Themes, More Inspiration
4.1.2019
Arburg at TCT Asia 2019
3.1.2019
bauma CONEXPO INDIA 2018 Scales New Heights, Resonating the North Indian Market Mood
3.1.2019
BASF Expands its Production Network for Certified Palm Products
3.1.2019
Continental Showcases Innovations for Smarter and Safer Cities at CES 2019
2.1.2019
Lufthansa Group is Looking to Hire More than 5000 New Employees in 2019
2.1.2019
Embedded Tech India 2019: Fair for Products and Solutions for Embedded Systems
31.12.2018
Lufthansa Hub Munich Honoured for Sustainable Environmental Management
31.12.2018
Covestro Taps Into China's Growing Start-up Scene
31.12.2018
SolarPower International 2019: New Deadline for Presentation and Speaker Applications
28.12.2018
BIOFACH 2019: Time to Check in for a Trip Into the Heart of the Organic Community
28.12.2018
Formnext 2018: Groundbreaking world premieres and records at Formnext 2018
28.12.2018
ZELLCHEMING-Expo premier a "Road of Maintenance"
27.12.2018
Continental Pioneers Tire Tests With Self-Driving Test Vehicles
27.12.2018
Messe Essen Celebrates the Conclusion of the First Construction Phase
27.12.2018
Another Record Year for ZEISS
21.12.2018
E.ON Makes a Strategic Investment to a Finnish e-mobility Software Company Virta
21.12.2018
"Together. Now & Tomorrow.": Liebherr at Bauma 2019
20.12.2018
Covestro Taps Into China's Growing Start-up Scene
20.12.2018
Arburg at Plastec West 2019: Vertical and Electric Allrounders in Use
20.12.2018
Expo Wine + Beer in Chile new partner in the global network
19.12.2018
North American Semiconductor Equipment Industry: Billings goes Down
19.12.2018
BIOFACH INDIA 2018: Successful Tenth Anniversary
19.12.2018
CeraCharge™ and PowerHap™ products of the year
18.12.2018
Central Data Management with CLOOS C-Gate
18.12.2018
SEMI: Total Fab Equipment Spending Reverses Course
18.12.2018
Fraunhofer ILT: Formed to Meet Customers' Needs – New Laser Beams for Glass Processing
17.12.2018
Smarter E AWARD 2019: Entries Open for 2019 RENOWNED AWARDS HONOR
17.12.2018
Successful Conclusion of Intersolar India's 10th Anniversary
14.12.2018
Meyer Burger Technology Ltd Signed a Major Strategic Contract
14.12.2018
Arburg at Plastec West 2019
13.12.2018
SEMI Supports U.S.-Japan Trade Agreement Negotiations in U.S. Government Testimony
12.12.2018
Deutsche Lufthansa: First Airbus A380 in new Lufthansa Design
12.12.2018
IPB China Ends on a High Note
10.12.2018
Premiere: Start-up Area at embedded world 2019
10.12.2018
FENSTERBAU FRONTALE 2020: Vacuum Glass Makes New Windows Possible
6.12.2018
Koelnmesse: Settlement Reached in DMEXCO dispute
6.12.2018
Covestro Concludes Share Buyback of EUR 1.5 Billion
5.12.2018
iLOQ Cements Collaboration with Avain Yhtiöt Group
5.12.2018
Lufthansa Supervisory Board decides to expand Executive Board
4.12.2018
BOAT & FUN BERLIN Reports Successful Business
4.12.2018
The next photokina will take place in May 2020
4.12.2018
ProSweets Cologne: The sweet side of Industry 4.0
3.12.2018
Software AG, Amazon Web Services Expand Relationship at AWS re:Invent 2018
Mobile Website
Our website also works on IPhone, IPad and Co.