IDS 2011:
Biggest IDS ever Final report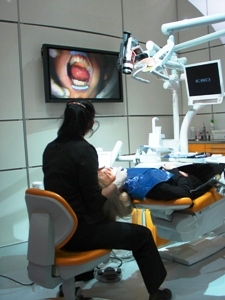 The world's leading dental trade fair IDS came to a close on Saturday, 26th March with an extremely upbeat mood and outstanding results after five days in Cologne. The number of trade visitors rose by about 9 per cent compared to the previous event, while the number of exhibitors was up by 7 per cent and the amount of occupied exhibition space increased by 5 per cent. In total, about 115,000 trade visitors came to the fair from 148 countries to gather information about the product ranges exhibited by 1,956 suppliers from 58 countries. In all, 66 per cent of the exhibitors come from outside Germany. The number of companies from outside Germany rose by 9 per cent. The number of visitors from abroad rose by over 20 per cent to approximately 42 per cent. "We've succeeded in making the International Dental Show even more attractive, both domestically and internationally. The strong increase in international participants especially shows that IDS is the world's leading dental trade show," says Dr. Martin Rickert, Chairman of the Association of German Dental Manufacturers (VDDI). "What's more, participants were able to forge high-quality business contacts, both between industry and trade professionals as well as between the industry, dentists and dental technicians. Thus the trade fair once again signalled better times ahead and generated momentum that will help the dental sector stay on course for a successful business year." Koelnmesse Executive Vice President Oliver P. Kuhrt added: "IDS more than satisfied everyone's expectations. Once again, IDS offered a whole range of new products and excellent opportunities to exchange information, communicate with partners and place orders. That's why exhibitors, visitors and media representatives alike were all delighted with the trade fair."
Excellent trade fair
results and upbeat mood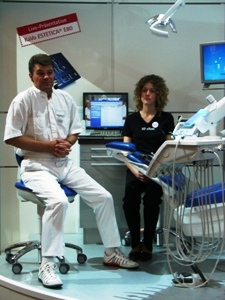 The upbeat mood at IDS 2011 was especially due to the large number of visitors. Accordingly, the trade fair's halls were very busy and the exhibitors' stands were extremely well visited. Exhibitors confirmed that representatives of all important professions - ranging from dental practices and dental labs to the dental trade, plus the higher education sector - visited their stands. Exhibitors were particularly pleased with the large number of international visitors to the trade fair. This year there was a strong increase in visitors not only from Latin America and South America, Australia, the United States and Canada, but also from Italy, France, the Netherlands, Spain, the United Kingdom, Switzerland, Russia, Ukraine, Turkey, Israel, China and India. IDS was also a huge financial success for many exhibitors. Countless orders were placed, both domestically and internationally, and so numerous companies were able to boast a long list of orders. Of equal if not greater importance to many exhibitors were the opportunities to establish and maintain contacts, generate customer loyalty, win new customers and open up new foreign markets. All of these goals were also reached at the 34th International Dental Show. Last but not least, the exhibitors expressed great satisfaction with the visitors' high decision-making authority. This finding is confirmed by the initial results of an independent visitor survey, as 85 per cent of all trade visitors are involved in purchasing decisions at their company.
Highly satisfied
trade visitors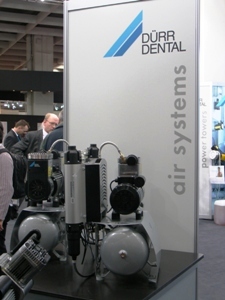 Not only the exhibitors but also trade visitors report that the trade fair was a great success. This is confirmed by initial responses to the visitor survey. Altogether 95 per cent of respondents indicated that they were satisfied or very satisfied with IDS. 1,956 international exhibitors and numerous new products ensured that 95 per cent of visitors indicated that they were satisfied or very satisfied with the range of products and with having achieved their goals at the trade fair. In addition, 93 per cent would recommend a visit to IDS to a close business associate.
Enormous interest
in innovation
The specialist trade and users were especially interested in the innovative new products and technologies on display. According to Dr. Martin Rickert (VDDI), the trade fair demonstrated that digital processes and technologies are becoming increasingly popular since they facilitate even more efficient and higher quality treatments. Hence a major focus of IDS 2011 was on products and systems that offer users and patients improvements in preventative care, diagnostics and dental treatment. These include expanded ultrasound systems that enable painless professional preventative care, digital intraoral scanners, improved root canal treatment methods, new dental filling materials, aesthetic dental crowns and bridges that look especially natural, and improved digital X-ray diagnostics that are especially useful in the area of implantology. (For more information, see the attached trade review of IDS 2011.)
German Dental Association (BZÄK):
"Dental market is engine for growth in Germany"
The President of the German Dental Association (BZÄK), Dr. Peter Engel, is pleased with the positive results of the trade fair: "Germany's economy is recovering - you can tell that from the latest IDS. Even more visitors and exhibitors than in previous years can mean only one thing: The profession is progressive and medium-sized German businesses are fostering innovation - and they're attracting enormous interest internationally. The dental market is providing Germany with economic drive. In the future, these innovations in dentistry may provide patients with even better dental treatment and preventative care. And this is where sound political decision-making is needed. Policy-makers have to create health policy frameworks so that these innovations can be put into practice. For example, dentists are awaiting several important and overdue amendments to be passed. These include amendments on dentistry licenses and dentist fees, as well as an adjustment between West and East German salaries.
The fact that the German Federal Ministry of Health intends to loosen budget restrictions on statutory health insurance is now sending a positive political signal. So we're optimistic that we'll be able to ensure innovative, top-quality dentistry in the future, too." The German Dental Association also held a coordinating conference for aid organisations at IDS, where over 40 participants presented aid projects to improve the dental health of the world's poor. The projects were developed by dentists and dentistry students who work in hotspots all over the world. Some of them also work in Germany. They provide dental services for a range of disadvantaged patients, including orphans, homeless people, disabled patients, people requiring care, drug addicts and inhabitants of remote areas who wouldn't receive medical treatment otherwise. To do this work, dentists and students often have to overcome enormous challenges. The coordinating conference offered participants a special opportunity to share their experiences in organising aid efforts.
Association of German Dental Technicians' Guilds (VDZI):
"Impressive proof of the sector's innovative power"
Jürgen Schwichtenberg, President of the Association of German Dental Technicians' Guilds, was also very satisfied with the trade fair: "From the point of view of the dental technician trade, the International Dental Show 2011 once again offered impressive proof of the dental sector's innovative power. We registered a decidedly optimistic and future-oriented mood among the exhibitors as well as among the dentists, dental technicians and visitors to the trade fair. Considering the breadth of products on display in Cologne and the rapid development of new, particularly digital technologies, it will be even more important in the future for dental technicians to actively supplement these new technologies and solutions with their expert knowledge and to put these into practice in their laboratories in order to ensure an all-round high-quality treatment. Our partners in the dental industry in general and dentists in particular will be able to continue to rely on these important services." One partnership that was started at IDS is gaining increasing importance: the cooperation between the Association of German Dental Technicians' Guilds and the European Association for Dental Technology (EADT). The aim of the cooperation is to bundle dental technology expertise and to provide further training of the highest theoretical and practical standards so that practitioners can learn about the latest state-of-the-art dental technology. The VDZI stand at the trade fair proved to be a popular location to make contacts and discuss subjects relating to all aspects of the dental technician trade as well as specific trade policy projects. In addition, VDZI conducted a competition for the 13th Gysi Prize which honoured the best up-and-coming dental technicians.
Speaker´s Corner well attended
Many visitors also took advantage of the Speaker´s Corner feature to gather information on the latest developments from science and research. New products and processes were presented there on all five days of the trade fair, with around 80 presentations by exhibitors. The subjects ranged from implant systems and digitization to dental aesthetics, laser technology and dental anaesthesia as well as the options that modern stress management offers dentists.
The International Dental Show (IDS) is held in Cologne every two years. It is organized by the GFDI Gesellschaft zur Förderung der Dental-Industrie mbH, the commercial enterprise of the Association of German Dental Manufacturers (VDDI), and staged by Koelnmesse GmbH, Cologne.
---
IDS Cologne 2013
from 12 to 16 March 2013, Fair ground Cologne (Germany)
---
Images: R. Eberhard, messekompakt, EBERHARD print & medien agentur gmbh
Source: Koelnmesse
News
14.8.2020
EU Lifts Travel Restrictions at the External Borders
14.8.2020
AUMA: More Foreign Exhibitors in Germany Again in 2019
12.8.2020
STRATASYS Wins one of its Largest Ever Aerospace Orders
12.8.2020
SEMI Partners with GLOBALFOUNDRIES to Offer Apprenticeship Program
12.8.2020
SCHMOLZ + BICKENBACH Q2 2020 strongly affected by COVID-19
11.8.2020
gamescom 2020: On the Pulse of the Community
11.8.2020
New KOSTAL Solar Portal for PV System Monitoring
10.8.2020
TDK Announces Ultra-high AOP Analog MEMS Microphone
10.8.2020
Meyer Burger Divests Manufacturer for Microwave and Plasma Systems Muegge GmbH
6.8.2020
Positive Outlook for SPS 2020
3.8.2020
POWTECH 2020 Special Edition Cancelled
3.8.2020
Arburg Despite Corona: "Wir sind da."
30.7.2020
vienna contemporary 2020 will take place as planned from 24–27 September 2020
30.7.2020
Covestro: "We are pursuing a clear, far-sighted strategy"
29.7.2020
EU PVSEC Restructures its Plenary Sessions
29.7.2020
World`s Five Largest Airlines Lost Over $40bn in Market Cap Since January
27.7.2020
Positive Outlook for SPS 2020
27.7.2020
Bright Rock Siccessfully Completes Acquisition in Wyoming
24.7.2020
Suspension of INTERMOT 2020
24.7.2020
ProFood Tech Chicago Cancelled
24.7.2020
MOTEK 2020 and BondExpo 2020 Postponed Until Next Year
23.7.2020
Results Significantly Impacted by the Coronavirus Pandemic as Expected
23.7.2020
SEMI Applauds Senate Support of Financial Incentives to Grow U.S. Semiconductor Manufacturing
23.7.2020
LaP 2020": The Final Touches for Surfaces
22.7.2020
Lufthansa Group Airlines Significantly Expands Flight Schedule Until September
22.7.2020
Barbara Leithner promoted to management team at Reed Exhibitions Austria
21.7.2020
SEMI Announces Election and Re-Election of Board Members
21.7.2020
Digital launch of Chillventa eSpecial in October
21.7.2020
PaintExpo 2020 Cancelled After All
17.7.2020
Federal Minister Andreas Scheuer to Take Part in Political Opening of gamescom 2020
17.7.2020
drupa Starts in 2021 With Shortened Runtime
15.7.2020
Katy Crist of TEL Appointed to SEMI Foundation Board of Trustees
15.7.2020
REED Exhibitions Announces Ron Walden as Executive Sponsor for Race
15.7.2020
Fintech Leaders Raise Almost $4 Billion in Q2 Amid Pandemic
14.7.2020
Virtual SEMICON West 2020 to Gather Industry Leaders
14.7.2020
ESD Alliance Reports Growth for Q1 2020
14.7.2020
EU PVSEC goes online
9.7.2020
Messe Düsseldorf Draws up Hygiene and Infection Protection Concept
9.7.2020
SurfaceTechnology GERMANY and parts2clean cancelled for 2020
9.7.2020
SMB Solar Multiboard Launches New Product Range
8.7.2020
electronica 2020: ZVEI Expects Important Impact from Electronics Trade Fair
8.7.2020
VDMA: Campaign "Thank you, Free Trade" Struck a Chord
7.7.2020
EuroBLECH 2020 Postponed
7.7.2020
AUMA: Strong Trade Fair Programme Planned for 2021
6.7.2020
ProSweets Cologne 2021: Exhibitor Interest Exceeds Expectations
6.7.2020
ISM 2021: Good Booking Status after the Early Bird Campaign
3.7.2020
Virtual MedtecLIVE with MedTech Summit 2020
1.7.2020
Lufthansa Reorganizes Responsibilities on the Executive Board
1.7.2020
SEMI FlexTech Launches Three New Projects to Advance Flexible Hybrid Electronics
1.7.2020
New General Manager at Coherent Mainz
30.6.2020
ASMC 2020 to Go Virtual
30.6.2020
XJet Announces Global Partnership with Straumann
30.6.2020
FINTECH India 2020: Future of FINTECH in a Post Pandemic World
29.6.2020
REED EXHIBITIONS Announces New General Counsel
29.6.2020
Lufthansa Group: 50% of the Fleet Back in the Air
29.6.2020
Cancellation of Beviale Moscow 2020
26.6.2020
Thorsten Dirks to leave Lufthansa
25.6.2020
Werner M. Dornscheidt Retires Leaving Messe Düsseldorf After Almost 34 Years
25.6.2020
Markus Steilemann elected to head PlasticsEurope
24.6.2020
Formnext 2020: Sustainable Harmony of Material and Design
24.6.2020
Messe Essen: European Bridal Week as Starting Signal
24.6.2020
VDMA: "Contracts for work must not be prohibited!"
23.6.2020
Reed Exhibitions announces Vice President of Product Development
23.6.2020
Fraunhofer ILT: Bilsing Automation relies on extreme high-speed laser material deposition
22.6.2020
Eastern Economic Forum 2020 Cancelled
22.6.2020
Reed Exhibitions Announces Vice President of Product Development
22.6.2020
FENSTERBAU FRONTALE 2022: Reserve Your Exhibition Space Now!
19.6.2020
CARAVAN SALON Düsseldorf can Take Place
19.6.2020
Smart Enercy Week 2020: We're moving to Las Vegas
19.6.2020
InvenSense and Arrow Electronics Sign Global Distribution Agreement
17.6.2020
Implementation of Lufthansa Stabilization Package not Secured
17.6.2020
POWTECH Launches as Special Edition in Nuremberg in 2020
17.6.2020
TDK Announces World's Lowest-power PDM Microphone "T3902"
15.6.2020
Trina Solar Issues First A-Shares on Shanghai Sci-Tech Innovation Board
15.6.2020
PaintExpo 2020 will Take Place
12.6.2020
Tech Visionaries to Explore the Future of Innovation at Virtual SEMICON West 2020
12.6.2020
PaintExpo 2020 will Take Place
11.6.2020
Peter Ottmann new Deputy Chairman of AUMA
11.6.2020
SEMI FlexTech Invites Proposals for Funding Flexible Hybrid Electronics Advancements
10.6.2020
Covestro-Tongji Innovation Academy with Concrete Results
10.6.2020
purmundus challenge: International Design Competition for 3D and 4D Printing
10.6.2020
SEMI Report: Semiconductor Fabs to Log Record Spending of Nearly $68 Billion in 2021
8.6.2020
Lufthansa Supervisory Board Approves Stabilization Measures
8.6.2020
EU SUSTAINABLE ENERGY WEEK (EUSEW)
8.6.2020
Covestro Successfully Issues EUR 1.0 Nillion Eurobond
3.6.2020
First-Quarter 2020 Global Semiconductor Equipment Billings Up 13% Year-Over-Year
3.6.2020
China IC Industry on the Rebound with SEMICON China Leading the Way
3.6.2020
Drastic Decline in Air Travel Significantly Affects Lufthansa Group's Quarterly Result
2.6.2020
Lufthansa Supervisory Board Approves Stabilization Measures
2.6.2020
Global Market Outlook Launch Conference
2.6.2020
Bright Rock acquires land package in Wyoming
29.5.2020
VDW: Medical Engineering Requires Long-term Approach
29.5.2020
VDMA: Supply Changes in Mechanical Engineering become More Stable
28.5.2020
Schuler AG: Laser Blanking Improves Forming Process
28.5.2020
Lufthansa Group significantly expands service with June
27.5.2020
New Dates (Again) for SNEC PV Power Expo
27.5.2020
EU PVSEC 2020 Goes Virtual
26.5.2020
Trina Solar Publishes its Vertex Module Technology White Paper
26.5.2020
Economic Stabilization Fund Approves Lufthansa's Stabilization Package
26.5.2020
Covestro Wants to Accelerate Change to a Circular Economy
20.5.2020
Covestro Proposes a Dividend of EUR 1.20 per Share for Fiscal 2019
20.5.2020
Management change at spoga horse
20.5.2020
Interzoo 2021to be Held in Odd-numbered Years in the Future
19.5.2020
US Robo-advisors Industry to Hit a $1trn value This Year
15.5.2020
Lufthansa Group Significantly Expands Service with June
15.5.2020
RE-Source 2020: Adapting to Changing Circumstances
14.5.2020
Liebherr Presents new Compact Wheeled Excavators
14.5.2020
parts2clean 2020: Solutions for New and Changed Cleaning Tasks
14.5.2020
Lufthansa Group Airlines to Take off Again with 160 Aircraft from June
13.5.2020
Art Düsseldorf PostponesIts Fourth Edition Until 2021
13.5.2020
parts2clean 2020: Solutions for new and changed cleaning tasks
13.5.2020
Manage Disruption Through Collaboration at Virtual SEMICON West 2020
7.5.2020
Art Düsseldorf Postpones Its Fourth Edition Until 2021
7.5.2020
SolarEdge: Record Revenues from Solar Products of $407.6 Million
6.5.2020
SEMI Report: Power and Compound Fab Spending to Rebound in Second Half
6.5.2020
Interzoo and Zoomark Announce New Slots
6.5.2020
SCHMOLZ + BICKENBACH Results Heavily Impacted by COVID-19
5.5.2020
VOITH: Acquisition of ELIN Motoren Successfully Completed
5.5.2020
Global Silicon Wafer Area Shipments Edge Up in First Quarter 2020
5.5.2020
Covestro Promotes Innovation in Electrochemistry
4.5.2020
New Dates and Location for SNEC PV Power Expo
4.5.2020
NürnbergMesse Postpones Construction of the New "NCC Süd"
4.5.2020
BIOFACH Nuremberg kicks off the year
30.4.2020
No SENSOR+TEST 2020
30.4.2020
Enforce Tac and U.T.SEC Cancelled for 2020
28.4.2020
Exhibitions Hold Strong Position in Marketing Mix
28.4.2020
Coronavirus: Cancellations and Postponements of German Exhibitions May Cost up to Three Billion Euro
28.4.2020
AUMA: New Corona Package to Support the German Exhibition Industry Network
24.4.2020
North American Semiconductor Equipment Industry Posts March 2020 Billings
24.4.2020
Lufthansa Group Publishes Preliminary Results for the First Quarter
24.4.2020
NürnbergMesse: Petra Wolf Returns to Chillventa Team
23.4.2020
VDW: New METAV Date Set: Trade Fair to be Held Next Year
23.4.2020
SolarPower Europe: Europe can Achieve Climate Neutrality before 2050
23.4.2020
VDMA: Patchwork of Quarantine Rules Must Quickly be Eliminated!
22.4.2020
Ola Hansson to Become New CEO Lufthansa Hub Munich
22.4.2020
Easyfairs Publishes Activity Report: A Journey into the Future of Events
22.4.2020
Fraunhofer ILT: The AMable Project Promotes Flexible AM Solutions to Fight the Coronavirus
21.4.2020
SEMI-Report: Gradual Rebound or Slight Dip
21.4.2020
IWA OutdoorClassics Will Not Take Place in 2020
21.4.2020
BMBF-funded project "ProLMD"
20.4.2020
Beviale Mexico 2020 Postponed to March 2021
20.4.2020
Covestro Adjusts FY 2020 Financial Guidance Due
20.4.2020
Lufthansa Group Almost Completes Repatriation Flight Program
17.4.2020
Arburg and Ems-Chemie Provide Help!
17.4.2020
CRAFT DRINKS INDIA 2020 postponed
17.4.2020
PORTWELL and ENGICAM announce Cooperation
15.4.2020
Lufthansa Group Decides on First Restructuring Package
15.4.2020
SCHMOLZ + BICKENBACH Announces Change in the Executive Board
14.4.2020
Des Enjeux et Des Hommes joins the Ecocert Group
14.4.2020
Lufthansa Will Bring Home Thousands of Vacationers from New Zealand
14.4.2020
Russian Ministry to Start the Selection of Investment Projects
9.4.2020
my-PV's Power Managers Provide Hot Water and Heating from Solar Power
9.4.2020
Supervisory Board Decides on New Allocation of Responsibilities for Lufthansa Executive Board
8.4.2020
Santjer to Head Communications for the NürnbergMesse Group
8.4.2020
COVID-19: Economic and Microelectronics Industry Impacts
8.4.2020
SolarEdge Launching Interactive, Virtual Solar Show
7.4.2020
USMCA Entry Into Force Possible
7.4.2020
SCHMOLZ + BICKENBACH AG Nominates New Members to the Board of Directors
7.4.2020
Meyer Burger B.V.: Closing of the sale of the PiXDRO
6.4.2020
Covestro Provides Aid in Coronavirus Crisis
6.4.2020
KAESER: High-efficiency Compact Powerhouses
3.4.2020
Interzoo Postponed Beyond 2020
3.4.2020
latakoo Expands In Europe
3.4.2020
AKL 2020: Laser Technology Live Already this Year!
2.4.2020
OPC UA Companion Specification to be Developed for CIP
2.4.2020
Global Semiconductor Materials Market Revenues Slip 1.1% in 2019, SEMI Reports
2.4.2020
6K Launches 6K ENERGY Division
31.3.2020
Intersolar Europe 2020 is Canceled
31.3.2020
spoga horse 2020: Cautiously Looking Ahead
31.3.2020
FESPA 2020 Events to Return to Madrid in October 2020
30.3.2020
SMT Connect will be Postponed
30.3.2020
VDW: New METAV Date Set: Trade Fair to be Held Next Year
30.3.2020
Corona Pandemic Damages Supply Chains in Mechanical Engineering
27.3.2020
Covestro Signs EUR 225 Million Loan Facility with European Investment Bank
27.3.2020
BayWa Ends the Financial Year 2019 on a Successful Note
27.3.2020
Bosch Develops Rapid Test for COVID-19
26.3.2020
Further Expanding Energy Storage at INTERSOLAR North America
26.3.2020
Intersolar Europe 2020: PV Power Plants are Driving the International Market
26.3.2020
messekompakt.com: "We are here for you!"
25.3.2020
PCIM Europe Exhibition and Conference will be Postponed until 28 – 30 July 2020
25.3.2020
AUMA: Corona - Costs of around 3 Billion Euros
25.3.2020
ODVA Looks to the Future at its 20th Annual Meeting of Members
23.3.2020
Covestro Postpones Annual General Meeting
19.3.2020
TDK Joins the Responsible Business Alliance
19.3.2020
Weidmüller Interface: Localised Data Management in the Industrial Internet of Things
19.3.2020
Trina Solar Announces 23.39% PERC Solar Cell
18.3.2020
Lufthansa Group Airlines continue operating to the USA
18.3.2020
International Laser Technology Congress AKL'20 will not take place in Aachen!
18.3.2020
Easyfairs Makes its Exhibition Venues Available to the Authorities
17.3.2020
AUMA: Corona - Costs of Around 3 Billion Euros
17.3.2020
PaintExpo 2020: now from 12 to 15 October 2020
17.3.2020
Interzoo 2020 will be Postponed
13.3.2020
TEFAF 2020: Sales to Both Private and Institutional Collectors
13.3.2020
Beviale Moscow 2020: Postponement and New Date
13.3.2020
Supervisory Board names Frank Weber to Board of Management of BMW AG
13.3.2020
NürnbergMesse: New Date 2020 for MedtecLIVE
11.3.2020
SolarEdge to Supply Enfindus with Inverters for 1GW of European Solar Projects
11.3.2020
Solids Dortmund 2020: FX50 for Recycled Materials
11.3.2020
SCHMOLZ + BICKENBACH with Cautious Optimism for 2020
10.3.2020
Global Fab Equipment Spending Poised for 2021 Record High
10.3.2020
Messe Friedrichshafen Postpones its Aqua-Fisch and IBO Events, Along with their Affiliated Fairs
10.3.2020
New Date 2020 for FENSTERBAU FRONTALE and HOLZ-HANDWERK
6.3.2020
World Energy Issues Monitor 2020 Published by the World Energy Council
6.3.2020
PaintExpo Will Take Place at a Later Date in 2020
5.3.2020
HANNOVER MESSE 2020 is postponed
5.3.2020
SEMICON Southeast Asia 2020 Postponed to 11-13 August 2020
4.3.2020
Light + Building Will Take Place from 27 Sept to 2 Oc 2020
4.3.2020
BayWa ends 2019 With a Significant Improvement in Earnings
4.3.2020
Schuler AG: Group Posts Positive Operating Result in 2019
2.3.2020
Light + Building will take place from 27 September to 2 October 2020
2.3.2020
parts2clean 2020: The International Hub for Component Cleanliness
2.3.2020
New Date 2020 for IWA OutdoorClassics
27.2.2020
Advanced Semiconductor Manufacturing Strategies in AI Era to Highlight ASMC 2020
27.2.2020
RHY ART SALON 2020 in Basel
27.2.2020
KAESER KOMPRESSOREN at the IFAT 2020 in Munich
18.2.2020
upakovka 2020 Report Positive Results and a Good Atmosphere in the Exhibition Halls
18.2.2020
Tim Brosnihan Appointed Executive Director of SEMI MEMS & Sensors Industry Group
14.2.2020
Lackwerke Peters: Climate-friendly Conformal Coating in Electronics
14.2.2020
Organic4trade.com Information Portal goes Online
14.2.2020
IHS Markit Announces 35th World Petrochemical Conference in New Orleans
12.2.2020
SEMI President and CEO Ajit Manocha Set for Induction into Silicon Valley Engineering Hall of Fame
12.2.2020
MeKo: Help for Patients with Nickel Allergies
12.2.2020
Growing ECR Group Elects W?adys?aw Ortyl as its President
11.2.2020
INTERMOT 2020: Modern Concept Sets New Standards in the International Market for Motorcycle
11.2.2020
Perimeter Protection 2020 Breaks New Records
11.2.2020
Arburg at PIAE Europe 2020
10.2.2020
ProSweets Cologne with a Convincing Appearance and High Degree of Exhibitor Satisfaction
10.2.2020
"drupa tages" First Special Show Dedicated to Digital Textile Printing
10.2.2020
SEMI Talent Forum to Help Build Next-Generation Chip Industry Workforce
7.2.2020
Robert Bosch: 90 Years of Bosch Fuel Filters
7.2.2020
JEC WORLD 2020: SAERTEX® Presents Innovations for Diverse Areas of Application
7.2.2020
SolarEdge to Supply Enfindus with Inverters for 1GW of European Solar Projects
3.2.2020
MAPAL: With Additive Manufacturing to More Productivity
3.2.2020
Applications for Best Innovation Start-up Contest Business Priority are In
3.2.2020
Hugh Jones Named CEO at Reed Exhibitions
30.1.2020
Sheikh Mohammed bin Zayed honours the 10 winners of Zayed Sustainability Prize 2020
30.1.2020
JEC World 2020: Fraunhofer ILT - Photonics meets textile engineering
30.1.2020
High-end Lasers for Science and Industry at BiOS & Photonics West 2020
29.1.2020
E-world 2020: Launches New Online Job Market
29.1.2020
embedded world 2020: International Meeting of Embedded Systems Experts
Mobile Website
Our website also works on IPhone, IPad and Co.