At the COMPAMED, suppliers demonstrate a
maximum level of technical progress in the field of mini components
Once again, from 20 to 23 November 2013, the professional scene in the international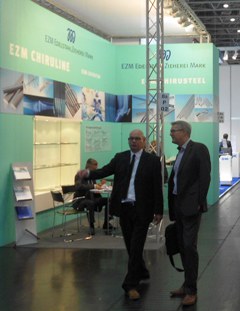 health and medical care industry looks toward Düsseldorf. Throughout this period, the initiation will take place of the MEDICA 2013 - World Forum for Medicine, the world's largest medical trade fair and the and the COMPAMED 2013 - High Tech Solutions for Medical Technology, the leading trade fair for the supplier market for medical technology manufacturing. Both events provide for a seamless continuation of the top participation results shown in the previous year. 4,641 exhibitors from 66 countries are participating in the MEDICA 2013 (previous year: 4,594). This year, even the COMPAMED is expecting more exhibitors than ever - 681 exhibitors from 37 nations (previous year: 642/ Dates for COMPAMED: 20 - 22 November 2013). Together, all 19 halls of the Düsseldorf exhibition grounds are going to be fully occupied again at the MEDICA and COMPAMED 2013.
Three quarters of all MEDICA exhibitors come from abroad and occupy 63 per cent of the floor space available. The strongest demand for MEDICA 2013 bookings, after Germany (approx. 42,700 m²), originates from Italy (approx. 10,450 m²), China (7,800 m²), USA (6,150 m²), Great Britain (4,690 m²), France (4,400 m²) as well as the Netherlands (3,600 m²).
Even though MEDICA looks back on a history of more than 40 years of success, the MEDICA one year is never the same as the MEDICA in previous one. Product ranges in the trade fair and the congress programme are continually adapted to the changing requirements of visitors. It is only in this way to bring the exhibitors together with the proper target groups," explained Joachim Schäfer, managing director of the Messe Düsseldorf, thus providing information on why the MEDICA 2013 is once again able to implement a multitude of new ideas making them a reality.
A considerable improvement this year at the MEDICA includes a relaunch of the congress programme content along with extending
the international part of the programme. In doing so, the MEDICA EDUCATION CONFERENCE will constitute the basis for general medical topics or also practical courses using the devices, which remain certified with CME points for continuous medical education. In addition, there are seminars on interdisciplinary topics, which are highly relevant across disciplines such as emergency medicine or gender-specific medicine.
Meanwhile, already this year at the Congress Center Düsseldorf, English-language programme components are a series of talks on current issues with regard to individualised medicine, gender medicine, infectiology, hygiene, as well as an international conference on disaster and military medicine, and a premium event for the international sports medicine specialist field.
An integral component of the MEDICA 2013 is the 36th German Hospital Conference as the leading information and communication platform for hospital management in Germany. At the same time, top decision-makers from Europe's hospitals are expected on 20 November 2013 at the second EUROPEAN HOSPITAL CONFERENCE (EHC) in Düsseldorf. The EHC takes place every two years. This year, the focus is on the European patients' directive and liability issues in connection with medical malpractice.
Forums showcase significant trends

As further programme components of the MEDICA, the forums that are integrated in the trade fair also address significant trends. These include MEDICA HEALTH IT FORUM (IT trends, telemedicine/hall 15) and MEDICA TECH FORUM (developments in the field of high-tech medicine) with English-language presentations respectively, MEDICA PHYSIO FORUM (physiotherapy methods/hall 4) and MEDICA ECON FORUM, which was successfully initiated in 2012 by the Messe D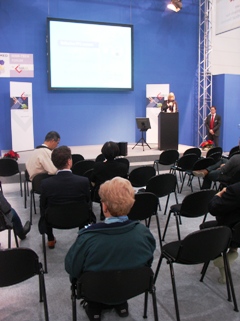 üsseldorf and the "Techniker Krankenkasse" (TK, a German health insurance company), on issues of benefit assessment and funding innovation.
Interconnected, compact and increasingly efficient

At the MEDICA 2013, providers will again be showcasing the entire spectrum of new products for a qualitatively good and simultaneously efficient medical care in medical practices and hospitals, from medical technology and electromedicine, laboratory technology, physiotherapy products and orthopaedic technology to health IT.
With regard to product developments in the field of medical technology, the "mega trends" (computerisation, molecularisation and miniaturisation) have not at all lost any of their strength in past years. This is something that will also thematically characterise the MEDICA 2013.
Consequently, the use of IT in the healthcare sector continues to progress. Examples of this are, for instance, solutions for computer-based microscopy and laboratory automation (in the field of laboratory technology), computer-based surgery or anaesthesia and the interconnection of medical imaging (in the field of medical technology/electromedicine), spanning all the way to wireless solutions for real-time monitoring of patients and compact telemedicine applications for the remote use of medical practice and clinic (field of health IT).
Meanwhile, molecular medicine findings form the basis for the rapid developments in the field of biomarker tests. Irrespective of whether it is a question of diagnosing viral infections or cancers, the number of biomarkers identified as indicators of disease is ever greater and, for this reason, there are more and more tests available for the laboratory medicine analysis devices. Hundreds of biomarkers are known already. Their number will certainly increase further in the years ahead. In addition, the devices with which they are verified will become more compact as well. In this connection, it will be possible to implement them more in a more cost efficient manner at the point of care (place of treatment).
COMPAMED:
High tech and miniaturisation - it is possible!

With regard to the progression of miniaturisation within the scope of medical technology, the COMPAMED exhibitors (halls 8a and 8b) in particular know how to make an impression with ideas that are baffling to some extent. They show a great level of technical progress even on the smallest of components. An example of this is developments in the field of implantation medicine. For example, acceleration sensors can be integrated into "intelligent" prostheses, which record if an implant is fitted too loosely and transmit relevant signals via an RFID interface to a controller unit. Even in the case of mobile terminals, the components cannot be small and light enough. In particular, examples include camera modules that have compact dimensions with a range of millimetres. These contain stereo camera heads for 3D endoscopy and how these are gaining more and more importance for micro-invasive operating procedures.
In the year before, the MEDICA and the COMPAMED recorded a total of 130,600 visitors. More than half of the visitors came from abroad. The target audience of both events are "professionals in the field", not patients.
Opening hours of MEDICA and COMPAMED 2013: 10:00 am - 6:30 pm, Saturday 10 am - 5:00 pm (MEDICA only).

---
COMPAMED 2013
from 20 to 22 November. 2013, Fair ground Dusseldorf (Germany)

---
Image: R. Eberhard, messekompakt, EBERHARD print & medien agentur gmbh
Source: Messe Düsseldorf
News
19.1.2021
Arburg's Entrepreneurial Families Hehl and Keinath Acquire AMK's Drives & Automation Division
19.1.2021
SEMI: Annual Outlooks at Virtual ISS 2021 Point to Global Economic and Chip Industry Growth
19.1.2021
Trina Solar first PV Manufacturer to Obtain a Dual Environmental Protection Certification
18.1.2021
REED Exhibtions Announces $ $1 Million 5 Year Commitment To Black and Ethnic Minority Charities
18.1.2021
Over 60 Galleries Will Participate in the 10th Edition of Frieze New York
18.1.2021
Registration opens for virtual.drupa 2021
14.1.2021
Cancellation of the International Handicrafts Fair 2021
14.1.2021
SOI Industry Consortium Joins SEMI as Strategic Association Partner
13.1.2021
CES 2021: Bosch Puts its Faith in AI and Connectivity
13.1.2021
New Arburg Trade Partner in Vietnam
12.1.2021
Supervisory Board of Bayer AG Appoints Sarena Lin to Board of Management
12.1.2021
LANXESS aims to acquire disinfection and hygiene solutions provider Theseo
12.1.2021
SEMICON Korea 2021: Goes Virtual With Focus on AI, Sensors, Smart Manufacturing and Talent
11.1.2021
US Online Food Delivery Market to Grow at 7.4% in 2021 to $28.5 Billion
11.1.2021
TDK Introduces World's Lowest Power PDM Microphone with Acoustic Activity Detect
11.1.2021
ESD Alliance Reports Strong Electronic Design Automation Industry Revenue Growth
7.1.2021
Supervisory Board Approves Deutsche Messe 2027 Concept for the Future
7.1.2021
LIGNA.21 goes into Autumn - New Date from 27 September to 1 October
7.1.2021
Lufthansa Raised 500 Million Euros in Aircraft Financing in the Second Half of 2020
6.1.2021
REIME NORIS Opened its Own Branch in China
6.1.2021
REED Exhibitions Announces Anna Dycheva-Smirnova as CEO of REED Exhibitions UK
4.1.2021
GGF and Bank Lviv form new Partnership
4.1.2021
Meyer Burger Receives up to 22.5 Million Euros in Public Funding
31.12.2020
US Homeowners with Mortgage Gain a Collective $1 Trillion in Equity in 2020
31.12.2020
Global Digital Payments Market to Grow by 23.7% in 2020 to $4.9 Trillion
30.12.2020
NVIDIA Posts 37% Spike in Gaming Revenue at $2.3 Billion in Q3 2020
30.12.2020
Global Banking Industry to Lose At Least $3.7 Trillion Over Five Years
30.12.2020
Global Digital Payments Market to Grow by 23.7% in 2020 to $4.9 Trillion
28.12.2020
Liwet Holding AG has Obtained a Block on the Registration of the Capital Increase
28.12.2020
Trina Solar Vertex Super Factory: The Power Inside
28.12.2020
Lufthansa and Vereinigung Cockpit Agree on Pilots' Contributions Until 31 March 2022
23.12.2020
Swiss Steel Holding AG shareholders approve capital increase
22.12.2020
Frank Koch new CEO of Swiss Steel Group
22.12.2020
Global Data Alliance Comments on New EDPB Guidance on Data Transfers
21.12.2020
SEMI: Helpful Steps to Support Microelectronics Innovation and Manufacturing
21.12.2020
SunBrush® mobil launches its Winter Kit
21.12.2020
HyTest Group Welcomes Juhana Rauramo as its New CEO
16.12.2020
POWTECH 2022 Starts in Late Summer
16.12.2020
Leipziger Messe Takes Over PaintExpo
15.12.2020
VDDI and Koelnmesse Postpone the IDS from March Until Autumn 2021
15.12.2020
Anuga FoodTec Postponed to April 2022 due to Pandemic
15.12.2020
Husky to Launch Interactive, Digital Platform
11.12.2020
BIOFACH / VIVANESS 2021 eSPECIAL: Trends and Developments in the Market for Organic Food
11.12.2020
Lufthansa Group Expands Position as Market Leader
9.12.2020
ISM and ProSweets Cologne Cancelled Due to Pandemic
9.12.2020
spoga horse 2021 Cannot Take Place Due to the Pandemic
9.12.2020
BIOFACH / VIVANESS 2021 eSPECIAL: Shaping Transformation. Stronger. Together.
8.12.2020
Lufthansa: Sale of LSG Europe completed
8.12.2020
ZEISS Invests by Acquiring Majority Stake in arivis AG
2.12.2020
Digital Health Startups Receive Over $4.6 Billion in Q3 2020
2.12.2020
Swiss Steel Holding AG Plans Capital Increase to Strengthen its Equity
1.12.2020
TDK Announces New Chip NTC Thermistors for Conductive Adhesion Mounting
1.12.2020
No Enforce Tac in 2021
1.12.2020
Complete: Filter for Arburg Mask Rounds off Coronavirus Project
26.11.2020
INTERNORGA 2021 Cancels Physical Event
26.11.2020
WindEnergy Hamburg 2020 Goes Digital
26.11.2020
Grid Edge Study: Grid Edge Opens up New Opportunities
25.11.2020
Double Honor for the SAERTEX® Group at the AVK Inovation Award 2020
25.11.2020
Hydrogen Summit HYDROGEN DIALOGUE Illustrates Unique Prospects for the Global Energy Transition
25.11.2020
Arburg Summit: Medical 2020 – Summit Meeting With More than 400 Industry Experts
24.11.2020
SPS Connect 2020: A Stage for Professional Exchange
23.11.2020
ETIP PV has Successfully Finished its First Virtual Annual Conference
23.11.2020
Trina Solar Renews the Global Brand for Its Tracker Business
23.11.2020
virtual.COMPAMED also Convinces in the Digital Form
19.11.2020
analytica 2020 With Very Good Results in the Digital Format
19.11.2020
purmundus challenge 2020: Moorehuhn Bike wins first prize at Formnext Connect
19.11.2020
Special Edition of imm cologne Cancelled due to Pandemic
18.11.2020
Stone+tec will not take place in 2021
18.11.2020
4th glasspro INDIA & 7th glasspex INDIA to be Held on Sep 23-25, 2021 in Mumbai
18.11.2020
Trina Solar Will Purchase 85 Million Square Meters of Photovoltaic Glass from Almaden
17.11.2020
Mobile Phone Industry to Lose $51B in Revenue Amid COVID-19 Pandemic
17.11.2020
virtual.COMPAMED + virtual.MEDICA Hit the Starting Line With a Full Programme
16.11.2020
REIME NORIS Opened its Own Branch in China
16.11.2020
Frieze New York 2021 at The Shed
16.11.2020
arburgXworld – Arburg's digital platform
13.11.2020
BayWa on Track for a New Record Operating Result
13.11.2020
SunBrush® Mobil Delivers its New Cleaning Device for PV Tracking Systems to Chile
13.11.2020
First Lufthansa Flight With Tested Passengers Takes Off
11.11.2020
Lufthansa AG: Remco Steenbergen Appointed as New Chief Financial
11.11.2020
Swiss Steel Group: Improved Resilience Through Cost Flexibility and Transformation
11.11.2020
Mimaki Illuminates 3D Printing Market with New Full-Colour 3D Printer
10.11.2020
Lufthansa Issues Convertible Bond in the Amount of 600 Million Euros
10.11.2020
Skeleton Technologies Raises €41.3 Million to Support its Fast Growth
4.11.2020
EuroBLECH Digital Innovation Summit 2020 ended last week
4.11.2020
New date: art KARLSRUHE postponed to 21st –24th May 2021
29.10.2020
Successful Launch of drupa preview will Reinforce the Digital Network
29.10.2020
Messe Düsseldorf: Course Charted for K 2022
27.10.2020
Covestro with Significant Growth in Volume and Earnings in 3th Quarter
27.10.2020
Bayer Acquires Asklepios BioPharmaceutical
26.10.2020
SCHWEISSEN & SCHNEIDEN 2021 with new Topics
26.10.2020
COLOGNE FINE ART & DESIGN 2020 with a Fine Selection of Dealers and Galleries
26.10.2020
US Consumer Tech Sales to Grow by 18% in Q4 2020
22.10.2020
Five Largest US Oil and Gas Companies Lost $307bn in Market Cap YoY
22.10.2020
MSEC 2020 Recognizes Products
22.10.2020
MTC invests in XJet Carmel 1400C
21.10.2020
Brabender Technologie: Innovations for Additional Flexibility and Safety
21.10.2020
AUMA: Trade Fairs in Germany can Still Take Place
21.10.2020
Jade Kurian Receives Women in Technology Futurist Award
20.10.2020
Messe München by Offering New Hybrid Platforms
20.10.2020
DOMOTEX Postpones Trade Show from January to May 2021
20.10.2020
glasstec VIRTUAL: Ready to Kick off Tomorrow!
19.10.2020
SolarPower Summit can Look Back on an Excellent Event
19.10.2020
RE-Source 2020 is Going Virtual!
15.10.2020
Trina Solar's Vertex Series Modules gets Worldwide Recognized IEC Certifications
13.10.2020
HYDROGEN DIALOGUE: A "Who's Who" of the Hydrogen Industry will meet in Nuremberg
13.10.2020
GHM: Cancellation of opti 2021
13.10.2020
Next Fakuma in October 2021!
13.10.2020
The Race For Water Odyssey in the Land of the Rising Sun
9.10.2020
embedded world 2021: Call for Papers for Leading Expert Forums
9.10.2020
The ETIP PV Elected new Board Chairmen
9.10.2020
purmundus challenge Looks at Harmony Between Geometry and Materials
7.10.2020
Newly Elected EUROTRANS President from Turkish Association MIB
7.10.2020
Faber Infrastructure Launches Container-based Power Supply
7.10.2020
Lufthansa: Ticket Refunds Over Three Billion Euros Paid
5.10.2020
#EISEN Innovation Award 2020 Powered by ZHH in Digital Format this Year
5.10.2020
China, Japan and US controls 60% of Global Installations of Industrial Robots
2.10.2020
FIBO is on Again: The Fitness Sector Meets on the Web
2.10.2020
FENSTERBAU FRONTALE 2022: Early Bookings for Exhibition Areas Recommended
1.10.2020
Meyer Burger Technology Closing of the Sale of the Muegge GmbH
1.10.2020
Earnings Situation in German Industry Still Poor
1.10.2020
ifo Institute: Very Slow Recovery in the Automotive Industry
30.9.2020
automatica 2020 Not to be Held as In-person Event
30.9.2020
Reference Value for Hospital Costs Amounts to 2.60% in 2020
30.9.2020
Zayed Sustainability Prizes Announces Postponement of 2021 Awards Ceremony
29.9.2020
ProSweets Cologne 2021 at the Previous Year Level
29.9.2020
U.S. new home sales jump 108% over the last 10 years
28.9.2020
Healthcare Startups Raised $111.4bn in Total Funding, a 34% Jump Year-on-Year
28.9.2020
Frieze Viewing Room Brings Today's Most Significant Galleries Together on One Platform
28.9.2020
New CFO for Meyer Burger Technology Ltd.
24.9.2020
Plastics & Rubber Vietnam, ArabPlast and PLASTINDIA With New Dates for 2021
24.9.2020
SEMI-NBMC Invites White Paper Proposals for Funding of Human Monitoring Innovations
24.9.2020
Most Expensive Property Market - Hong Kong $1.23 Million Per Property
23.9.2020
Klaus Schäfer appointed to the German National Hydrogen Council
23.9.2020
LABVOLUTION in May 2021: The Ideal Time for a New Start
23.9.2020
Arburg Opens ATC Pinghu in China
22.9.2020
AIRBUS Reveals New Zero-emission Concept Aircraft
22.9.2020
Technology Days 2021: "ARBURG we are there"
22.9.2020
SEMICON Taiwan 2020 Hybrid Opens With Green Manufacturing
22.9.2020
Lufthansa Supervisory Boardextends Contract of Harry Hohmeister Ahead of Schedule
18.9.2020
BASF Venture Capital Iinvests in Leading Industrial Artificial Intelligence Company IntelliSense.io
18.9.2020
Setting the Course for GaLaBau 2022 and Beyond
18.9.2020
North American Semiconductor Equipment Industry Posts August 2020 Billings
17.9.2020
Trina Solar Completes Acquisition of Spanish Solar Tracker System Manufacturer Nclave
17.9.2020
The First Online Edition of EU PVSEC Reports a Huge Positive Outcome
16.9.2020
CARAVAN SALON 2020: Passionate Event Charted for Success
16.9.2020
Lufthansa is Consistently Pursuing its Tourism Strategy
11.9.2020
Positive Trend in Exhibitor Numbers at the PARKEN 2021
11.9.2020
BASF and 2M Group Donate Sanitizer in the North East of England
11.9.2020
Solar Quality 2020 is going digital!
10.9.2020
Kaeser Kompressoren Introduces "i.Comp " Compressor
10.9.2020
DeburringEXPO Takes Place in Karlsruhe
10.9.2020
Meyer Burger Divests Muegge GmbH
9.9.2020
ESOF 2020 Hybrid Format was Huge Hit
9.9.2020
Fraunhofer ILT: More Flexible Battery Design with Ultrafast Laser Ablation
9.9.2020
SEMI: COVID-19 Drives Rise in Global Fab Equipment Spending
8.9.2020
Roland Bleinroth elected to AUMA Executive Board
8.9.2020
ASIA FRUIT LOGISTICA is ON this November
8.9.2020
drupa: New Digital Platform for Knowledge Transfer and Networking
7.9.2020
Successful re-start for Koelnmesse in China
7.9.2020
CARAVAN SALON 2020 Attracts some 350 Exhibitors
7.9.2020
Trina Solar Reports 245.81% Year-on-Year Growth in Net Profits in 2020 Half-Year Results
4.9.2020
SMM 2021: "Together we Will Overcome this Crisis"
4.9.2020
IFA 2020 Special Edition: A Sign that 'Tech is Back'
4.9.2020
The First Online Edition of EU PVSEC will Start on Monday
3.9.2020
Messe Düsseldorf Departs Into a Hybrid Trade Fair Autumn
3.9.2020
CARAVAN SALON 2020 Attracts some 350 Exhibitors
3.9.2020
Art Basel Announces the Cancellation of its Miami Beach Fair
1.9.2020
New Dates Announced for Stone+tec 2021
1.9.2020
International Green Week 2021 will be an Exclusive B2B Event
1.9.2020
SPS 2020 Goes All-Virtual
28.8.2020
gamescom 2020 Launches with Several Political Guests of Honour
28.8.2020
Change in the Supervisory Board of Deutsche Lufthansa AG
28.8.2020
Covestro: Design Variety in the Car Interior of the Future
25.8.2020
Lufthansa Group Restricts Exceptions from Compulsory Masks
25.8.2020
BIOFACH CHINA: Successful restart of trade fairs in China
25.8.2020
SEMI Statement on New U.S. Export Control Regulations
24.8.2020
Lufthansa AG: Over 2.3 Billion Euros in Ticket Costs Reimbursed so Far
24.8.2020
CARAVAN SALON 2020: Exhibitors Announce Over 200 New Products in the Run-up to the trade fair
21.8.2020
International Green Week 2021 to Take Place as a B2B Event
21.8.2020
Jan Brockmann to Become New Chairman of the Bosch Thermotechnology Division
21.8.2020
Spexor from Bosch Provides Security to go
20.8.2020
Extreme Objects' by Design Museum Holon
20.8.2020
Lufthansa Group: Safe Travel During the Corona Pandemic
19.8.2020
ISM 2021: Organic Product Segment Continues to Expand
19.8.2020
Trina Solar to Add 10GW in Production Capacity of Ultra-high-efficient 210 mm Solar Cells
18.8.2020
SEMI Launches World's First Flexible Hybrid Electronics Standards Technical Committee
18.8.2020
EXPO REAL Hybrid Summit: Hybrid Format Generates Great Interest
17.8.2020
Powerful Worldwide Trade Fair Programme of German Organisers in 2021
17.8.2020
U.S. Real GDP Registers Biggest Quarterly Slump in Last 70 years at 32.9%
14.8.2020
EU Lifts Travel Restrictions at the External Borders
14.8.2020
AUMA: More Foreign Exhibitors in Germany Again in 2019
12.8.2020
STRATASYS Wins one of its Largest Ever Aerospace Orders
12.8.2020
SEMI Partners with GLOBALFOUNDRIES to Offer Apprenticeship Program
12.8.2020
SCHMOLZ + BICKENBACH Q2 2020 strongly affected by COVID-19
11.8.2020
gamescom 2020: On the Pulse of the Community
11.8.2020
New KOSTAL Solar Portal for PV System Monitoring
10.8.2020
TDK Announces Ultra-high AOP Analog MEMS Microphone
10.8.2020
Meyer Burger Divests Manufacturer for Microwave and Plasma Systems Muegge GmbH
6.8.2020
Positive Outlook for SPS 2020
3.8.2020
POWTECH 2020 Special Edition Cancelled
3.8.2020
Arburg Despite Corona: "Wir sind da."
30.7.2020
vienna contemporary 2020 will take place as planned from 24–27 September 2020
30.7.2020
Covestro: "We are pursuing a clear, far-sighted strategy"
29.7.2020
EU PVSEC Restructures its Plenary Sessions
29.7.2020
World`s Five Largest Airlines Lost Over $40bn in Market Cap Since January
27.7.2020
Positive Outlook for SPS 2020
27.7.2020
Bright Rock Siccessfully Completes Acquisition in Wyoming
24.7.2020
Suspension of INTERMOT 2020
24.7.2020
ProFood Tech Chicago Cancelled
24.7.2020
MOTEK 2020 and BondExpo 2020 Postponed Until Next Year
23.7.2020
Results Significantly Impacted by the Coronavirus Pandemic as Expected
23.7.2020
SEMI Applauds Senate Support of Financial Incentives to Grow U.S. Semiconductor Manufacturing
23.7.2020
LaP 2020": The Final Touches for Surfaces
22.7.2020
Lufthansa Group Airlines Significantly Expands Flight Schedule Until September
22.7.2020
Barbara Leithner promoted to management team at Reed Exhibitions Austria
21.7.2020
SEMI Announces Election and Re-Election of Board Members
21.7.2020
Digital launch of Chillventa eSpecial in October
21.7.2020
PaintExpo 2020 Cancelled After All
17.7.2020
Federal Minister Andreas Scheuer to Take Part in Political Opening of gamescom 2020
17.7.2020
drupa Starts in 2021 With Shortened Runtime
15.7.2020
Katy Crist of TEL Appointed to SEMI Foundation Board of Trustees
15.7.2020
REED Exhibitions Announces Ron Walden as Executive Sponsor for Race
15.7.2020
Fintech Leaders Raise Almost $4 Billion in Q2 Amid Pandemic
14.7.2020
Virtual SEMICON West 2020 to Gather Industry Leaders
14.7.2020
ESD Alliance Reports Growth for Q1 2020
14.7.2020
EU PVSEC goes online
9.7.2020
Messe Düsseldorf Draws up Hygiene and Infection Protection Concept
9.7.2020
SurfaceTechnology GERMANY and parts2clean cancelled for 2020
9.7.2020
SMB Solar Multiboard Launches New Product Range
8.7.2020
electronica 2020: ZVEI Expects Important Impact from Electronics Trade Fair
8.7.2020
VDMA: Campaign "Thank you, Free Trade" Struck a Chord
7.7.2020
EuroBLECH 2020 Postponed
7.7.2020
AUMA: Strong Trade Fair Programme Planned for 2021
6.7.2020
ProSweets Cologne 2021: Exhibitor Interest Exceeds Expectations
6.7.2020
ISM 2021: Good Booking Status after the Early Bird Campaign
3.7.2020
Virtual MedtecLIVE with MedTech Summit 2020
1.7.2020
Lufthansa Reorganizes Responsibilities on the Executive Board
1.7.2020
SEMI FlexTech Launches Three New Projects to Advance Flexible Hybrid Electronics
1.7.2020
New General Manager at Coherent Mainz
30.6.2020
ASMC 2020 to Go Virtual
Mobile Website
Our website also works on IPhone, IPad and Co.