7th COMPAMED Spring forum offers a taste

of the leading specialist trade fair for medical technology suppliers

Starting a good six months before the start of the fair (COMPAMED 2013: 20th - 22nd November), each year it offers a great opportunity for all experts from product development and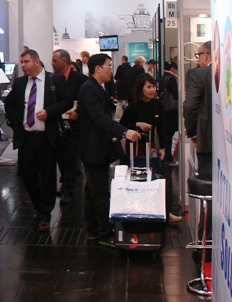 production process from the supplier side, medical technology industry, and research, to hear about the latest trends and exchange knowledge in discussions.
At the 7th COMPAMED Spring Forum, jointly coordinated by the IVAM Association for Microtechnology and the Messe Düsseldorf (held in Stuttgart on April 25th), the latest findings from the recovery, replacement and support of body parts area, including functions, featured prominently. The broad range of content adequately reflected the topic of the meeting "Microsystem technology evolution: sophisticated high-tech constructions for the human body - exoskeletons, endoprotheses, neuroprotheses, and bio-implants".
As an example, scientists at the University of Rostock are currently exploring the highly topical issue of 3D printing in the medical technology sector. 3D printing of patient-specific implants is being researched by the Institute of Fluid Technology and Micro-fluid Technology (LFM). Additive manufacturing-the use of 3D printing technology-has considerable potential to reduce the costs of manufacturing implants. At the University of Rostock, this method is being used to manufacture individual, absorbable bone replacement implants. This is a powder-based procedure for the manufacture of models in layers directly from computer data. Thin layers of a powder are added to a base plate, which are then solidified by adding a special additive, based on the current cross-section of the component. "The base material is a granulate mixture based on calcium phosphate, which, as an anorganic component of bone, is ideally suited for healing bone defects", explained Engineer Christian Polzin from LFM. A print head is used to make the granulate adhere with a dextrine solution. The printed 3D models are sintered in the powder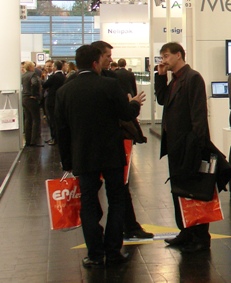 bed after sufficient time for curing. The growth and decomposition behaviour can be adjusted individually through the choice of the materials and the design of the bone replacement implants.
Pins from "artificial" bones
Speaking of calcium phosphate: this material is also ideal for bio-absorbable bone pins and implants. These are intended to replace standard metal elements for stabilising bones - usually made of medical steel or titanium. This means operative procedures for removing the metal are no longer necessary. The DRK Clinics of Wesermünde are working with the Institute for Ceramic Materials and Components at the University of Bremen and the Fraunhofer Institute for Production Technology and Applied Material Research (IFAM) are working on alternatives. "With the aid of the spray cast procedure and special temperature and pressure conditions, we have managed to manufacture biomechanically-resistant mouldings from calcium phosphate, in this case, hydroxyapatite. These mouldings can be implemented as pins in bones in experimental procedures", as reported at the 7th COMPAMED Spring forum by Prof.. Ulrich Wagner, orthopaedic and trauma surgeon at the DRK Seepark Clinic Debsedt. The load capacity is around 130 Newtons per square millimetre. Initial cell culture investigations with humane osteoblasts (cells responsible for bone formation) point to a high level of bio-compatibility in bone cell cultures. More investigations using peeling tests on knee and shoulder joints in humans and cattle are likely to clarify their biomechanical properties.
Flexible thin-film circuits for medical applications are made by Reinhardt Microtech GmbH in Ulm, a member of the Swiss Cicor Group. The unit in Ulm is a manufacturer of sophisticated micro-electronics in the circuit support area especially in the thin-layer technology sector, which offers enormous benefits thanks to its high flexibility and long-term stability. Different plastics such as polyimides, aromatic polyesters, polytetrafluorethylene and polydimethylsiloxanes, are used as materials for the flexible circuits, which are then coated with different metals, such as gold and copper, to construct the circuits. The areas of application for such implants range from "intelligent contact lenses", which detect and treat glaucoma (green star) early, or can measure eye pressure; to apnoea implants; to blood sugar sensors and optical cardiac catheters. "We have the infrastructure to implement customer-specific product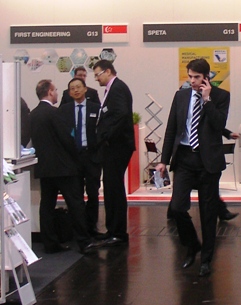 solutions at the highest level", Dr. Alexander Kaiser from Reinhardt Microtech stated at the COMPAMED Spring forum.
Neuroprosthetic interface

system between the brain and spinal cord
The European project "NEUWalk", coordinated by the Institute for Microtechnology of Mainz, is also working on top-notch micro-system technology. A consortium of leading European research institutes and companies has brought together expertise for realising a new generation of neuroprosthetic systems. With their help, in future it should become possible to restore a patient's movement after serious spinal cord injuries and also alleviate the symptoms of Parkinson's disease effectively. The project was launched in June 2010 and is being financed by the EU's 7th Framework program for Research and Technology Development with almost nine million Euros. "NEUWalk" will apply very sophisticated decoding algorithms to extract real-time information about the person's locomotion intent by recording brain signals and translating them into suitable protocols for spinal cord stimulation, triggering the movement functions. Realisation of these neuroprotheses requires new solutions to be explored, based on sophisticated micro-technological and micro-electronic techniques. These include flexible, implantable multi-electrodes and microprocessor-controlled neuroprotheses, which unite both cable-less power and signal transmission and highly-developed opportunities for neurostimulation and neuronal recording and evaluation. "The potential significance of the solutions developed in NEUWalk and neurosurgical treatment strategies is enormous", says Dr. Peter Detemple, Head of the microstructuring and sensor systems at IMM and Coordinator of NEUWalk.
Developments in the area of artificial tissue
The manufacture of artificial tissue for implants has been at the forefront of medical research for some time now and is thus again a topic at COMPAMED. A span challenge in this area is to provide multilayered cell structures which can be supplied with nutrients via a supply system. A consortium from 16 European partners from industry and research is working on this task under the guise of the Fraunhofer Institute for Laser Technology, ILT. This project-termed "ArtiVasc 3D" has received 7.8 million Euros of funding from the EU, again as part of the 7th Supporting programme. A team of engineers, scientists and doctors are hoping to develop a new method for growing artificial replacement tissue. The tissue has to be vascularised- in other words, to be given a supply system which resembles the natural network of arteries. In the coming four years, through the combination of various technologies from the area of rapid prototyping and biofunctionalisation, the plan is to develop a process which allows for vascular vessels to be built in combination with a support system. These vessels and the support system are to be seeded with autologous cells thus allowing the construction of fat tissue, and ultimately artificial skin. One purpose of this artificial skin is as an in-vitro test system to reduce testing on animals for instance, another is to allow it to be used directly in skin implants.
How large molecular entities get into the body
Large molecular entities such as proteins, hormones or antibodies are very hard to administer since, when administered orally, they are broken down by the gastrointestinal system or the liver, but in most cases do not penetrate the topmost skin layer given transdermal administration. Working together with Pantec Biosolutions AG (Liechtenstein), the Swiss Centre Suisse d'Electronique et de Microtechnique (CSEM), under the name P.L.E.A.S.E (Painless Laser Epidermal System) has developed a new solution in this project which is reported to greatly simplify in-Vitro-fertilisation. The compact unit, which contains a diode-pumped Er:YAG laser, should enable a painless, exceptionally precise, intraepidermal microporation of the skin for the first time. The subsequent administration of medication through the perforated skin takes place by means of appropriate plasters. "The laser pulses only last 100 microseconds. In future, our device will be able to replace many injections", predicts Dirk Fengels, who leads the Sensors & Systems at CEM.
The above topics covered at the 7th COMPAMED Spring forum give a look at the performance of suppliers of the medical technology industry, themselves working on suitable solutions to very complex issues. The offering from almost 700 exhibitors at COMPAMED 2013 is similarly wide-ranging, and being held Mid-November in Düsseldorf, ranging from new materials and pre-products to packaging and services, to complex order production, microsystem- and nanotechnology. This interesting mix is attracting more and more visitors in previous years. Of the total of 130,600 expert visitors to COMPAMED 2012 and to MEDICA 2012, held in parallel, the largest medical trade fair with over 4,500 exhibitors, a good 16,000 were specifically interesting in the topics addressed at COMPAMED.

---
Images: R. Eberhard, messekompakt.com, EBERHARD print & medien agentur gmbh
Source: Messe Düsseldorf
News
18.9.2020
BASF Venture Capital Iinvests in Leading Industrial Artificial Intelligence Company IntelliSense.io
18.9.2020
Setting the Course for GaLaBau 2022 and Beyond
18.9.2020
North American Semiconductor Equipment Industry Posts August 2020 Billings
17.9.2020
Trina Solar Completes Acquisition of Spanish Solar Tracker System Manufacturer Nclave
17.9.2020
The First Online Edition of EU PVSEC Reports a Huge Positive Outcome
16.9.2020
CARAVAN SALON 2020: Passionate Event Charted for Success
16.9.2020
Lufthansa is Consistently Pursuing its Tourism Strategy
11.9.2020
Positive Trend in Exhibitor Numbers at the PARKEN 2021
11.9.2020
BASF and 2M Group Donate Sanitizer in the North East of England
11.9.2020
Solar Quality 2020 is going digital!
10.9.2020
Kaeser Kompressoren Introduces "i.Comp " Compressor
10.9.2020
DeburringEXPO Takes Place in Karlsruhe
10.9.2020
Meyer Burger Divests Muegge GmbH
9.9.2020
ESOF 2020 Hybrid Format was Huge Hit
9.9.2020
Fraunhofer ILT: More Flexible Battery Design with Ultrafast Laser Ablation
9.9.2020
SEMI: COVID-19 Drives Rise in Global Fab Equipment Spending
8.9.2020
Roland Bleinroth elected to AUMA Executive Board
8.9.2020
ASIA FRUIT LOGISTICA is ON this November
8.9.2020
drupa: New Digital Platform for Knowledge Transfer and Networking
7.9.2020
Successful re-start for Koelnmesse in China
7.9.2020
CARAVAN SALON 2020 Attracts some 350 Exhibitors
7.9.2020
Trina Solar Reports 245.81% Year-on-Year Growth in Net Profits in 2020 Half-Year Results
4.9.2020
SMM 2021: "Together we Will Overcome this Crisis"
4.9.2020
IFA 2020 Special Edition: A Sign that 'Tech is Back'
4.9.2020
The First Online Edition of EU PVSEC will Start on Monday
3.9.2020
Messe Düsseldorf Departs Into a Hybrid Trade Fair Autumn
3.9.2020
CARAVAN SALON 2020 Attracts some 350 Exhibitors
3.9.2020
Art Basel Announces the Cancellation of its Miami Beach Fair
1.9.2020
New Dates Announced for Stone+tec 2021
1.9.2020
International Green Week 2021 will be an Exclusive B2B Event
1.9.2020
SPS 2020 Goes All-Virtual
28.8.2020
gamescom 2020 Launches with Several Political Guests of Honour
28.8.2020
Change in the Supervisory Board of Deutsche Lufthansa AG
28.8.2020
Covestro: Design Variety in the Car Interior of the Future
25.8.2020
Lufthansa Group Restricts Exceptions from Compulsory Masks
25.8.2020
BIOFACH CHINA: Successful restart of trade fairs in China
25.8.2020
SEMI Statement on New U.S. Export Control Regulations
24.8.2020
Lufthansa AG: Over 2.3 Billion Euros in Ticket Costs Reimbursed so Far
24.8.2020
CARAVAN SALON 2020: Exhibitors Announce Over 200 New Products in the Run-up to the trade fair
21.8.2020
International Green Week 2021 to Take Place as a B2B Event
21.8.2020
Jan Brockmann to Become New Chairman of the Bosch Thermotechnology Division
21.8.2020
Spexor from Bosch Provides Security to go
20.8.2020
Extreme Objects' by Design Museum Holon
20.8.2020
Lufthansa Group: Safe Travel During the Corona Pandemic
19.8.2020
ISM 2021: Organic Product Segment Continues to Expand
19.8.2020
Trina Solar to Add 10GW in Production Capacity of Ultra-high-efficient 210 mm Solar Cells
18.8.2020
SEMI Launches World's First Flexible Hybrid Electronics Standards Technical Committee
18.8.2020
EXPO REAL Hybrid Summit: Hybrid Format Generates Great Interest
17.8.2020
Powerful Worldwide Trade Fair Programme of German Organisers in 2021
17.8.2020
U.S. Real GDP Registers Biggest Quarterly Slump in Last 70 years at 32.9%
14.8.2020
EU Lifts Travel Restrictions at the External Borders
14.8.2020
AUMA: More Foreign Exhibitors in Germany Again in 2019
12.8.2020
STRATASYS Wins one of its Largest Ever Aerospace Orders
12.8.2020
SEMI Partners with GLOBALFOUNDRIES to Offer Apprenticeship Program
12.8.2020
SCHMOLZ + BICKENBACH Q2 2020 strongly affected by COVID-19
11.8.2020
gamescom 2020: On the Pulse of the Community
11.8.2020
New KOSTAL Solar Portal for PV System Monitoring
10.8.2020
TDK Announces Ultra-high AOP Analog MEMS Microphone
10.8.2020
Meyer Burger Divests Manufacturer for Microwave and Plasma Systems Muegge GmbH
6.8.2020
Positive Outlook for SPS 2020
3.8.2020
POWTECH 2020 Special Edition Cancelled
3.8.2020
Arburg Despite Corona: "Wir sind da."
30.7.2020
vienna contemporary 2020 will take place as planned from 24–27 September 2020
30.7.2020
Covestro: "We are pursuing a clear, far-sighted strategy"
29.7.2020
EU PVSEC Restructures its Plenary Sessions
29.7.2020
World`s Five Largest Airlines Lost Over $40bn in Market Cap Since January
27.7.2020
Positive Outlook for SPS 2020
27.7.2020
Bright Rock Siccessfully Completes Acquisition in Wyoming
24.7.2020
Suspension of INTERMOT 2020
24.7.2020
ProFood Tech Chicago Cancelled
24.7.2020
MOTEK 2020 and BondExpo 2020 Postponed Until Next Year
23.7.2020
Results Significantly Impacted by the Coronavirus Pandemic as Expected
23.7.2020
SEMI Applauds Senate Support of Financial Incentives to Grow U.S. Semiconductor Manufacturing
23.7.2020
LaP 2020": The Final Touches for Surfaces
22.7.2020
Lufthansa Group Airlines Significantly Expands Flight Schedule Until September
22.7.2020
Barbara Leithner promoted to management team at Reed Exhibitions Austria
21.7.2020
SEMI Announces Election and Re-Election of Board Members
21.7.2020
Digital launch of Chillventa eSpecial in October
21.7.2020
PaintExpo 2020 Cancelled After All
17.7.2020
Federal Minister Andreas Scheuer to Take Part in Political Opening of gamescom 2020
17.7.2020
drupa Starts in 2021 With Shortened Runtime
15.7.2020
Katy Crist of TEL Appointed to SEMI Foundation Board of Trustees
15.7.2020
REED Exhibitions Announces Ron Walden as Executive Sponsor for Race
15.7.2020
Fintech Leaders Raise Almost $4 Billion in Q2 Amid Pandemic
14.7.2020
Virtual SEMICON West 2020 to Gather Industry Leaders
14.7.2020
ESD Alliance Reports Growth for Q1 2020
14.7.2020
EU PVSEC goes online
9.7.2020
Messe Düsseldorf Draws up Hygiene and Infection Protection Concept
9.7.2020
SurfaceTechnology GERMANY and parts2clean cancelled for 2020
9.7.2020
SMB Solar Multiboard Launches New Product Range
8.7.2020
electronica 2020: ZVEI Expects Important Impact from Electronics Trade Fair
8.7.2020
VDMA: Campaign "Thank you, Free Trade" Struck a Chord
7.7.2020
EuroBLECH 2020 Postponed
7.7.2020
AUMA: Strong Trade Fair Programme Planned for 2021
6.7.2020
ProSweets Cologne 2021: Exhibitor Interest Exceeds Expectations
6.7.2020
ISM 2021: Good Booking Status after the Early Bird Campaign
3.7.2020
Virtual MedtecLIVE with MedTech Summit 2020
1.7.2020
Lufthansa Reorganizes Responsibilities on the Executive Board
1.7.2020
SEMI FlexTech Launches Three New Projects to Advance Flexible Hybrid Electronics
1.7.2020
New General Manager at Coherent Mainz
30.6.2020
ASMC 2020 to Go Virtual
30.6.2020
XJet Announces Global Partnership with Straumann
30.6.2020
FINTECH India 2020: Future of FINTECH in a Post Pandemic World
29.6.2020
REED EXHIBITIONS Announces New General Counsel
29.6.2020
Lufthansa Group: 50% of the Fleet Back in the Air
29.6.2020
Cancellation of Beviale Moscow 2020
26.6.2020
Thorsten Dirks to leave Lufthansa
25.6.2020
Werner M. Dornscheidt Retires Leaving Messe Düsseldorf After Almost 34 Years
25.6.2020
Markus Steilemann elected to head PlasticsEurope
24.6.2020
Formnext 2020: Sustainable Harmony of Material and Design
24.6.2020
Messe Essen: European Bridal Week as Starting Signal
24.6.2020
VDMA: "Contracts for work must not be prohibited!"
23.6.2020
Reed Exhibitions announces Vice President of Product Development
23.6.2020
Fraunhofer ILT: Bilsing Automation relies on extreme high-speed laser material deposition
22.6.2020
Eastern Economic Forum 2020 Cancelled
22.6.2020
Reed Exhibitions Announces Vice President of Product Development
22.6.2020
FENSTERBAU FRONTALE 2022: Reserve Your Exhibition Space Now!
19.6.2020
CARAVAN SALON Düsseldorf can Take Place
19.6.2020
Smart Enercy Week 2020: We're moving to Las Vegas
19.6.2020
InvenSense and Arrow Electronics Sign Global Distribution Agreement
17.6.2020
Implementation of Lufthansa Stabilization Package not Secured
17.6.2020
POWTECH Launches as Special Edition in Nuremberg in 2020
17.6.2020
TDK Announces World's Lowest-power PDM Microphone "T3902"
15.6.2020
Trina Solar Issues First A-Shares on Shanghai Sci-Tech Innovation Board
15.6.2020
PaintExpo 2020 will Take Place
12.6.2020
Tech Visionaries to Explore the Future of Innovation at Virtual SEMICON West 2020
12.6.2020
PaintExpo 2020 will Take Place
11.6.2020
Peter Ottmann new Deputy Chairman of AUMA
11.6.2020
SEMI FlexTech Invites Proposals for Funding Flexible Hybrid Electronics Advancements
10.6.2020
Covestro-Tongji Innovation Academy with Concrete Results
10.6.2020
purmundus challenge: International Design Competition for 3D and 4D Printing
10.6.2020
SEMI Report: Semiconductor Fabs to Log Record Spending of Nearly $68 Billion in 2021
8.6.2020
Lufthansa Supervisory Board Approves Stabilization Measures
8.6.2020
EU SUSTAINABLE ENERGY WEEK (EUSEW)
8.6.2020
Covestro Successfully Issues EUR 1.0 Nillion Eurobond
3.6.2020
First-Quarter 2020 Global Semiconductor Equipment Billings Up 13% Year-Over-Year
3.6.2020
China IC Industry on the Rebound with SEMICON China Leading the Way
3.6.2020
Drastic Decline in Air Travel Significantly Affects Lufthansa Group's Quarterly Result
2.6.2020
Lufthansa Supervisory Board Approves Stabilization Measures
2.6.2020
Global Market Outlook Launch Conference
2.6.2020
Bright Rock acquires land package in Wyoming
29.5.2020
VDW: Medical Engineering Requires Long-term Approach
29.5.2020
VDMA: Supply Changes in Mechanical Engineering become More Stable
28.5.2020
Schuler AG: Laser Blanking Improves Forming Process
28.5.2020
Lufthansa Group significantly expands service with June
27.5.2020
New Dates (Again) for SNEC PV Power Expo
27.5.2020
EU PVSEC 2020 Goes Virtual
26.5.2020
Trina Solar Publishes its Vertex Module Technology White Paper
26.5.2020
Economic Stabilization Fund Approves Lufthansa's Stabilization Package
26.5.2020
Covestro Wants to Accelerate Change to a Circular Economy
20.5.2020
Covestro Proposes a Dividend of EUR 1.20 per Share for Fiscal 2019
20.5.2020
Management change at spoga horse
20.5.2020
Interzoo 2021to be Held in Odd-numbered Years in the Future
19.5.2020
US Robo-advisors Industry to Hit a $1trn value This Year
15.5.2020
Lufthansa Group Significantly Expands Service with June
15.5.2020
RE-Source 2020: Adapting to Changing Circumstances
14.5.2020
Liebherr Presents new Compact Wheeled Excavators
14.5.2020
parts2clean 2020: Solutions for New and Changed Cleaning Tasks
14.5.2020
Lufthansa Group Airlines to Take off Again with 160 Aircraft from June
13.5.2020
Art Düsseldorf PostponesIts Fourth Edition Until 2021
13.5.2020
parts2clean 2020: Solutions for new and changed cleaning tasks
13.5.2020
Manage Disruption Through Collaboration at Virtual SEMICON West 2020
7.5.2020
Art Düsseldorf Postpones Its Fourth Edition Until 2021
7.5.2020
SolarEdge: Record Revenues from Solar Products of $407.6 Million
6.5.2020
SEMI Report: Power and Compound Fab Spending to Rebound in Second Half
6.5.2020
Interzoo and Zoomark Announce New Slots
6.5.2020
SCHMOLZ + BICKENBACH Results Heavily Impacted by COVID-19
5.5.2020
VOITH: Acquisition of ELIN Motoren Successfully Completed
5.5.2020
Global Silicon Wafer Area Shipments Edge Up in First Quarter 2020
5.5.2020
Covestro Promotes Innovation in Electrochemistry
4.5.2020
New Dates and Location for SNEC PV Power Expo
4.5.2020
NürnbergMesse Postpones Construction of the New "NCC Süd"
4.5.2020
BIOFACH Nuremberg kicks off the year
30.4.2020
No SENSOR+TEST 2020
30.4.2020
Enforce Tac and U.T.SEC Cancelled for 2020
28.4.2020
Exhibitions Hold Strong Position in Marketing Mix
28.4.2020
Coronavirus: Cancellations and Postponements of German Exhibitions May Cost up to Three Billion Euro
28.4.2020
AUMA: New Corona Package to Support the German Exhibition Industry Network
24.4.2020
North American Semiconductor Equipment Industry Posts March 2020 Billings
24.4.2020
Lufthansa Group Publishes Preliminary Results for the First Quarter
24.4.2020
NürnbergMesse: Petra Wolf Returns to Chillventa Team
23.4.2020
VDW: New METAV Date Set: Trade Fair to be Held Next Year
23.4.2020
SolarPower Europe: Europe can Achieve Climate Neutrality before 2050
23.4.2020
VDMA: Patchwork of Quarantine Rules Must Quickly be Eliminated!
22.4.2020
Ola Hansson to Become New CEO Lufthansa Hub Munich
22.4.2020
Easyfairs Publishes Activity Report: A Journey into the Future of Events
22.4.2020
Fraunhofer ILT: The AMable Project Promotes Flexible AM Solutions to Fight the Coronavirus
21.4.2020
SEMI-Report: Gradual Rebound or Slight Dip
21.4.2020
IWA OutdoorClassics Will Not Take Place in 2020
21.4.2020
BMBF-funded project "ProLMD"
20.4.2020
Beviale Mexico 2020 Postponed to March 2021
20.4.2020
Covestro Adjusts FY 2020 Financial Guidance Due
20.4.2020
Lufthansa Group Almost Completes Repatriation Flight Program
17.4.2020
Arburg and Ems-Chemie Provide Help!
17.4.2020
CRAFT DRINKS INDIA 2020 postponed
17.4.2020
PORTWELL and ENGICAM announce Cooperation
15.4.2020
Lufthansa Group Decides on First Restructuring Package
15.4.2020
SCHMOLZ + BICKENBACH Announces Change in the Executive Board
14.4.2020
Des Enjeux et Des Hommes joins the Ecocert Group
14.4.2020
Lufthansa Will Bring Home Thousands of Vacationers from New Zealand
14.4.2020
Russian Ministry to Start the Selection of Investment Projects
9.4.2020
my-PV's Power Managers Provide Hot Water and Heating from Solar Power
9.4.2020
Supervisory Board Decides on New Allocation of Responsibilities for Lufthansa Executive Board
8.4.2020
Santjer to Head Communications for the NürnbergMesse Group
8.4.2020
COVID-19: Economic and Microelectronics Industry Impacts
8.4.2020
SolarEdge Launching Interactive, Virtual Solar Show
7.4.2020
USMCA Entry Into Force Possible
7.4.2020
SCHMOLZ + BICKENBACH AG Nominates New Members to the Board of Directors
7.4.2020
Meyer Burger B.V.: Closing of the sale of the PiXDRO
6.4.2020
Covestro Provides Aid in Coronavirus Crisis
6.4.2020
KAESER: High-efficiency Compact Powerhouses
3.4.2020
Interzoo Postponed Beyond 2020
3.4.2020
latakoo Expands In Europe
3.4.2020
AKL 2020: Laser Technology Live Already this Year!
2.4.2020
OPC UA Companion Specification to be Developed for CIP
2.4.2020
Global Semiconductor Materials Market Revenues Slip 1.1% in 2019, SEMI Reports
2.4.2020
6K Launches 6K ENERGY Division
31.3.2020
Intersolar Europe 2020 is Canceled
31.3.2020
spoga horse 2020: Cautiously Looking Ahead
31.3.2020
FESPA 2020 Events to Return to Madrid in October 2020
30.3.2020
SMT Connect will be Postponed
30.3.2020
VDW: New METAV Date Set: Trade Fair to be Held Next Year
30.3.2020
Corona Pandemic Damages Supply Chains in Mechanical Engineering
27.3.2020
Covestro Signs EUR 225 Million Loan Facility with European Investment Bank
27.3.2020
BayWa Ends the Financial Year 2019 on a Successful Note
27.3.2020
Bosch Develops Rapid Test for COVID-19
26.3.2020
Further Expanding Energy Storage at INTERSOLAR North America
26.3.2020
Intersolar Europe 2020: PV Power Plants are Driving the International Market
26.3.2020
messekompakt.com: "We are here for you!"
25.3.2020
PCIM Europe Exhibition and Conference will be Postponed until 28 – 30 July 2020
25.3.2020
AUMA: Corona - Costs of around 3 Billion Euros
25.3.2020
ODVA Looks to the Future at its 20th Annual Meeting of Members
23.3.2020
Covestro Postpones Annual General Meeting
19.3.2020
TDK Joins the Responsible Business Alliance
19.3.2020
Weidmüller Interface: Localised Data Management in the Industrial Internet of Things
19.3.2020
Trina Solar Announces 23.39% PERC Solar Cell
18.3.2020
Lufthansa Group Airlines continue operating to the USA
18.3.2020
International Laser Technology Congress AKL'20 will not take place in Aachen!
18.3.2020
Easyfairs Makes its Exhibition Venues Available to the Authorities
17.3.2020
AUMA: Corona - Costs of Around 3 Billion Euros
Mobile Website
Our website also works on IPhone, IPad and Co.