Digital, Reductionist, Refined -

Lighting for the Modern World
The changeover to LEDs over the past few years marks one of the spangest ever shifts in the history of lighting design. Because of the gradual introduction of the ban on tungsten lamps,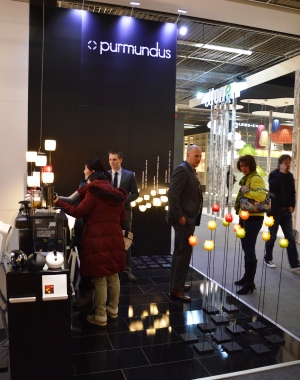 manufacturers and designers have been forced, in a comparatively short time, to adapt their lighting concepts, not only in terms of the technology, but in terms of form, too. After a few years of 'transition', LEDs have become a well-established standard; and creative new approaches are now emerging from this new perspective on light and lighting that would have been unthinkable up until a few years ago. As a result, designers and manufacturers are no longer focusing so much on the luminaire itself in the design process, but rather, in a smart, experimental and modern way, on what is most important: the light itself.
Light over Luminaire
'Form follows function' - this historical design maxim is gaining new significance in the face of today's technical possibilities, combined with currents in modern society and design. Whilst, until a few years ago, lighting design was still concerned with devising the most decorative models possible to create sculptural accents in the home, luminaires can now be seen to be receding into the background. Lamps have, in the main, become minimalistic in form and severely reductionist in design, with colour and materials adapted to the credo of restraint. Lighting itself, on the other hand, has achieved more powerful effects than ever - through colour, directional streams and reflections or the creation of artistic shadows. This continues a trend in which the light is no longer directed in streams or from a visible source, but appears as rays at the edges of objects or bathes the lamp itself in various colour sequences. The body of the lamp, be it in the form of a delicate tube, of reflective surfaces built up in a modular fashion or made of transparent glass, serves principally as a 'housing' for the technical essentials, as well as a physical component across which light becomes visible in a huge diversity of facets.
Interplay of Opposites: Organic or Geometrical
The visualisation of light is a trend which will undoubtedly continue in the coming years. Nevertheless, lamps remain, as they have always been, decorative objects, too, and their design a reflection of the times.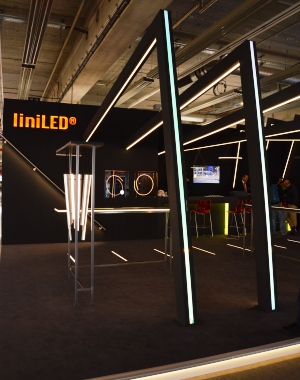 Rather as in the field of furnishings, lighting design concerns itself with the interplay of opposites: natural materials such as wood, bronze, glass or paper are paired with the latest lighting technology, which is often hidden in a variety of archetypal lamp shapes and types. Quality, naturalness and a pleasant lighting effect are at the forefront of concerns. In what is, actually, only an apparent contrast to this, the trend for formally severe geometry continues. In times, when straight lines and comfort are no longer contradictory, but are combined as a matter of course, reductionist, geometrically shaped lamps create modern, restrained accents in living spaces.
Always with an Additional Functionality: Digital and Flexible
The digital society of the future will make new demands on light and lighting: flexibility, individuality and digital control are equally relevant to lamp design. As a result, there are already a large number of lamp types that are integrated into the building-automation system or can be controlled via an app. Whether they are digitally networked or a stand-alone solution: their design, that key factor for success, is increasingly determined by additional functionality. There are hardly any lamps now that do not offer some unique 'benefit': some are digitally networked, others provide coloured light; some are sophisticated constructions with weights that keep the lamp balanced; there are those with touch sensitivity or a charging function; others offer a high degree of flexibility through individually movable modules; and there are handy little rechargeable lamps, that provide spontaneous lighting anywhere.
An Exciting Future
This modern use of the interplay of light, its reflections and the shadows it casts, and the use of translucent materials and experimental lighting are still all just in their infancy. Designers and technicians are increasingly involved in the development of organic lighting diodes (abbreviated to OLED) and also in the use of light as a medium for digital applications and data transmission. The society of the future will depend increasingly on a digital lifestyle and, as is already the case with the smartphone today, the technical complexity in lamp design will become increasing invisible. What matters first and foremost are functionality, the impact of the lighting and self-explanatory individuality in use. We have, therefore, an exciting time ahead of us - for in the process of this development, the role of design will, increasingly, be to respond appropriately to people's emotional need for comfort, creativity and aesthetics.
And Light + Building 2018, too, will be focussing on presenting the latest design trends in the lighting market. The spectrum of products at the world's leading trade fair in its field covers, amongst other things, designer lamps in a whole range of styles, technical luminaires and lamps of all sorts and kinds and for all applications, together with a large selection of technical lighting components and accessories, and including outside and street lighting. They are all to be found in halls one (Trendspot Design) to six and ten, as well as in the Forum. The exhibitors' design excellence and expertise will be on display in Frankfurt am Main from 18 to 23 March 2018.
---
Images: R. Eberhard, messekompakt.com, EBERHARD print & medien agentur gmbh
Source: Messe Frankfurt

News
6.4.2020
Covestro Provides Aid in Coronavirus Crisis
6.4.2020
KAESER: High-efficiency Compact Powerhouses
3.4.2020
Interzoo Postponed Beyond 2020
3.4.2020
latakoo Expands In Europe
3.4.2020
AKL 2020: Laser Technology Live Already this Year!
2.4.2020
OPC UA Companion Specification to be Developed for CIP
2.4.2020
Global Semiconductor Materials Market Revenues Slip 1.1% in 2019, SEMI Reports
2.4.2020
6K Launches 6K ENERGY Division
31.3.2020
Intersolar Europe 2020 is Canceled
31.3.2020
spoga horse 2020: Cautiously Looking Ahead
31.3.2020
FESPA 2020 Events to Return to Madrid in October 2020
30.3.2020
SMT Connect will be Postponed
30.3.2020
VDW: New METAV Date Set: Trade Fair to be Held Next Year
30.3.2020
Corona Pandemic Damages Supply Chains in Mechanical Engineering
27.3.2020
Covestro Signs EUR 225 Million Loan Facility with European Investment Bank
27.3.2020
BayWa Ends the Financial Year 2019 on a Successful Note
27.3.2020
Bosch Develops Rapid Test for COVID-19
26.3.2020
Further Expanding Energy Storage at INTERSOLAR North America
26.3.2020
Intersolar Europe 2020: PV Power Plants are Driving the International Market
26.3.2020
messekompakt.com: "We are here for you!"
25.3.2020
PCIM Europe Exhibition and Conference will be Postponed until 28 – 30 July 2020
25.3.2020
AUMA: Corona - Costs of around 3 Billion Euros
25.3.2020
ODVA Looks to the Future at its 20th Annual Meeting of Members
23.3.2020
Covestro Postpones Annual General Meeting
19.3.2020
TDK Joins the Responsible Business Alliance
19.3.2020
Weidmüller Interface: Localised Data Management in the Industrial Internet of Things
19.3.2020
Trina Solar Announces 23.39% PERC Solar Cell
18.3.2020
Lufthansa Group Airlines continue operating to the USA
18.3.2020
International Laser Technology Congress AKL'20 will not take place in Aachen!
18.3.2020
Easyfairs Makes its Exhibition Venues Available to the Authorities
17.3.2020
AUMA: Corona - Costs of Around 3 Billion Euros
17.3.2020
PaintExpo 2020: now from 12 to 15 October 2020
17.3.2020
Interzoo 2020 will be Postponed
13.3.2020
TEFAF 2020: Sales to Both Private and Institutional Collectors
13.3.2020
Beviale Moscow 2020: Postponement and New Date
13.3.2020
Supervisory Board names Frank Weber to Board of Management of BMW AG
13.3.2020
NürnbergMesse: New Date 2020 for MedtecLIVE
11.3.2020
SolarEdge to Supply Enfindus with Inverters for 1GW of European Solar Projects
11.3.2020
Solids Dortmund 2020: FX50 for Recycled Materials
11.3.2020
SCHMOLZ + BICKENBACH with Cautious Optimism for 2020
10.3.2020
Global Fab Equipment Spending Poised for 2021 Record High
10.3.2020
Messe Friedrichshafen Postpones its Aqua-Fisch and IBO Events, Along with their Affiliated Fairs
10.3.2020
New Date 2020 for FENSTERBAU FRONTALE and HOLZ-HANDWERK
6.3.2020
World Energy Issues Monitor 2020 Published by the World Energy Council
6.3.2020
PaintExpo Will Take Place at a Later Date in 2020
5.3.2020
HANNOVER MESSE 2020 is postponed
5.3.2020
SEMICON Southeast Asia 2020 Postponed to 11-13 August 2020
4.3.2020
Light + Building Will Take Place from 27 Sept to 2 Oc 2020
4.3.2020
BayWa ends 2019 With a Significant Improvement in Earnings
4.3.2020
Schuler AG: Group Posts Positive Operating Result in 2019
2.3.2020
Light + Building will take place from 27 September to 2 October 2020
2.3.2020
parts2clean 2020: The International Hub for Component Cleanliness
2.3.2020
New Date 2020 for IWA OutdoorClassics
27.2.2020
Advanced Semiconductor Manufacturing Strategies in AI Era to Highlight ASMC 2020
27.2.2020
RHY ART SALON 2020 in Basel
27.2.2020
KAESER KOMPRESSOREN at the IFAT 2020 in Munich
18.2.2020
upakovka 2020 Report Positive Results and a Good Atmosphere in the Exhibition Halls
18.2.2020
Tim Brosnihan Appointed Executive Director of SEMI MEMS & Sensors Industry Group
14.2.2020
Lackwerke Peters: Climate-friendly Conformal Coating in Electronics
14.2.2020
Organic4trade.com Information Portal goes Online
14.2.2020
IHS Markit Announces 35th World Petrochemical Conference in New Orleans
12.2.2020
SEMI President and CEO Ajit Manocha Set for Induction into Silicon Valley Engineering Hall of Fame
12.2.2020
MeKo: Help for Patients with Nickel Allergies
12.2.2020
Growing ECR Group Elects W?adys?aw Ortyl as its President
11.2.2020
INTERMOT 2020: Modern Concept Sets New Standards in the International Market for Motorcycle
11.2.2020
Perimeter Protection 2020 Breaks New Records
11.2.2020
Arburg at PIAE Europe 2020
10.2.2020
ProSweets Cologne with a Convincing Appearance and High Degree of Exhibitor Satisfaction
10.2.2020
"drupa tages" First Special Show Dedicated to Digital Textile Printing
10.2.2020
SEMI Talent Forum to Help Build Next-Generation Chip Industry Workforce
7.2.2020
Robert Bosch: 90 Years of Bosch Fuel Filters
7.2.2020
JEC WORLD 2020: SAERTEX® Presents Innovations for Diverse Areas of Application
7.2.2020
SolarEdge to Supply Enfindus with Inverters for 1GW of European Solar Projects
3.2.2020
MAPAL: With Additive Manufacturing to More Productivity
3.2.2020
Applications for Best Innovation Start-up Contest Business Priority are In
3.2.2020
Hugh Jones Named CEO at Reed Exhibitions
30.1.2020
Sheikh Mohammed bin Zayed honours the 10 winners of Zayed Sustainability Prize 2020
30.1.2020
JEC World 2020: Fraunhofer ILT - Photonics meets textile engineering
30.1.2020
High-end Lasers for Science and Industry at BiOS & Photonics West 2020
29.1.2020
E-world 2020: Launches New Online Job Market
29.1.2020
embedded world 2020: International Meeting of Embedded Systems Experts
27.1.2020
SCHMOLZ + BICKENBACH Announces Change to the Board of Directors
27.1.2020
Fraunhofer ILT: Cleaning Water with Laser-drilled Filters
27.1.2020
North American Semiconductor Equipment Industry Increases Sales by 17.8% in December 2019
24.1.2020
Stable results for German exhibitions in 2019
24.1.2020
Save the dates for the MES and Industry 4.0 2020
24.1.2020
Jörn Holtmeier New Managing Director of AUMA
23.1.2020
Lufthansa Group Now uses 100% Green Electricity in its Home Markets
23.1.2020
EUROPEAN ROTORS: New and Unique Helicopter Show in Cologne
23.1.2020
Arburg at Chinaplas 2020
22.1.2020
VIVANESS 2020: Natural and Organic Cosmetics Benefit from Megatrends
22.1.2020
Japan Cultural Expo Launches Official Social Media Accounts
22.1.2020
Turnover at Koelnmesse Exceeds 400 Million Euro for the First Time
21.1.2020
VDMA: "Trade policy with China must be reoriented"
21.1.2020
The "Gold Watch 2020" goes to Gerald Böse
21.1.2020
Perimeter Protection 2020 Breaks New Records
20.1.2020
Frank Klingemann New Managing Director at Schuler
20.1.2020
More Stability and Reliability for Lufthansa Group Customers
17.1.2020
Messe München Celebrates a Mega Year of Records
17.1.2020
Koelnmesse India: Milind Dixit is new Managing Director
17.1.2020
Gantner Supplied Solutions for More than 1 GW Solar Power in 2019
17.1.2020
BMW M GmbH: Best Result in the Almost 50-year Old Company History
16.1.2020
Munich Airport and Lufthansa shape sustainable future
16.1.2020
TDK: Powerful Ferrite Magnetic Design Tool
16.1.2020
Bosch Packaging Technology is now Syntegon
15.1.2020
Mobile India 2020 Expo is a Popular Playground for Mobile Accessories Brands
15.1.2020
Guido Frohnhaus to take over as Managing Director Technology & Engineering at Arburg
15.1.2020
SEMI ISS 2020: Data Driven Innovation and Growth
14.1.2020
New MINI Electric is Designed to be CO2 Neutral
14.1.2020
BIOFACH and VIVANESS 2020 Congress Programme Now Online
14.1.2020
Perimeter Protection 2020 Sets New Benchmarks
13.1.2020
ART INNSBRUCK is Preparing a Great Special Show by the British-Cypriot Artist John Kiki
13.1.2020
Evonik Focuses on Additives for Plastics and Rubber Recycling
13.1.2020
SolarPower Summit 2020 in Brussels
13.1.2020
The date for the Bright World of Metals 2023 has been set
8.1.2020
PaintExpo 2020: Trend-Setting Solutions for Sustainable Painting Processes
8.1.2020
The BMW Group at the Consumer Electronics Show 2020 in Las Vegas
6.1.2020
Denis Steker Named Member of the Koelnmesse Expanded Management Committee
6.1.2020
Lufthansa Group Plans More than 4,500 New Hires in its Home Markets for 2020
3.1.2020
VDMA: Take Measures Against Extra-territorial Sanctions!
3.1.2020
Covestro Closed Sale of European Polycarbonates Sheets Business to Serafin
30.12.2019
Messe Frankfurt Generates €733 Million in Sales
30.12.2019
Koelnmesse: Stefanie Mauritz named Director Anuga
30.12.2019
ART INTERNATIONAL ZURICH 2020: Art Forum for Lively Exchange
23.12.2019
Meyer Burger: Closure of the site in Zülpich (Germany)
23.12.2019
SCHMOLZ + BICKENBACH AG Successfully Concludes Share Offering
20.12.2019
Reduced Catering on Lufthansa Flights
20.12.2019
Meyer Burger divests Meyer Burger (Netherlands) B.V.
20.12.2019
CCE Group Officially Announces the Start of Construction of its Large-scale "La Huella" PV Project
17.12.2019
FLEX and MSTC 2020 to Showcase Flexible Hybrid Electronics and MEMS
17.12.2019
SEMI-Bericht mit stärkerer 2020-Prognose
17.12.2019
Arburg at Plastec West 2020: Focus on Automation and Digitalisation
16.12.2019
Lufthansa Fills Important Airline Leadership Positions
16.12.2019
Tenth Record-Breaking Year in a Row for ZEISS
16.12.2019
VIVANESS 2020: Trailblazer for the Natural and Organic Cosmetics Sector
13.12.2019
LayTec to Equip New RIBER Cluster-tool for CIGS with Multiple Metrology Systems
13.12.2019
State of Extremes Now Open at Design Museum Holon
13.12.2019
European Technology and Innovation Platform for Photovoltaics Fully Supports the European Green Deal
12.12.2019
Koelnmesse Discontinues art berlin for the Time Being
12.12.2019
PCIM Asia Conference Call for Papers and Speaker Applications Open
12.12.2019
Wolfram N. Diener becomes new President & CEO at Messe Düsseldorf GmbH
10.12.2019
glasspex INDIA 2019: Creating a New Story on the Growth Path
10.12.2019
SEMICON Japan 2019 Opens Tomorrow
10.12.2019
Lufthansa realigns Executive Board
6.12.2019
Wolfram N. Diener becomes new President & CEO at Messe Düsseldorf GmbH
6.12.2019
FENSTERBAU FRONTALE 2020: Craftsmanship Meets Technology
6.12.2019
Andina Pack 2019: Strong International Presence
4.12.2019
MEDICA and COMPAMED Hold Their Own in a Demanding Market Environment
4.12.2019
Oliver Frese named Chief Operating Officer of Koelnmesse
3.12.2019
LUFTHANSA: Supervisory Board gives go-ahead for sale of LSG Group's
29.11.2019
Lackwerke Peters: Inkjet Solder Resists for Digital Manufacturing
29.11.2019
IPB 2019 a Big hHt With Exhibitors and Visitors
28.11.2019
Arburg at Interplastica 2020: High-performance for the Packaging Industry
28.11.2019
AKL'20: Improving Productivity through Digitization in the Laser Industry
27.11.2019
Lufthansa Executive Board approves sale of the European business of the LSG Group
26.11.2019
Covestro: Waste, plants, CO2 – the resources of the future
26.11.2019
BIOFACH 2020: The "Place To Be" for the International Organic
25.11.2019
Evonik expands production capacity for ROHACELL® foams in the US
21.11.2019
Arburg at the Swiss Plastics Expo 2020
21.11.2019
Hannover Messe 2020: Keen Interest in Artificial Intelligence
21.11.2019
New Signing and a Focus on Production for XJet at Formnext
20.11.2019
BASF invests US$ 4 Million in AgVentures II Fund Managed by SP Ventures
20.11.2019
Software AG Joins the Open Data Initiative
20.11.2019
Schuler Captures Indian Market with Yadon
19.11.2019
Alibaba Group Generated US$12 Billion of GMV in the First Hour of the 2019
19.11.2019
Closing of the sale of the Meyer Burger software business to S&T AG
18.11.2019
Formnext 2019: 285 new exhibitors from 29 nations
18.11.2019
opti 2020: Focus on Contact Lenses
18.11.2019
BMW at the Los Angeles Auto Show 2019
14.11.2019
Roscongress Foundation Takes Part in UNIDO General Conference
14.11.2019
SCHMOLZ + BICKENBACH Suffers from Poor Market Situation
14.11.2019
Coherent Improves Metal 3D Printing Capabilities for the Dental Industry
13.11.2019
Silicon Wafer Area Shipments Fall for Fourth Consecutive Quarter
13.11.2019
SEMICON Europa Opens with SMART Mobility, MedTech, Design and Talent in Spotlight
11.11.2019
Signing Ceremony im Rahmen Messe CIIE in Shanghai, China
11.11.2019
Art Düsseldorf 2019: International Performance with Strong Cooperation in the Region
8.11.2019
BDI: The EU is the Solution – Not the Problem
8.11.2019
VDMA: Euro Zone Orders are a Small Ray of Hope
8.11.2019
Meyer Burger Signed an Important Framework Contract
7.11.2019
Baltic Sea Region Aims to Tap Potential of Tech Events
7.11.2019
Lufthansa Group achieves an Adjusted EBIT of EUR 1.3 billion in the third quarter
7.11.2019
SolarEdge Announces Third Quarter 2019 Financial Results
6.11.2019
BIOFACH AMERICA: Satisfied Exhibitors and a Unique Range of Products
6.11.2019
Smart Energy Week 2020: Help shape the education for the largest energy event in North America
5.11.2019
VDMA: "Fender bender in the market economy."
5.11.2019
Covestro Closed Sale of European Systems Houses Business to H.I.G. Capital
5.11.2019
Closing of the Sale of the Meyer Burger Company Building
31.10.2019
COLOGNE FINE ART 2019: Podium Discussion on the Development of the Art Market for Ancient Art
31.10.2019
Covestro Supports Chem Startup Award
30.10.2019
Second Quarter of 2019: Solid Core Volume Growth in a Difficult Environment
30.10.2019
Kögel Exhibits at Solutrans 2019
29.10.2019
Global MEMS and Sensors Fab Capacity to Grow 25 Percent Through 2023, SEMI Reports
28.10.2019
Barbara Leithner Promoted to Management Team at Reed Exhibitions Austria
28.10.2019
Covestro Generates Strong Volume Growth
25.10.2019
Meyer Burger is Selling its Software Business to S&T AG for CHF 14 Million in Cash
25.10.2019
K 2019: Arburg Sets Trends
24.10.2019
SCHMOLZ + BICKENBACH Lowers Guidance for Fiscal Year 2019
24.10.2019
Meyer Burger Receives a Further Partial Order from Oxford PV for about CHF 18 Million
24.10.2019
225,000 Visitors at the K 2019 in Dusseldorf (Germany)
23.10.2019
SCHMOLZ + BICKENBACH Plans Capital Increase
23.10.2019
North American Semiconductor Equipment Industry Posts September 2019 Billings
23.10.2019
Meyer Burger sells company building to Helvetica Swiss Commercial Fund
22.10.2019
BIOFACH and VIVANESS: Jane Goodall to Give Keynote Address at Opening of Combined Trade Fair
22.10.2019
K 2019: Covestro- Employees become Founders
18.10.2019
Discovery Art Fair Frankfurt 2019 presented Contemporary Art
18.10.2019
Germany & Silicon Valley: Shaping a Shared Digital Future
18.10.2019
Meyer Burger: REC Group Starts Mass Production of New Alpha Panels
17.10.2019
Research Project Investigates Energy System Transformation in Industry
17.10.2019
German Mobility Start-up Enters US Market
17.10.2019
Zeitgeist Event "Tradition meets Future"
16.10.2019
Suntrace and BayWa r.e. Support B2Gold in Implementing the Fekola Solar Project
16.10.2019
EIT Turns up the Volume on Creative & Cultural Industries
16.10.2019
Extraordinary Shareholders' Meeting of Meyer Burger Technology Ltd
15.10.2019
Preparations in full swing for GaLaBau 2020
15.10.2019
Cloos Schweisstechnik: Efficient Welding of Small Batch Sizes Without Programming Effort
15.10.2019
Messe Düsseldorf Moscow Celebrates Anniversary
14.10.2019
Satys Announces its Takeover of ATE's Paint Site in Châteauroux (France)
14.10.2019
Covestro Plans to Promote Circular Economy
11.10.2019
ZEISS and Senorics Establish Partnership
11.10.2019
HRSflow at K 2019 in Dusseldorf (Germany)
11.10.2019
K 2019: When Antimicrobial Silicone and 3D Printing Become One!
10.10.2019
Hamburg Boat Show Sails Out Into the Colorful World of Water Sports
10.10.2019
Leading the Way with INTERNORGA 2020
10.10.2019
it-sa 2019: Experts make Nuremberg the "Home of IT Security"
9.10.2019
Carsten Spohr and Armin Laschet Promote Sustainable Technology in Aviation
9.10.2019
Broadband World Forum 2019: DECT Forum Showcases Smart Home IoT at the Fair
9.10.2019
SEMICON Taiwan 2019 Opens with Smart Tech, Innovation, Digital Future in Spotlight
8.10.2019
Outcomes of the Russian Energy Week International Forum 2019
8.10.2019
SolarEdge Files Three Patent Infringement Lawsuits Against Huawei in China
8.10.2019
EU: EIB Lends Fazua EUR 12 Million
7.10.2019
SEMI, SUNY Poly Awarded $6 Million National Science Foundation Grant for Pilot Program
7.10.2019
MOTEK & BondExpo 2019: Arena of the Future!
7.10.2019
Alexander Novak and Mikhail Kotyukov Hold 'Dialogue as Equals' as Part of REW 2019 Youth Day
4.10.2019
Agenda and Proposals for Extraordinary Shareholders' Meeting 2019
4.10.2019
BlechExpo 2019: Upgrading servo presses for Industry 4.0 with Schuler
4.10.2019
Coperion: Digital Solutions for Networked Plastics Production
3.10.2019
Natural Gas Fuel Development Strategy to Accelerate
3.10.2019
Futurebuild Events and Easyfairs Management Teams Collaborate
3.10.2019
Fine Art Asia is the leading fine art fair in Asia
2.10.2019
BIOFACH INDIA: India's Must-do Event for the Organic Industry goes Into its 11th Round
Mobile Website
Our website also works on IPhone, IPad and Co.