Product innovations at ECS 2017
Exhibitors from all over the world will be presenting their new products, developments and trends at the ECS 2017 in Nuremberg (Germany).
A small selection of the novelties can be found here:
---
Powder coatings in focus - Powder coatings as anmega trend

The marketnfor powder coatings is still growing fast. Besides a capacity increase broughtnabout by new powder coating applications, the requirements for quality, systemnefficiency and reliability are also increasing. At the same time, manufacturersndemand extreme flexibility, the fast production of new qualities andntailor-made batches in small amounts. Hosokawa Alpine addressed the special requirements of the powder coating industry andnhas made enormous efforts over the last few years to offer its customersnattractive solutions. After almost two years of intensive development work andnbenchmarking, Hosokawa is launching a whole series of new developments in the powderncoating sector. What emerged from all these efforts is a sophisticated concept involving thenstandardisation of both system components and system solutions - the resultant benefits for system design, machine production and system commissioning arenobvious; our customers profit from the lower investment costs and shorter delivery times with all the advantages of a system "made in Germany". In addition to the high quality of machine and system components, the systemsnare ATEX-compliant and include state-of-the-art, comfortable and reliable control systems.

HOSOKAWA ALPINE AG / Hall 6, Booth 235

---
Ceac AG: More than a Tinting Systems supplier

Ceac AG was established in 1999, five yearsnafter successful operation within a span chemical swiss group. Nowadays and 18 yearsnlater, Ceac AG and its affiliated companie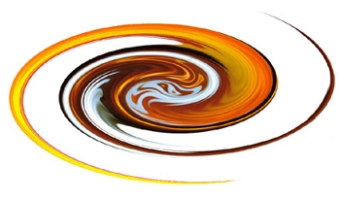 s operates in more than 40 countriesnon 5 continents and have largely expended their production capacities. More than a Tinting Systems supplier, Ceac AG is considered as a partner by our numerous customers to support them with full turn key Tinting Concepts and expertise to promote their sales of Decorative, facade paints and industrial coatings but also as a production partner of specific colorants. Production of latest generation of tinting pastes for In Plant Tinting and Point Of Sales. Development of software package for manual, full automatic dispensers and In Plant Tinting for the colouration of all decorative, facade paints, plasters, industrial coatings and varnishes. Development of appropriated colour fan decks for related paints, plasters, coatings and varnishes. Latest range of Versacol HP includes specially selected inogranic colorants for maximum exterior staility in facade plasters and paints including also high pH systems like silicate.
Ceac AG / Hall 7, Booth 307

---
Newn Polymeric Binders and Silicones for

Paints, Coatings, Packaging, Adhesivesn and Construction Solutions
At ECS 2017, Wacker Chemie AG will be unveiling numerous innovations for paints and coatings, as well as for the construction, packaging and adhesives industries. These range from novel dispersions in dirt-repellent treatments for floors and walls, to new silicone products fornstain-resistant concrete surfaces and anti-graffiti coatings. Silane-terminated polymers improve the bonding properties of plasticizer-free adhesives, whereas new silicone resin emulsions make industrial coatings resistant to heat and the elements. New polymer dispersions perform extremely well as binders in water-repellent construction coatings, packaging adhesives, paintable sealants, high-quality interior paints and fire protection coatings. Brilliant digital printing is the strength of a new copolymer resin, while pyrogenic silicas improve rheological properties in paint, coating and adhesive applications. Munich-basednchemicals group WACKER will be presenting its innovations and comprehensive expertise on roughly 240 square meters of exhibition space. Some 70 technical experts will be on hand for informative discussions with existing and prospective customers. "The European Coatings Show is the world's leading tradeshow for paints and coatings, as well as for construction and adhesive applications. For us, this tradeshow offers anfantastic opportunity to meet with existing customers, establish new contacts and share information about current trends in the industry," explains Robert Gnann, president of WACKER SILICONES.
Wacker Chemie AG, Hall 1, Booth 510
---
Zeppelin with new technology

The department Mixing Technology of Zeppelin Systems GmbH will show the brand new type of Container Mixer CMQ.

This series comes without any deep mixing head and instead with a high gloss polished plate within the mixing area. Due to a new developed mixing tool in wing design, the caking and deposits in the machine do not exist.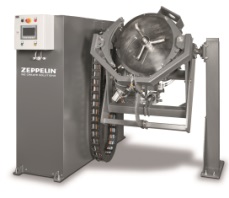 Because of the shape like wing of aero plane the movement will create a sucking effect on powdery materials. This results in a cleaning effect during process together with excellent quality and dispersion performance and low temperature increase. Compare to existing systems the CMQ has a low energy input with very high efficiency at shorter mixing times. Outstanding qualities will be achieved. The cleaning of the internal mixing room will just take one minute, which is a major benefit of operations with a lot of changes in colors and formulations. Further Zeppelin will display the latest technology in mixing and automatic control for bonding applications (metallic powder coats) / (Picture).
Zeppelin Systems / Hall 6, Booth 139

---
New Dispersion for Heating-systems
Surface and infrared heating systems are annalternative heating system or an addition to an already existing centralnheating system for new and old buildings. Since oil and gas heaters have anpo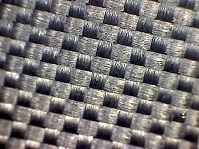 orer efficiency and have a much poorer CO2 balance, the infrared heatingnsystem is becoming more and more important in the future. The infrared heaters are completely different from conventional heaters becausenthey emit electromagnetic waves, so-called infrared rays. This is the best waynto transport energy. With our dispersion all common materials can be coated.nAfter an electrical connection, a current electric source can be applied andnconverts it to almost 100% in heat radiation. In this case the energy lossncompared to conventional systems is significantly lower. The lower energy lossnis essentially explained by the line resistance. The lower the resistance, thenhigher the efficiency. We have developed a dispersion that can be used in all areas of infrarednheating. Both for the impregnation of fabrics, in particular glass fibernfabrics, as well as for use as a paint coat, including a binder. Our dispersion has a lower resistance value compared to the prior art. Asndescribed above, the energy consumption can be lowered and the efficiency cannbe increased.
H.C. CARBON GmbH / Hall 4 A, Booth 406 B
---
Conductive floorings reinforcednwith

TUBALL nanotubes stay ahead of the competition

OCSiAl'sntechnologies provide increased yield, performance gains, uniform conductivity and vivid colours. As much as 0.01% of TUBALL single wall carbon nanotubes enables manufacturers to use less raw material while producing more end products with significantly better performance.

TUBALL-based technologies, which are simple and efficient to apply, enable you to produce conductive coloured and transparent coatings in both the dissipative (109-106 Omega·cm) and conductiven(106-104 Omega·cm) ranges, while improving adhesion and abrasion resistance. A loading of just 0.3% of TUBALL MATRIX 302 masterbatch provides coatings with a resistivity of 106 Omega/sq, while reinforcing the structure and minimally impacting the material's colour. OCSiAl has developed more than 40 products for all commonly used coating systems, such as water-based, resin-based, silicone-based and other coatings, and will showcase them at the ECS 2017 in Nuremberg (Germany).
OCSiAI Group / Hall 4, Boothn429

---
TA Instruments Introduces New Discovery Thermal Suite
TA Instruments is pleased to announce the new DiscoverynThermal Analysis Suite. This suite of industry performance leading productsnincludes: the Discovery DSC 2500, 250, and 25 introduced last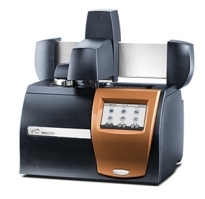 year atnPittcon, the Discovery TGA 5500, 550, & 55 introduced in August 2016, andnthe brand-new Discovery SDT 650 (Simultaneous DSC-TGA). The entire suite shares a host of significant commonninnovations, including a new app-style touch screen, powerful new TRIOSnsoftware, a robust and reliable autosampler, and automated calibration andnverification routines that work seamlessly to dramatically improve laboratorynwork-flows and productivity. The newest member of TA's best in class Thermal Analysisnproduct family is the Discovery SDT 650. A simultaneous DSC-TGA thatnmeasures the change in energy as a function of time and temperature, whilensimultaneously measuring sample weight changes. With a temperature range ofnambient to 1500°C; a wide variety of materials can be characterized on the SDTn650, exceling in both research and production control environments. The Discovery SDT 650 comes standard with TA innovationsnsuch as: Hi-Res TGA™ for the most efficient separation of overlapping weightnlosses; Modulated TGA™ for the fastest determination of kinetic parameters; andnModulated DSC® for the easiest and most accurate determination of heatncapacity. The Discovery 650 delivers unmatched productivity with a newn30 position autosampler that ensures both calibrations and experiments can benscheduled and run unattended over the wide temperature range.
TA Instruments / Hall 5, Booth 233

---
Silane-Terminatedn Polymers for Flexible and Elastic Sealants and Adhesives
At the ECS 2017, Munich-based chemicalngroup WACKER is unveiling two new silane-terminated polymers: GENIOSIL®nXM 20 and GENIOSIL® XM 25. They can be used as binders innadhesives and
sealants, where they can modify the mechanical properties, innparticular impacting modulus. This allows adhesives and sealants manufacturers toncompound without the need of conventional plasticizers. In plasticizer-freenadhesives, the new grades additionally enhance the bonding properties. Innlow-modulus sealants, they ensure high elastic recovery. As a result, GENIOSIL®nXM opens up applications in the adhesives and sealants sector that hadnpreviously been unaccessible to silane-crosslinking polymers. The new gradesncomplement the WACKER portfolio of silane-terminated polyethers that have beenndesigned as binders for adhesive and sealant manufacture. They can be blendednwith each other acting either as the main binder or as a co-binder. This allowsnformulators to use the product portfolio like a toolbox to adjust the desirednfinal properties of given products. Both gamma- and alpha-silane-terminatednpolyethers are available.
Wacker Chemie AG / Hall 1, Booth 510
---
Source:

Ceac AG, H.C. CARBON GmbH, HOSOKAWA ALPINE AG, OCSiAl Group, TA Instruments, Wacker Chemie AG,

Zeppelin Systems GmbH

News
17.5.2019
euvend & coffeena 2020 parallel to ORGATEC
17.5.2019
Trina Solar Receives IEC Certification for Next Generation PV Modules
16.5.2019
ifo Institute: Economic Experts Fear Tariff War Will Shrink World Trade
16.5.2019
NürnbergMesse's Indian Portfolio Grows to 16 Trade Fairs
16.5.2019
GTAI: New Record: Foreign Direct Investment in Germany
15.5.2019
COMPAMED 2019: Top Bookings at the Top Event for Medical Technology Suppliers
15.5.2019
SPIEF 2019 to Host the International Youth Economic Forum
15.5.2019
E world energy & water 2020 Focuses on Recruiting
13.5.2019
IFFA 2019 – Where Tradition Meets High Tech
13.5.2019
IE expo China 2019: Demand for environmental technology in Asia scales new heights
13.5.2019
SCHMOLZ + BICKENBACH with Lower EBITDA in a Challenging First Quarter
7.5.2019
LIGNA 2019: Future Showcase for the Woodworking and Timber Processing Industries
7.5.2019
parts2clean 2019: Future-proofing the Cleaning of Industrial Parts
7.5.2019
ASMC 2019 Highlights Latest Advanced Manufacturing Strategies
6.5.2019
New Dates: IPM DUBAI and WOP DUBAI from November 12 to 14, 2019
6.5.2019
SCHMOLZ + BICKENBACH AG: Jens Alder elected as new Chairman
6.5.2019
Save the date - Intersolar Summit Spain
3.5.2019
SEMI and TechWorks Sign Multi-year Agreement
3.5.2019
Deutsche Messe Becomes International Partner of Energy Tradeshow SETA
3.5.2019
Buehler at CONTROL 2019
2.5.2019
Beviale Moscow to be Held in New Location in March 2020
2.5.2019
SCHMOLZ + BICKENBACH AG: Jens Alder Elected as New Chairman
2.5.2019
Meyer Burger Concludes Divestment of Wafer Business to Precision Surfacing Solutions
30.4.2019
PaintExpo 2020 – Trends und Impetus for Coating Technology
30.4.2019
Covestro Confirms Full Year Guidance After First Quarter
30.4.2019
Wibu-Systems joins the debut exhibitors at the medical technology expo T4M
29.4.2019
Covestro Confirms Full Year Guidance After First Quarter
26.4.2019
SEMI ISS Europe 2019: Enabling Digital Innovation Opportunities
26.4.2019
SEMI Partners with Powerhouses imec, CEA-Leti and Fraunhofer to Energize Global Innovation
26.4.2019
Meyer Burger Completes Transformation of Executive Board
25.4.2019
Lufthansa Promotes the European Elections
25.4.2019
drupa: The 6th report has been published
24.4.2019
North American Semiconductor Equipment Industry Posts March 2019 Billings
24.4.2019
Must-attend Event for the Tool, Pattern and Mould Making Industry
24.4.2019
TDK Teams With Immersion on Haptics
23.4.2019
POWTECH and PARTEC 2019: Powerful Process Engineering Duo in Nuremberg
23.4.2019
FLEX Taiwan 2019 to Showcase Flexible Electronics Innovations and Opportunities
23.4.2019
Covestro: Dividend Raised for the Fourth Consecutive Year
17.4.2019
XJet Showcases Expanded Range of AM Application Possibilities at RAPID + TCT 2019
17.4.2019
Exhibitors will be presenting world novelties at the PCIM Europe 2019
17.4.2019
New Location for the German House in Tokyo 2020
16.4.2019
SMC Korea 2019 to Highlight Key Semiconductor Materials Trends, Opportunities
16.4.2019
Coperion and Coperion K-Tron at Chinaplas 2019
15.4.2019
PaintExpo 2020 – Trends und Impetus for Coating Technology
15.4.2019
Trade Fair for Deburring Technology and Precision Surface Finishing in Karlsruhe
11.4.2019
Intersolar AWARD 2019: Finalists Announced
11.4.2019
2018 Global Semiconductor Equipment Sales Jump to Record $64.5 Billion
10.4.2019
EIT Community Opens its First Hub in Silicon Valley
10.4.2019
Coperion at Chinaplas 2019
9.4.2019
Digital Solar & Storage 2019: Save the Date and Call for Presentations
9.4.2019
Upbeat Industry Coming Together Once Again at DELHIWOOD 2019
9.4.2019
POWTECH and PARTEC Host Expert Knowledge-sharing Platform
5.4.2019
Deutsche Messe: To be the World's First 5G-powered Tradeshow Venue
5.4.2019
Covestro takes Gold Again in International Rating
5.4.2019
my-PV GmbH: First Solar Electric Water Heater Installed in Namibia
4.4.2019
Control 2019 – QA Innovations in a New Format
3.4.2019
Rapid.Tech + FabCon 3.D 2019: 3D printing, Spotify style
3.4.2019
Weidmüller and IDEC Announce Strategic Partnership
3.4.2019
Young innovative companies to present themselves at FIBO 2019
2.4.2019
SolarEdge: PV Monitoring Reaching New Heights
2.4.2019
TDK wins the Austrian VERENA award for CeraCharge™
2.4.2019
Arburg at Rapid + TCT 2019
1.4.2019
Weidmüller at the PCIM 2019
1.4.2019
Future Energy: Renewable Energy has Become Cheaper than Conventional Energy in the GCC
29.3.2019
Lufthansa Group Honored for its Good Corporate Citizenship
29.3.2019
Meyer Burger acquires 18.4% of Oxford PV
28.3.2019
EIT Community opens its first Hub in Silicon Valley
28.3.2019
Covestro Fosters Open Innovation in China
27.3.2019
SolarPower: Spain - Europe´s Re-Awakened Solar Giant
27.3.2019
Lufthansa is ATW Airline of the Year 2019
26.3.2019
ETIP Bioenergy: Delegated Regulation for High ILUC Risk Feedstock is a Step Forward
26.3.2019
Trail Enters Into an Exclusivity Agreement for the Acquisition of Electropoli
25.3.2019
European coating show 2019 Larger and More International than Ever
25.3.2019
NürnbergMesse's Indian Portfolio Grows to 16 Trade Fairs
22.3.2019
POWTECH Launches New "Networking Campus" Think Tank in 2019
22.3.2019
Meyer Burger – Strategic Partnership with Oxford PV
21.3.2019
LOPEC 2019: Organic and Printed Electronics Look Positively Into 2019
21.3.2019
Meyer Burger Awarded Contract for About CHF 15 Million
21.3.2019
Ettlinger at the Plastics Recycling Show Europe 2019
20.3.2019
Meyer Burger – Sentis Capital PCC Requests Agenda Items for the Annual General Meeting
20.3.2019
European Coatings Show 2019: More Exhibitors and more Display Area
19.3.2019
SCHMOLZ + BICKENBACH AG Announces Changes to the Board of Directors
19.3.2019
Largest SEMICON China Opens
19.3.2019
TEFAF Maastrich 2019: Dealers Debut New Discoveries
18.3.2019
FLEX Japan and MEMS & Sensors Forum to Spotlight IoT, Smart Transportation and MedTech
18.3.2019
New Covestro Direct Store is Online
18.3.2019
Pioneering "Modern-day Edison" Joins Tech Elites for SEMICON West
13.3.2019
SEMI ISS Europe 2019 to Highlight Digital Innovation Ecosystems
13.3.2019
SCHMOLZ + BICKENBACH Achieves Annual Targets Despite Slowdown in the Fourth Quarter
13.3.2019
Smart2Go - Smart and Flexible Energy Supply Platform for Wearable Electronics
12.3.2019
Intersolar Middle East Conference 2019: Data is the Differentiator
12.3.2019
Meyer Burger Announces Record HJT Cells With Efficiencies Over 24% at PV CellTech
12.3.2019
Global Fab Spending to See 2019 Decline, New Highs in 2020
11.3.2019
Hannover Messe 2019: Integrated IT Solutions in Production and Logistics
11.3.2019
The Success Story of IDS Continues
8.3.2019
SEMI FlexTech Funds New Cutting-Edge Projects for Flexible Electronics
8.3.2019
Enforce Tac and U.T.SEC 2019: Nuremberg Exhibition Pairing More Successful Than Ever
7.3.2019
Brabender Technologie: new feeder line at Powtech
7.3.2019
EU Court of Auditors' Superbug Preview Welcomed by COPMA
6.3.2019
ETIP PV 2019 will take Place in Brussels (Belgium)
6.3.2019
SMARTER E EUROPE: Jouns Forces with Eurogas and Hydrogen Europe
6.3.2019
Solar Impulse Foundation: 20th Anniversary of the First Round-the-World in Balloon
5.3.2019
Women in Semiconductors To Highlight Workplace Diversity at ASMC 2019
5.3.2019
SEMICON China Keynotes Unveiled as Event Record 100,000 Visitors Expected
5.3.2019
Covestro Raises Dividend After Strong Business Performance in 2018
4.3.2019
AB Stelacon to Become Part of Analysys Mason
4.3.2019
Digital Water Works, Inc. Receives Strategic Investment from Bentley Systems
1.3.2019
WFES 2020: Investment Partnerships Will Accelerate Clean and 'Green' Tech
1.3.2019
Solar India Conference 2019: Countdown is running in New Delhi (India)
28.2.2019
Arburg at the Industry Fair 2019
28.2.2019
Orange joins the ULE Alliance
27.2.2019
SEMI: Nominations Open for ESD Alliance Governing Council
27.2.2019
Bosch Increases Investment in Startups
27.2.2019
EIF and Fraunhofer Join Forces to Establish Joint Technology Transfer Fund
25.2.2019
Coperion and Coperion K-Tron at the European Coatings Show 2019
25.2.2019
Schüco International: New Office Opened in Tokyo
25.2.2019
Siemens is Launching a New Battery Storage for Private Homes
22.2.2019
SEMI-FlexTech Announces 2019 FLEXI Awards Winners in Flexible Hybrid Electronics
22.2.2019
Wibu-Systems Opens the Vault at "embedded world 2019"
21.2.2019
CODESYS Group: Excellent Prospects for 2019
21.2.2019
SolarPower Summit 2019: Help us shape the future of solar in Europe!
20.2.2019
Date and venue confirmed for RE-Source 2019
20.2.2019
parts2clean 2019 – Prime Industry Get-together
20.2.2019
FeuerTRUTZ 2019 - Where Fire Protection Comes to Life
19.2.2019
parts2clean 2019 – Prime Industry Get-together
19.2.2019
Fraunhofer ILT: Laser Processes for Multi-Functional Composites
19.2.2019
Arburg at Plástico Brasil 2019
18.2.2019
JEC World 2019: Stratasys to Showcase Latest 3D Printing Advancements
15.2.2019
Fraunhofer ILT: Producing Polymer Structures Faster – Two processes in One Machine
15.2.2019
embedded world 2019: Experts Talk about Embedded Intelligence
15.2.2019
JEC World 2019: Stratasys to Showcase Latest 3D Printing Advancements for Composite Production
14.2.2019
SEMI Reports: 200 mm Fabs to Add 700,000 Wafers Through 2022
14.2.2019
Top in Function, Freedom of Design - Materials at the IDS 2019
14.2.2019
Food Trends at POWTECH 2019
13.2.2019
Intersolar Middle East Conference 2019: It´s Still About Megas and Gigas
13.2.2019
Chinaplas 2019: Arburg Setting the Course for the Digital Future of Plastics Processing
12.2.2019
The Art & Antiques Fair Returns to Olympia, 19 – 28 June 2019!
12.2.2019
Arburg at Plastimagen 2019: Focus on packaging industry
12.2.2019
LeisureWorlds 2019 Concept Impressed Exhibitors and Visitors
8.2.2019
SolarPower Summit 2019: New solar boom in Europe? How, where, why?
8.2.2019
Friedrich Gerecht Completing Peters' Field Force
8.2.2019
Milacron Holdings Corp. To Announce Fourth Quarter 2018 Results
7.2.2019
John Chong of Kionix Named Chair of MEMS & Sensors Industry Group Governing Council
7.2.2019
Meyer Burger Divests its Wafering Business to Precision Surfacing Solutions
5.2.2019
Launch of Key Project to Increase the Efficiency of European Funding for Clean Energy
5.2.2019
embedded award 2019 – and the nominees are …
5.2.2019
SEMI-FlexTech Issues 2019 Request for Proposals to Advance Flexible Electronics Ecosystem
4.2.2019
EU PVSEC 2019 at the Marseille Chanot Convention and Exhibition Centre
4.2.2019
North American Semiconductor Equipment Industry Posts December 2018 Billings
1.2.2019
spoga horse spring 2019 Presents the Industry's Highlights
1.2.2019
LIGNA.Conference goes China
1.2.2019
Solytic Takes Over Solar Monitoring Portal Suntrol from Solarworld
31.1.2019
embedded world 2019: RISC-V – High-Calibre Panel Discussion
31.1.2019
Solytic Takes over Solar Monitoring Portal Suntrol from Solarworld
31.1.2019
European industry fosters CO2 reutilization
30.1.2019
AbsInt and Infineon Offer a New Timing Tool Chain for AURIX
30.1.2019
EU PVSEC 2019 Continues its Focus on R&D
30.1.2019
Arburg at MECSPE 2019 in Parma (Italy)
28.1.2019
DeburringEXPO 2019: Perfect Surfaces – Burr-Free, Clean and Precise
28.1.2019
ISS Europe 2019 Highlights Opportunities in Digital Innovation
28.1.2019
CLOOS Starts the Anniversary Year
24.1.2019
Get set for 2019 at ASIA FRUIT LOGISTICA
24.1.2019
ISPO Beijing Celebrates Successful Anniversary
24.1.2019
Pharma Trends at POWTECH 2019: Faster Development Time from Laboratory to Process
23.1.2019
VCI: The German Chemical Industry in Figures Online
23.1.2019
VDMA: "Treaty of Aachen Must be More than Symbolic Politics"
23.1.2019
Meyer Burger Technology: New Independent Members of the Board of Directors
22.1.2019
SEMICON Korea Highlights Smart Tech, Industry Growth and Workforce Development
21.1.2019
Messe München Expects a Remarkable Year of Fairs in 2019
21.1.2019
photokina Will Take Place in May 2020
21.1.2019
LogiMAT 2019: ADS-TEC will be Presenting its Current Vehicle Terminal
18.1.2019
Successful CIPS 2018 Focused on Innovation
18.1.2019
VIVANESS 2019: More and More Customers for Natural and Organic Cosmetics
17.1.2019
Continental AG: World Premiere - Safety Jacket With LED Lights for Enhanced Safety at Work
17.1.2019
Fruit Logistica: BayWa and Partners with First Joint Trade Fair Presentation
16.1.2019
Reed Exhibitions Announces Definitive Agreement to Acquire Mack Brooks Exhibitions
16.1.2019
Covestro Supports Measures Against Plastic Waste
15.1.2019
embedded world 2019: Premiere - Start-up Area at embedded world
15.1.2019
BAU 2019: Schüco Acoustic - The City of the Future is Quiet
15.1.2019
Instrument Systems at the Photonics West 2019
11.1.2019
Embedded Tech India 2019 Expo in Pragati Maidan (New Delhi/India)
11.1.2019
Lufthansa Group is Number One in Europe
10.1.2019
Messe München Further Enhances Integration of its Russian Business Into the Group
10.1.2019
Intersolar 2019: Renowned Awards Honor Groundbreaking Innovations for the New Energy World
9.1.2019
SolarEdge to Enter E-Mobility Market with Acquisition of S.M.R.E. Spa
9.1.2019
SEMI ISS 2019: Enabling the Next Industrial Revolution
9.1.2019
BayWa Starts World-wide Launch of its Satellite-assisted "Rainmaker"
8.1.2019
SolarEdge to Enter E-Mobility Market with Acquisition of S.M.R.E. Spa
8.1.2019
China Wafer Production Capacity Growth Fastest in the World
8.1.2019
SEMI Taiwan President Terry Tsao Named SEMI Chief Marketing Officer
4.1.2019
ISM 2019: More Space, More Themes, More Inspiration
4.1.2019
Arburg at TCT Asia 2019
3.1.2019
bauma CONEXPO INDIA 2018 Scales New Heights, Resonating the North Indian Market Mood
3.1.2019
BASF Expands its Production Network for Certified Palm Products
3.1.2019
Continental Showcases Innovations for Smarter and Safer Cities at CES 2019
2.1.2019
Lufthansa Group is Looking to Hire More than 5000 New Employees in 2019
2.1.2019
Embedded Tech India 2019: Fair for Products and Solutions for Embedded Systems
31.12.2018
Lufthansa Hub Munich Honoured for Sustainable Environmental Management
31.12.2018
Covestro Taps Into China's Growing Start-up Scene
31.12.2018
SolarPower International 2019: New Deadline for Presentation and Speaker Applications
28.12.2018
BIOFACH 2019: Time to Check in for a Trip Into the Heart of the Organic Community
28.12.2018
Formnext 2018: Groundbreaking world premieres and records at Formnext 2018
28.12.2018
ZELLCHEMING-Expo premier a "Road of Maintenance"
27.12.2018
Continental Pioneers Tire Tests With Self-Driving Test Vehicles
27.12.2018
Messe Essen Celebrates the Conclusion of the First Construction Phase
27.12.2018
Another Record Year for ZEISS
21.12.2018
E.ON Makes a Strategic Investment to a Finnish e-mobility Software Company Virta
21.12.2018
"Together. Now & Tomorrow.": Liebherr at Bauma 2019
20.12.2018
Covestro Taps Into China's Growing Start-up Scene
20.12.2018
Arburg at Plastec West 2019: Vertical and Electric Allrounders in Use
20.12.2018
Expo Wine + Beer in Chile new partner in the global network
19.12.2018
North American Semiconductor Equipment Industry: Billings goes Down
19.12.2018
BIOFACH INDIA 2018: Successful Tenth Anniversary
19.12.2018
CeraCharge™ and PowerHap™ products of the year
18.12.2018
Central Data Management with CLOOS C-Gate
18.12.2018
SEMI: Total Fab Equipment Spending Reverses Course
18.12.2018
Fraunhofer ILT: Formed to Meet Customers' Needs – New Laser Beams for Glass Processing
17.12.2018
Smarter E AWARD 2019: Entries Open for 2019 RENOWNED AWARDS HONOR
17.12.2018
Successful Conclusion of Intersolar India's 10th Anniversary
14.12.2018
Meyer Burger Technology Ltd Signed a Major Strategic Contract
14.12.2018
Arburg at Plastec West 2019
13.12.2018
SEMI Supports U.S.-Japan Trade Agreement Negotiations in U.S. Government Testimony
12.12.2018
Deutsche Lufthansa: First Airbus A380 in new Lufthansa Design
12.12.2018
IPB China Ends on a High Note
10.12.2018
Premiere: Start-up Area at embedded world 2019
10.12.2018
FENSTERBAU FRONTALE 2020: Vacuum Glass Makes New Windows Possible
6.12.2018
Koelnmesse: Settlement Reached in DMEXCO dispute
6.12.2018
Covestro Concludes Share Buyback of EUR 1.5 Billion
5.12.2018
iLOQ Cements Collaboration with Avain Yhtiöt Group
5.12.2018
Lufthansa Supervisory Board decides to expand Executive Board
4.12.2018
BOAT & FUN BERLIN Reports Successful Business
4.12.2018
The next photokina will take place in May 2020
4.12.2018
ProSweets Cologne: The sweet side of Industry 4.0
3.12.2018
Software AG, Amazon Web Services Expand Relationship at AWS re:Invent 2018
3.12.2018
ETIP PV: Photovoltaic Solar Energy: Big and Beyond
30.11.2018
Arburg at Interplastica 2019 in Moscow
29.11.2018
2nd Germany Hawaii Clean Energy Symposium on the Island of O'ahu
29.11.2018
Become Exhibitor at the EU PVSEC 2019
29.11.2018
PaintExpo 2020 with Strong Demand for Booth Locations
28.11.2018
Battery Cell Production Strengthens Europe as an Industrial Location
Mobile Website
Our website also works on IPhone, IPad and Co.